Dolomites, Italy
I am a passionate skier. Every winter I have an irresistible desire to visit ski slopes, no matter what area it is: Sochi, Europe, and even the USA, though it is quite far. As for the Alps, I think there is no other region so frequently visited by me but the Dolomites: it was both my first European ski resort in 1995, and the most recent one, in February 2015.
A lot of resorts are located here: Cortina d'Ampezzo known for hosting the Winter Olympic Games long time ago, Kronplatz, Moena. But I think the best one for skiing and for contemplating the surrounding beauties is the region of Sella Ronda. This is an extensive mountain massif, surrounded by four valleys (Val di Fassa, Alta Badia, Val Gardena and Arabba-Marmolada), which are connected by serpentine roads, but what is more important — by ski routes and cable-cars. During several hours of intense physical activity, you can make the whole circle in both directions. And on your way back you have enough time to enjoy some hot wine, served in numerous small restaurants, and amazing mountain landscapes! The eyes of a traveler are always drawn to the triple peak of Sassolungo, mighty Cir Spitzen and Col Pradat near Calfosch village.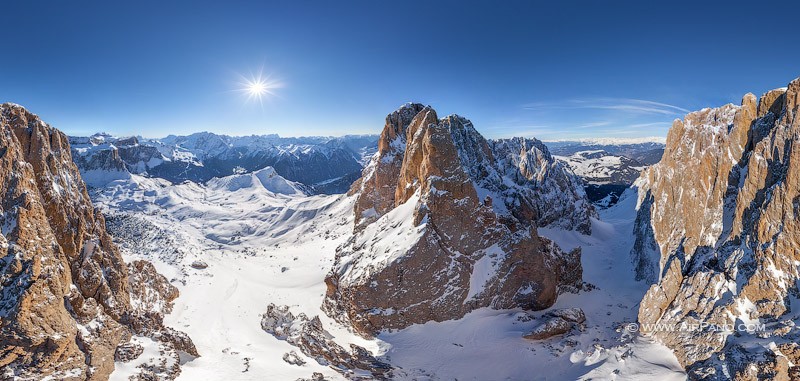 When I came here to take pictures for the first time, I flew over the whole area of Sella Ronda on a helicopter and created aerial panoramas of the most significant places. The most remarkable moment was when the pilot, having confirmed that I had finished my job and we were about to return, brightened up and decided to show me some maneuvers. He nearly entered a spin, flew over the valley at a very high speed, scared some wild mountain sheep, almost made an extreme turnaround and finally landed (while I was breathing heavily).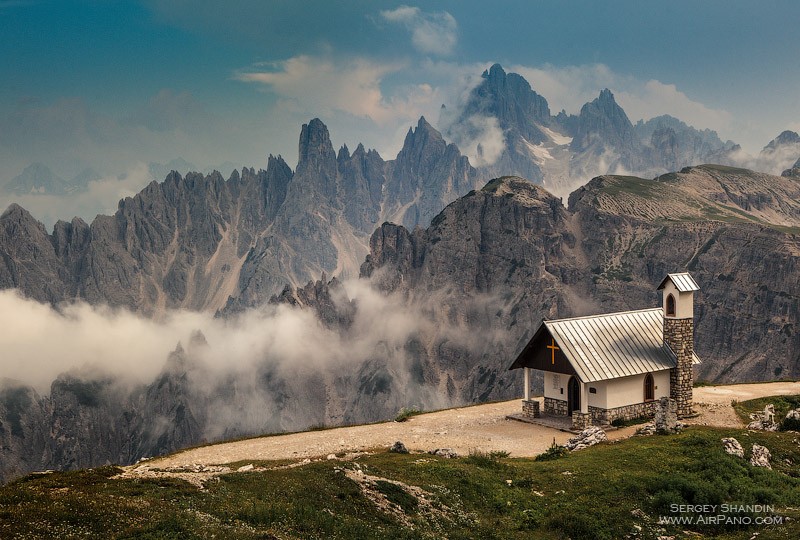 But to show the whole picture, we lacked some low views, like the ones with snow-covered roofs of small cozy houses. And exactly for this purpose I found a couple of spare days just after the Carnival of Venice (luckily, the road from Venice to the Dolomites takes only two and a half hours) and came here with a drone. Do you think that it was an easy thing to find some time for taking pictures with skis constantly on my feet and being surrounded by endless ski slopes? But my sense of duty outweighed, and I think that these panoramas with a couple of beautiful alpine towns will be an icing on the cake.
---
And here are few facts about Dolomites.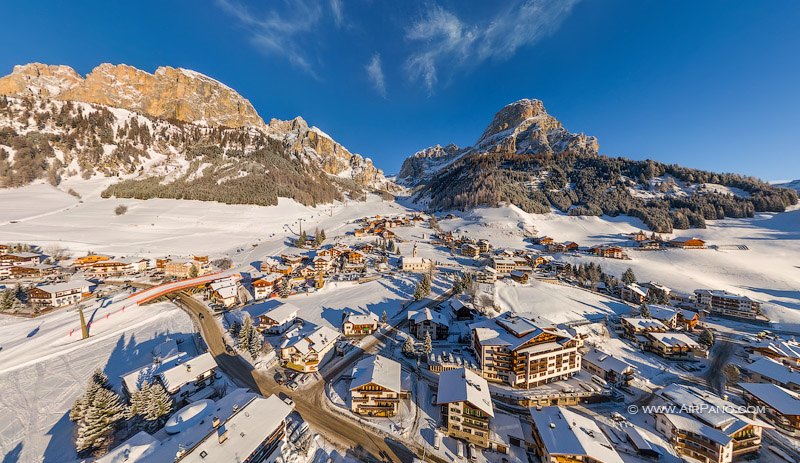 The Alps are the highest and most extensive mountain range system in Europe: the inner curved edge is stretching for almost 750 kilometers, and the total length of the range is approximately 1,200 kilometers. The maximum width of the Alps is 260 kilometers, and the highest point is Mont Blanc (4,810 meters above sea level).
The provinces of Belluno, South Tyrol (Bolzano — Bozen), Pordenone, Trento and Udine share the unique part of the South Alps, named the Dolomites: according to the type of rock, dominating in its geological structure. But it is not what the Dolomite Alps are famous for throughout the world; after all, there are a lot of mountains on Earth which have this carbonate mineral in their structure.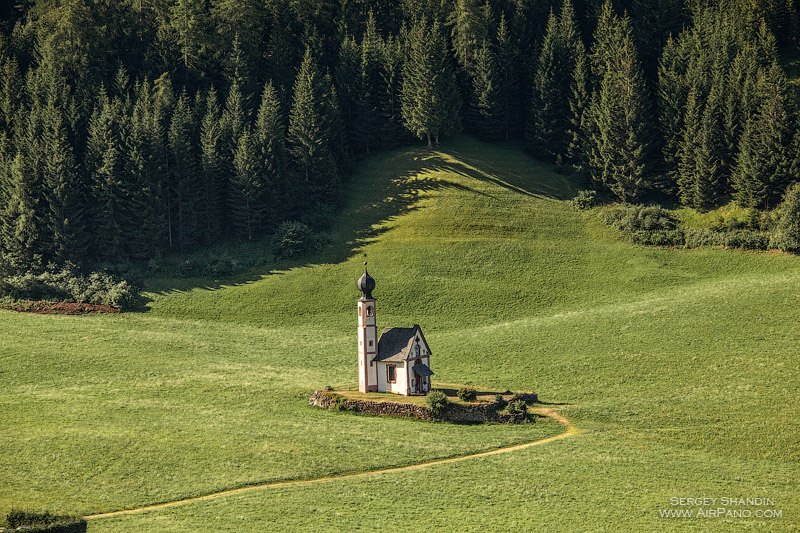 First of all, the Dolomite Alps are the mountains of exceptional beauty. Their slopes are almost vertical making an impression that the peaks are bear the skies. Together with perfect conditions for skiing, it is a very popular alpine ski destination. Covering the area of 15,9 thousand square kilometers, stretching approximately 150 kilometers and having 18 summits above 3,000 meters, this massif possesses a couple of dozens of ski-resorts with total route length of around 1,260 kilometers.
The highest peak of the Dolomites is Marmolada (3,342 meters), with its ridge lying between regions Veneto and Trentino. Some of the world-wide known resorts are located here: Cervinia, Val di Fassa, Kronplatz, Arabba and many others. The famous resort of Cortina d'Ampezzo hosted the Winter Olympic Games in 1956; a small town of Bormio, founded by the Romans more than a thousand years ago is famous for its healing springs: many famous people came here to recover, and one of them was Leonardo da Vinci.
Majestic and picturesque mountains of the Dolomites with their ornate sharp forms, vertical steeps, glaciers, rich alpine meadows and pure mountain lakes are absolutely breathtaking in any season. Le Corbusier, the outstanding French architect, called the Dolomite Alps "the greatest natural architecture in the world".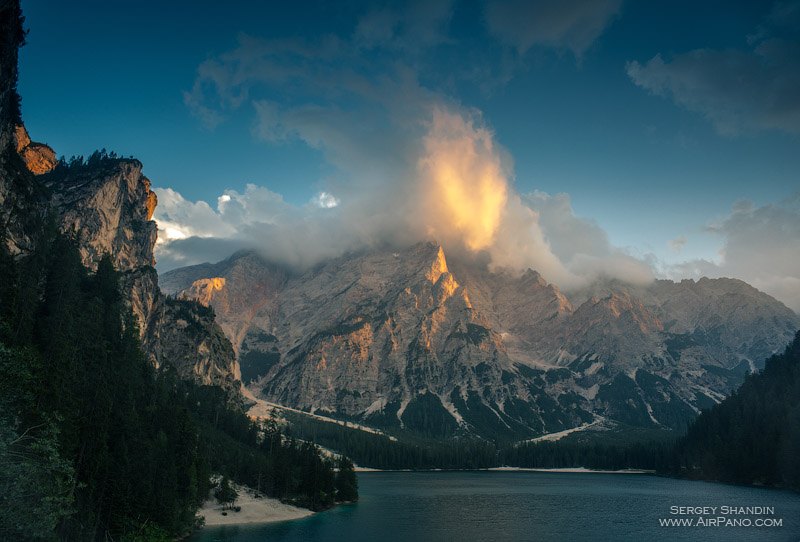 The UNESCO experts quite agree with him, and in 2009 the region was declared a World Heritage Site, on the basis of the criteria VII and VIII. The first one means that the site "contains superlative natural phenomena or areas of exceptional natural beauty and aesthetic importance", and the second one pays tribute to the sites — monuments of the past and outstanding examples representing major stages of Earth's history. You can easily make sure that all this is true with the help of the AirPano panoramas.
Photo and text by Dmitry Moiseenko and Sergey Shandin
13 April 2016
Read more
Photogallery
360° Video
Add your review about "Dolomites, Italy"