Florence, Italy
As any other ancient city, Florence has a lot to offer to tourists. However, its distinguishing feature is not presented in architectural elements, but rather in continuous connection with history and culture of the world.
First settlements on the shores of Arno River are recorded in 59 B.C. From the XII till XVI centuries the city has been a capital of the independent Republic of Florence. By the XIV century economic development of the region was ahead of almost all other countries in Italy, as well as in Europe. This was also where Italian Renaissance has originated shaping the human culture for future centuries.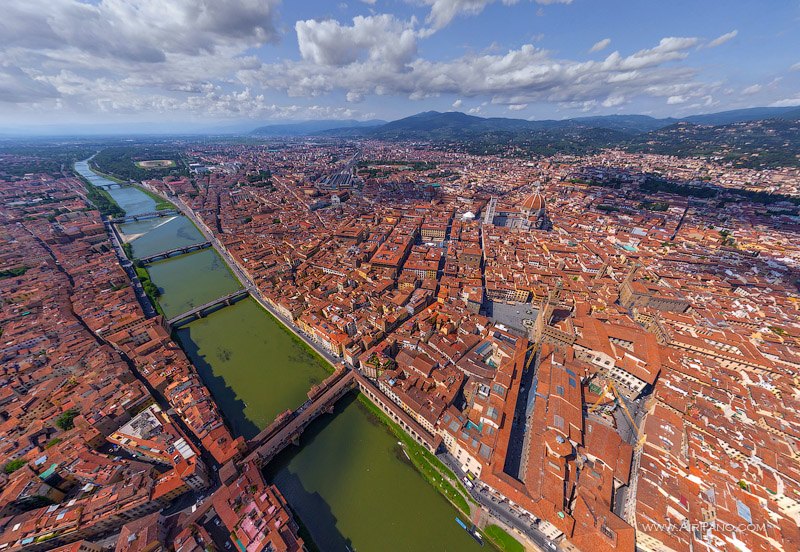 Dante, Petrarch, Boccaccio, Giotto, Leonardo da Vinci, Michelangelo, Machiavelli, and many other great Masters lived and worked in Florence. "Law of Perspective", an essential part of the modern visual arts studies, was invented here. Two continents (North and South Americas) are named after Italian seaman, Amerigo Vespucci.
All Florence attractions are connected to its famous citizens one way or another. Great Italian sculptor, an artist, an architect, a poet, a thinker, and one of the greatest Masters of the Renaissance period, Michelangelo is buried in the Basilica of Santa Croce. Many of Michelangelo's masterpieces, including famous "David", which became a symbol of Republic of Florence, were created here.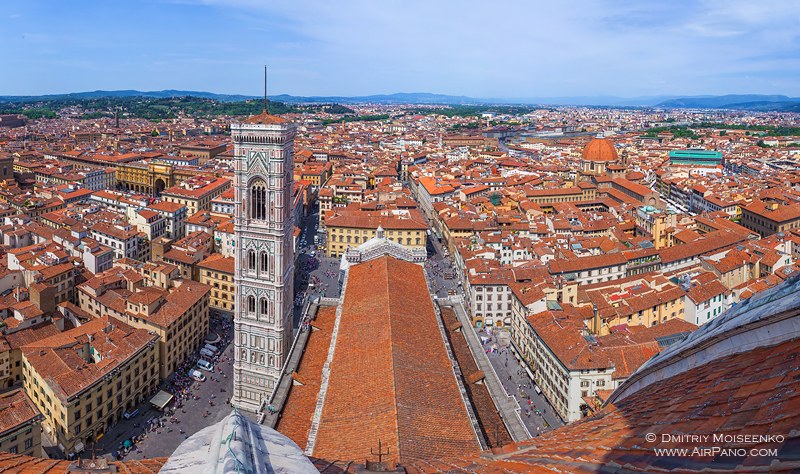 Michelangelo participated in the creation of the Basilica of Santa Croce, which became one of the oldest temples of the city and the resting place of the legendary Medici dynasty.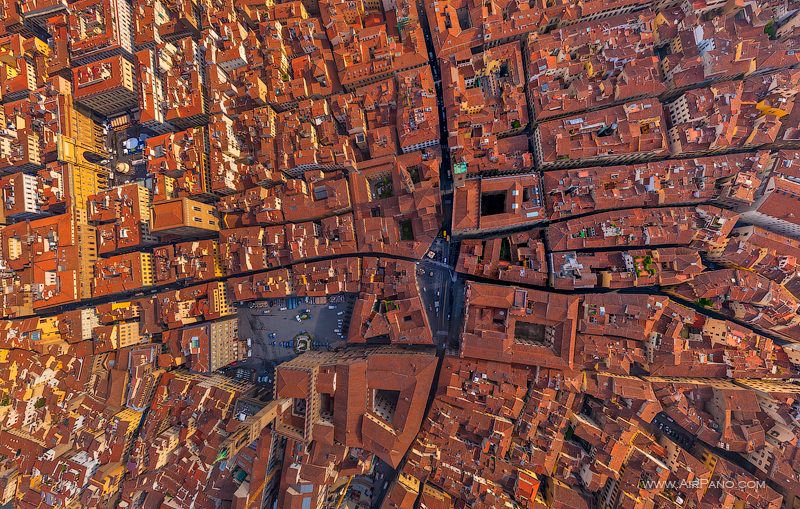 The Uffizi Gallery is the largest museum of European art and the most visited museum in Italy. It is based on a collection of the Medici family.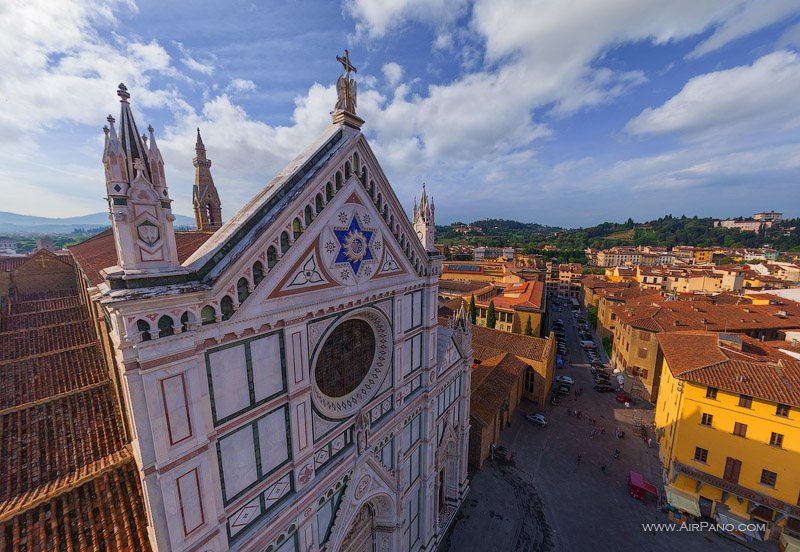 Florence Fine Art Academy was the first painting academy in Europe. This is where Leonardo da Vinci's artistic talent was revealed. As a student of Andrea Verrocchio, the most famous painter of his time, Leonardo was tasked to finish a painting of an angel on a large canvas. He did it with such excellence that his teacher Verrocchio dropped his paintbrush and never touched it again.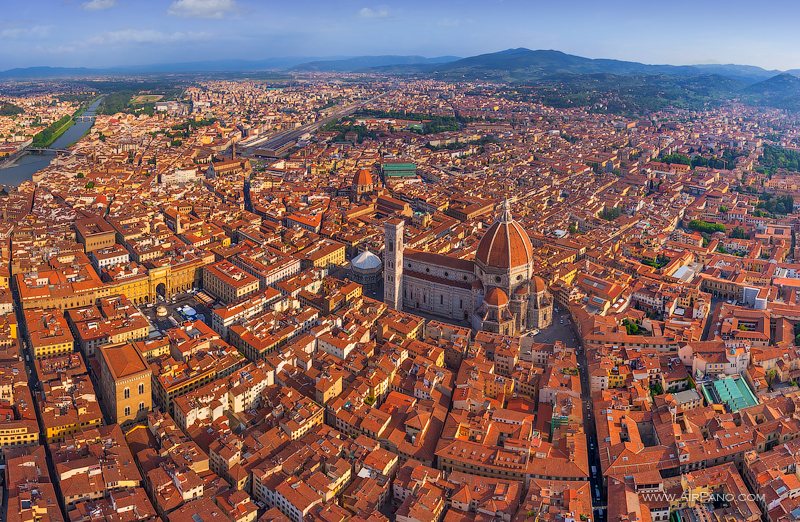 Ponte Vecchio, the oldest Florentine bridge surrounded by houses on both sides, is considered a meeting place of Dante and beautiful Beatrice, who became a muse of the great poet. The story of their romance saved Ponte Vecchio during World War II, as German army spared the bridge while destroying all other bridges over Arno River. On top of that, Germans made a deal with advancing American forces: they would not blow up the bridge if Americans promise not to use it. For the sake of saving the cultural heritage not a single soldier set foot on Ponte Vecchio.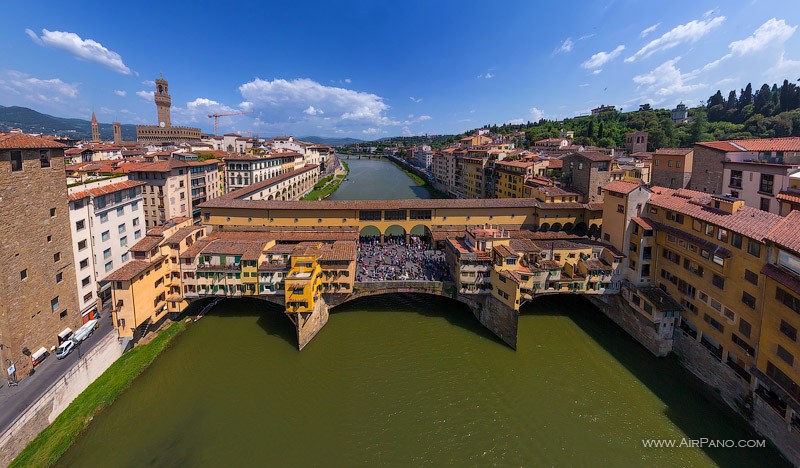 Florence rightfully takes place among most important attractions of Italy. With the size of 100 square kilometers (which is 25 times smaller than Moscow, and 12 times smaller than New York City), Florence is a home for such a great number of monuments and museums, that an unprepared visitor often experiences a culture shock. French writer Stendhal first described this psychosomatic disorder (now called "Stendhal syndrome"), which was later confirmed by psychiatrists in multiple cases.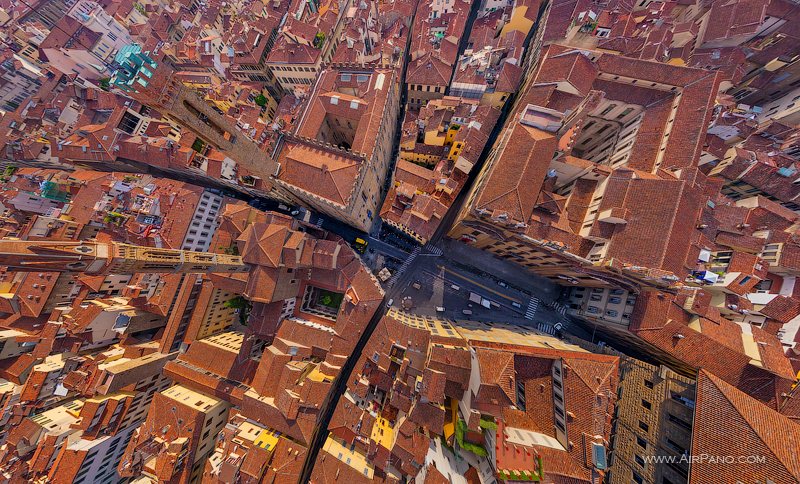 Fortunately for us, photographs of Florence cannot fully convey the legendary atmosphere of Florence, and so we invite you to the breathtaking, but safe, flight over the cradle of Renaissance and the greatest cultural treasure of mankind.
Photo by Dmitry Moiseenko and Stanislav Sedov
25 November 2013
Read more
Photogallery
360° Video
Add your review about "Florence, Italy"