Jake Seaplane wreck, Palau
The Palau archipelago is a genuine paradise for divers which is famous not only for its beautiful nature. In this place, ships and seaplanes that sank during the Second World War are hidden under the water! Let's take a look at one of these wrecks, a crashed Japanese seaplane.
In preparation for World War II, Japan established two seaplane bases in Palau. One of them served the long-range four-engined amphibious aircraft Kawanishi H8K (codename Emily). It was housed where the Palau Pacific Resort stands today, and a snorkelling shop has been built on its former taxiway. To the south of this base, there was the second depot: Meyuns Sea Plane Ramp Resort. The seaplanes Aichi E13A (Jake) were based here.
It was Jake which found its last refuge in the waters of Palau. This all-metal hydroplane had been in production from 1938 to 1945 and was intended for long-range reconnaissance. It was 11.3 m long with a wingspan of 14.5 m. An engine with a capacity of 1,080 HP allowed it to reach a speed of up to 375 km/h. Its rear cockpit housed a machine gun used for self-defence, and in addition, it could carry on board a crew of three men and 250 kg of bombs.
Now it lies on a "carpet" of corals, at a depth of 15 meters next to the Palau Pacific Resort. Most likely, it fell into the water at the time of landing approach or during takeoff due to an engine stop. This is evidenced by the state of the propellers: if they worked, they would lose their original shape upon impact with the water.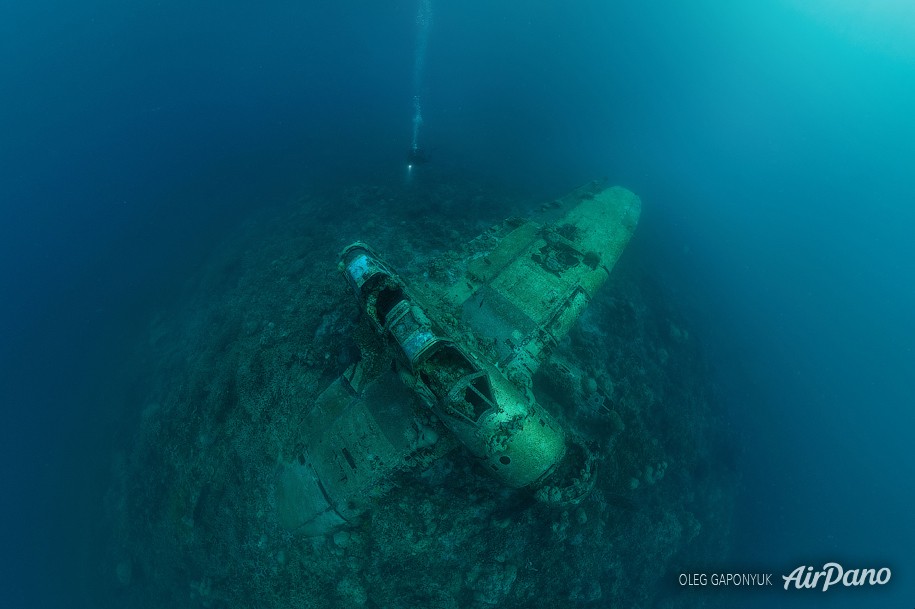 When hitting the bottom, the tail part and one of the pontoons fell off: they were thrown to a distance of about 6 meters, but now they are densely covered with algae and are barely distinguishable. In the same way, the engine broke away from the aircraft and the wing bent, but otherwise, it is still well preserved.
Over the years, corals have continued to grow around the plane. There are several types of them: both rocky and soft. Octopuses and cuttlefish, nudibranchs and colourful tropical fish are everywhere. Due to its shallow water depth and transparency, this place is a great spot for diving and photography.
And this is what allowed the plane to be discovered: in 1994, when diving in Palau was not yet so popular, the plane was spotted from the surface of the water by a local fisherman. He informed the owners of the Neco Marine store, they invited the journalists from the Skin Diver magazine and together they were the first to dive and photograph Jake.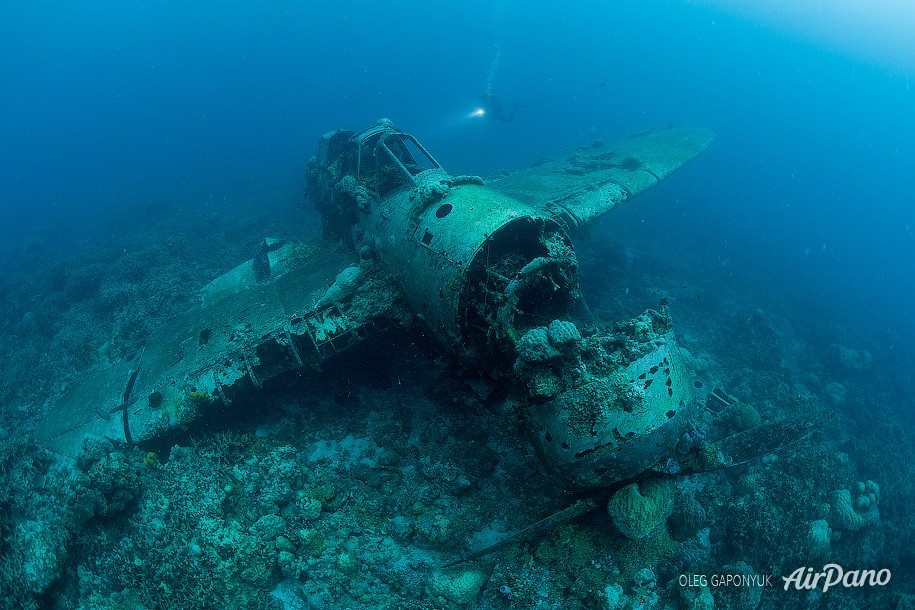 Now anyone can approach it, but divers are asked not to pick up any artefacts that can be found nearby. Even live ammunition has remained under the water, and despite the humid environment, they are still dangerous.
Let's dive into the waters of Palau, looking at the sunken seaplane!
Photos by Oleg Gaponyuk
14 May 2021
Read more
Photogallery
360° Video
Add your review about "Jake Seaplane wreck, Palau"