Feeding Sharks. Beqa Lagoon, Fiji
The islands of Fiji that have found themselves in the south-western part of the Pacific Ocean are considered one of the best diver's destinations in the world. The famous oceanographic explorer Jean-Michel Cousteau has named them the "Soft Coral Capital of the World", as this kind of corals grows here in abundance. This thing, in its turn, attracts over 300 species of fish, a lot of turtles and many other marine inhabitants. In between July and May, the underwater visibility reaches 30-40 meters revealing to the spectator a breathtaking panorama.
One of the most popular places for divers and underwater photographers is Beqa Island. It is the oasis of pristine nature with marvellous beaches, waterfalls and coral reefs of the most peculiar forms. Several Fiji villages with rich cultural traditions are located here. The most spectacular ritual is walking on burning hot coals.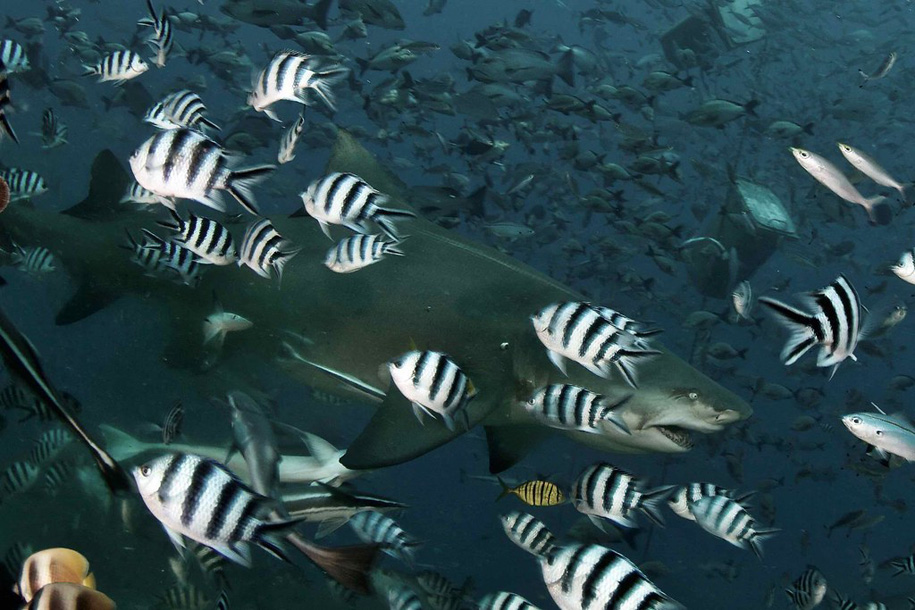 Photo by Dmitry Vasyanovich
The indigenous people of Fiji have preserved their beliefs in shark-god Dakuwaqa (also spelt Dakuwanga). He was considered to protect fishermen from the dangers of the sea, as the waters of this area are full of predatory fish.
Beqa Lagoon was created by a huge barrier reef and probably once was a volcano's crater. Several species of sharks, such as tiger sharks, bull sharks, silvertip sharks, grey reef sharks, whitetip reef sharks and nurse sharks have settled here making it the place with probably the richest diversity and quantity of sharks in the world.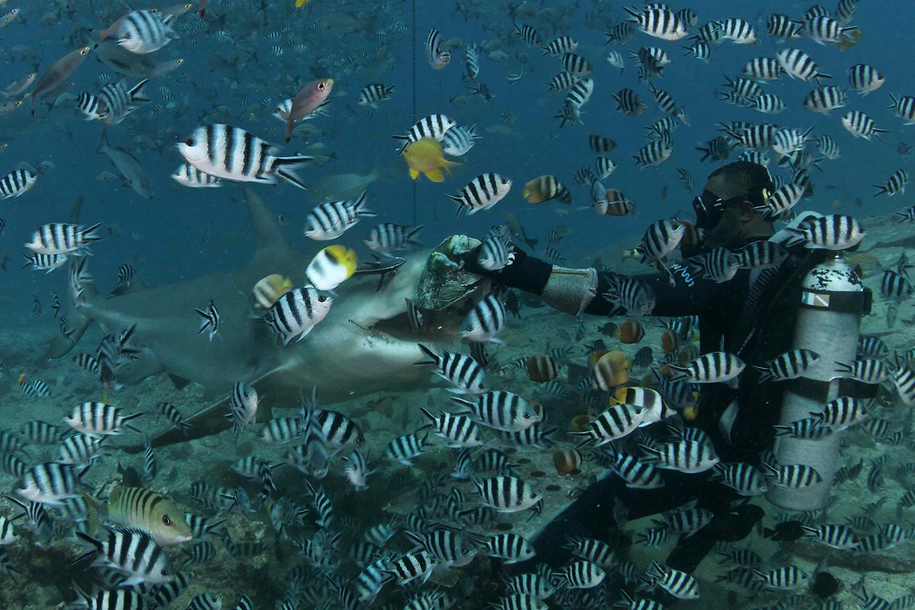 Photo by Dmitry Vasyanovich
And thanks to that, one can watch the relationships of different species in the wild nature. Touristic companies attract sharks by throwing the bait in the water so that divers have the opportunity to take vivid pictures. Nurse sharks are coming first. They are brownish in colour, around 2.5 meters in length and not dangerous for people as they can bite only in case of self-defence. Then they are replaced by 3-meters-long bull sharks and comparing with the previous ones they pose a threat for a human. Bull sharks are least interested in shellfish and fish: they can decisively attack even the animals much bigger than themselves, such as ungulates coming for water.
The other shark species inhabiting the local waters don't want to stay hungry, so a dramatic fight is unfolding before the spectator's eyes.
The waters of Beqa Lagoon has the temperature of +24...+28 ℃ all year round, but the best season with the most transparent water is between July and September. Well, now you can "dive" and enjoy the beauty of the amazing underwater landscapes at any moment with AirPano panoramas!
Video by Alexey Tishchenko. Stitching by Nickolay Denisov
10 April 2019
Read more
360° Photo
Add your review about "Feeding Sharks. Beqa Lagoon, Fiji"