Mangyshlak, Kazakhstan. Boszhira and Kyzylkup
When I was a child, I read Igor Zabelin's science fiction book "Kara-Serdar" (from the series "A Chronoscopist's Notes"), which describes the beauty of Mangyshlak. I then had a dream - when I grow up, I'll visit this amazing, magical place.
And now, I'm 52 years old, I'm no longer a child :)
The Mangystau Region is located in the southwest of Kazakhstan, its area is over 170 thousand km2 (65,637 mi2), which is almost as large as all the Baltic countries combined. The climate is sharply continental, extremely dry. However, once a year in May, the heavens open for 7-10 days, which makes any dirt road almost impassable.
The scenery here is breathtaking. Bizarre weathered shapes... Comforting "sculptures"... Pure magic!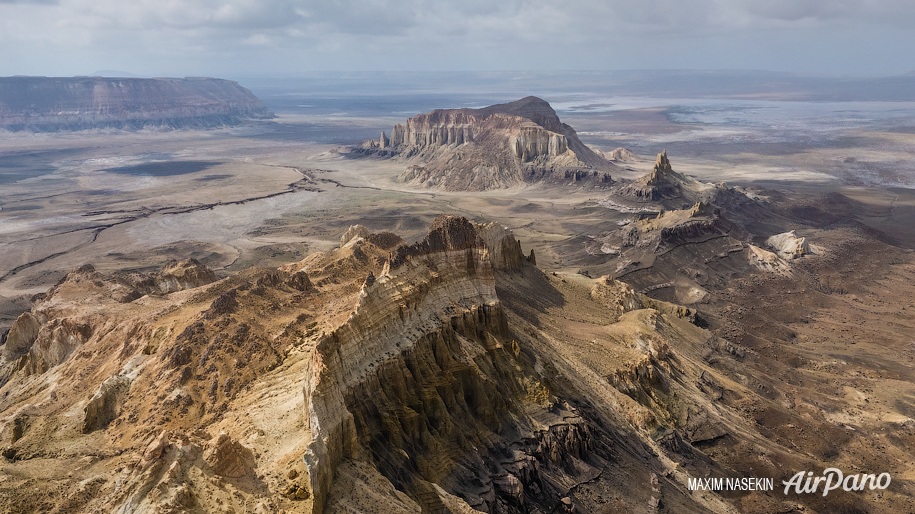 During 30 million years, Mangystau was covered by a succession of water bodies: the Paratethys Ocean, the Sarmatian Sea, the Pontic Sea, the Akchagyl Sea, the Apsheron Sea... The last time the earth rose was a million and a half years ago. It was subjected to selective weathering. All the varied fossil record traces were exposed, and landscapers have been enjoying spectacular shapes.
In the first millennium BC, the lands of Mangystau were crossed by the Great Silk Road from Khorezm and Khiva to Europe and the Middle East. Along this route, there were forts, caravanserais, settlements of artisans, cattlemen and hunters. Archaeological artifacts indicate that these settlements had a fairly high standard of living. The Great Migration of Peoples and the associated countless wars brought an end to the Great Silk Road through Ustyurt.
We first traveled to the Aktolagay Plateau. This limestone plateau stretches for 90 km (56 mi) away from cities and well-paved roads. The place abounds not only with mind-blowing panoramas, but also with fossilized belemnite shells, teeth of ancient sharks...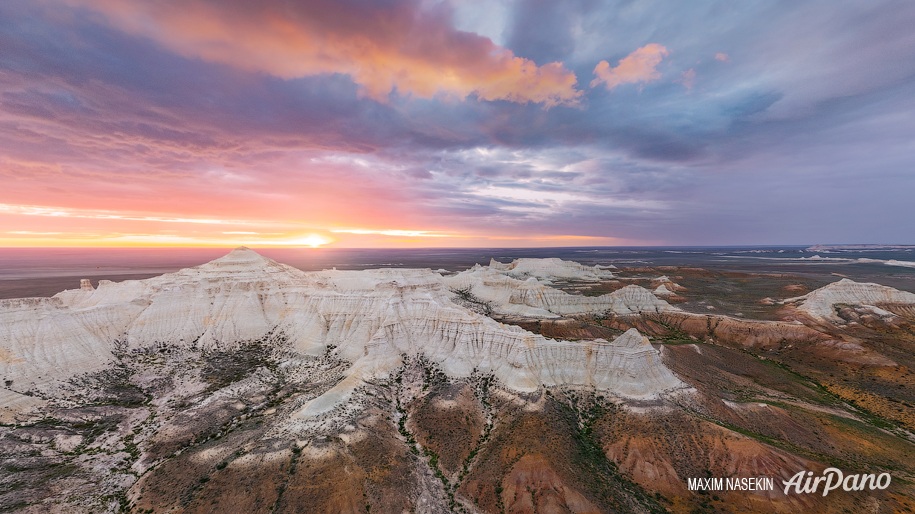 After several hundred kilometers, we drove to the Ustyurt Plateau and managed to watch the sunset at Tuzbair.
Sor Tuzbair is a majestic creation of natural elements. In this place, the chink, i.e. the cliff of the plateau, abruptly breaks off by a cascade of clayey limestone chalky steps, at the base of which lies a vast salt marsh. In this area, even the air is saturated with centuries of salt and water winds. The steep chalk cliffs are riddled with numerous scourings and deep channels, forming endless rows of fabulous columns.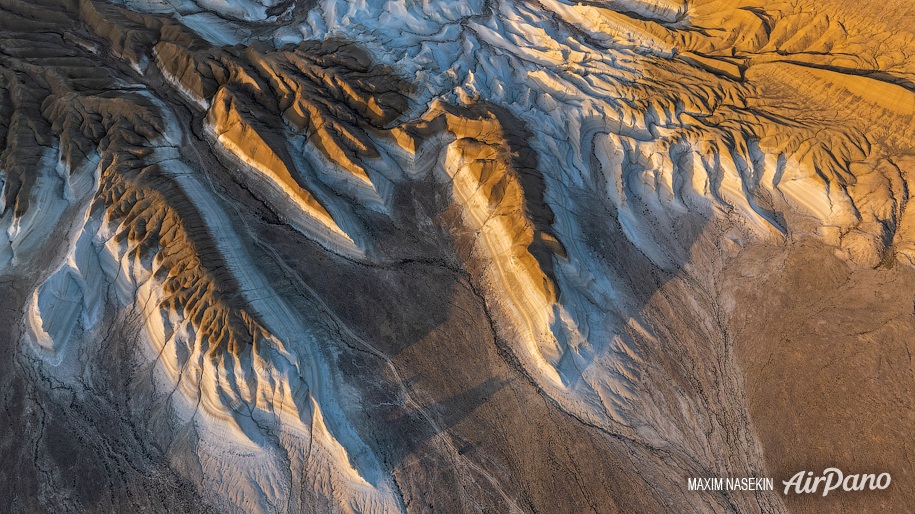 If you visit these places, you should definitely stay overnight. Here you can get a clear view of the skies: everything seems so close that all you have to do is reach out and you can touch the sky. The moon and stars shine so brightly here that they are fully reflected in the salt lake, and you lose your sense of up and down. Waiting for the sunrise at Tuzbair is also unforgettable... it reflects the morning dawn like a mirror.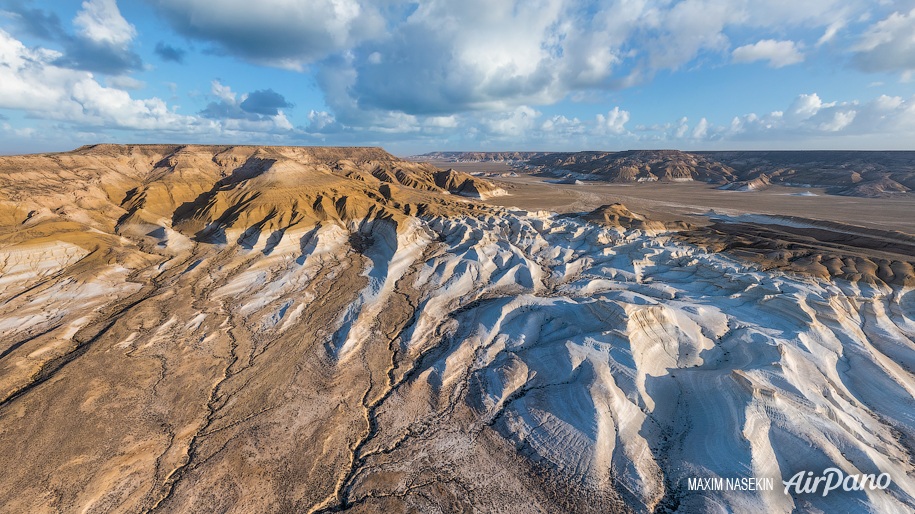 Mount Sherkala is another amazing natural landmark. The solitary mountain resembles a giant yurt on one side and a lying lion on the other. You can see from the canyons in the mountain that there used to be mountain rivers and waterfalls here, some of them being as deep as 100 m (328 ft).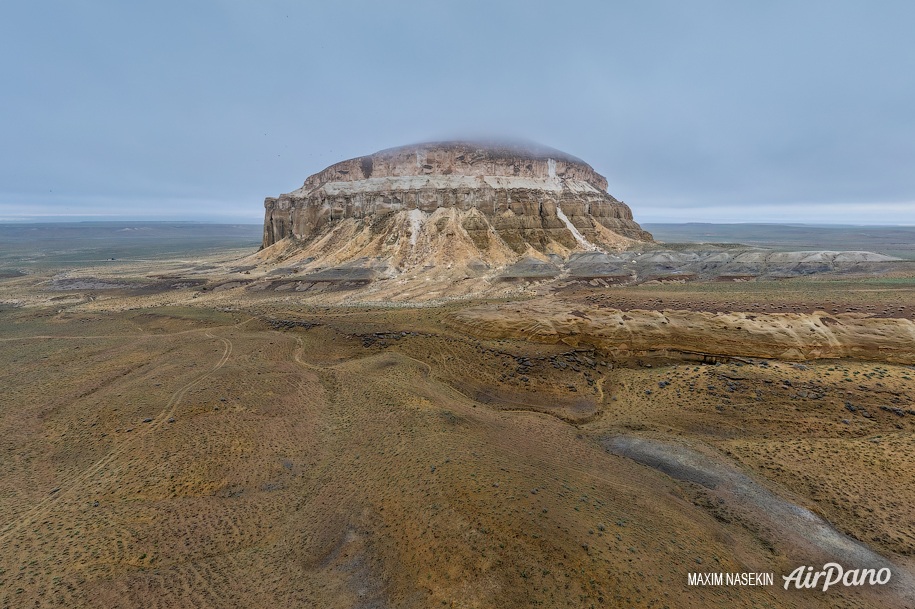 The scouting team of our group went on a reconnaissance trip to a cape on the Caspian Sea in a drizzling rain. But soon the drizzle turned into a downpour, and only the driving skills of our serdar (kaz., turkm. "leader") Eduard prevented the crew from being stuck in a clay trap for days. The price was a busted bumper and broken roof rack mounts.
The next morning, Mangystau decides to take pity on us and lets us in to see its treasury, the Ayrakty. And there you have fanciful remains, hieroglyphs, and stone nodules.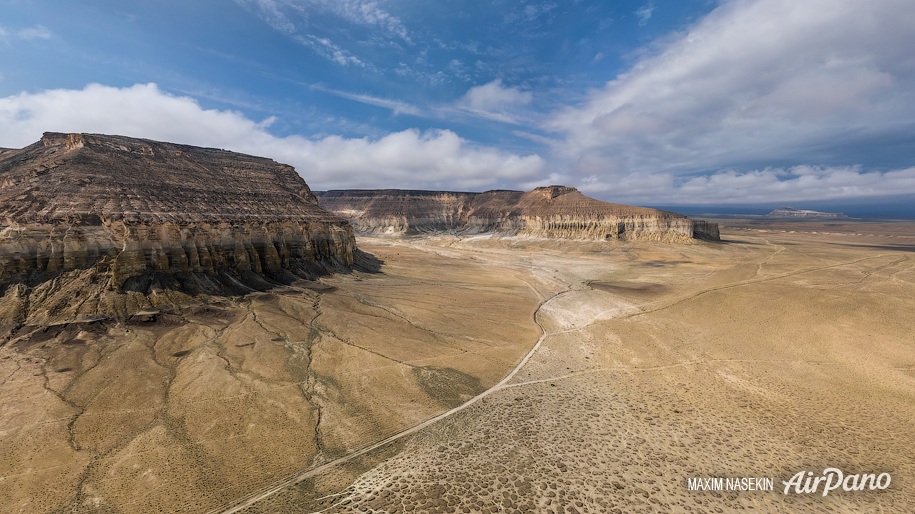 The Ayrakty-Shomonay is a chain of small residual mountains. These mountains are better known as the Ayrakty Valley of Castles. The place got its name from a series of sketches made by the famous artist and poet Taras Shevchenko, who was exiled here in 1851 for his participation in an anti-slavery organization. These mountains impressed him so much that, although he was forbidden to draw, he made a series of drawings here under the poetic title "The Valley of the Castles". He even took some photos of these places, which, unfortunately, have not survived.
The Ayrakty Mountains really do look like fairy-tale castles with spires, towers, colonnades and fortress walls. A winding path, paved by half-wild horses, leads to a small observation deck with a panoramic view of the distant Aktau Mountains and all of the Ayrakty castles. On the east side of the Shomanay Ridge, there is an area of small globular nodules. Here you can find spheroids of perfect shapes, like bowling balls.
The Boszhira natural boundary is one of the most beautiful places in Kazakhstan, which includes a whole ridge of rock formations of different sizes and shapes. Everything here is blindingly white. The limestone remnants stretch to the sky, looking like the fangs of a prehistoric giant. The rocks change their colors depending on the light. Beige is prevalent, but you can see layers of brown, pink, gray, white, yellow... They are all consistent with the deposits of different geological eras, which preserve the memory of climate change and the transformations of flora and fauna.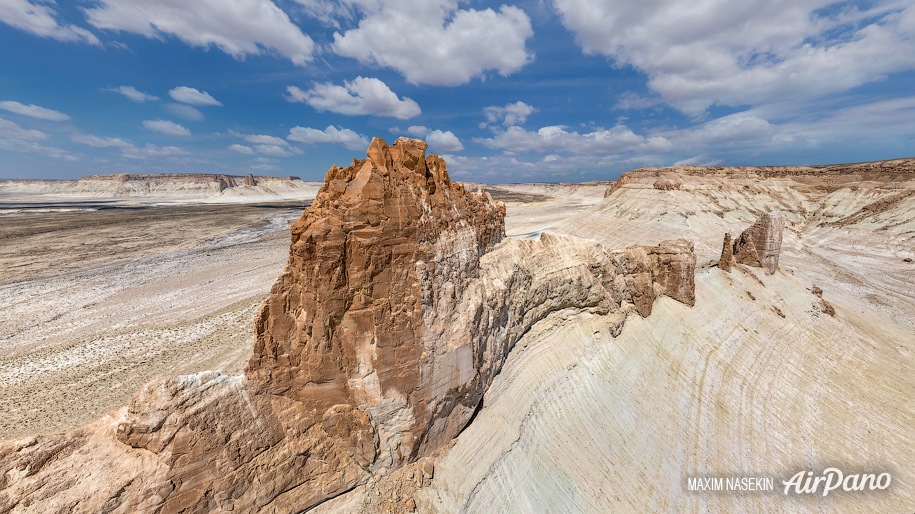 Thirty kilometers (18.6 mi) from Boszhira are the multicolored hills of Kyzylkup. They stretch more than ten kilometers (6.2 mi) from east to west and eight kilometers (5 mi) from north to south. They are formed by sedimentary rocks of different colors: orange, red, cherry, white. This very picturesque place looks like a Tiramisu. Each hill or canyon is interesting in its own way, but the most impressive was the "genie's residence" (which bizarrely resembles a stone statue).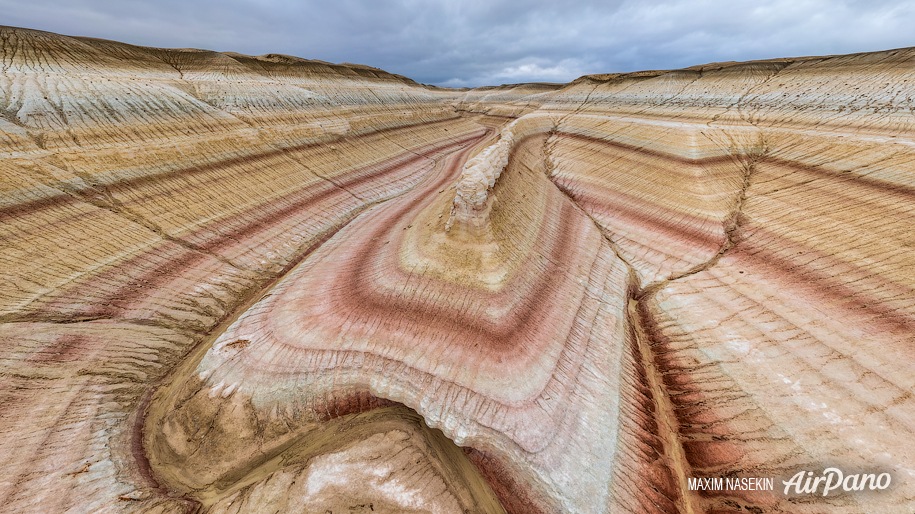 I have seen all that.
Well, one less dream now? No! I still have a desire to visit this fantastic "laboratory" of nature over and over again and feel like a child, a guest of these stone yurts and palaces.
Photos and text by Max Nasekin
1 July 2022
Read more
Photogallery
360° Video
Add your review about "Mangyshlak, Kazakhstan. Boszhira and Kyzylkup "