Montenegro, Kotor Bay
•
360° Aerial Panoramas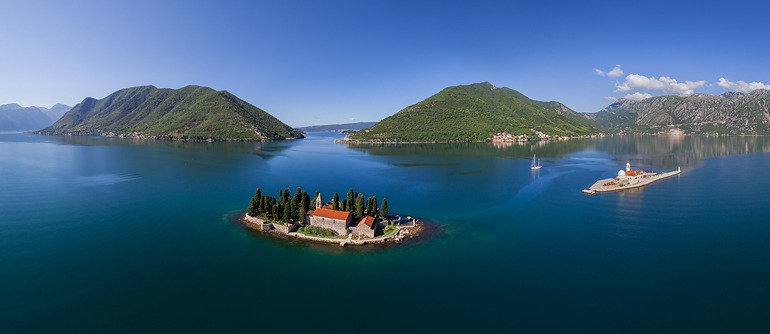 ---
We would like to express our gratitude to yacht club Porto Montenegro for help in creating of this tour. Porto Montenegro is a biggest Mediterranean yacht club located in the town of Tivat. With the sea on our doorstep and architecture that mirrors the nearby Venetian towns of Kotor and Perast, Porto Montenegro melds a spectacular destination with a world-class marina and services. It features 185 secure berths ranging from 12 to 150 metres, with a further 185 in planning — more than 50 of which will be dedicated to yachts over 45 meters.
---
Montenegro is located in the southwestern part of the Balkan Peninsula and is often called the gem of the Adriatic. It is a unique country with blue ocean, well maintained sandy and pebble beaches, most beautiful nature, and cleanest air.
Wild nature of Montenegro coexists in harmony with small towns, resorts, and monuments of ancient architecture. Resorts in Montenegro are mainly located on the Adriatic shore.
The coast of Montenegro is a narrow 2-10 kilometers wide strip between the sea and high steep mountains. Climate of Montenegro is very different from other three regions of the country. It can be considered a typical Mediterranean climate. One of Montenegro's famous landmarks is the Bay of Kotor, which is more than 20 km in length. Bay of Kotor, also known as Boka Kotorska, is the largest Adriatic bay between Montenegro and Croatia. The Bay of Kotor is sometimes called Europe's southernmost fjord, but it is not exactly correct: according to the latest studies the bay is, in fact, an inlet formed by a partial submergence of a river valley.
City of Kotor is one of the main historical landmarks of the region. Roman Empire had been present here since 3rd century BC. During Byzantian period the town was fortified with impressive city walls, which stretch 4.5 km along the shoreline of the Kotor Bay. Kotor Fortress rightfully takes its place in the UNESCO world heritage list. Four centuries of Venetian period gave the city its typical Venetian look, and Venetian influence remains predominant in the city architecture.
A small town of Perast is yet another historical center of Montenegro. Numerous palaces, churches, fortresses, and fortifications were built in Perast between 1420 and 1797. Most of them are preserved to this day. Seafaring was also actively developing during this period.
There are two small islands near Perast. One of them is called St. George — the island with a picturesque Benedictine abbey built in the center. There is another island located 115 meters northeast of St. George Island. It is called Gospa od Škrpjela. It is, perhaps, the only man-made island in the Adriatic. The island was built on the reef, where in 1492 two Venetian sailors from Perast found the icon of Madonna and Child. According to the legend, the icon cured one of them from his illness. At first, the islet was so small that one could hardly see it above the water. However, over 200 years local people sank old and seized pirate ships around it. Furthermore, there was a law, which obliged every passing ship to throw a rock near the islet. Over time, the small islet grew into a plateau with an area of 3030 square meters, on which the Church of Our Lady of the Rocks was built.
Every year thousands of tourists visit historic places on the shore of the Adriatic Sea. We invite you to join our virtual tour right now to see main tourist attractions of the Bay of Kotor from a bird's eye view.
Photo by Sergey Semenov
13 July 2012
Comments
2015-11-08 19:20:36
"Show, lugar espetacular....recomendo.."
Everton Hertz, Brazil
2015-05-17 23:16:43
5 from 5
"Could you please tell me if kotor montenegr#243 is part of the European union could you please let me know what currency they use. Regards dermot"
dermot weldon, Ireland
2015-02-19 19:43:39
5 from 5
"Jankovich family is from Igalo and records show them to reside there since the 1600's. The family villa still stands in Igalo next to the original Igalo Spa and Baths. The radioactive mud was discovered by my father Milos Jankovich. The first tourist effort was started by my father and grandfather and they built the Hotel Igalo which was torn down to build the Baths. Due to the WWII take over we had to escape and became DP's. We are still trying to get restitution for properties nationalized by the liberators. I wanted to comment so that people get a real picture of the under pinning of Crna Gora and the real history. Current regime is very challenging."
Spiro Jankovich, USA
2014-12-25 03:14:38
"I believe that this is the place that I dream to see. It is beyond my imagination, I rally like to see this amazing place once in my life that will make my dream a true and turn to reality- I pray to the almighty to bless me and reach this wonderful place once for all. thanks lot to the organizer"
manising kalai, India
2014-02-05 15:09:00
"We are looking for accomodation on 14.7.2014 to 4 nights for 45 people /tourist group/ on KOTOR in hotels -2 bedrooms -price 20-25 euro.
Thank You.
Mádr"
Rastislav Mádr, Montenegro
2013-11-23 03:08:26
"Really! It is like being there in body and soul.
Greetings."
Pedro Iberico, Peru
2013-09-13 11:50:43
5 from 5
"I've just returned from a ten day holiday in Montenegro, with my girlfriend, where we spent 7 days in the bay of Kotor. it is a beautiful place, like nothing I have seen elsewehere! It was great to finally be there after spending so much time looking at it on this site. The drive into the bay from the north is perhaps the best way to see it. Im very jealous of anyone who'll be going soon, I wiil definately be returning."
Angus Drummond, United Kingdom
2013-05-17 16:20:18
5 from 5
"Thank you for a wonderful experience of viewing the bay of Kotor from the air. we have been boating there several times. It is one of the most beautiful places on earth!"
Nicolaas Merks, France
2013-04-23 01:19:25
5 from 5
"un rêve, moi qui ne sais prendre l'avion. Merci"
micheline rolain, Belgium
2013-02-05 23:08:57
"SUPER!!!!"
Radek Lusar, Czech Republic
2013-02-03 21:16:08
5 from 5
"very very good city wooooow"
ibrahim mohamadi, Iran
2013-01-24 21:38:44
5 from 5
"I can't find words. It is a beauty. I was there almost 50 years ago. That time we (my parents, sister and me) drove over mountains from north down to "Boka Kotorska" and never I can forget that. It left deep impression in me for all my live. I'll be happy if I can see that once again."
Hana Kubeckova, Czech Republic
2013-01-23 19:18:03
5 from 5
"what a wonderful place. i think ill go to there this summer!"
osman maninblues, Turkey
2012-09-16 16:20:38
5 from 5
"Quiero agradecerles los hermosos momentos que paso visitando su sitio,este llego a mi computadora por medio de un mail que me envio una amiga yo a su vez se lo envie a muchos mas amigos, todos estan maravillados y agradecidos y a su vez todos coincidimos en que nos gustaria poder leerlos en español, espero que nuestro deseo se pueda cumplir."
Maria Rosa Perna, Argentina
2012-09-09 10:55:11
"this paradise . . extra"
javad meftahizadeh, Iran
2012-09-07 18:31:10
5 from 5
"What a beauty... It take 25 years in my life to visit this site... Thank God, At least now I have visited this Site.. Special thanks to the one who seeded this idea of creating such a wonderful website... thanks a ton..."
KARTHE U K, India
2012-09-04 10:24:29
"this place is my dream.i wish i go there"
mahdi hash, Iran
2012-09-01 19:17:52
5 from 5
"Rating 5 is not enough, I will give 100. Brilliant work!! I can not express my feeling in words, really awesomeee!!!!!!!!!"
Karuna Reddy, India
2012-08-31 13:51:33
5 from 5
hamid khodaei, Iran
2012-08-18 15:24:07
5 from 5
"it,s amazing placesin world. I would like to visit there if ever I get an opportunity because of its pure natural surroundings and picturesque panorama. Anyway, my credit goes to AirPano Team for giving us the taste of a virtual tour. Hats off!""
jitendra kasekar, India
2012-08-18 15:19:37
"good"
jitendra kasekar, India
2012-08-18 15:18:14
"amazing"
jitendra kasekar, India
2012-08-11 20:19:53
1 from 5
"Master pieces of art and photography. Thanks a lot for providing such a beautiful presentation to everyone on this planet. You are really great people."
DEVINDERJIT SINGH BALI, India
2012-08-11 07:24:16
5 from 5
"Amazing and terrific scenes on earth . thanks for huge effort in making these showing to everyone on the internet.I will try to visit every place"
PO YUET MING, Hong Kong
2012-08-07 13:24:16
5 from 5
"Excellent!!!!
Both the work and the scene."
Eldo Skaria, India
2012-08-06 00:31:18
"It is fantastic.. Ubbelievable.. We cannot see or visit many places around the world, but, this enables us to get glimpse of many beautiful places. Thanks to the people who visualised and
prepared this e4onderful vidios.."
Shanti Modi, USA
2012-08-06 00:10:52
5 from 5
"wow very beautiful amazing and relaxing with this music just let it play alone and ejoy thanks you guys I hope you can do it all around the world :)"
maroun zaiton, Israel
2012-08-03 10:38:17
5 from 5
"It's one of the most beautiful places on earth, for sure. I would like to visit there if ever I get an opportunity because of its pure natural surroundings and picturesque panorama. Anyway, my credit goes to AirPano Team for giving us the taste of a virtual tour. Hats off!"
Manoj Tudu, India
2012-08-01 22:55:26
5 from 5
"I am glad that so many people is happy with this area. I leave just on seaside place Dobrota and Perast all my life. I see that people round the world only now is discovering the beauty of our Bay of Kotor. I and all of us, have enjoyed our life on this shores, sailing sailboat races and fishing in deep and clean sea waters of the bay. We have now more and more tourists staying in this bay for vacation, some of them moving in for good. We do not mind, we love all of our guests and we are looking for decent urbanization, as nature is still intact. Operators, pls insert Montenegro in your list of countries, as I had to put Croatia /the closest/instead. regards and thanks to creators"
Vjeko Radimir, Croatia
2012-08-01 18:34:05
5 from 5
"Was there last week on that very ship in the foreground!

Beautiful place, but avoid this time of the year, it's MEGA hot."
Simon Cooper, United Kingdom
2012-08-01 12:44:26
5 from 5
"Absolutely stunning photography - makes me want to actually be there. If I could actually be there, I'd be sampling the local fishing hotspots!"
Simon Limbrick, United Kingdom
2012-07-31 08:31:07
5 from 5
"very very beautiful, thank you

jeanette baker
launceston tasmania"
jeanette baker, Australia
2012-07-30 13:55:16
5 from 5
"simply AWESOME!!!!!!!!!!!!!!"
rocky R, India
2012-07-29 12:11:25
5 from 5
"Sitting at home, it gives me a awesome joy and I could not imagine how it could be when I personally see it on my own eyes. Lots of appreciation to the photographer for his excellent work and imagination. Keep it up!"
viswanathan nagarajan, India
2012-07-29 04:21:59
5 from 5
"Beautiful , beautiful , beautiful. I just can't say it enough. If I were 30 years younger I would go se some of these places. I have probably seen more in my 84 years than most people have seen , but I just can't get enough."
Neal Laur, USA
2012-07-27 22:49:34
5 from 5
"Esto se consigue con trabajo y con inteligencia,y con ganas de hacerlo bien, muchas gracias."
jesús iglesias sainz, Spain
2012-07-27 10:26:32
5 from 5
"I am a Captain of a large yacht in the Med. We are going to Montenegro next summer. After seeing this and showing my crew we are so excited. This footage is amazing. Thanks for the preview of our next summer. Awesome job!!!!!"
David Brooker, New Zealand
Varvara, AirPano: Great! Have a nice trip!
2012-07-26 10:39:48
5 from 5
"Beautiful place, congrats for these beautiful vedeo /photography.Insha Allah will visit this place in my life.Regards"
Rais Ahmed, India
2012-07-25 17:47:44
5 from 5
"Hope 1 day can visit this beautiful place."
Brenda Tan, Malaysia
2012-07-24 16:02:11
5 from 5
"The wonderful place to be visited once in a life. I wish I could visit this place. Amazing, Gorgeous, Beautiful etc.... all adverbs which can be applied to this.... Love it"
Omkar Chavan, India
Varvara, AirPano: We appreciate your kind words.
2012-07-24 07:41:34
4 from 5
""Fabulous web site, I sendet this to all my friends,..."
Syed Umran, India
2012-07-21 07:18:53
5 from 5
"So breathtaking! I never knew there was such a beautiful place like Montenegro. The view was spectacular. I would love to visit this some day."
Deborah Ferry, USA
2012-07-19 18:46:58
5 from 5
"Marvellous, as if in dream."
Kiet Tran, Vietnam
2012-07-19 18:07:42
5 from 5
"This is beautiful...I am stunned."
Emily Patrick, United Kingdom
2012-07-19 12:11:03
5 from 5
"Mind blowing !!! Most Beautiful !!!"
sarvesh kapadi, India
2012-07-19 08:08:25
5 from 5
"would like to foward this e-mail to friends and famly. HOW TO?"
Marie Lattari, USA
2012-07-18 15:27:26
5 from 5
"I love and hate you guys for the same reason.
Love: Your superb images keep adding 'one more place to visit in a lifetime' to my cash-strapped travel plans!
Hate: The photos are so good and satisfying in its 360degree approach, that I lose the motivation to travel to those places - I've seen it all!"
Arun Mohan, Singapore
2012-07-18 12:32:00
5 from 5
"wow.......amazing,fees like in haven when checking the pictures...highly destressing...and soothing"
vivek dwivedi, India
2012-07-18 05:45:15
5 from 5
"What fantastic work thank you all so much"
ann lovegrove, USA
2012-07-17 15:17:32
5 from 5
"Wonderful !!!!!!
Thanks so much !"
Emil MANAFU, Romania