Abbey Mont Saint-Michel, France
•
360° Aerial Panoramas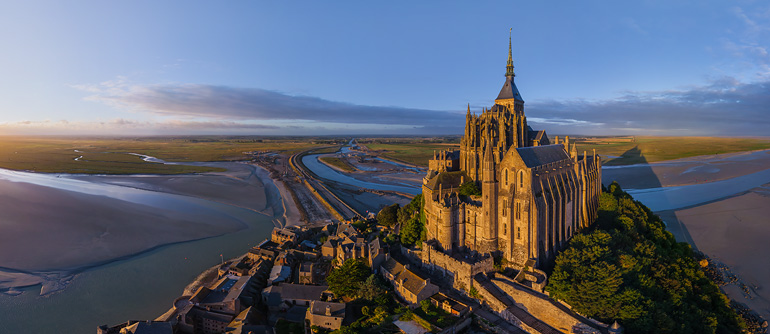 ---
Mont Saint-Michel, is a name that has a lot of charm, it sounds almost poetic and lyrical. But don't let it fool you: Mont Saint-Michel is a small rocky tidal island situated on the north-west coast of France...
This place is characterized by the highest tides in Europe (up to 14 meters high), steep rocks, and quicksand. Its surrounding waters can move 18 kilometers away from the island and 20 kilometers deep into the coast. For centuries all these features made Mont Saint-Michel an impenetrable fortress.
First inhabitants of this 92-meter tall mountain, ancient Celts, didn't have any illusions about it and called it Mont Tombe (Mountain Tomb). Back then Mont Saint-Michel wasn't an island: it was surrounded by the forest that was later washed away by ocean waters.
The island was named after Archangel Michael. The medieval legend, which is quite grim, says that in 708 Archangel Michael (Michel) instructed the Bishop of Avranches, from a small nearby town, to build him a sanctuary on a rocky islet. Bishop had three visions of Archangel Michael but did not act on the request, because he wasn't sure as to how exactly he should interpret these visions. Only after Archangel Michael pushed his finger against the Bishop's head (according to other story he burned a small hole in his cassock with the sword) did he start the construction of the sanctuary.
Photo: Dmitriy Archipov
And while the mainland was ravaged by wars, while captured by the Vikings, the Normans, the Bretons, the British, and other nations — the island-fortress remained untouched. Furthermore, during the years preceding the 16th century people were building the abbey and other buildings, including stone cells where prisoners couldn't stand nor sit. On top of that prisoners were chained and these chains were making menacing ringing sounds whenever the captives moved. This is why during the French Revolution when the monastery was closed and all the way through year 1863, the island was used as a prison and had an ironic name Mont Libre. It used to hold more than 150 prisoners at the same time!
But it would be a mistake to think of Mont Saint-Michel as a prison, first and foremost it's a Benedictine abbey. It occupies an area of about 55,000 square meters and it is regarded as a unique example of a fortified medieval French monastery. The top of the Cathedral's spire is 170 meters above the sea level!
In 1877 Mont Saint-Michel lost some of its defenses after construction of the dam that connected it to the mainland. A century later some monks returned to the island, and today their community consists of seven people.
The island is hardly deserted: 2 to 3 million tourists come here every year. Mont Saint-Michel was declared a national architectural treasure and included in the UNESCO World Heritage List. Its unique architecture and ascetic beauty of the surrounding nature, combined with the atmosphere of medieval mystery and ancient legends, made this island-fortress one of the most visited landmarks of France second only to Paris itself.
Photography by Stanislav Sedov and Dmitry Moiseenko
30 March 2013
Comments
2018-01-09 14:56:17
4 from 5
"It was a great way to visit such a beautiful place through pictures. I may not ever get the opportunity to visit, but I feel as though I have through the pictures. Thank you"
Rebecca Martinez, USA
2014-08-21 12:34:32
5 from 5
"découvrir le Mont St michel pour la seconde fois
fut une immense joie.
Mon souhait le plus cher:y retourner encore une fois.Que du bonheur devant cette architecture formidable."
tony fautré-gottal, Belgium
2014-06-21 13:18:58
5 from 5
"Niesamowite wrażenia"
Wiesław Janas, Poland
2014-06-21 12:57:32
"Niesamowite wrażenia"
Wiesław Janas, Poland
2014-05-15 00:00:19
5 from 5
"We just left the Abby Mont Saint-Michel,France.We were one of the lucky people in the world that have visited Abby Mont Saint-Michel,France.It looks just like the picture.You did an extraordinary job!"
Deborah Sanchez de Galvan, USA
2014-04-29 03:01:12
5 from 5
"SO BEAUTIFUL AND PEACEFUL, THANK YOU IT HELP TO VIEW AFTER A STRESSFUL DAY"
MARIA EISEMAN, USA
2013-11-02 13:51:18
"good morning
can you send me comments write in FRENCH
THANKS"
TETREL GERARD, France
2013-10-10 22:46:52
5 from 5
"I have pictures of this before, but none so beautiful and presented so wonderfully as here. Thank you so much for this site!"
Larry Green, USA
2013-10-08 08:23:41
5 from 5
"It's the holiest and greatest scene that I have seen until now. I'm so happy to have a chance
to meet this beautiful picture. But I'm so sorry
not to have been there. Hopefully I want to be
there as soon as possible."
hyosung jung, Korea
2013-08-19 16:20:30
5 from 5
"Graceful beauty! Thank you for the tears that your visual and music evoked."
Rita Heidemann, Lithuania
2013-06-23 04:09:06
5 from 5
"I could stop breathing while watching it, but I did not, I wanted to watch it again and again. Thank you"
Sona Hagopian, Canada
2013-06-07 18:05:36
"Congratulatios. The least one can say. Thank you."
TITI PAPAN, Greece
2013-05-26 06:05:44
5 from 5
"The visuals, the textual details, besides the mesmerising background music: everything executed almost to their perfection. I could not help myself but congratulate you for your unique and splendid accomplishment. For me the experience is so realistic that I'm just awestruct. Excellent project work!"
Manoj K Tudu, India
Varvara, AirPano: Manoj, thank you very very much. It's very pleasant to hear such warm words!
2013-05-18 03:52:25
5 from 5
"The Best, VALEU PROCURAR TRABALHOS, COMO ESTES, PENA QUE É POUCO DIVULGADO NA INTENERT, AGRADEÇO AS PESSOAS ENVOLVIDAS NESTA INFORMAÇÃO, FUTURISTA."
josinaldo paz Maninho, Brazil
2013-05-11 21:09:25
5 from 5
"realmente,maravilloso,muy buen trabajo.
FELICIDADES"
Jose Manuel martinez Hermo, Spain
2013-05-01 17:53:24
5 from 5
"Bardzo interesujące i ciekawe widoki, gratulacje za pomysł i wspaniałą pracę, pozdrawiam z Polski"
Krystyna Wysocka, Poland
2013-04-29 17:27:30
5 from 5
"ho passato una bella serata in vostra compagnia guardando questi luoghi stupendi e dimenticando le cose tristi.grazie beniamino,italia"
beniamino valente, Italy
2013-04-25 23:30:04
5 from 5
"Wow ! Amazing work ! This place is incredible !"
Luciana Jacob, Brazil
2013-04-24 17:04:12
5 from 5
"It's really cool."
omid movahed, Iran
2013-04-23 06:48:16
5 from 5
"so beautiful!"
kay huang, China
2013-04-12 12:54:21
5 from 5
"Magnifiques photos! A voir en vrai, ça vaut le détour ;)"
Saug Center, France
2013-04-12 00:08:54
"I am looking at and feeling happiness.THANK YOU for impressions."
danuta seklecka, Poland
2013-04-09 17:51:13
4 from 5
"Professional!"
Aschi und Graziella Zwahlen, Switzerland
2013-04-07 02:15:01
5 from 5
"Que construção maravilhosa, mas pelo que entendí é habitada por SETE pessoas? Como pode ser isso? Gostaria de saber,...."
carlota magalhães, Brazil
2013-04-06 11:05:28
5 from 5
"IMPRESIONANTE! Son Todos Maravillosos, La Verdad que me han Encantado Todos; empezando por Las Cataratas del Iguazú y terminando por La Abadía del Monte de Saint Michel."
JAVIER BAÑÓN, Spain
2013-04-06 10:21:49
5 from 5
"Amazing work...You capture places of the world one would have never seen otherwise...And always in the best light, always technically perfect..."
Burak Ercümen, Turkey
2013-04-05 07:02:19
5 from 5
ROBERTO MIÑO GARCES, Ecuador
2013-04-05 05:58:14
5 from 5
"Another amazingly beautiful production, thank you for your efforts and posting this for others to enjoy."
William Brace, USA
2013-04-04 18:29:41
5 from 5
"¡BELLÍSIMO, SENSACIONAL, FABULOSO! SE HAN UNIDO 3 MARAVILLOSAS OBRAS DE ARTE: LA NATURALEZA, LA ABADÍA Y EL TRABAJO DE USTEDES. MUCHÍSIMAS GRACIAS POR SU GENEROSIDAD AL COMPARTIRLO. ¡Que trabajo sensacional, de gran calidad! ¡Increíble!"
Leonardo Miño, Ecuador
2013-04-04 01:26:33
5 from 5
"Maravillosas vistas. estaba esperando ver este lugar como uno de los mas espectaculares del mundo y sobre todo por la subida de la marea a la velocidad del galope de un caballo.
Enhorabuena."
Máximo Segovia, Spain
2013-04-03 14:11:58
"Beautiful.. :)"
Branko Matosevic, Croatia
2013-04-02 01:39:53
4 from 5
"Äîáðûé âå÷åð!
Gracias por el esfuerzo y traernos esta maravilla. Trabajo en la Capilla de mi Barrio que esta dedicada a San Miguel Arcangel. Nuevamente gracias¡¡¡ Ñïàñèáî, Ïîêà!!"
danie nestor garcia rusca, Argentina
2013-04-01 23:46:22
5 from 5
"What Beauty. For all of the people that will never
get to be there in person, this is just wonderful."
Loretta Katano, USA
2013-04-01 22:25:04
5 from 5
"Amazing pictures - we visited it many years ago and it was one of the most impressive views I ever saw. Thank you for sharing these videos with us."
Erica Corti, Canada
Varvara, AirPano: Thank you, Erica! We're glad, that you enjoyed it!
2013-04-01 19:47:42
5 from 5
"TODOS SON MARAVILLOSOS ¡"
Italo A Hernandez R, Venezuela
2013-04-01 18:39:33
5 from 5
"Absolutely gorgeous!"
Jay F Kay, Germany
2013-04-01 18:22:40
5 from 5
"maravillosos todos los videos"
pepi castillo, Spain
2013-04-01 18:22:31
5 from 5
"maravillosos todos los videos"
pepi castillo, Spain
2013-04-01 17:19:29
5 from 5
"Maravilhoso!!!!!!!!!!!!!!!!!"
Paulo Rattes, Brazil