XXII Olympic Winter Games
Having been to the Olympic Games I'd forgotten how to write "Sochi" and "2014" separately...
I would never miss the 2014 Olympics and here is why: the Games were held in my country, they were only 3-hour flight away from my city, my friends lived on a hill with a nice view of the Olympic Park, an airfare was reasonable, and... Ok, the entrance tickets were not quite reasonable.
There were not that many foreigners in the city of Sochi during the Olympics. Poor videographers struggled to find cheering fans of competing countries during hockey games. The majority of spectators were from Russia. It was quite obvious thanks to the efforts of BOSCO advertising team: by the end of the Games everyone has bought something from their merchandise stock. "RU" and "RUSSIA" embroidery made people in the crowd look very much alike. In fact BOSCO could have quadrupled the sales just by adding few more large stores.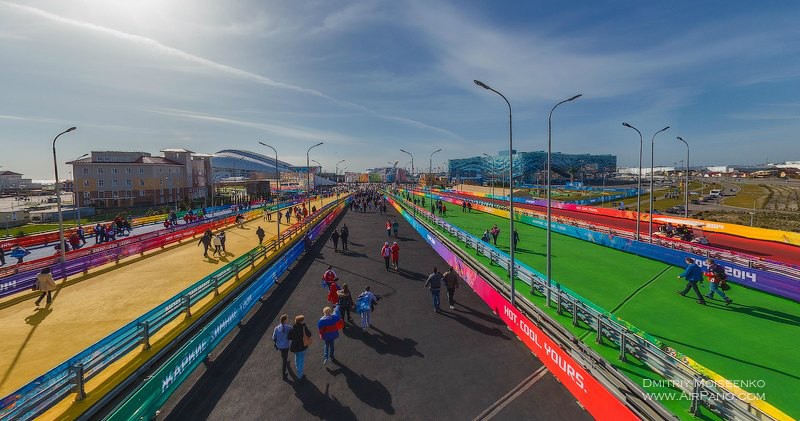 Another weak link was food. Although hot dogs and blintz were sold on every corner, it still took at least 40 minutes to buy them. The city didn't have enough restaurants as well as simple places where one could sit and rest.
I was lucky to find few outdoor tables with chairs near Swiss Lodge. They even served freshly made Raclette!
There was a shortage of only two kinds of tickets: the Russian team hockey game and the ice-skating competition. I couldn't figure out the algorithm of online ticket sales: tickets appear and disappear randomly, every time at a new price. However I will never forget how I spent 2 hours freezing in a long line of people by the only 2014 Olympic ticket booth in Moscow (and apparently in entire Russia, not counting Sochi) a year ago. A ticket booth with only 3 windows.
So I devised a plan how to overcome the said deficit: the main trick was to get as close as possible to a competition location and start asking for a "spare ticket"... First time a Czech guy gave me a free ticket to Russia-vs-Slovenia game, because his friend got stuck in the Mountain Cluster. Why did he give me his ticket for free? Because he's got it as a part of a Nike promotion campaign. Next time I was lucky to get tickets for an ice-skating competition after the Russian hockey team lost their game to Finns and disappointed fans were getting rid of other tickets saying that they were not in a mood. One of my female acquaintances was given an envelope full of tickets including three paid entrances to the Closing Ceremony, just for a sweet smile...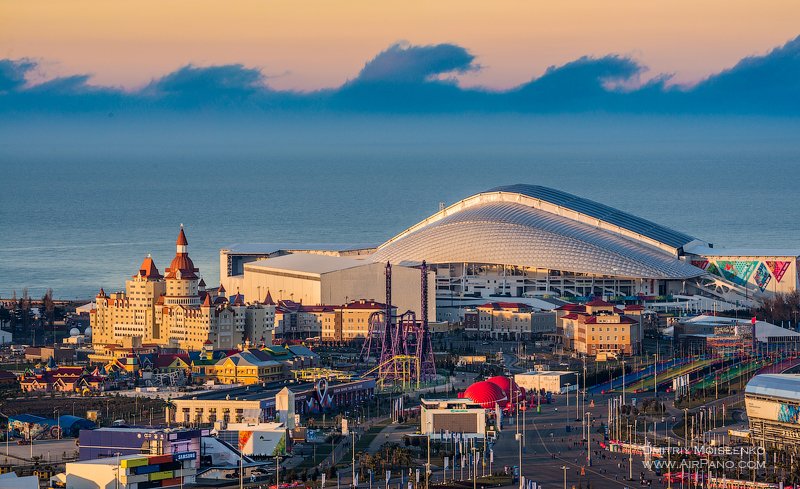 Beside hockey, I admired Viktor Ahn in the golden 5,000-meter relay; I almost lost my voice cheering for two golden snowboard rides of Vic Wild; and I witnessed Julia Lipnitskaya's fall and a stunning performance of Adelina Sotnikova. I also watched Russian Nordic Combined team taking the worst 9th place in the competition, and our male curling team loosing it completely. I should have gone to see the female curling competition instead! At least the girls look cute...
Every time I passed security they took a very careful look at my lens blower. I guess its shape was very suspicious!
I especially liked the look of police officers and volunteers. Purple with Olympic diamonds outfits of police patrol were quite in line with an overall festive atmosphere. However volunteers had the most beautiful uniform of all: yellow with a touch of green. Everyone admired their outfits, but there was no envy — they truly deserved it!
"Lastochka" train turned out to be slower than a school bus. The 42-kilometers ride from Olympic Park to Krasnaya Polyana took an hour. My patience didn't last long, and so I switched to a shuttle buss instead. I must say that all public transportation was free!
The weather was surprisingly nice. When I stepped outside in the morning after my arrival to Sochi, I realized that I would be watching the Winter Games in a t-shirt... Well, to be completely honest, it was chilly in a shade, especially in the mountains.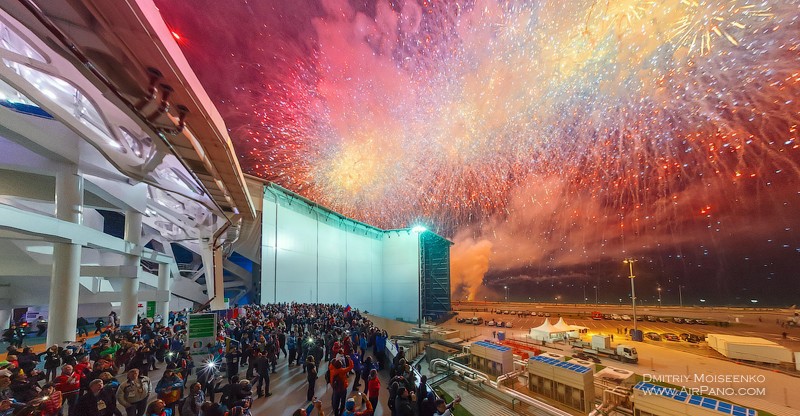 There were nightly live music concerts by the fountain at the Medal Plaza — a nice bonus to daytime activities. I listened to Stas Namin and "Tsvety", but missed "Bi-2" because of the ice-skating competition; I also missed "Mumiy Troll" concert because of the USA-vs-Canada game.
Lesson learned! I should have focused on one competition a day. Otherwise you get overwhelmed by emotions and don't have enough time to rest. Having no idea about that simple rule, I purchased my tickets in advance planning to be at the competition, in the mountains, and by the sea during one day.
What about photography? I had no time for that — I had to cheer for the athletes! In your opinion, what is better: to watch Lipnitskaya's dance through a viewfinder of your camera or with your own eyes? Wrong answer! The viewfinder is better as it works as a perfect binocular.
There was a lot of sponsors, and yet not enough of them. However they did their best to entertain the crowd. (I say "a lot" because it seemed like their booths were everywhere; and I say "not enough" because each booth had a ridiculously long line).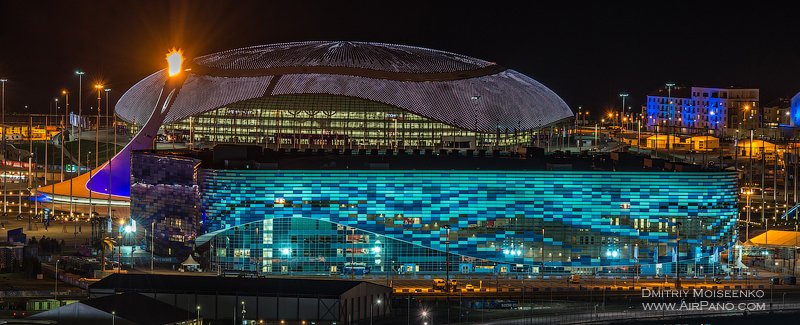 Here are some examples: Sberbank offered rock-climbing experience; Megafon created huge instant 3D portraits; and Omega spoiled the crowd with a bobsleigh simulator.
There were several things that puzzled me in Sochi. One was the Amusement Park near the "rainbow trails" closed for no apparent reason; and another one was the path to the city beach. Despite of the fact that the seashore was just over the wall, one would have to go all the way through the Olympics' ground in order to get there, which usually took about an hour.
Yes, I know I'm lucky. During the last day of the Games I was fortunate to see the Final games, the Closing Ceremony, and to take lots of pictures. If not for the strict regulations, I would have taken much more various photos. Next time we will start working on a proper accreditation far in advance. Two years before the event for sure! By the way, does anyone know where we should apply for a photo permit for the 2014 Formula 1, and for the 2018 Soccer World Cup?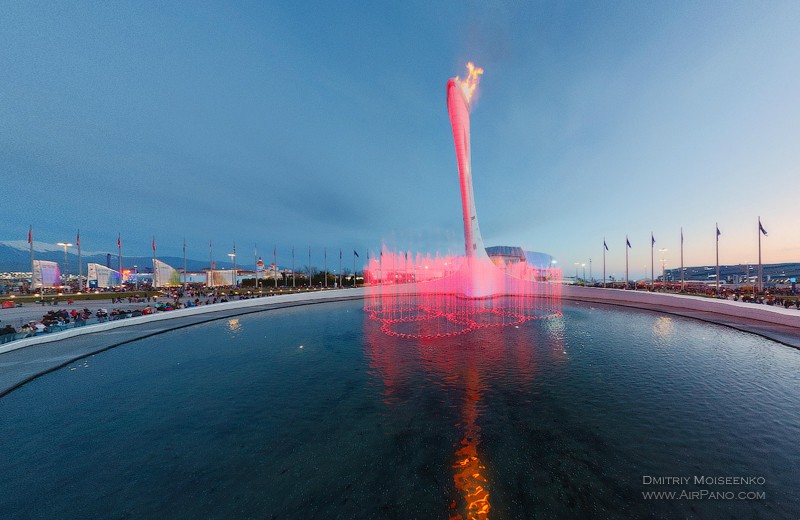 Going to the Olympics was definitely worth the efforts. It was a beautiful, festive, and loud event. Walking the city streets, listening live music at the Medal Plaza, witnessing an award ceremony, and watching Canadians bit Americans on the Main arena — the experience was priceless. I saw with my own eyes a Russian-American snowboarder struggling for Gold when Russian team finally reached the top of the medal chart... Being surrounded by thousands of fans cheering "Russia!" was unforgettable!
Photography and text by Dmitry Moiseenko
Read more
360° Video
Add your review about "XXII Olympic Winter Games"