Marlon Brando's Tetiaroa atoll. French Polynesia
Roughly 50 km north of Tahiti lies the beautiful island of Teti'aroa atoll. This is the atoll of Marlon Brando, who started to lease it back in the 1960s after having discovered it from the top of a mountain in Tahiti while he was shooting the movie Mutiny on the Bounty. After this very first visual contact, he found a local fisherman who took him to Teti'aroa in his boat.
You need to know that this atoll has no natural opening, so-called "pass", so that you have to make landfall by coming with the waves — you carefully have to choose the right rhythm and match the cycle of the breaking wave and glide into the protected shallow lagoon from the open ocean. This feat was not realized when Marlon Brando arrived with the fisherman and they capsized and scratched themselves on the sharp corals. Covered in blood, Marlon Brando finally made it to the atoll that would become one of his greatest love affairs. He found Teti'aroa peaceful and beautiful — in his autobiography, he says that it is "more gorgeous than anything I had anticipated".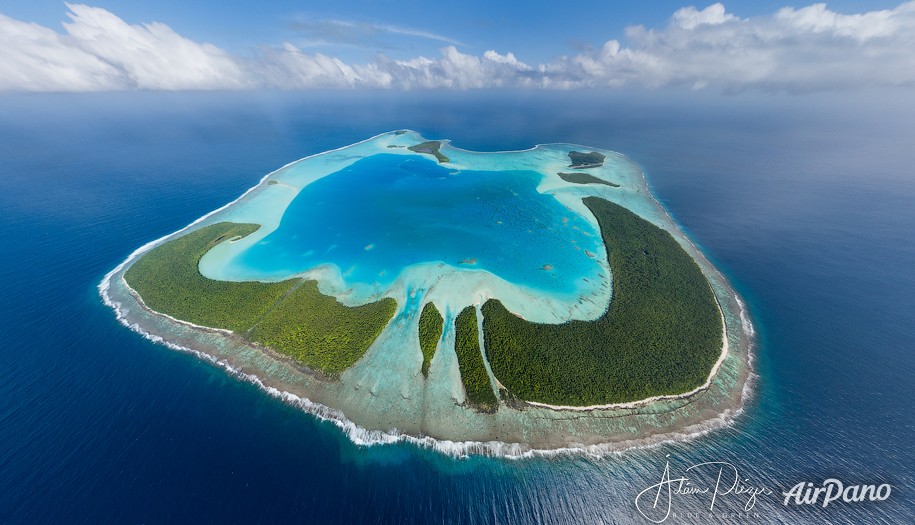 A few years later, after lengthy negotiations with the Tahitian authorities, he acquired it. Teti'aroa used to be the vacation island of royal Tahitians who came here to entertain themselves with songs, dance, fishing and feasting. It was also a place to practice the custom of ha'apori'a. This meant eating to put on weight and avoiding the sun for having whiter skin. Plump and pale was a sign of well-being and prosperity for the elite.

In 1789, William Bligh is said to have been the first European to visit the atoll while looking for early mutineers prior to the departure of HMS Bounty which eventually suffered a full mutiny. The United States Exploring Expedition visited the island on September 10, 1839.
Many important archaeological sites have been located, identified, and studied on Teti'aroa. Thus, due to the historical significance of Teti'aroa to the people, the government of French Polynesia continue to make future development to be questionable at best.

Wanting to live on the atoll, Brando built a small village on Motu Onetahi in 1970. It consisted of an airstrip to get there without breaching the reef, 12 simple bungalows, a kitchen hut, dining hall and bar, all built from local materials: coconut wood, thatch roofs and even large seashells for sinks.
The village became a place for friends, family and scientists studying the atoll's ecology and archaeology. Over the years, Brando spent as much time as he could there and used it as a getaway from his hectic life in Hollywood. Although he didn't spend as much time there as he wished, it is said that he always cherished his moments on Teti'aroa. During his stay on the island, he was often visited by his children, grandchildren and great-grandchildren. Upon his death, Brando's son Teihotu lived on the island for some time.

Eventually, the village became a modest hotel managed by his Tahitian wife, Tarita Teriipaia, who had played his on-screen love in Mutiny on the Bounty. The hotel operated for more than 25 years, even after Brando left French Polynesia to return to Los Angeles. Many hotel guests lamented the lack of amenities normally found at an island resort.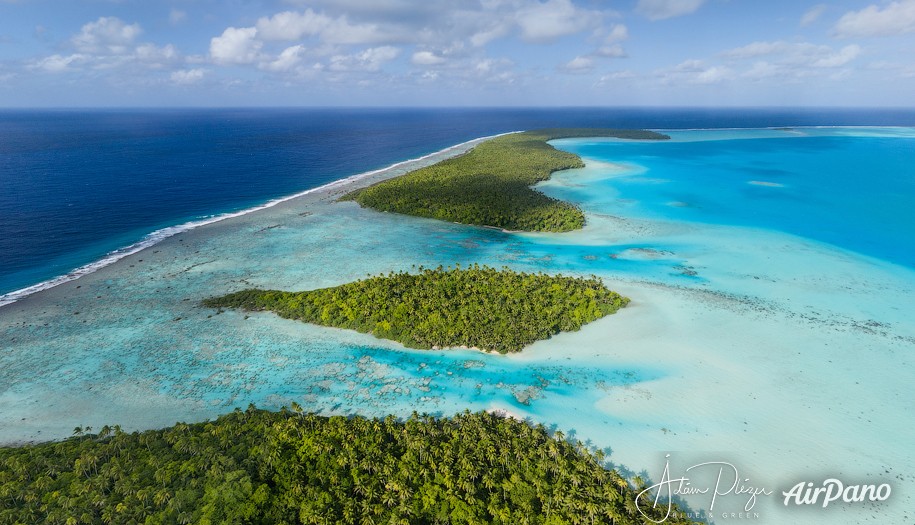 Motu Onetahi now hosts a luxury eco-hotel (The Brando Resort), spa, research station, staff village and private runway. Many billionaires and Hollywood celebrities come to this secluded island. It was here that Barack Obama wrote his memoirs and Prince William and Kate Middleton also came here for their honeymoon.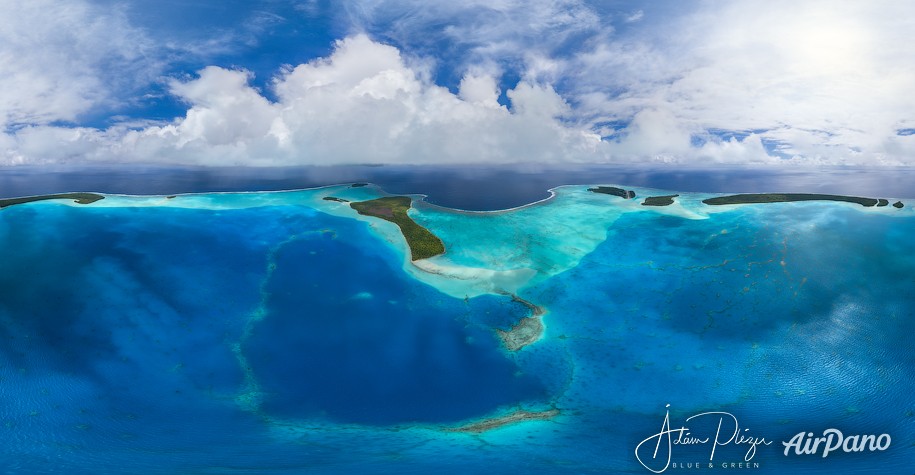 It is highly probable though that none of them had ever seen Teti'aroa the way you will see it now through these aerial panoramas. Teti'aroa was the first and last station of my 2,400 km long catamaran expedition that I undertook in 2019. I chartered a catamaran to visit some special islands of French Polynesia. As my starting base was Tahiti, Teti'aroa was the obvious first and the last station to make aerial panoramas. I was very lucky as my captain, Teahui is closely related to the Brando family so I had privileged access to Teti'aroa and I could visit all of the motus — except for Motu Onetahi.
Photos and text by Ádám Plézer
15 April 2020
Read more
Photogallery
360° Video
Add your review about "Marlon Brando's Tetiaroa atoll. French Polynesia"