Wayag Island, Raja Ampat, Indonesia
The equator, desert islands, a boat-trip in the ocean...It is not the plot of a pirate story but a plan for our expedition. By the way, as for the pirates, there are some of them in this area.
The Raja Ampat archipelago, according to an advertising poster, is the "last paradise in the world". Rocky mountains, overgrown with tropical jungles, stand out on the surface of the emerald sea; typical poster about life in paradise. As usual, these reserved islands are hardly accessible. It took us two flights from Jakarta to get Sorong, then we boarded a ferry going to Waigeo - the biggest island of the Raja Ampat archipelago. Our adventure began.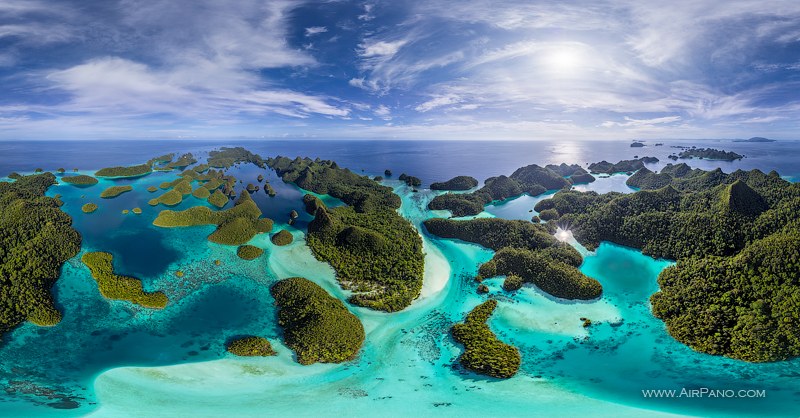 It began in the very harbour of our destination. We had to reload our belongings from a ferry to a boat and then jump ourselves into this boat. The ferry was not that high, but the boat was swinging on the waves. Ok, let's do it: I jumped and, fortunately, even did not fall into the water. Our wooden boat did not seem to be suitable for sailing in the ocean, but the confidence of our captain and couple of mighty motors resolved our doubts.
Our destination was the reserved islands of Wayag, situated right near the equator. There are neither people on the islands (except rangers who work as guards), nor the electricity and communications. So, in addition to our belongings and provision, we took two petrol generators so that we could charge our equipment. On our way we would visit some other islands inhabited by people.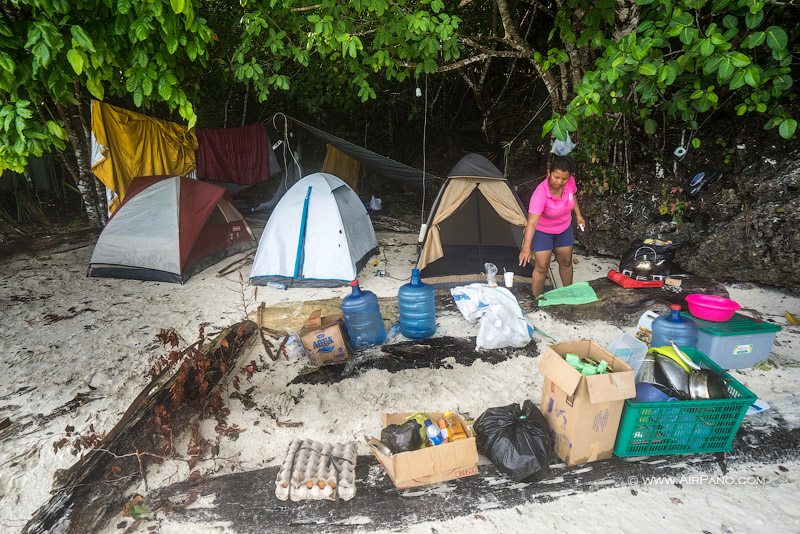 We spent our first night in "Pianemo", a family guest house situated on Fam islands. Pile-supported bungalows built in a coral lagoon and covered by palm leaves look very charming. Little fish and small sharks, fed with remnants of food, could be noticed in the water. At low tide in mangrove jungles one can find mudspringers - funny fish that look like a crossbreed of a frog and a tadpole. They can move across land in quick leaps and do without water for some period of time. The coral lagoon is a home to many species of colorful fish. Surely, it is a paradise place! We wished we could stay here for a while longer. The islands' inhabitants got up very early, before dawn. Children embarked the boat, thus they were going to school. And it was time for us to leave as well: there was a long way to go.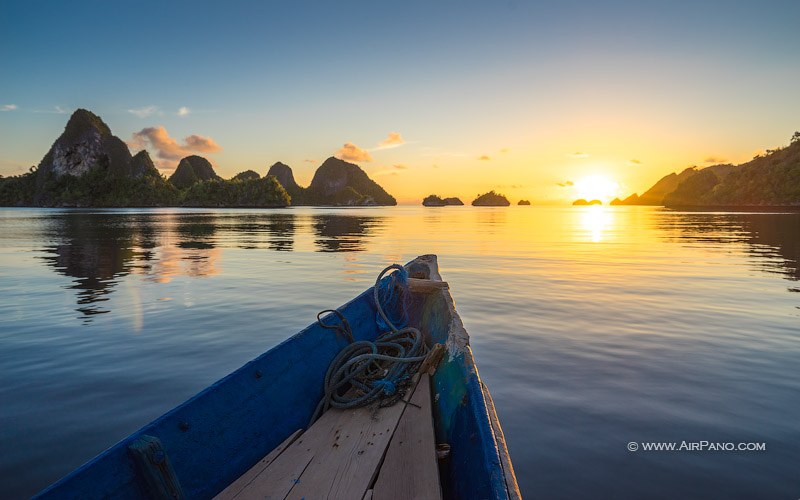 There were six of us in a team: me, Stas, our indonesian helpers Edie and Esnie, captain Roy and his assistant Malik. Besides us, there were cases with the equipment, our drone, two generators, one ton of fuel in barrels, a kerosene stove, provision and pure water supply in our boat. All in all, we were well equipped for the life on desert islands. The only thing I worried about was the fact that the only navigation device on our boat was my cellphone with a built-in GPS. We did not have even a compass. And surely, we got lost and arrived on a wrong island. The captain explained that the reason was his hunger that led him to the wrong island. That was why we stopped to have lunch.
Having recovered the navigational skills of the captain, we set off. We had to get the island where the rangers lived and worked as guards. As soon as it appeared on the edge of the horizon we also noticed a fast moving storm-cloud. It began to rain. With a nil visibility and the rain coming down in a torrent, we had to stop to wait till it was over. We hid under the roof and tried to protect the equipment from water. Fortunately, rain lasted for not so long, and in an hour we set off sailing. Soon we got the island of rangers: we were provided with a boy-ranger as our guide and a permission to visit the reserved islands. Rangers also like to give some food to sharks, but these ones were bigger than the sharks we saw in Pianemo - they were about two meters in length. Edie said they were not dangerous, they were eager to eat rice that was given to them. But I had no desire to check if it was true - just in case rice was not enough to satisfy their hunger.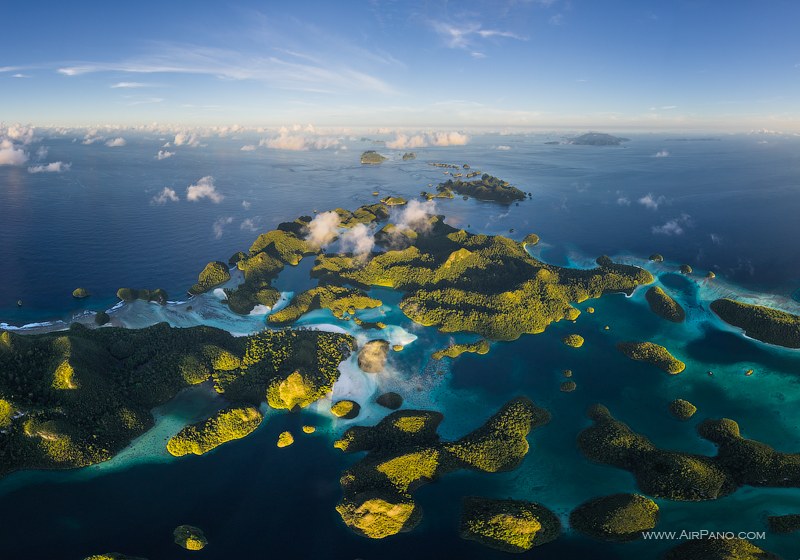 In front of us we could observe the Wayag Islands with its rocks and jungles. The boat was gliding between them, we had to find a place for a camp. Most of the islands were not suitable for this: jungles were too thick and the rocks - too steep. Finally, we found one with a long beach along the coast. That was the place for our camp!
The beach looked so attractive, but we knew: at high tide it would hide under water, so we hid our belongings deep into the jungles. After a while our camp looked settled: tents, an awning for the equipment, a stove, flasks with water, boxes with food. I asked if there were any poisonous or dangerous animals. Esnie said that it was safe on land, but there could be some stingrays and reef stonefish underwater, so one should be careful and wear shoes while entering the water.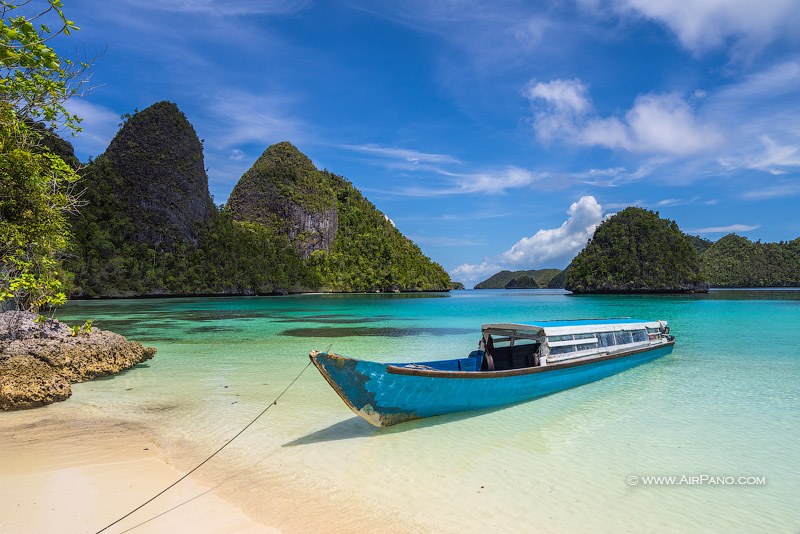 Having taken a machete, I went to bring some woods. It was quite a problem to get them as trunks of palm trees turned out to be empty inside; liana was not suitable for making fire as well. But having gone a bit further into the lagoon I found a good dry bush and chopped some woods. In the meanwhile the tide rose and I had to walk through the flooded beach.
I created the fire and we had lunch. The night fell very quickly. The moon appeared. A luxurious yacht moored not far from our island, in the darkness I could see its masts illuminated. That would be foolish to hide in a tent at such a beautiful sight, I thought, and decided to hang a hammock between the trees so that I could enjoy the view.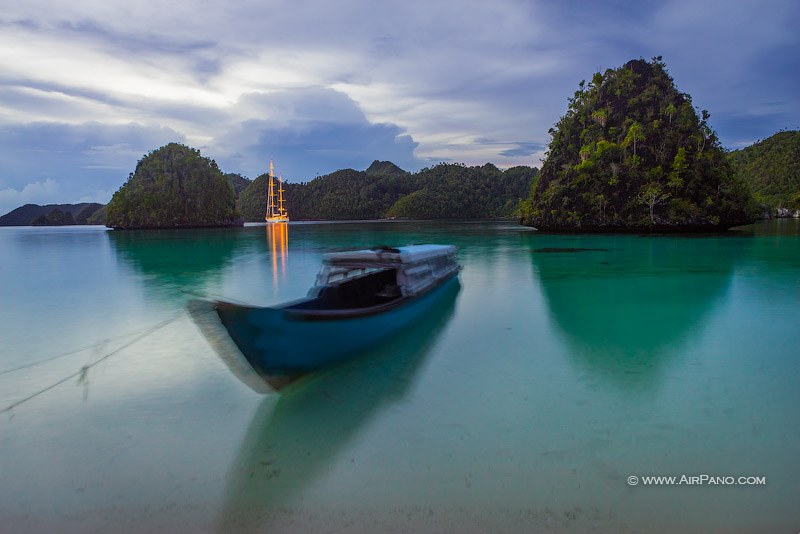 Edie worried about my decision: "Sergey, you shouldn't sleep without a tent in jungles. At night carbon dioxide goes down from trees. You definitely need a tent". But I assured him that I would go to a tent as soon as I feel something wrong. Having made sure that I was alive after my first night without a tent, he felt easier. Esnie, in her turn, started to call me "Jungleman Sergey".
At night the island looks very charming, light breeze blows, myriad of stars together with small lights of plankton gleam in the serf. But I was the one to be attracted by this night romantic sight, the other members of the team usually went to bed soon after sunset, at around 7 o'clock in the evening. As for me, I truly enjoyed sitting in the twilight on the shore.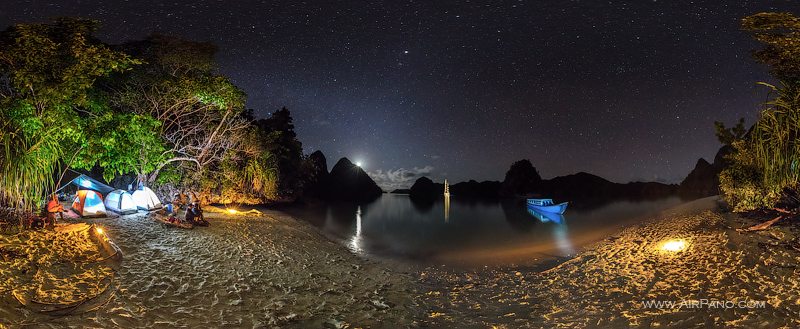 Humidity and salt were the two essential components of the life on the island. In a couple of days our hair and clothes grew hard with salt, that was why we were happy when it began raining. We were taken aback on our way to a further lagoon where we wanted to take photos. I settled myself on the roof of the boat, the warm drops were picking my face and sweeping away the salt. The boat, being without an anchor, was drifting in between the green hills of islands. As soon as the rain stopped, we completed several panoramas with the help of our drone and returned to our camp.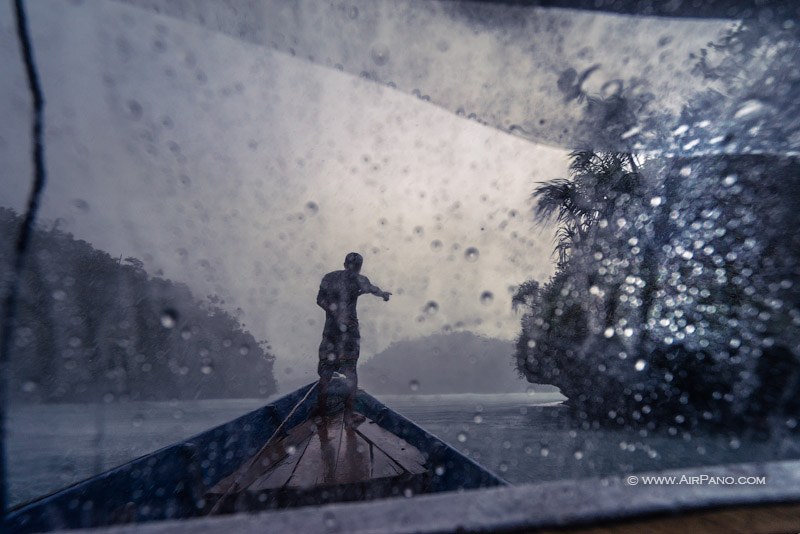 The main purpose of our expedition was the aerial photography using our drone. But I could not miss an opportunity to climb the mountain myself and see the panorama of Wayag island with my own eyes. The path to jungles was rather wide, so I got ready for an easy walk. But in a half hundred meters I lost my enthusiasm: the road was getting steeper, and I was about to give up. But I could see the sun through the crown, so I kept on ascending and finally reached the top. The view was absolutely breath-taking, I could see the waters of the lagoon shimmering with emerald and blue shades of colour, a yacht in a distance and our boat near the coast. But they looked so tiny! Having taken several photos and examined my scratched ankles, I began to descend. Though I was absent for around two hours, the guys started to get worried. But I was just on time to have lunch!
The next night merits special mention. Just at the time when the life in the camp settled down and all the troubles were supposed to be over, the nature decided to challenge us. At around ten in the evening a thunderstorm burst. I can't say that it was raining hard, but it was followed by a strong wind blowing the water inside the tents.
On the very first day of our camping me and Edie, having examined our tents, came to a conclusion that they were only suitable for protection from the sun and insects. Any rain could wet them through as the design of the tents does not provide for the rainfly. The first raindrops fell heavily on the tent, so I decided to relocate under the awning where we kept all our equipment. As it turned out later, it was the driest place on the island. In several minutes the sky burst out with heavy rain, gusts of wind were bending the trees. I was sure that my friends did not sleep: judging by the rushing lights of head torches, they seemed to be trying to fight the forces of nature by stopping leaks. But it was in vain. The only person snoring peacefully was our captain who slept in the boat. The guides came under the awning to join me, but having understood how pointless the idea was (as it was quite windy and damp), they crawled back to their tents to get soaked.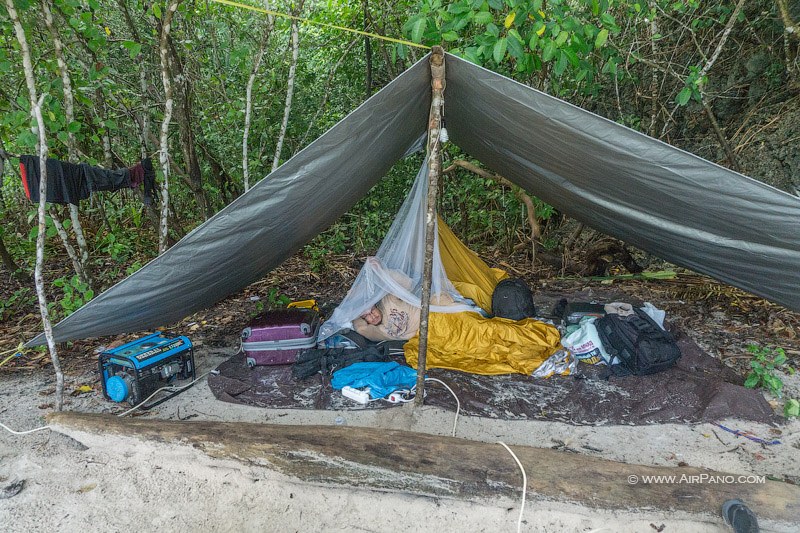 As Stas told me afterwards, he was watching sadly as little lakes of water in his tent were growing bigger. Wet sleeping bag, which served as a mattress, could not keep the warmth anymore. He thought about his waterproof jacket or at least a sweater. But it seemed impossible to run to our cases, find in a pile of equipment his clothes and then return to the tent without getting soaked - that was mission impossible at such a wind and rain.
I don't about other guys, but as for me and Stas, we could not even think about going to sleep to our boat smelling diesel and paint… In several hours the rain ceased, I got wrapped in tarpaulin and fell asleep.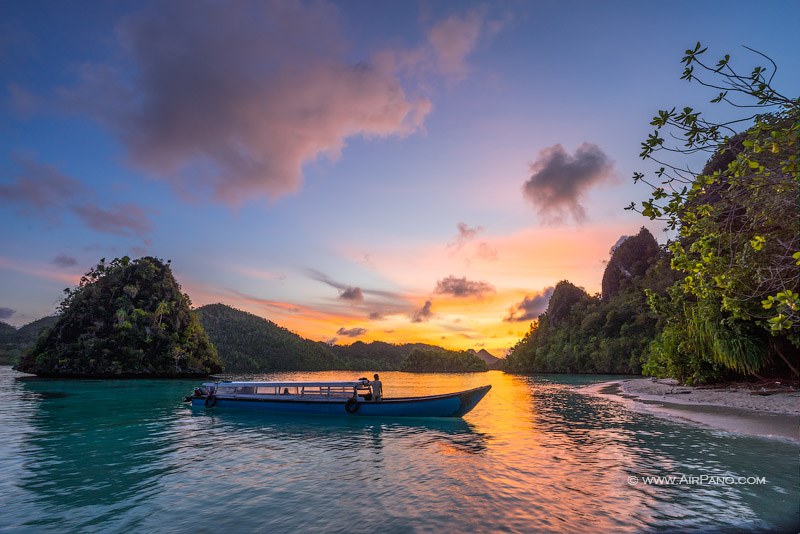 I awoke with someone touching my heel. I got displeased and turned on a torch light. In the darkness there was something staring at me. It was arthropod, having the size of a little cat and eyestalks. And it was not going to leave. That was a crab, also known as Palm Thief.
I tried to recall all I know about these crabs. I knew very few: this is one of the largest arthropod in the world, it lives on islands and climbs trees. As for their diet, I heard that they like coconuts, but I was not sure whether the crab can eat the tourists' heels or it just wanted to get acquainted with me. I decided to neglect the rules of hospitality and bring it back to the forest. But it did not like the idea. At my attempt to catch it, the crab raised its huge pincers and hissed like a cat. I couldn't stand this, so with the help of a stick I forced it to go homeward. It was offended, so never came back.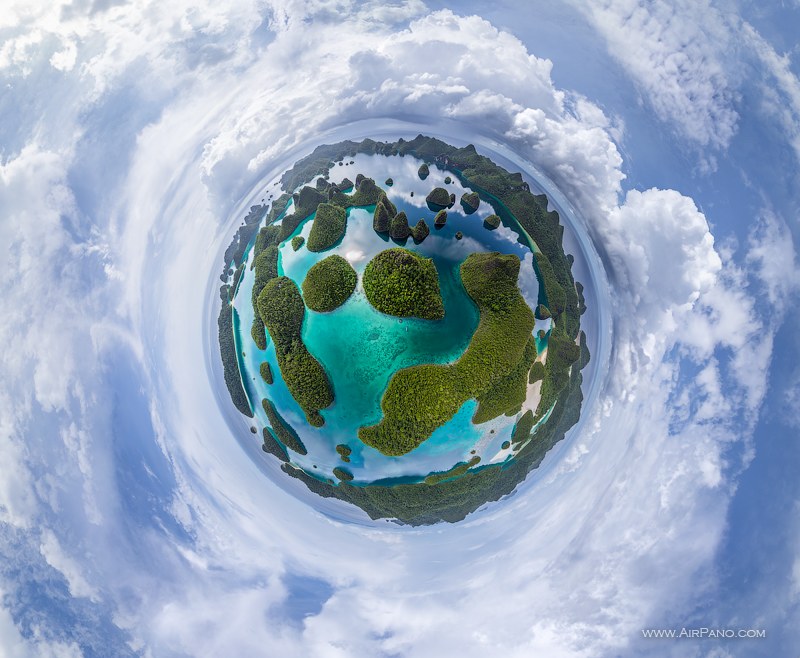 There were some other inhabitants on the island. Having felt the smell of canned goods, monitor lizards came to our camp. They were not as big as their fellow-lizards living on Komodo Island, the biggest one we met was at around one meter in length. They were not afraid of us at all, and at night they were having their midnight snacks in our garbage.
In the morning we decided to estimate our losses. Everything was wet! Every little thing got wet! Inspite of the fact that I was holding the protective awning with my, let me say, teeth and even body, but still it was blown away by the wind and by the morning every piece of equipment and our belongings had been wet. The drone was wet as well.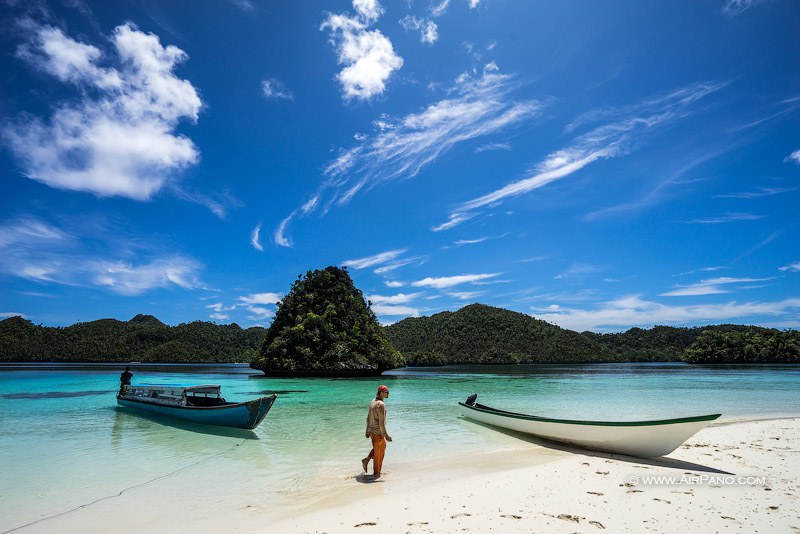 Quickly we designed an improvised drying system and hanged all the things that we could hang. As for the drone, Stas put it in the boat where it quickly dried. We could only hope that the rainwater was pure and did not any harm to the drone. After its first flight we felt a relief: devices were working properly.
It seemed that the weather decided to redeem for the previous night: the day was just amazing! The sun, small cumulus clouds hanging in the sky in the afternoon and the evening - perfect conditions for a photographer!
Several days spent on the island flew quickly and it was time to go back to the civilization. On our way back we met a run of flying fish, several turtles and a devilfish jumping out of the water to greet us. The underwater life of the Raja-Ampat archipelago is very rich but, unfortunately, our plan did not include diving and underwater shootings. In couple of hours our boat arrived at the harbour of Sorong, where such conveniences as pure water, shower, electricity and even mobile communication together with the internet were available. But, actually, if we had a chance, we would stand all the inconveniences on Wayag island for several days more.
Our expedition came to an end. Good bye Raja-Ampat. We will be enjoying the view of your green islands on our virtual tour.
Text and photos by Sergey Shandin and Stas Sedov
04 June 2015
Read more
Photogallery
360° Video
Add your review about "Wayag Island, Raja Ampat, Indonesia"