Northern lights, Teriberka
Barents Sea is a marginal sea of the Arctic Ocean and is bordered by the northern coast of Europe and the archipelagoes of Svalbard, Franz Joseph Land and Novaya Zemlya. The sea has the area of 1,424,000 km² with a maximum depth of 600 meters.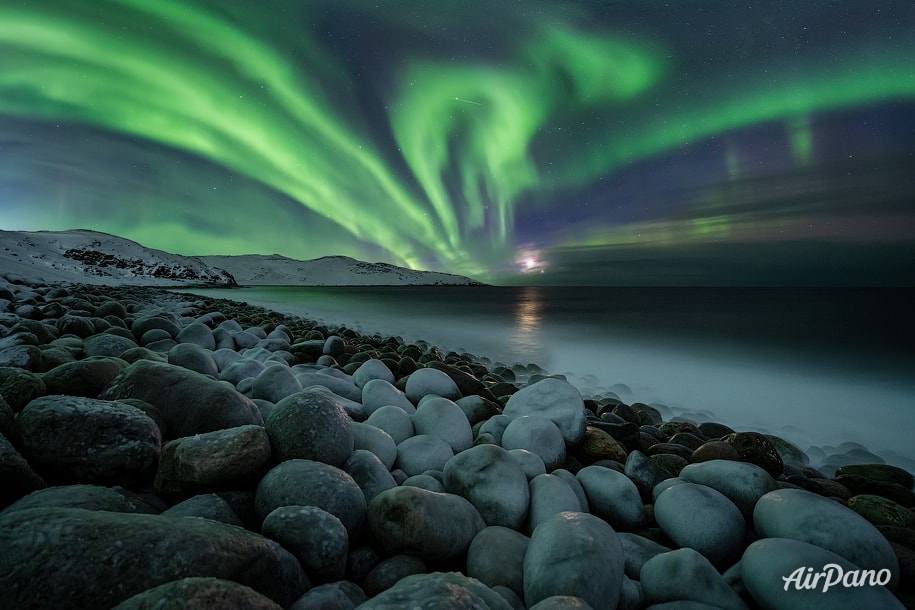 In the Northern part of the Kola Peninsula, just near the Murmansk coast, there is the gulf of Teriberka. It is a bay that "cuts" as deep as 9 km inside the land and creates the Teriberka Peninsula. There are three smaller bays in this gulf: Lodeynaya, Orlovka (former Korabelnaya) and Zavalishina. On the south coast, at the mouth of the Teriberka River, there is a rural settlement bearing the same name. The fact is that, in this case, the stress falls on the second syllable (in the Russian language). The name of the settlement and the river comes from the ancient name of the Kola Peninsula, that was previously called Ter.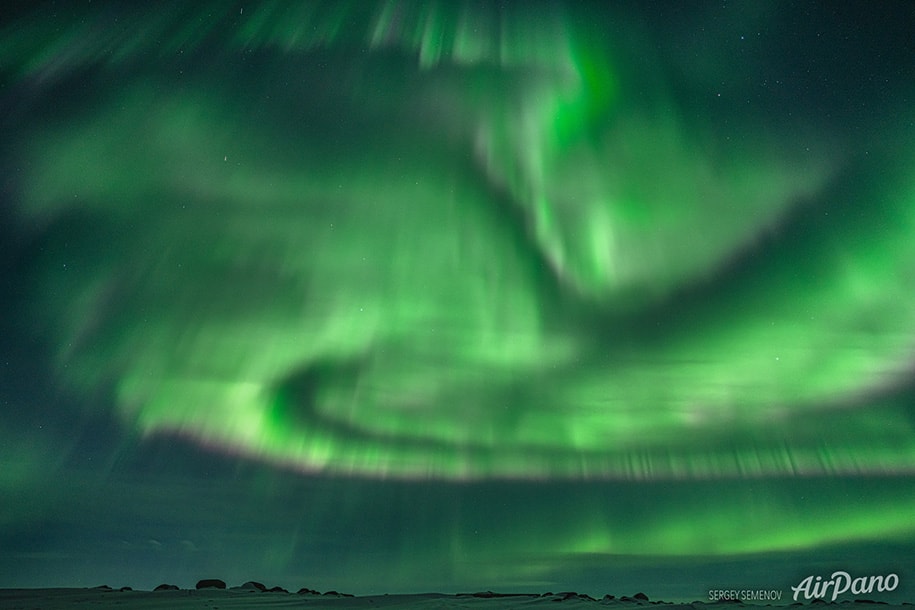 The time beyond the polar circle seems to stop: in summer the sun hardly goes down and in winter there is an endless night. The rocky coastline, tundra and incredible sky over endless sea expanses, all these things are the severe beauty of the Russian North.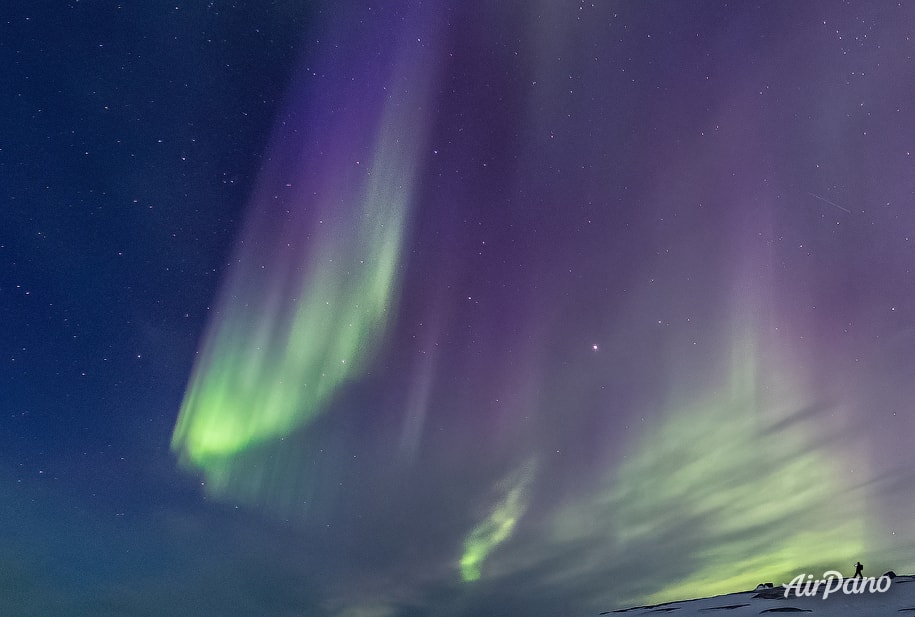 This is the place of strong waves and winds, especially winds! The gusts can reach 60 m/sec and resound loudly in the neighbouring coast cliffs. Everything in the wind's path is doomed to fall.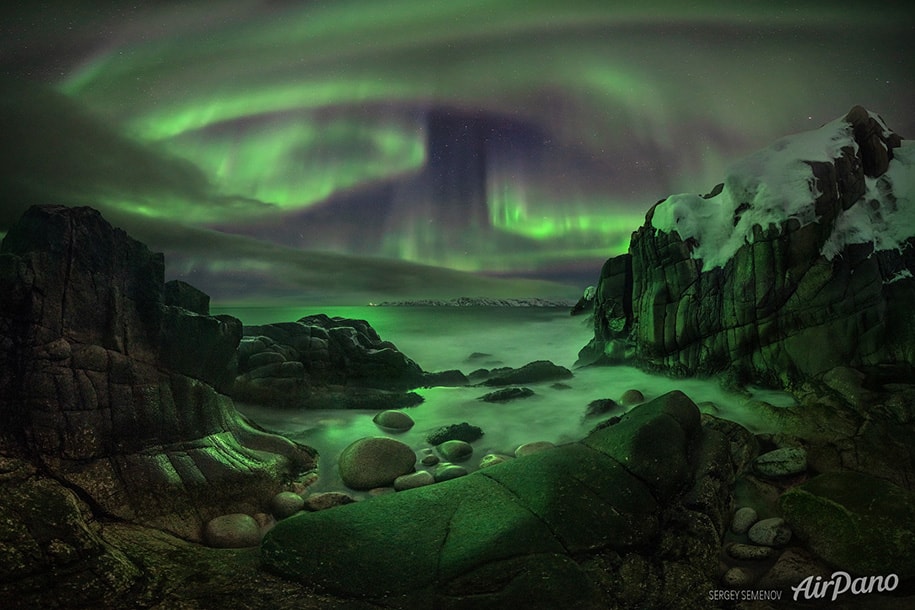 There is a good reason for the northern seas to be turbulent and restless: the weather rarely occurs to be good, while in winter, in the season of the bright colours, the cold and wind are especially strong here. But still, the Teriberka Bay is considered to be the best place for watching the phenomenon of the polar lights. In March 2023 the most powerfull geomagnetic storm for last seven years produced a beutifull aurora visible in all northern parts of our World so AirPano team could not avoid this fact.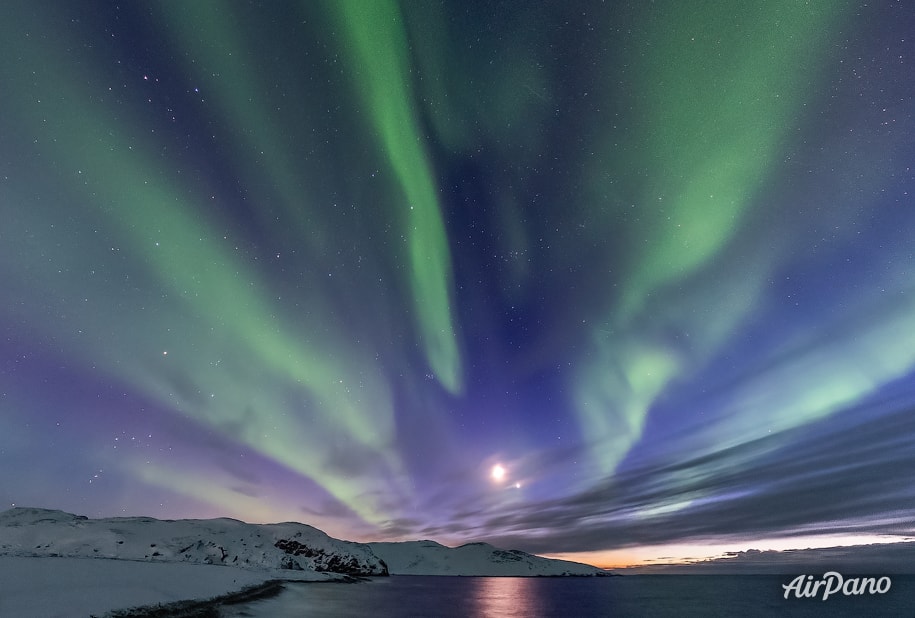 Photos by Sergey Semenov and Sergey Rumyantsev
7 April 2023
Read more
Photogallery
360° Video
Add your review about "Northern lights, Teriberka"