Polar Urals
The northernmost part of the Urals is a special region with its own landscape and unique beauty. The territory, which covers an area of over 25,000 square kilometers, is commonly known as the Polar Urals. There are many rivers, lakes and waterfalls here, and to the west and east, the mountain ridges border the taiga and tundra. A photo tour with AirPano will take you on a journey through this amazing landscape.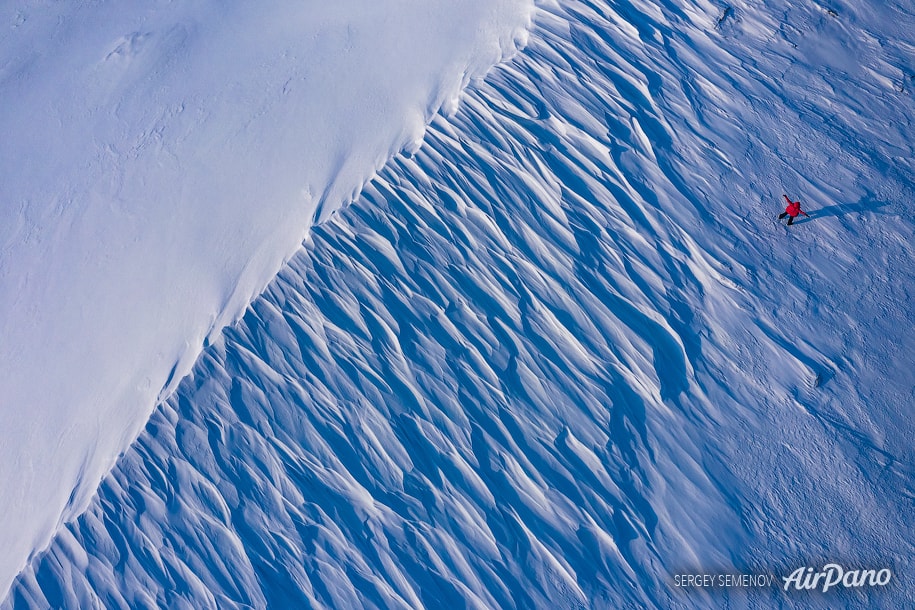 The Polar Urals have a very harsh climate. Spring and summer are short; the snow in the mountains does not begin to melt until June, and by early September the ridges are again covered in a white blanket. In the foothill plains, winter temperatures can reach -55°C (-67°F), while at higher grounds, the winter is "warmer" due to a temperature inversion: up to -45°C (-49°F). In contrast, summer temperatures can be as high as 30°C (86°F).
But we went to shoot in the cold season - the white silence has its own charm. Clear hues, bright blue skies - and the sun that barely rises above the horizon before it quickly goes down again.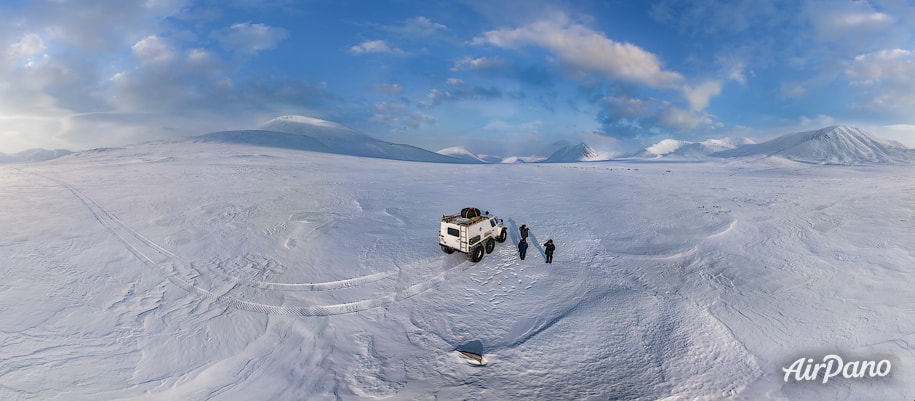 Our shots captured the Izyashor, Kosruzshor and Estovis rivers, Bolshoe Khadata-Yugan-Lor Lake, and other places covered with snow white lace. The rivers, swift and turbulent, are plunged into a deep sleep that will last eight months! Most lakes in the Polar Urals are of glacial origin, but there are also tectonic and thermokarst ones.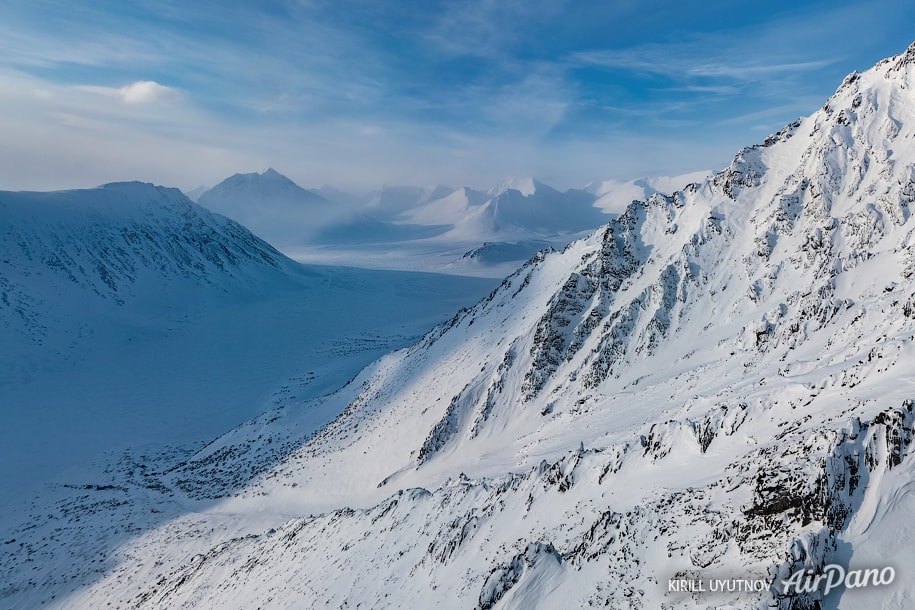 The snow here is not the kind of snow we are used to. It can be very stiff and strong, so much so that heavy vehicles don't even leave tracks. Sometimes it is so soft and fluffy that even a man can immediately sink deep into it. Or it's super light and floaty, drifting around obstacles. Snow crusts can be almost opaque, or they can reflect the rays of the stingy polar sun like ice, and sometimes they glitter with large crystals. In our gallery you can see unusual snow patterns and shapes.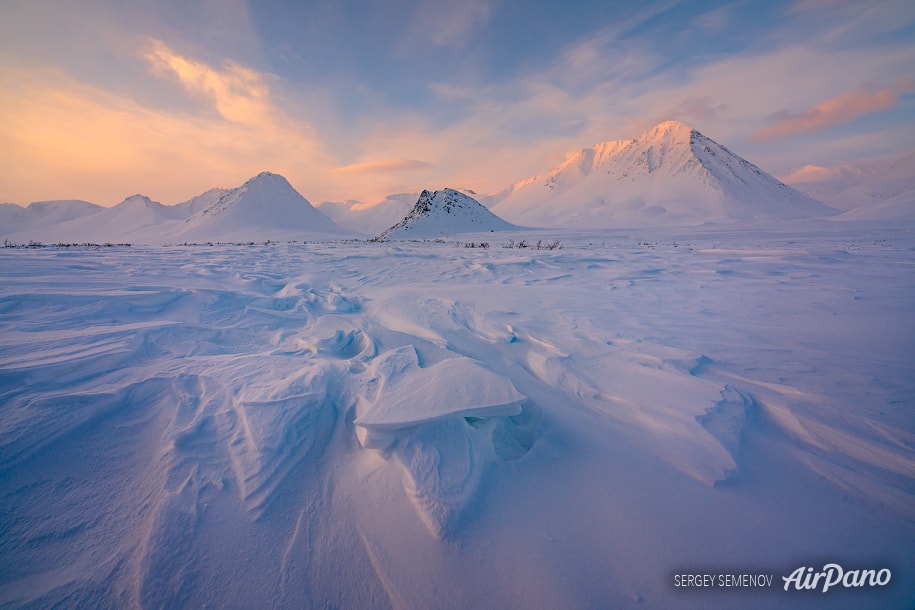 The weathering lines look like desert dunes and crescent-shaped sand drifts, or like the waves of a northern sea, with black sharp rocks sticking out like shark fins. The shapes of the "waves" vary greatly: they can be layers, arrows, curves, a whale's tail, or flower petals.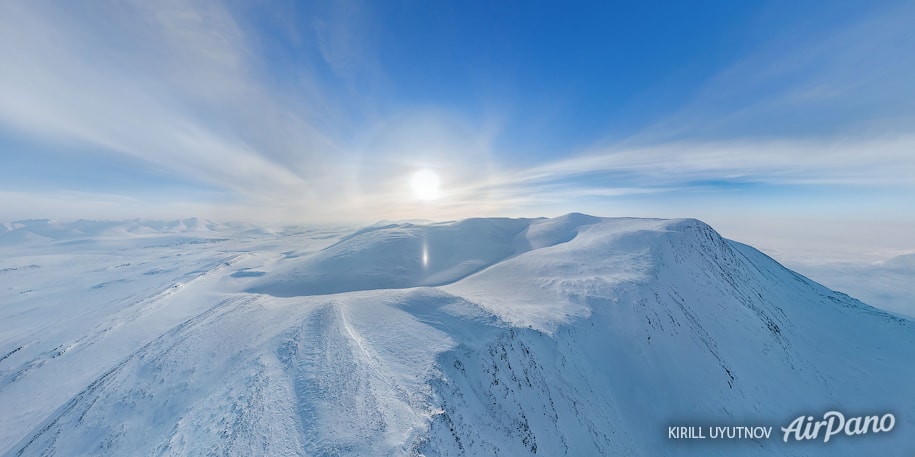 While shooting, we climbed the slopes around the frozen lakes. The view from there looked like a scene from a sci-fi movie, and our Trecol, a 6-wheel all-terrain vehicle, resembled an alien rover of the first colonists. We hope that we have managed to give you a sense of the incredible atmosphere and spirit of the Polar Urals, this unspoiled corner of austere northern nature.
Photos and 360 panoramas by Sergey Semenov and Kirill Uyutnov
24 February, 2023
Read more
Photogallery
360° Video
Add your review about "Polar Urals"