Blooming apple orchards. Moscow, Kolomenskoye
Millions of tourists visit Japan annually during the cherry blossom flowering period. It is a truly unique sight: in Moscow, cherry blossom trees bloom only in limited numbers in botanical gardens, and there is no way of finding yourself in the middle of these blooming trees.
Once, as I was reflecting on the flowering of cherry blossom trees, I stopped near a tree fully covered by big white flowers. That was an apple-tree. And I was immediately struck by an idea of going to Kolomenskoye Museum-Reserve: having lived all my life in Moscow I, shame on me, have never been to Kolomenskoe at the period of the apple tree blossom.
So said, so done: together with Sergey Shandin we took all the equipment we needed and went there.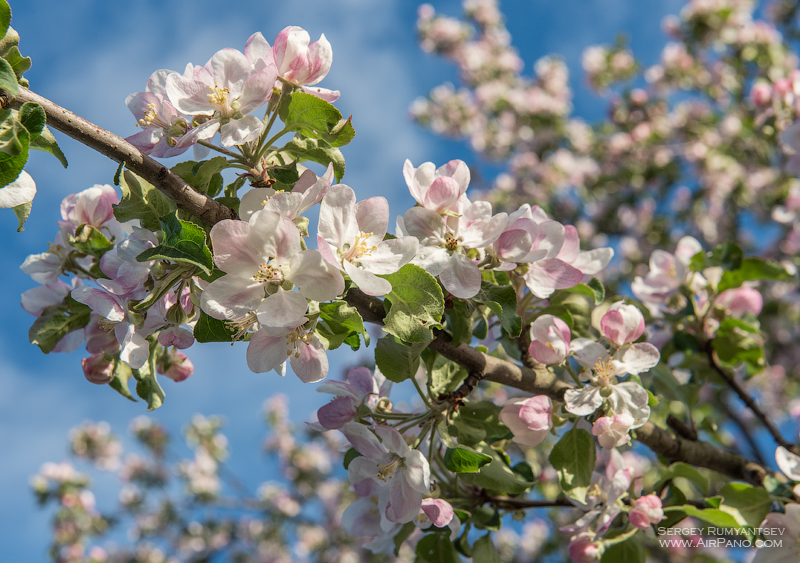 For several centuries Kolomenskoye had been the country residence of Russian tsars and dukes. That was the favourite place of recreation for Vasily III, Ivan the Terrible, Peter the Great and Catherine the Great.
In the beginning of the 18th century, a lot of fruit trees were planted around the royal country estate. Apple trees, plum trees, cherry trees and pear trees were planted out, more than 6,000 trees in total, and the apple gardens were organised in strict geometrical forms. The fruits that were picked up here then went to the royal table even after moving the capital to St. Petersburg.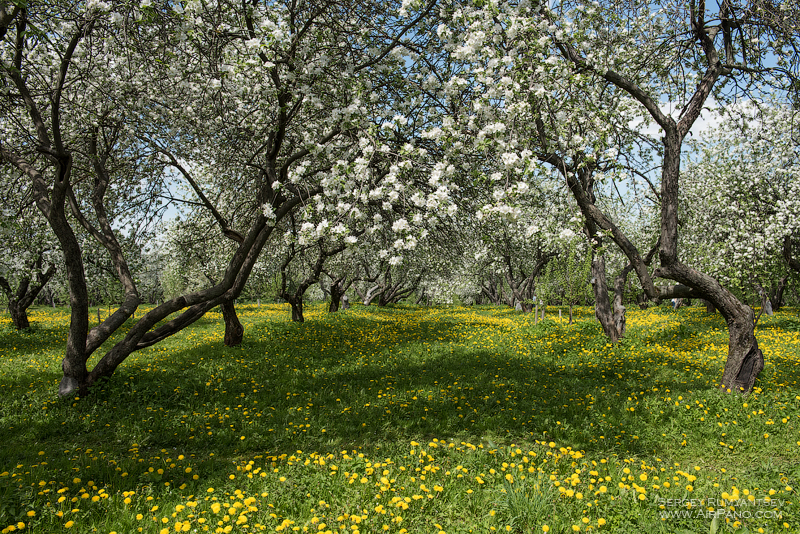 Today, more than 900 apple trees grow in three gardens of Kolomenskoye: Kazansky, Dyakovsky and Voznesensky. We went straight to Dyakovsky garden, which is less crowded than other two. And we were surprisingly lucky: all the trees were in bloom! That was an incredibly beautiful sight.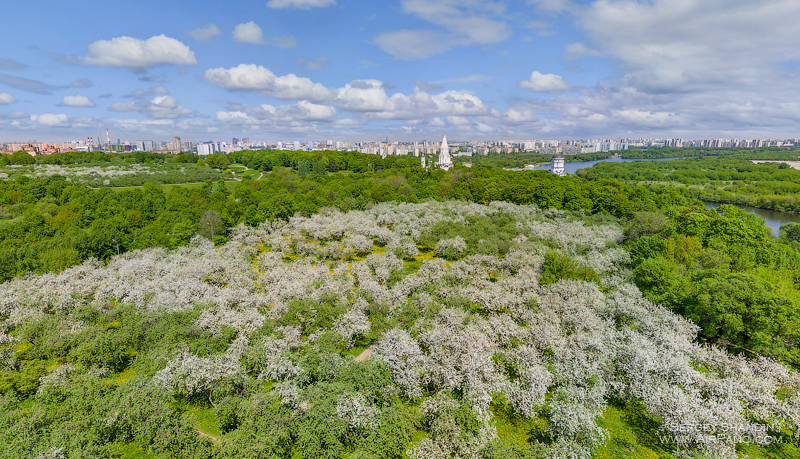 But that's not all! Park workers didn't have enough time to cut the grass in Dyakovsky garden so that it was covered by a yellow carpet of blooming dandelions. I can confidently state that the scene we saw was just as wonderful as the view of the best Japanese parks full of flowering cherry blossom trees. We truly hope that our panoramas will make you feel the beauty of the blooming apple tree garden.
Photos and text by Sergey Shandin and Sergey Rumyantsev
4 July 2017
Read more
Photogallery
360° Video
Add your review about "Blooming apple orchards. Moscow, Kolomenskoye"