Meteora, Greece
Hospitable Greeks helped us organize our trip to Meteora. We are very grateful to Yiannis Yiannakakis, head of Athens Walking Tours travel agency. In response to our "cry for help" in obtaining photography permits, he and his colleagues not only offered support in this tricky business and secured official permits for all requested locations, he also helped us with accommodations, transportation, and logistics, absorbing considerable portion of our expenses. Traveling the world, we have never met such generous hosts before.
Additional information about our hospitable guides is available here.
---
Usually when a photographer is preparing for a photo trip to Greece, everyone immediately tells him to visit the island of Santorini and the Metéora. Unlike Santorini, where finding a good photography spot can be a challenge because of the endless blue-and-white and yellow-and-red little houses, churches on the rocks, and best Mediterranean sunsets, the Metéora is much easier to photograph: only 6 monasteries and 2 observation points overlook the valley.
6 centuries ago, (or perhaps even earlier) monks started to settle down in this area in search of solitude for prayer. They lived in caves and built spiritual structures on top of unreachable rock towers. Yes, it was really hard to disturb them there: people climbed hanging rope ladders or were lifted up in a special basket; they also used a winch to lift up construction materials and food supplies. The area went through a decline and prosperity, and at the end only 6 out of 24 monasteries remained open. The high contrast of red tiled roofs against the grey rocks of surrounding mountains look unreachable, yet stunning, which played a bad joke on the monks' community: now, every morning tourist buses travel one after another to the gates of the monasteries where monks used to look for solitude and peace in the mountains...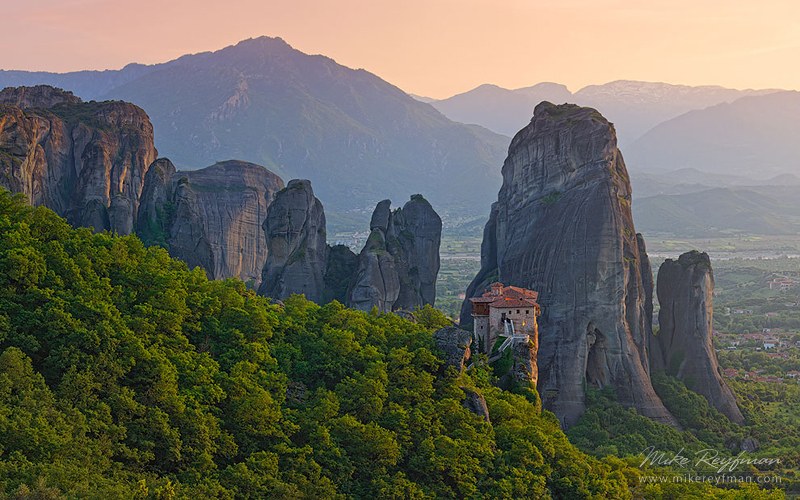 It is pretty obvious how to photograph the monasteries with a flying camera because they are almost perfect photo subjects. Our main objective was to depict their "detachment" from earth and "floating" among mountains feel. We woke up at sunrise, waited for the sunset, and took notes about when and at what angle the sunlight hit each monastery in the morning and when it began setting behind the mountain. And we photographed, photographed, and photographed.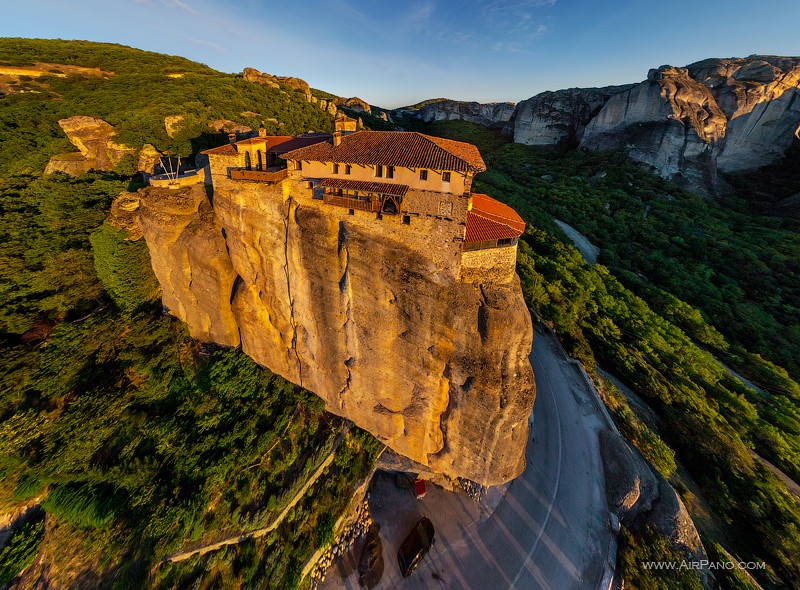 I knew from my previous visits to the Metéora that it was prohibited to shoot in the inner quarters of almost all monasteries. However, we were so amazed by the beauty of their frescos and churches that we decided to take our chance and negotiate. Armed with a laptop and pictures from AirPano.com website, we went from monastery to monastery telling everyone about our project; who we were, what we did, and why they had to let us take pictures. In some places we were turned down right away, in other places an abbot was absent, and in 2 monasteries they were moved by our words and let us shoot inside. Unlike the Saint Trinity male monastery, where they simply sent a monk with us to make sure we were shooting appropriate things, in the female monastery of Saint Stephan, we had a special reception, which I want to tell you about in detail.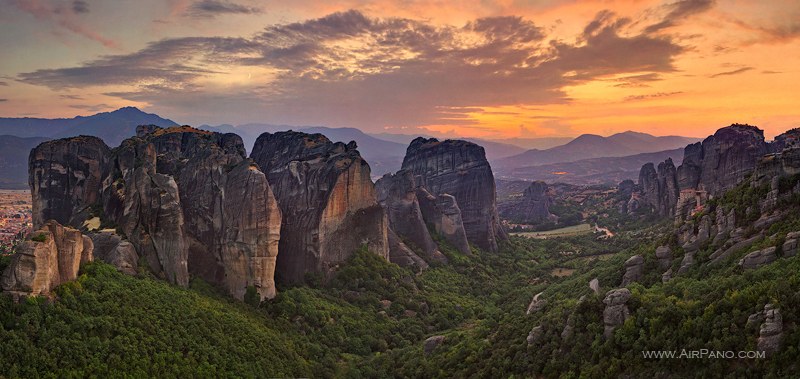 The abbess carefully studied our website, and then she invited several nuns in and showed them our panoramas. The sisters mentioned that they had already noticed the "peculiar flying machine" with which we had recently shot their monastery from the outside. Thank God it was just pure curiosity. They talked it over and informed us that they would not mind letting us inside with our equipment, but it would be better if we come in the afternoon when the monastery is closed for public. This way, we wouldn't be disturbed.
When Stas and I returned in a few hours, the gate was closed, and so they had to open it for us. I was ready to start shooting right away, but the abbess called us again. With a smile, she told us that it was not appropriate to start working without having lunch first. So, we were invited to share a meal with the nuns. They served modest vegetarian dishes cooked with a lot of love. It was easy to work after a delicious meal, and so we finished our photo shoot quickly. When they saw how we photograph and what equipment we use, they asked us to take pictures of certain frescos specifically for the monastery. As a farewell gift, the nuns gave us a few books about the Metéora and about the frescos of this church. Once again we had proof of genuine Greek kindness and hospitality. We had only pleasant memories of our trip to the Metéora.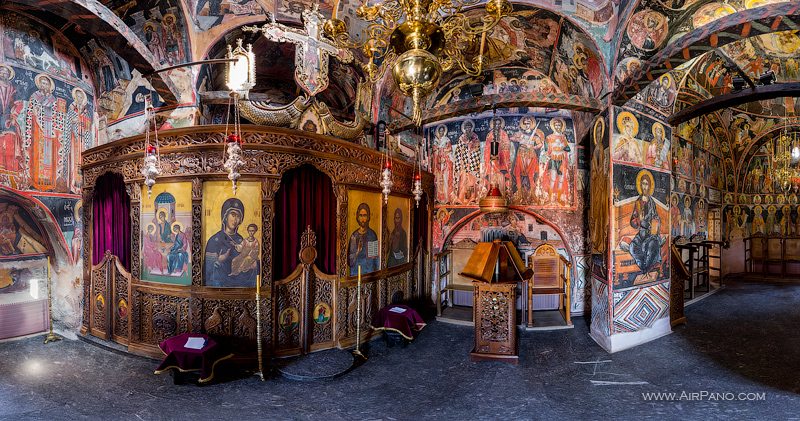 And now few historical facts about Metéora.
---
The monastery complex of Metéora in Greece is one of the very few monuments on our planet that was created both by man and nature. The Metéora is a rare example of harmonious craftsmanship that enriches the local landscape without changing it.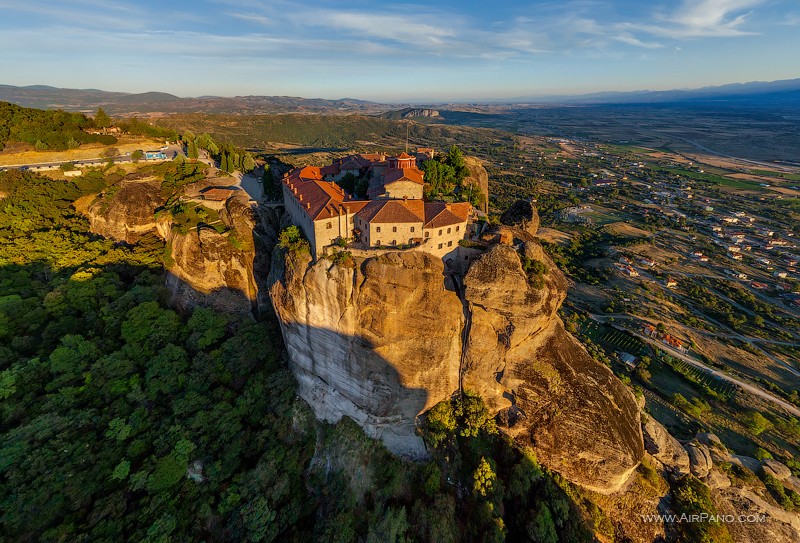 But, let us start from the beginning. Magnificent 600-meter-high mountains lie on the Thessaly Plain in the middle of northern Greece. Over 60 million years ago this place was at the rock bottom of the Prehistoric Sea. Continuous weathering from water, wind, and extreme temperature turned them into massive stone pillars. The whimsical shapes of the rocks look like they are suspended in the air, hence the name Metéora, which means "middle of the sky" or "suspended in the air" in Greek. According to the legend, the first recluses came to these rock towers long before 10th century AC. They lived in hollows and caves and gathered for group worship and studied Holy Scriptures at special "prayer spots". And in order to participate in church worships and sacraments, the hermits came down to the city of Stagoi (the modern city of Kalabaka, also known as Kalambaka), which was located at the foot of the mountains.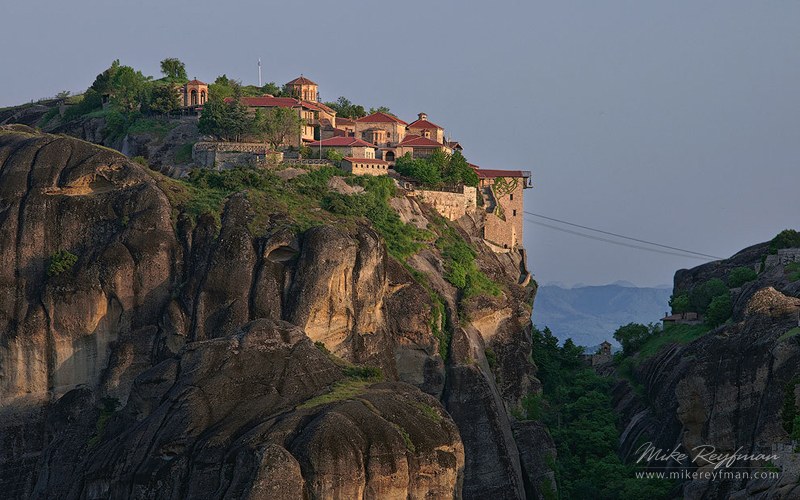 For several centuries the Metéora stayed away from the worldly turmoil. However, in the 13th century, Thessaly experienced multiple attacks from Crusaders, Serbs, Albanians, and Turks. A monk named Athanasios, who was expelled by corsairs from Athos Monastery, came to the Metéora to build one of the first well-organized monasteries. In 1334, he gathered 14 local monks and climbed up to the "Platis Lithos" or "Wide Rock", a huge rock located 613 meters above sea level and 413 meters above the city of Kalabaka.
This was the beginning of a monumental effort to construct monasteries. Timber beams were set deep into the rock fissures to aid with the lifting up of the materials. At the end of construction, the beams were partially taken apart or left there to decompose with time; monks and visitors used only hanging wooden stairs to get to the monastery. The monks also used special nets to lift people up. Such an exotic way of transportation used to take up to 30 minutes; and the nets never broke. The setup not only protected monks at the monastery but also gave refuge to local people during times of unrest and war.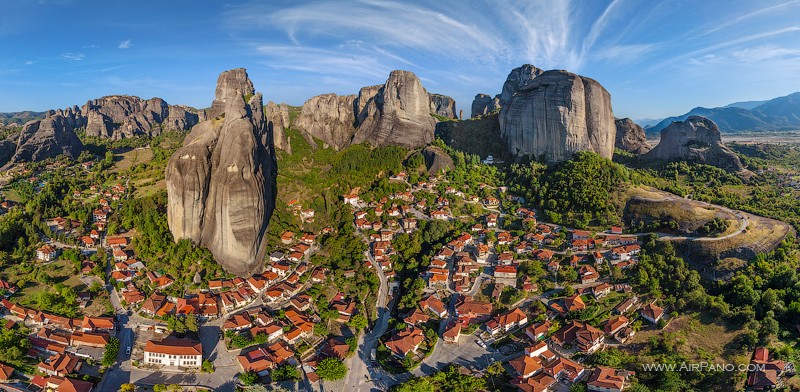 In the 1920s the Metéora set up its first proper roads and stone steps, which, in turn, caused people to play an evil joke on the monastery complex during World War II and the Greek Civil War (1946 - 1949): the Metéora was looted. However, the restoration of monastic life began right after the war was over, and it attracted thousands of pilgrims and tourists.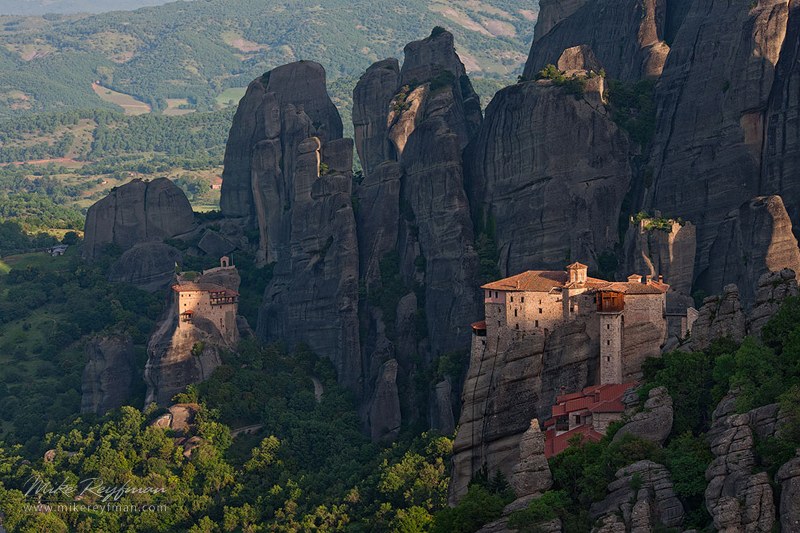 Despite the fact that only 6 out of 24 original monasteries of the Metéora survived from the period of its prosperity till modern times, there is plenty to see. Each of the monasteries is a monument of history and architecture. Every single structure is built within the rocks without disturbing their natural beauty, and every one of them is unique. For example, The Holy Monastery of St. Nicholas Anapausas is built on a relatively small rock pillar. Its limited surface forced monks to position temples, individual cells, and utility rooms on different levels, which turned the monastery into a labyrinth. Despite the wartime losses, the Metéora still holds a number of rare icons, frescos, and other religious objects.
In 1988, the monastery complex of Metéora became a part of the UNESCO World Heritage; it attracts more and more tourists every day. We invite you to enjoy the wonders of the Metéora without a crowd through our virtual photo panoramas.
Photo and text by Stas Sedov, Dmitry Moiseenko and Mike Reyfman
9 June 2014
Read more
Photogallery
360° Video
Add your review about "Meteora, Greece"