Legendary Santorini Island
Greece has almost a thousand and a half islands, but not all of them are as widely known as the legendary Santorini. It was named by the Crusaders after a chapel of Saint Irene, and the Greek name of the island was Fira or Thira. In the nineteenth century, it was given back its original name, but Santorini remains widely used as well.
Many centuries ago, the island was devastated by a volcanic eruption that changed the history of the ancient world. The crater turned into a huge caldera that was filled with sea, and the island took on the shape of a crescent. A giant tsunami wiped out civilizations on the islands and coasts of the Aegean and Mediterranean seas, even reaching northern Egypt.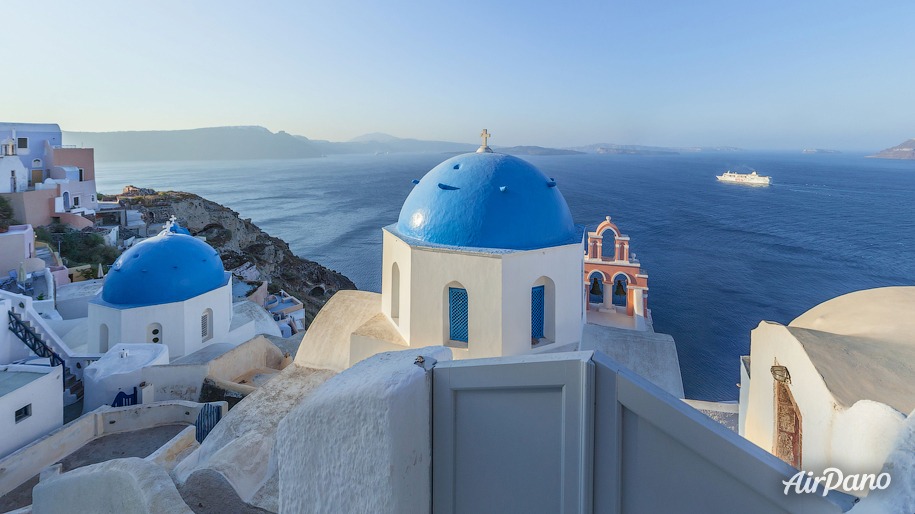 Thira remained uninhabited until the late Bronze Age, and then it was populated by the Greeks. Attempts to claim the island were made by the Roman, Byzantine and Ottoman empires, but now it is a peaceful and cozy spot in Greece. Thousands of tourists come here to admire its beauty.
The largest town and capital of Santorini has the same name as the entire island: Fira. It lies on the west coast on top of a 260-meter (853 ft) cliff. From the port, it can be reached by car, but this is not much fun: it is more exciting to take a donkey ride or use a cable car. And the bravest ones can dare to climb the 800 stairs on foot! The reward will be an authentic atmosphere and a chance to enjoy the spectacular scenery.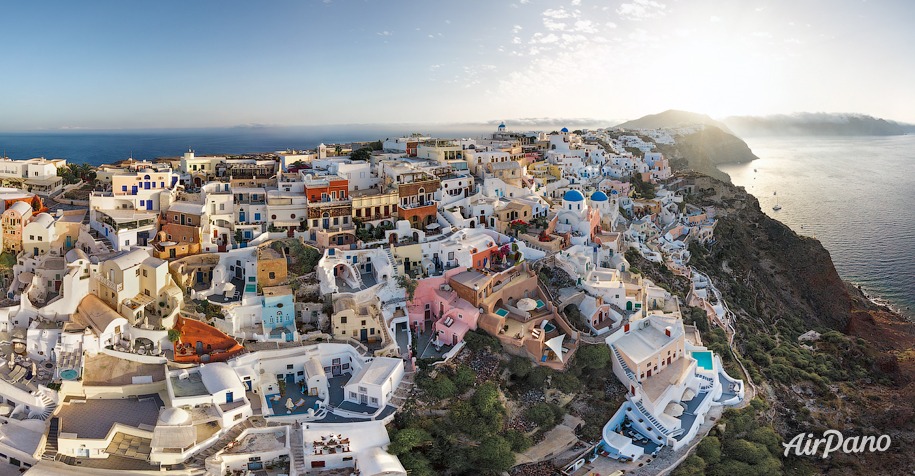 The northernmost town on the island is Oia. It is a snow-white fairy tale, a symbol of romance and serenity. Like many other buildings on the island, Aspaki Hotel is decorated in the traditional Cycladic style and is an architectural heritage site in its own right. It also offers great views of the famous blue rooftops and other sights of the town. They include the Ayiu Mina Church, quaint mills, and historic neighborhoods with graceful arches, staircases, balconies, and narrow streets.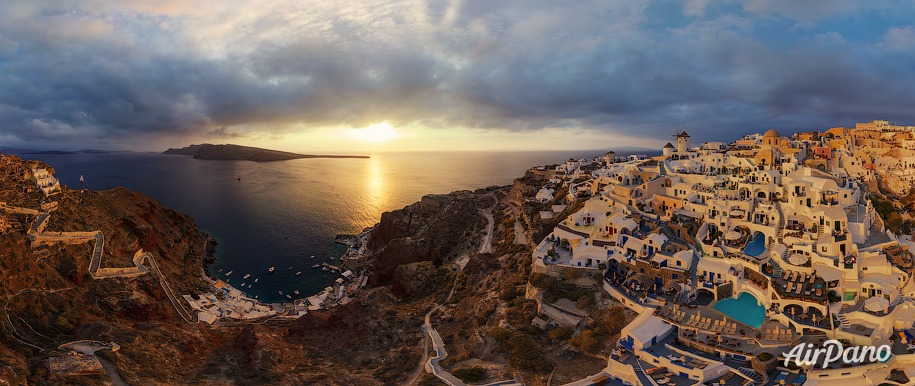 Another landmark of Oia is its breathtaking sunsets. All these things have made Santorini a center of attraction for so many lovers of beauty!
Video and photos by Stas Sedov and Olga Shutova
29 July 2022
Read more
Photogallery
360° Photo
Add your review about "Legendary Santorini Island"