Orda Cave. The first underwater cave panorama in the world
•
360° Aerial Panoramas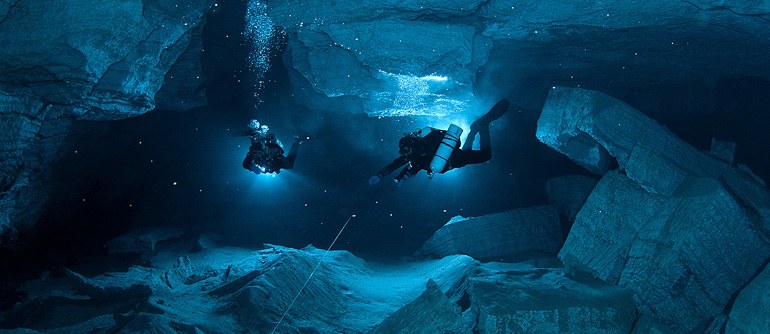 ---
It was no coincidence that Sasha Grek, Chief Editor of National Geographic Russia Magazine (NGR), introduced me to Oleg Gaponyuk and AirPano team. Giving me their contact information he knew that our friendship could turn into something amazing. He was absolutely right - we set off on a GRAND ADVENTURE, and with each passing day this adventure becomes even more and more exciting.
My name is Viktor Lyagushkin. I work as a photographer in NGR specializing in extreme underwater photography. In search for my photo stories I go deep into the cold water, under the ice, and into the underwater caves. My friends and teammates from PHOTOTEAM.PRO always help me. Together we create stories about wonderful places and amazing people that explore them sometimes balancing between life and death. It so happens that there are only a few hundred people in the world that work in such extreme conditions; only a handful of them can handle a camera; and none of the extreme underwater photographers actually heard about spherical panoramas or knows how to shoot them. That's why when Oleg Gaponyuk told me about panoramic photography I realized that we've discovered a whole new dimension to explore. It's very hard to capture the beauty of an underwater cave or an entire sunken ship. With help of panoramic photo technique this task becomes a lot easier.
Orda Cave was our first joint project with AirPano team. It is the most extended underwater cave in Russia. Second in length in entire Eurasia, it is also the world's biggest underwater gypsum cave. It has the status of the National Natural Monument of Russia. Orda Cave is located in southwest corner of Orda village in Perm region, on the left shore of Kungur River. It consists of gypsum and anhydrite dating back to the Permian period. It has "dry" and underwater sections. Its "dry" section is 300 meters long, while underwater section is 5150 meter long. One part of the cave is considered to be the longest (985 meters) syphon in CIS (Commonwealth of Independent States). Such features as gypsum composition, low water temperature (+4 Celsius), huge underwater galleries, high water transparency, and low opacity set Orda Cave apart from other similar caves in the world. Unfortunately, harsh diving conditions make this beauty unreachable for most people. In 2010 we spent 6 months in the cave shooting its amazing galleries. Later we published a book called "Orda Cave: Awareness Project" describing the cave exploration process. So spherical panorama of the Cave became the next logical step for AirPano team and us.
Underwater caves are considered the hardest subject of underwater photography. Overhead environment, inability to surface when you need to, zero visibility, underwater narrows, you have to squeeze through, and complete darkness - here are just a few difficulties that one faces in cave diving; and if you plan to take pictures in an underwater cave, the list multiplies three-fold. Now imagine that you are shooting a spherical panorama! It is impossible to set up a tripod or a panoramic head, which means that you won't be able to mount your camera or strobe on a tripod. People can't stand still, but without models you don't see dimensions of a cave. There is no light source except for the one you bring with you. Radio synchronizers don't work under water. So all of the above puts you in the most uncertain place for a photo shoot. Every second every light source and every model is moving and turning chaotically, changing light and shade pattern, and altering the composition.
But we wouldn't be the best of the best if we didn't know how to solve these little problems. Thanks to Oleg Gaponyuk' and Sergey Semyonov's expertise and good teamwork, we were able to photograph these exclusive underwater spherical panoramas, which you can now enjoy.
Now that we have successfully completed test photo shoots, and all "know-how" technologies are tried and true, we can say with confidence that Orda Cave spherical photo panorama is the beginning of an entirely new series of unique underwater virtual tours that have never been done before in the world. Here are just a few locations that we plan to shoot this year: Orda Cave, the Baltic, the White Sea, the Blue Lake (Chirek-Kel) in Kabardino-Balkaria, the Tkhach Caves in Adygeya, the Issyk-Kul' Lake, and land caves of Ural.
Orda Cave. Basic Passage.
Photographer: Viktor Lyagushkin
Models: Vladimir Fyodorov, Bogdana Vashchenko,
Nikon D3x, Nikkor 14-24/2.8, Subal underwater camera housing, 7 Ikelite DS160 strobe units
We express our gratitude to Nikon, and personally to Vladimir Volkov for their help in organizing the photo shoot.
Panorama stitching and processing: AirPano
25 January 2013
Comments
2017-08-28 22:12:06
5 from 5
"Great photos. Marcio I liked you photos too about the Lagoa Misteriosa - LG. How deep did you go into the LG. Last time I was there in 2016, I went 70m deep. Joao stayed a little big shallower around 60m. It is always a pleasant dive."
Edson Bastos, Brazil
2016-07-18 19:56:50
1 from 5
"Fantastisch - Vielen Dank
#GoogleThisHashtag"
Ditmar Deggendorf, Austria
2016-01-29 22:01:11
5 from 5
"This is indeed breathtaking and mind-blowing! Immensely spectacular... Congratulations for a job well done. You are all fantastic. Many, many thanks for sharing your phenomenal effort..."
Edna Bariso, Philippines
2015-11-11 08:38:20
5 from 5
"Cool! Such wonderful place on Earth or heaven?"
vanshraaj jain, India
2015-06-22 19:46:45
4 from 5
"It's Really impressive! But this is not the first underwater panorama in a cave: The mysterious Lagoon is considered a underwater cave, is a sinkhole, a type of geological formation common in limestone regions. I made a photo of the mysterious lagoon in 2011, so, my pic is the real first underwater cave panorama in the world:"
Marcio Cabral, Brazil
Varvara, AirPano: Dear Marcio, we like your beautiful panoramas of mysterious lagoon: http://www.360cities.net/image/mysterious-lagoon-brazil
We've sent your question to Victor Lyagushkin, the author of panoramas of Orda Cave. Here is his answer: "Marcio Cabral, lagoon pano was done not inside the cave – this is day light zone. And mine pano had been taken in total darkness of underwater cave".

2014-08-30 09:38:55
5 from 5
"Simply lovely. Thank you!"
Stacey Carr, USA
2014-06-02 16:04:25
4 from 5
"Very nice..."
Javad Hajzade, Iran
2013-11-07 14:20:00
5 from 5
"I am a professional underwater filmmaker from Germany. Believe me, I have seen a lot caves. But this one is absolutely outstanding. The gypsum is something special! I would love to dive it one day! Phantastic job on the panorama guys!

safe diving, Thomas"
Thomas Behrend, Germany
2013-10-31 11:08:53
5 from 5
"I never imagined that even this could be photographed in such high detailed. Hats off to this team who is doing such a great job. And thank you for making us go awwww from our desktop screens"
Vikrant Khadilkar, India
2013-08-25 00:15:15
5 from 5
"Fantastic,being able to see the Nazca Lines in 3d
after watching the program on sky.
Well Done and many thanks"
Bill Hawthorn, United Kingdom
2013-07-15 00:18:13
5 from 5
"wow u are amazing to do such great work ..!! unbelievable to see what others may never ever get to .. great for u !! so wongderful thanks for sharing !!"
susan durazo, USA
Varvara, AirPano: Many thanks, Susan! I hope you enjoyed our other panoramas!
2013-07-12 13:45:24
5 from 5
"Beautiful❤ Nice~"
wang tig, China
2013-05-31 06:15:25
5 from 5
"非常漂亮!只得称赞!awesome!"
Carbored C, China
2013-05-02 20:09:57
5 from 5
"Einfach unglaublich! Danke!!"
Andreas Merz, Switzerland
2013-04-26 09:25:54
5 from 5
"its really great.."
prasanth k, India
2013-04-23 02:30:23
1 from 5
"great picture ,awessome."
MAMIK ROESDIATMO, Indonesia
2013-04-21 16:12:42
5 from 5
"Wow.....Amazing.....Incredible....Great Adventure"
Sangeetha M, India
2013-04-11 20:13:05
5 from 5
"Absolute Beauty......I would love to see what is on the Horizon......"
william Grice, Canada
2013-03-15 21:01:05
5 from 5
"Maravilhoso!!!!!"
Paulo Rattes, Brazil
2013-03-14 16:06:13
5 from 5
"why"
nyinyia ung, Myanmar
2013-02-28 05:11:35
5 from 5
"Absolutely beautiful! Thank you so much for the time, money and enormous effort that went into this. I appreciate all of it and especially the fact we can see it for free! Thank you so much for sharing the underground lake with us.
Cave and Karst Tourism, British Columbia"
Karen Griffiths, Canada
Varvara, AirPano: Thank you, Karen! You're always welcome!

2013-02-27 10:26:08
5 from 5
"Great thanks"
Majid Zare moghadam, Iran
2013-02-26 15:49:30
"Wow! Great shots men....wish I was there."
dennis clark, USA
2013-02-18 12:05:59
5 from 5
"realy good thanks alot."
hossein ninja, Iran
2013-02-14 07:37:11
5 from 5
"Three Simple words....Absolutely Fucking Amazing!!"
Michael Chhean, Australia
2013-02-13 21:58:14
5 from 5
"Siete dei fotografi fantastici, meritereste un premio mondiale per aver eseguito sin qui tanti meravigliosi sevizi a 360° e per averli messi a disposizione di tutti noi "umani". GRAZIE and all the best. Tullio"
tullio simonetti, Italy
2013-02-13 14:52:17
4 from 5
"¡¡¡qué frío tiene que hacer ahí abajo!!!"
Francisco Javier Díaz Benito, Spain
2013-02-12 17:28:25
5 from 5
"It's quite amazing and beautiful."
Mohammed Mustafa, India
2013-02-11 15:06:39
5 from 5
"Great! Relly Great!"
Michael Wolters, Germany
2013-02-10 18:34:08
4 from 5
"beautiful....."
pranit Govalkar, India
2013-02-10 05:13:36
5 from 5
Raymond Chmelik, USA
2013-02-08 22:26:43
5 from 5
"Breathtakingly beautiful!"
Gisela Gunderson, USA
2013-02-07 01:39:28
"Sencillamente Maravilloso y espectacular....Felicidades !!!"
Daniel San martín, Mexico
2013-02-06 22:11:40
5 from 5
"nice 2 see u in this video really. we can only imagine but u did it.now expectation is more from u"
Dhrutisundar Biswal, India
2013-02-03 02:46:31
5 from 5
"So nice to see good things, views coming from Russia. Keep it up."
Harry Sircely, USA
2013-02-03 01:35:28
5 from 5
"Awsome!!!!"
Linda Ready, Canada
2013-02-03 00:12:44
5 from 5
"Fantastic! Viewers owe the photo team and Nikon for saving us time, money and energy which most elderly like me do not possess.

Lovely virtual tour to places I can't visit.

Best, Rudy"
Rudy Ordonez, USA
2013-02-02 17:05:05
5 from 5
"Exceptionally beautiful images. Thanks for all of them.
Regards from Sydney."
Zenon Kenez, Australia
2013-02-02 03:01:41
5 from 5
"If speachless with amazement! Just the thought of the challenges you must have encountered creating this beautiful work of art absolutely boggles my mind. I can't wait to see how you top this one! I have no doubt you'll do that too..."
Paul Salce, USA
2013-02-01 20:39:26
5 from 5
"You people are great!
And its our luck to see such a beautiful and clean world thru your camera, thru your daringness..
spasiba balshoi....
take care!"
Naren Pradhan, India
2013-02-01 20:29:19
5 from 5
"Maravilha!
Site fantástico, sempre com imagens de arrebatar a alma!
Até o pormenor das belas músicas que acompanham a visulaização é de extremo bom gosto.
Os trabalhos de AIRPANO deviam ser divulgados em todo o mundo!
Sou vosso fã desde que tomei contacto convosco.
Que bom seria podermos comprar, em vídeo, estas filmagens maravilhosas...

(Please use Tradutor Google. I am portuguese)."
Nobre Luso, Portugal
2013-02-01 20:17:55
5 from 5
"Fantastic."
Bernard van Marle, United Kingdom
2013-02-01 19:26:45
5 from 5
"This is the most fantastic I've ever come across and I just love when I get an email about a new place. Thanks."
Kris Y, USA
2013-02-01 18:19:49
4 from 5
"it's a new high for AirPano. AirPano+NG ... so we can only expect more & more surprises !"
Suman Das, India
2013-02-01 15:12:36
5 from 5
"Sensacional!!!!!!!!!!!!!!!!!!"
Paulo Rattes, Brazil
2013-02-01 14:48:27
"Beautiful:Thank you very much.
homayoon."
Homayoon. Memari., United Kingdom
2013-02-01 14:06:30
5 from 5
"Ich kann nur immer wieder sagen - einfach Spitzenklasse gemacht. Alle hier sind von den fantastischen Bildern begeistert.
Weiter so. und - Danke."
Walter Oprée, Netherlands