Sydney, Australia, 2008
•
360° Aerial Panoramas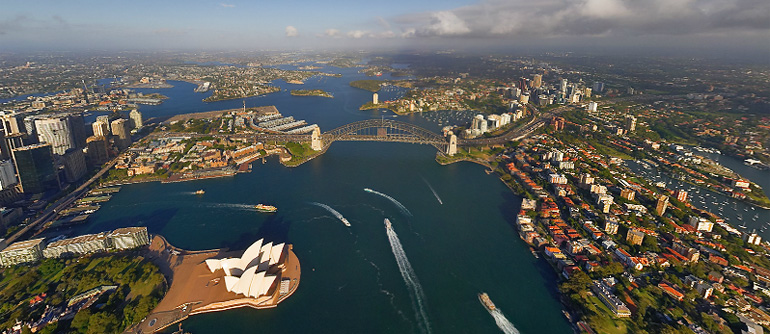 ---
What is common between Moulin Rouge, Finding Nemo, Mad Max, Superman Returns, Star Wars and Matrix? Don't hurry to find it in the list of directors or actors. One of the most beautiful cities of the planet, Sydney, unites these and more than 200 other works of modern cinematograph.
As many people think, Sydney is not the capital of Australia at all, though it is its oldest city. It couldn't become the capital because of its competitor, Melbourne, which is the second megalopolis of the country. In 1901, when they were choosing a capital, both Sydney and Melbourne had a claim on this title refusing to stand down. The foundation of a completely new city as a capital, Canberra, which is far away from the both competitors, could put an end to an uncompromising struggle.
However, precisely Sydney is a visit card of Australia. There are its most recognizable buildings: the fantastic Sydney Opera House and the grand Harbour Bridge.
Sydney is a relatively young city. During many thousand years only aborigines lived there. Even James Cook, who investigated the eastern seaboard of Australia, couldn't reach it. The city was founded by Capitan Arthur Phillip who sailed there in 1788 with a dozen of ships and hundreds of prisoners, who were devoted to found new colonies of Great Britain.
The city that was born as New Albion grew completely from nothing: houses and streets were built, roads and bridges were constructed, fertile soil for crops was searched for and harvests were grown. Some time ago New Albion was renamed in honour of Thomas Townshend who was a British Home Secretary Lord Sydney and who sent the exiles there.
The British flotillas went on to come in Sydney but the main purpose of these expeditions still was the transportation of prisoners from the British jails to the recent founded colony. In spite of the fact that in the beginning of XIX century such a phenomenon as free immigration was formed, by 1820 about 40% of Sydney's population still stayed convicts.
The crucial pint of the colony's history became May events of 1851, when one of its inhabitants found first 120 grams of gold and Sydney's criminal population mixed with gold diggers. Although the gold can't be found there now, for visitors Sydney is still nearly the most attractive cities of the world. People of almost all nationalities live there, but in spite of this fact Sydney is one of the most friendly and hospitable megalopolises of the world.
Australia is rarely in the centre of public interest because of its geographical remoteness, but after the Olympic Games of 2000 Sydney could attract it and in several years it became a different charts' TOP 10 member from "the Most Beautiful" till "the Most Stylish" cities of the planet.
This city is impossible to be seen for one day. It is the city of architectural contrasts, where modern skyscrapers of business centers are closed to ancient buildings of Mediterranean style. This city is full of gardens and parks, lively beaches and numerous places of interest. It was built chaotically, that is why its streets are of different length and width, and some of them are too close to each other, another have a visible sheer slope. Sydney's relief is similar to a big plane dish with river valleys in the North, in the Centre and in the South. In the times of Ice Age the ocean level rose by more than 100 meters and inundated the valleys with water. These river valleys can be perfectly seen from the height, for instance, on this panorama.
In the opinion of both locals and tourists, the most beautiful place in the city is a coastal harbour. The most visited and closed to the centre is a Rich Harbour. There is a whole complex of hotels, museums, souvenir shops, restaurants and entertainments. Sydney's symbols are the Sydney Harbour Bridge which joins the north and the south parts of the city and the wonderful Sydney Opera House which is seemed to be going under sails.
"I despair of being able to convey to any reader my own idea of the beauty of Sydney Harbour. I have seen nothing to equal it in the way of land-locked sea scenery", — the classical English writer Anthony Trollope wrote about Sydney. It is the truth: what's for to read about Sydney? It's worth to be seen.
18 June 2010
Click here to open new virtual tour of Sydney.
Comments
2014-07-20 13:34:21
5 from 5
"my son studying at university of technology,Sydney.hope i take the right decision about his study and right place.SYDNEY..."
SYED MD ANISUZZAMAN, Bangladesh
2014-05-15 18:34:50
5 from 5
"I was living in Sydney 55 years ago, it's still one of the most beautiful city i have ever see and lived in.

nice work indeed

Thanks

MLo"
michel Losey, Switzerland
2014-02-06 16:02:18
5 from 5
"good!!"
vcff rgdsgf, Haiti
2014-01-16 20:03:24
5 from 5
"W roku 2005 byliśmy w Australii. Mamy tam córkę Beatę, zięcia, szwagrów. Byliśmy tam miesiąc. Rzeczywiście Australia wywarła na nas niesamowite wrażenie. Byliśmy w Gold Coast, oraz w różnych miejscach, w Melbourne, w Sydney, a to które wywarło niesamowite wrażenie!. Najpiękniejsze miasto na świecie!!! nie da się tego ukryć. Ludzie pogodni i mili. Ta opera, most, zwarta i piękna zabudowa w centrum. Wieża, z której roztacza się cudowna panorama miasta. Zakochani byliśmy od pierwszego wejrzenia w Sydney, jak i w całą Australię. Naturalnie to wszystko nie spadło prosto z nieba, ale widać w tym wszystkim wielką pracę człowieka, a przyroda otoczyła to wszystko swoim wianuszkiem przy wydatnej pomocy
Opatrzności, nie da się tego ukryć!!! Jerzy Perucki. 11.10.2005r."
Jerzy i Barbara Peruccy, Poland
2013-12-12 13:11:32
5 from 5
"Once I was there, this panorama is a wunderful memory!"
Guy Van Rysseghem, Belgium
2013-11-27 22:36:21
5 from 5
"fANTASTIC IDEA AND WONDERFUL PHOTOGRAPHY!
I would like to see about Queensland (N-E?)
I have friends living there : Sunshine Beach
Thanks for the nice panorama's which I can visit now from home, as I am senior and in bad health...Thanks, Maria"
Maria JA LEGRAND, Australia
2013-11-14 20:38:21
5 from 5
"ZELO LEPO BOŽANSKO, SE ŽE VESELIM, DA GA Z ŽENO OBIŠČEVA VERJETNO V LETU 2014.
LOJZE IN TANJA JEREB SLOVENIJA"
LOJZE LUJ JEREB, Slovenia
2013-10-27 15:18:00
5 from 5
"very nice"
ehsan motamedi, Iran
2013-10-21 05:53:59
5 from 5
"Love this. I miss the city as I moved back to the States in March. It brings back such wonderful memories. I have traveled extensively, and this this the best city I have ever visited!"
Gail Rogers, USA
2013-09-06 19:49:01
4 from 5
"Wonderful Presentation!"
Charles Karunambaram, India
2013-09-01 18:45:01
5 from 5
"سلام.واقعا خسته نباشید سایته بسیار زیبایی دارید خیلی قشنگ بودن..راستی من یک ایرانی هستم
Hello my dear.it was very very beautiful.I'm from iran.
realy don't bother.Good luck.Thank you."
painaz akbari, Iran
2013-09-01 00:47:42
5 from 5
"Lijepo je nema se sto ruzno reci,zelja mi je da posjetim.."
Dragan Mrvaljevic, Montenegro
2013-06-08 18:24:23
5 from 5
"wasin 1986 en 1987 bij familie in Melbourne op bezoek allebei de jaren voor 3 maanden heb er erg veel gezien ook queensland en naae eiland Manly geweest zeker sidney en Canberra erg genoten van de botanische tuinen en de dandenongs prachtig hoor als ik een cijfer kon geven alleen tot 10 kregen ze mijn hoogste kwaliteit ook overal de bediening vogels kangeroe's het kon niet op reide met pa ook op een olifant ( lachen geblazen ) heel onvergetelijk iedereen aan te bevelen hoor !! dank de persoon die me weer liet genieten van die herinneringen dank ook mijn familie ervoor ook de 12 apostelen rit van Melbourne naar Adelaide wondermooi ga er echt eens heen"
Suzan kloosterman, Netherlands
2013-05-22 16:13:50
5 from 5
"but Melbourne is better than Sidney I know I live here for the last 52 years"
jack van Rijn, Australia
2013-05-08 21:08:35
5 from 5
"We love visiting Australia again and again. We liked it very much, particularly Sydney, Canberra ."
Princiapl DrArvind Kalyani, India
2013-03-24 16:46:48
5 from 5
"Simply superb,the panoramic view of Sydney is really awesome. Who so ever has taken this picture and presented to us for viewing is praise worthy. Thank you Sir for presenting us such an mind boggling exquisite, captivating panoramic view of Sydney. Thank you. Biplab Bhowmick. New Delhi, India"
Biplab Bhowmick, India
2013-03-10 17:09:01
"australia is very good"
miler tor, Australia
2013-03-01 09:58:45
5 from 5
"exellent"
alejandro belver, Uruguay
2013-02-19 15:29:03
"great but nothing on the planet is quite a special as South Africa"
charmaine klintworth, South Africa
2013-01-20 16:16:49
5 from 5
"we hebben 10 keer aussie bezocht .Opheel veel plaatsen geweest .En altijd sydney bezocht Thanks voor deze mooie beelden gr j wassenaar holland"
jan wassenaar, Netherlands
2012-12-12 18:23:44
5 from 5
"I used to live in Sydney, at bondi beach, I was there for 2 years, im now back in London,,i think that Sydney is the best city that ive ever been to, it has everything, fabulouse beaches, first class restaurants and bars, great entertainment, plus a great climate, everythink you could wish for."
roy williams, United Kingdom
2012-12-07 05:04:22
"yes, Sydney has possibly the worst airport on the planet, it's a total joke but not at all funny. Avoid it if possible. in all respects, avoid it."
Damien Mugavin, Australia
2012-12-01 03:51:58
5 from 5
"I was born here and never ever saw pictures of Sydney of this magnitude. Love Melbourne and wondered if Port Philip Bay might also have some spectacular views to film?
But I finally have to concede Sydney takes a lot of beating.that Bridge, Opera House and harbour are wonderfully beautiful."
Patricia Gringel, Australia
2012-11-27 22:57:54
5 from 5
"Super!!"
darinka goršek, Slovenia
2012-11-25 15:51:47
4 from 5
"moved to Oz from USA in 1976--changes to sydney are incredible. a gorgeous city but expensive and congested. how about showing the blue mountains west of the big smoke?"
mary cox, Australia
2012-11-01 04:58:36
5 from 5
"We visited Australia in 1986 on our 25th wedding anniversary.(we have just celeberated our51st) We stayed in Adelaide with family visited Sydney while there enjoyed our time spent there visiting the opera house, stayed for a few nights and walked around downtown. I remember the hills and the park with the statue of Atlas among other things. We visited Manly while there. We stayed a few nights in Melbourne with the friend of a friend of ours here in Canada and were treated to some of the sights there. We took a side trip to Christchurch NZ to visit a long time friend of my mothers. Again we were treated royaly while on that leg of our trip. We also visited Fiji & Hawaii A trip of a life time. One day our hope is to visit more relatives in Perth area Western Australia. Thank you for bringing back those memories. PS. I do remember the history lessons speaking about the "POME'S" (Prisoners of mother England)."
Frances Jack, Canada
2012-10-20 19:46:06
5 from 5
"Great memories. We lived in Killarney Heights (15 minute commute) from 1980 - 1985. Once or twice a month I would take the ferry from Manly to commute just to enjoy the harbor and the view."
Roger Ellickson, USA
2012-10-13 16:43:33
5 from 5
"I used to live in Kirribilli (North Sydney) and commuted five days a week on the ferry to Circular Quay as I worked down town in Sydney CBD. This daily ritual, to and from Circular Quay, took me passed the Opera house site while the building was under construction.
I watched in admiration as this magnificent structure slowly but surely took shape. I was well aware of the privilege in witnessing the birth on our city foreshores, of what must surely be one of the wonders of the modern world. Sydney has sure grown and changed over the succeeding decades while remaining the beautiful thriving city that she is. Thank you so much to all the crew, for the fantastic shots of Sydney...the skyline has certainly changed since the early 60's!!"
Maria Mazel, Australia
2012-10-06 12:38:31
5 from 5
"BEAUTIFUL! and thank u for the interesting articles too u have on each place!"
Yaelah Gal, Israel
2012-10-02 01:18:50
5 from 5
"Hope to go there someday. Even more so now!"
Sharleen Noakes, USA
2012-09-27 20:54:46
5 from 5
"In 1964 enroute to the city from the airport an odd feeling came over me and I remarked to the taxi driver that I felt that I had been here before, even though I had not. he told me that many Brits had the same feeling. Hey, maybe, I was a convict in a previous life. Enjoyed living in Potts Point for 3 months and then back to work in Asia."
John Foster, USA
2012-09-19 12:13:56
5 from 5
"My dream vacation Sydney!! Someday!!"
Tere Caruso, USA
2012-09-12 00:16:02
5 from 5
"a great work ,I enjoyed & wish the best for you all .thank you so much for showing us the world in a nice viwe."
ali ebrahimi, Iran
2012-08-24 12:05:14
5 from 5
"Been away from my hometown Sydney for 2 years now...this brought a tear to my eye. My career has me Shanghai which is a great city, but there is nowhere quite like Sydney...great weather, scenery, the people. Thank you for such a great pano"
Manuel Villalon, China
2012-08-23 00:57:53
5 from 5
"AWSOME!"
KATHLEEN PARKES, Canada
2012-08-19 21:22:47
5 from 5
"Beautiful city. And your photography work is extraordinary. Thank you"
Ian Upton, Argentina
2012-08-19 17:57:50
5 from 5
"Sydeny is my most favourite city in the world, just wish I could get the picture off onto the back ground on my PC. Please do more places in Australia, Perth, Adelaide."
Dick Smith, United Kingdom
2012-08-17 21:55:33
4 from 5
""Well done thanks so much""
Atul Patel, India
2012-08-14 00:35:02
5 from 5
"Loved looking at the aerial view of Sydney. Actually gave me goosebumps. Was in this beautiful city in 1971 on R&R from Vietnam. Barely got out Cam Ranh Bay RVN as the NVA blew up part of our runway the morning we left for Sydney.
People very friendly. Opera house was completed but not yet open. Remember going to a wonderful zoo and a park on a Sunday where many took out their soap boxes, stood on them and gave their varied opinions. Also remember it was August, which is Austraila's winter, and we needed to buy coats.
Many happy memories.....wonderful city!!"
Rick Small, USA
2012-08-02 13:31:30
5 from 5
"I have enjoyed all of your panoramas, but touring the world makes you homesick. Coming back to Sydney - the most beautiful harbour city in the world, is always good. As a photographer I enjoy looking at other peoples work for ideas on what to photograph next."
Sergei Skorniakoff, Australia
2012-08-01 09:38:08
5 from 5
"Sydney is one of most beautiful cities in world,i have been in sydney in 2001 and fell in love with the beauty of nature and the friendly people living in sydney so call a heaven. Miss u sydney ..."
Ganesh Narayanan, Malaysia
2012-07-31 11:38:11
4 from 5
"After watching the pictures of Sydney we know that we have made the right decision to visit the City end Sept 2012. See you soon SYDNEY"
Vin Quen Tan, Malaysia
2012-07-31 11:31:01
4 from 5
Vin Quen Tan, Australia
2012-07-29 22:11:02
"Have been to Sydney many times and always had an enjoyable time. My only complaint is that your cost of living is so high which makes it very expensive for tourists and residents alike."
Thomas Day, USA
2012-07-29 13:06:43
"hermosos paisajes para una colonia inglesa nacida de presos y prostitutas inglesas....nada que no pueda encontrarse en otro pais...lindo si, pero nada del otro mundo"
Daniel Cassetto, Argentina
2012-07-26 20:23:11
5 from 5
"Wonderful! My Dad born in Freemantle."
Rita Arenburg, USA
2012-07-24 16:27:50
5 from 5
"A 70 y/o Argentine woman,I had the chance of visiting Melbourne and surroundings in 2003...I had not much money to spend but,as song says:"Best things in life are free..." and Incredible Australia has so many of those...! I have tried to take politicians from Argentina to Australia to improve a relationship that would enrinch both countries.I would need more info like this DELIKATESSEN! Anna,would you help me? Thanks!
Josefina from Argentina"
Josefina Paz, Argentina
2012-07-23 09:26:46
5 from 5
"i am enjoying the specrtaular images a real armchair tour of the world from the safety oh your own home many lpaces to visit thank you excellent quality and the sound ,love it."
william tweedie, Australia
2012-07-22 05:19:51
5 from 5
"Thanks for the spectacular photos. Sydney is my home town and is a Nirvana in which to live. I have travelled all over the world so I am really loving your website and re-visiting all the fabulous places this spectacular world has to offer, eg Iguassu Falls, Las Vegas, San Francisco, Angel Falls. As Satchmo said: Ït truly is "a wonderful world!""
Kate Reading, Australia
2012-07-20 17:39:27
5 from 5
"Of all my travels in Europe, Asia, and Africa, Sydney is the place I always said, "I could live there." Spent four days there and loved every minute."
Adelaide Forrest, USA