Miami, Florida, USA
•
360° Aerial Panoramas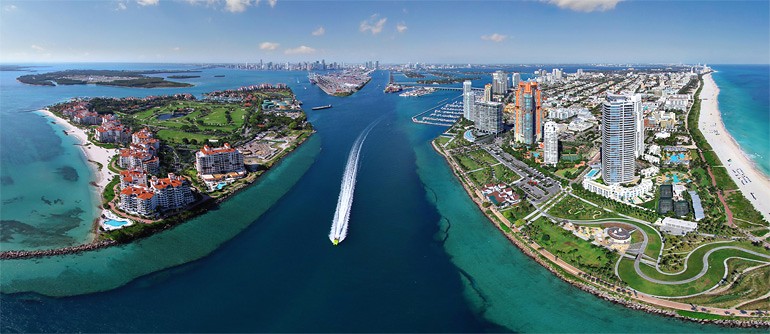 ---
We start this virtual tour description in a not quite predictable manner. The song Miami by Will Smith colorfully illustrates this city's atmosphere. And then, when the song is read, you will be able to read the story about the shooting in Miami by Sergey Semenov.
---
Will Smith — Miami
Verse 1: WillSmith
Yeah Yeah Yeah Yeah
Miami, uh, uh
Southbeach, bringin the heat, uh
Haha, can y'all feel that
Can y'all feel that
Jig it out, uh
Here I am in the place where I come let go
Miami the base and the sunset glow
Everyday like a mardi gras, everybody party all day
No work all play, okay
So we sip a little something, lay to rest the spill
Me an Charlie at the bar runnin up a high bill
Nothin less than ill, when we dress to kill
Everytime the ladies pass, they be like (Hi Will)
Can y'all feel me, all ages and races
Real sweet faces
Every different nation, Spanish, Hatian, Indian, Jamaican
Black, White, Cuban, and Asian
I only came for two days of playing
But everytime I come I always wind up stayin
This the type of town I could spend a few days in
Miami the city that keeps the roof blazin
Chorus:
Party in the city where the heat is on
All night, on the beach till the break of dawn
Welcome to Miami
Buenvenidos a Miami
Bouncin in the club where the heat is on
All night, on the beach till the break of dawn
I'm goin to Miami
Welcome to Miami
Verse 2: Will Smith
Yo I heard the rainstorms ain't nothin to mess with
But I can't feel a drip on the strip, it's a trip
Ladies half-dressed, fully equipped
And they be screamin out, (Will we loved your last hit)
So I'm thinkin I'ma scoot me somethin hot
In this south-sea merengue melting pot
Hottest club in the city, and it's right on the beach
Temperature get to ya, it's about to reach
Five-hundred degrees
In the carribean seas, with the hot mommies
Screamin (Aii poppy)
Everytime I come to town, they be spottin me
In the drop Bentley, ain't no stoppin me
So, cash in your door
We flow to this fashion show
Pound for pound anywhere you go
Yo, ain't no city in the world like this
An if you ask how I know I gots ta plead the fifth
Chorus
Verse 3: Will Smith
Don't get me wrong, Chi-town got it goin on
An New York is the city that we know don't sleep
An we all know that L.A. and Philly stay jiggy
But on the sneak, Miami bringin heat for real
Y'all don't understand
I never seen so many Dominican women with cinnimon tans
Mierda, this is the plan
Take a walk on the beach, draw a heart in the sand
Gimmie your hand
Damn, you look sexy
Let's go to my yacht, in the West Keys
Ride my jetskis, loungin in the palm trees
Cause you gotta have cheese for the summerhouse piece on SouthBeach
Water so clear, you can see to the bottom
Hundred-thousand dollar cars, e'ybody got em
Ain't no surprise in the club to see Sly, Stallone
Miami, my second home
Chorus to fade
*Mardi Gras is French for «Fat Tuesday», it is the last and culminating day before Ash Wednesday and beginning of the catholic Lent. Mardi gras refers to events of the Carnival celebrations in most Europe countries (France, Czech Republic, Belgium etc), in the USA and other countries. In the USA the most pompous and mass celebrations take place in New Orleans now.
**Meringue is a kind of Latin-American dance (like Rumba, for example)
And here it is the story by Sergey Semenov
---
Several times I have been on business to Miami, Florida, USA. And, of course, I was charged with shooting a virtual tour over this beautiful city. But, in fact, it was not easy at all. And the reason was...
The first attempt was made in November of 2009. That time, I thought that the weather was always fine in that paradisiacal corner of the planet and November, according to the Internet forecasts, was nearly a hot touristic season. But in reality everything was little different.
In general, Florida is famous for its hurricanes (and it's not strange that the National Hurricane Center is situated exactly in Miami). Fortunately, there was not any hurricane (or contrary — unfortunately — because in that case it could have been a sphere with a hurricane) but the strong wind was blowing and from time to time it was raining. It took me 30 minutes to get from the city center to the closest heliport and, as we usually charter helicopters with the doors off to shoot spheres, I had to accept of being wet.
But the worst happened near the ocean: the wind became much stronger and gustier than at heliport and the helicopter was in lack of power and couldn't realize a full torsion round its axis simultaneously not moving aside. But the most vexing was when we tried to realize the maneuver of turning the tail to the wind direction: the helicopter was sharply loosing height (the pilots often say that a helicopter "falls hard and fast"). Therefore, I asked the pilot to hover in the most stable position — against the wind — and began to shoot the hemispheres often changing my location inside the helicopter from the right side to the left one and vice versa. But, unfortunately, having returned to Moscow I found out that it was really difficult to stitch the material shot.
However, a month later, on the New Year's Eve, I was going to leave for Miami once again and reshoot all the spheres. Instead of celebrating I chose to find time for the shooting. That trip had its zest too. A manager, whom I talked with about the future flight, represented himself as Chico but, as soon as he had known that I was from Russia, he enthusiastically announced that his original first and last names were Alesha Orlov. At the same time, he looked like a typical Latin-American inhabitant of the USA and didn't speak Russian. Having seen my surprise and doubts, he ran out to his car and took his documents. Yes, he was absolutely right, there were stated: Nationality — Cuban, Names — Alesha Orlov...
So, on the 3-d of January, when the weather was unusually cold for that season in Florida — 10 degrees above zero (50 Fahrenheit), we took off the helicopter doors and I, having put on my Moscow winter jacket, took equipment and sat in the helicopter while the pilot was laughing and joking at me. But he laughs best who laughs last! While we were flying I heard the noise of the pilot's chattering teeth who had underestimated the "unusual cold weather": as higher we were flying as colder it was.
That was the story of how this virtual tour had been shot. I can't stand to tell you that the weather was so cold that day that it broke all the records in the meteorological history of the region having dramatically damaged citrus plantations and other plants all over Eastern coast.
My sufferings were not in vain and efforts led to success. Here it is Miami, one of the best beach resorts in the USA, which counts a great number of luxurious clubs and hotels made in Art Deco style, the highest apartment buildings in the USA constructed with money of drag barons, and many villas of famous people including Al Pacino, Anna Kurnikova, Jennifer Lopez, Julio Iglesias, Lenny Kravitz, Shaquille O'Neal, Matt Damon, Shakira, Silvester Stallone and Madonna!
The city itself, located on the Atlantic Ocean's coast, is the most populous in Florida and the 42-nd in size in the USA. Its main territory is either coastal or suburban and artificial barrier islands. The oceanic warm current — Gulf Stream — flows only at a distance of 24 kilometers from Miami Coast and it makes the climate warm and mild.
The most part of population is the Spanish-speaking inhabitants, largely the Cubans, escaped from Castro's regime to Florida which is the nearest territory to Cuba. Nowadays, there is the whole district named Little Cuba with its habits and laws and if anyone wishes to park a car for a night, in the morning it could be found without wheels and audio system. In fact, 82% of population belongs to the national minority and it makes it the most multinational city in the world.
Written and shot by Sergey Semenov
11 July 2011
Comments
2015-09-26 17:14:52
"really beautifull"
mark green, China
2014-08-24 18:44:28
"en french plaese"
bob stordeur, Belgium
2014-03-27 14:06:28
1 from 5
shim yoosoo, Korea
2013-09-25 22:23:34
5 from 5
"Greetings, congratulations for the high quality. Miami, Paris and Prague are my favourites. It be interesting if you make fotos for the little "jewels" of Europe, like Brugge in Belgium or lacations like north of Russia. I like cold sites."
Sergio Mantovani, Brazil
2013-08-24 01:30:44
5 from 5
"I love Miami Dade Caunty, best place to live, work ad raise a family !!!
The beaches in Miai beach, crandon Park, Key Biscaine are wounderfuls !!!"
Andres Mejides, USA
2013-05-28 20:47:21
"La salida del puerto,lentamente,divisando todo Miami en direción a key west,e isla Cozumel mejico fué tan bonita como todo el crucero de Carnival."
Francisco Priego Lucena, Spain
2013-05-09 15:27:48
"Miami gut no six,says Angela kita and is for real on fb."
Angela kita, USA
2013-05-01 23:03:26
5 from 5
"Gracias muy bueno."
modesto rodriguez, Spain
2013-04-05 18:40:37
5 from 5
"So etwas schönes habe ich noch nicht gesehen !Außer in gewissen Städten und Ländern wo ich selbst schon gewesen bin !"
Robert Konas, Austria
2013-04-01 20:27:28
2 from 5
"Miami the city of my birth"
Dax Gorham, Belize
2013-03-23 16:41:03
5 from 5
"Mein Herz hat geweint als ich diese wunderschöne Stadt, dank euch, anschauen durfte. Mein Herz weint weil ich weiss dass ich diese wunderschöne Stadt wohl nie mehr werde sehen dürfen. Und das macht mich traurig und noch einsamer......"
Verena Boeckli, Switzerland
2013-01-19 15:56:24
5 from 5
jim palmer, United Kingdom
2012-12-01 17:54:48
5 from 5
"Um trabalho fantástico , maravilhoso , um visual simpático e agradável aos nossos olhos. Estarei em Miami em 2013. Parabéns por esta obra de arte fotográfica ! Antônio Fernandes"
Antônio Fernandes, Brazil
2012-11-28 01:48:19
5 from 5
"Just B E A U T I F U L !....thanks."
Czeslaw C. KOPEC, Poland
2012-11-01 22:07:12
1 from 5
"very niccccccccc"
Naser Nobari, Iran
2012-10-26 18:02:22
5 from 5
"I love Miami I'll be back!"
Augusto Júnior, Angola
2012-10-01 20:43:00
5 from 5
"nise location"
sameer mohamed, Sri Lanka
2012-09-27 10:16:47
5 from 5
"That is so awsome, amazing... I wish I would visit Miami once :("
Dana B, Romania
2012-09-10 09:55:53
5 from 5
"Love this !!!"
Madushan Adithya, Sri Lanka
2012-08-22 20:56:18
5 from 5
"Miami Beach has a place in my heart. I caught crabs on the beach at 3am, jet lag permitting! Nobody else was there just me and a lover, so it(Miami Beach) does sleep.
And for the record, it is not the most, international city in the world, that claim must belong to London, with well over a hundred foreign languages spoken. Steve Lill"
Stephen Lill, United Kingdom
2012-08-19 07:54:30
5 from 5
"You did a magnificent "video" of this city where I live. After seen this, I'll stay forever.
I can even see my house.Wow! Thanks"
Luisa SChaves, USA
2012-08-11 00:13:36
"Amazing, I don't know which one to choose"
Renato Degani Lau, Brazil
2012-07-24 16:53:38
4 from 5
"Excellent"
Ashok Dharmadhikari, India
2012-07-13 20:34:44
5 from 5
"It is stunning.
No words to express.
I have seen Miami in a normal way.
But now I am seeing again in very great way."
Kalyandurg Raghunath, India
2012-07-12 15:46:09
5 from 5
"WOW!!!! I HAVE NO WORDS...... THIS IS AN ABSOLUTELY AMAZING SITE!! WELL DONE!! GREAT TO KNOW WE LIVE IN SUCH A BEATIFUL WORLD... ITS BEST SEEN AND ADMIRED IN THIS WAY!!!"
Vibha Neerahoo, South Africa
2012-07-08 15:43:58
5 from 5
"What a great way to see places you will like to go on VACATION!!!!! This site is Great.... thank for sharing ;)"
Meg Rourk, USA
2012-07-08 02:20:10
5 from 5
"Stuning views, Very impressed with this."
Colin Tunstall, United Kingdom
2012-07-03 16:49:23
5 from 5
"I am first time see Miami city through Panoramas and 3D Virual Tours, so amazing life life style ........."
shailendra mishra, India
2012-07-03 13:22:53
5 from 5
"VERY GOOD........................"
KETAN PATEL, India
2012-06-30 06:24:00
5 from 5
"Ñïàñèáî Ñïàñèáî Ñïàñèáî

Your site and images have blown me away. Thanks for the Miami tour especially.

Simply amazeballs."
Noel Fernandez, USA
2012-06-20 14:55:17
5 from 5
"LOVE IT ,ST. PETERSBURG,FL"
SUE OSBORNE, USA
2012-06-10 14:48:28
5 from 5
"It's just incredible, well done guys. Thanks."
Rose Black, Iran
2012-06-07 19:23:27
4 from 5
"My question is: Where does all the sewage go?"
Benny Quay, Canada
2012-06-04 11:30:14
5 from 5
"its amazing & appreciating for your hard work.i m so impressed & further wish to locate good location."
jitendra shah, India
2012-05-29 18:36:09
5 from 5
"What a lovely to watch the most attractive city in the world, SEXY MIAMI... I've been there 12 years ago but now seems more beautiful. MIAMI IS FOREVER,FOREVER,FOREVER...
Thanks for your successful work.
Best regards
Serdar Oktay,Istanbul-Turkey"
SERDAR OKTAY, Turkey
Varvara, AirPano: We are glad you liked this pano, Serdar. Regards.
2012-05-28 17:28:40
"no comments"
luiz silva, USA
2012-05-10 11:26:39
5 from 5
"'WONDERFULL' fantastic view which I haven't seen before,I'm very happy to see,and'iam very very appreciated for your hard work one day i will sure
to miami...
manilal"
MANILAL SOLANKI, India
2012-05-04 23:06:17
5 from 5
"عالیه حرف نداره"
میثم قلیچی, Iran
2012-04-30 06:14:11
5 from 5
Patricia Peng, China
2012-04-23 04:08:08
5 from 5
"Adorei as imagens, são lindas. Parabéns!
Isaac
[from São Paulo, Brazil]"
Isaac Newton da silva, Brazil
2012-04-13 06:18:31
5 from 5
"Great view I have never seen before, highly appreciated! pls keep the excellent work!"
Stanley Zhang, China
2012-04-11 08:33:13
5 from 5
"a lot of fantastic view which I haven't seen before,I'm very happy to see,and' m very appreciated for your dedication."
devarugsa kruerklai, Thailand
Varvara, AirPano: We are glad you liked it and hope you spent good time viewing this pano.
2012-04-07 23:43:58
5 from 5
"INCREIBLEMENT BIEN FOTOGRAFIADO!!! lAS VISTAS SON PRECIOSAS Y EL ESCRITO DE Sergey Semenov DICE LA VERDAD DE MIAMI. MIL FELICITACIONES... KEPP UP THE GOOD WORK."
Dulce Rosado, USA
2012-03-23 20:25:37
5 from 5
"its a marbles place, very nice to see it"
ak k, India
2012-03-23 18:19:52
"Like from the inside out, and praise is to follow the heart of opinions issued thanks to the production and photographers to the shock of my vision, my eyes to see a better view."
兴华 温, China
Varvara, AirPano: We do appreciate your attention.
2012-03-02 18:45:29
5 from 5
"BEAUTIFUL SCENERY, FANTASTIC"
SHARIFA HARUNANI, Kenya
2012-03-01 14:15:06
5 from 5
yuchin chang, Taiwan Region
2012-02-22 01:22:28
5 from 5
Henciu Adrian Gabriel, Romania
2012-02-17 03:51:00
5 from 5
"Notable trabajo fotográfico. Felicitaciones a todos los integrantes de AirPano.Ru"
Eduardo Cansado, Argentina
Varvara, AirPano: We are glad you like it! Thanks!
2012-01-25 22:15:46
5 from 5
"You really changed my mind about Miami!!!I love to go there!!!Thanks!!"
shiva omrani, Iran