Waterfalls of Iceland
•
360° Panorama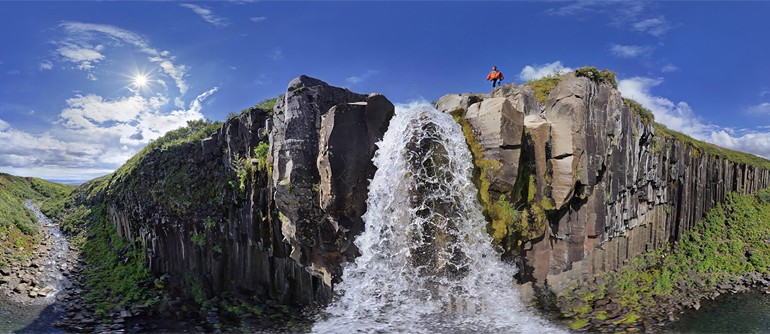 ---
Getting in touch with nature and its natural wonders in Iceland can be a very enlightening and relaxing experience. And there is probably nothing in nature more breathtaking than a waterfall. One such natural wonder is the Svartifoss waterfall, also known as the black fall. The water falls from a height of about 20 meters (60 feet) and is located in a horseshoe shaped gorge filled with dark basalt columns.
Svartifoss waterfall is located in Skaftafell National Park. This park in southeast Iceland was established in 1956. Svartifoss is definetely one of the most popular sights in the park. Fed by ice-cold meltwater from Svinafellsjokull, the narrow strand of water pours over a broad cliff of hexagonal basalt columns that seem to hang like organ pipes over the edge of a horseshoe-shaped ampitheater. This natural feature was the inspiration for the architectural design of Hallgrímskirkja church in Reykjavík, and also the National Theatre.
The base of this waterfall is noteworthy for its sharp rocks. New hexagonal column sections break off faster than the falling water wears down the edges.
It's interesting that the Iceland's natural beauty is perfectly complemented by the numerous and almost magical waterfalls that are spread throughout the country. This island country has a north Atlantic climate that produces frequent rain or snow and a near-Arctic location that produces large glaciers, whose summer melts feed many rivers. Small or large, all of Iceland 's waterfalls have a special attraction of their own, each providing locals and visitors with a sight worth remembering.
Apart from Svartifoss, our favourite waterfall, we love several other magical waterfalls. In our virtual tour we show Sellfoss, Seijalandsfoss and Skógafoss which together with Svartifoss are the most beautiful waterfalls in Iceland.
Skógafoss is a magnificent waterfall in the southern part of Iceland. It is also one of the most-visited waterfalls in a country that is bursting at the seams with waterfalls. Legend has it that the first settler in the area, Þrasi Þórólfsson, buried a treasure chest in a cave behind Skógafoss. A local boy found the chest years later, but was only able to grasp the ring on the side of the chest before it disappeared again. So apparently the treasure is still there and everyone can try to find it!
Seljalandsfoss is one of the most famous waterfalls of Iceland. It is very picturesque and therefore its photo can be found in many books and calendars. Seljalandsfoss drops 60 metres (200 ft) over the cliffs of the former coastline. There is an unique opportunity to go behind the waterfall.
Selfoss is a waterfall in the river Jökulsá á Fjöllum in the north of Iceland which drops over some waterfalls about 30 km before flowing into Öxarfjörður, a bay of the Arctic Sea. Selfoss may only be 10m tall but it's attractively wide and horseshoe-shaped and this is probaly the most photogenic waterfall in Iceland.
Now we would like to invite you to our Icelandic tour to show all these magnificent waterfalls.
25 February 2012
Also we offer you to see virtual tour with 82 panoramas of Iceland.
Comments
2014-06-02 06:20:04
"Great job!"
Zhaorong Qiu, China
2013-06-30 16:03:23
"Molto bello"
giorgio venegoni, Italy
2013-06-15 11:10:56
5 from 5
"Excellent"
karthik Team, India
2012-12-12 18:02:18
"nice place subhanallah"
jamal eddine yassine, Morocco
2012-12-05 14:13:25
5 from 5
"amazing pictures. i feel as if i have visited the place. keep it up."
chandrasekaran r, India
2012-10-23 16:32:15
4 from 5
"Austanding"
Julio Lara, USA
2012-10-15 02:33:50
5 from 5
"Merci bcp pour ces panoramas épousetouflants. Magnifique travail et bonne continuation."
Fatima Zahra Tabyaoui, Morocco
2012-09-23 03:35:42
5 from 5
"Absolutely breathtaking. Thank you for sharing your incredible and beautiful work. What a wonderful world we live in."
Jann Easton, Australia
2012-07-19 00:39:15
5 from 5
"Very nice pictures and very good songs,all in your presentations.Good luck and best for the futur"
KALFANE Abdullah, Canada
2012-07-11 16:16:14
5 from 5
"My eyes cried when I saw this photos of the Waterfalls... it remains me how is Paradise close to God... I am pretty sure there is a place like this to human good souls.. thanks for this wonderfull and blessing job. Sara Y"
Sara Yañez Valdez, Mexico
2012-07-07 01:59:52
2 from 5
"Dearest In The Lord:
I am Mrs Florence Gram from Iran. I married to late Dr Daniel Gram who worked with Iran embassy in Ivory Coast for nine years before he died in the year 2004.We were married for eleven years with out a child. He died after a brief illness that lasted for only four days.

Before his death we were both born again Christian. Since his death I decided not to remarry or get a child outside my matrimonial home which the Bible is against. When my late husband was alive he deposited a box containing the sum of Three Million five hounded thousand Dollars in one of the Finance company here in Abidjan.

Recently, my Doctor told me that I would not last for the next Eight months due to cancer problem. Having known my condition I decided to donate this fund to a church that will utilize this money the way I am going to instruct herein. I want a church or Individual that will use this fund for orphanages, widows, propagating the word of God and to endeavor the house of God is maintained. The Bible made us to understand that "Blessed is the hand that giveth". I took this decision because I don't have any child that will inherit this money and my husband relatives are not Christians and I don't want my husband's efforts to be used by unbelievers.

I don't want a situation where this money will be used in an ungodly way. This is why I am taking this decision. I am not afraid of death hence I know where I am going. I know that I am going to be in the bosom of the Lord. Exodus 14 VS 14 says that "the lord will fight my case and I shall hold my peace. I don't need any telephone communication in this regard because of my health hence the presence of my husband's relatives around me always. I don't want them to know about this development.

With God all things are possible. As soon as I receive your reply I shall give you the contact of the Finance company. I will also issue you an authorization letter that will prove you the present beneficiary of this fund. I want you and the church to always pray for me because the lord is my shepherd. My happiness is that I lived a life of a worthy Christian. Whoever that Wants to serve the Lord must serve him in spirit and Truth.

Please always continue your prayers upon me.Contact me on this email address any delay in your reply will give me room in sourcing another church for this same purpose. Please assure me that you will act accordingly as I Stated herein. Hoping to receive your reply.

Remain blessed in the Lord.

Yours in Christ,
Mrs Florence Gram.
gram.florence@yahoo.com"
Mrs Gram. Mrs Florence, Azerbaijan
2012-06-18 18:57:41
5 from 5
"katapliktiko"
xristos oikonomou, Greece
2012-06-13 05:59:15
5 from 5
"those pictures are nothing compared to the beauty to have seen thoses falls with my own eyes. Worth going and returning to Iceland for it"
Elizabeth le Carpentier, Canada
2012-06-07 19:23:20
5 from 5
"Incredible! Thank you for sharing your beautiful work with the world. xo"
Brenda Veggie, USA
2012-05-08 12:04:47
5 from 5
"Truly It Is A Grate Job Thanks To The Production Team"
hamad abu wael, Saudi Arabia
2012-05-04 13:50:32
"واقعا کارتون بیسته"
میثم قلیچی, Iran
2012-04-30 00:42:50
"shame on u with this low technology....."
john laghori, Germany
2012-04-19 16:43:55
5 from 5
"SUPERBE"
stephan paccou, France
2012-04-19 14:24:26
5 from 5
"Super ga undhi mee talent asalu kummesarandi..."
MURALI KRISHNA VELPURI, Uzbekistan
2012-04-19 14:22:41
4 from 5
"puna e bukur..."
KURIAN THOMAS, Albania
2012-04-19 14:16:07
5 from 5
"Its not that easy for an Indian to be in these places but you people made it easy thank you..."
UGESH PANOOR, India
Varvara, AirPano: We are happy to be useful.
2012-04-15 10:13:41
5 from 5
"what a scenery!hats off to u people!jus cnt imagine....its simply wonderful n amazin..."
pooja g chavan, India
2012-04-14 13:13:48
5 from 5
"Wonderful"
yassn h, Iraq
2012-04-11 16:47:39
5 from 5
"So amazing.... this what i was looking for... Mashala"
Mj Shalab, USA
2012-04-07 04:02:21
5 from 5
"Unbelibably beautiful. I met and made a friend with a man and his daughgter in Santanio Texas last Sept. These pictures display exactly what he was telling me about. Too beautiful to be real but they are. Lee Toman from Los Angeles Ca."
Forrest Lee Toman, USA
2012-03-29 16:00:20
5 from 5
"My friend you made my day i was really upset for some reson...but now i am so pleased feelign like sleeping with nature....thanks a lot"
Nihal Shaikh, India
Varvara, AirPano: You are welcome! See you...
2012-03-22 06:04:22
5 from 5
"maravilloso trabajo gracias... DIOS ES MARAVILLOSO SUS OBRAS SON PERFECTAS DIOS LOS BENDIGA"
maria del pilar pily, Mexico
2012-03-21 17:10:53
"Totally awesome and overwhelming! I had the feeling that I am actually there! Amazing job you've done out there, keep it up!"
Anatoli Iliev, Bulgaria
Varvara, AirPano: Many thanks for your good wishes.
2012-03-20 02:24:50
5 from 5
moh. gouidah gouidah
2012-03-19 12:52:30
5 from 5
"More than perfect, thanks for your excellent work."
HAYATİ CAVDAR, Turkey
2012-03-19 08:03:03
5 from 5
"Great work it only prove that there is no limit or stop to human brain,keep searching keep working keep loving keep going forward"
jamal zarour, Australia
Varvara, AirPano: We are happy to have your message on this page. Thank you.
2012-03-17 04:13:50
"Magnífico!!!"
Maira Sílvia Barbosa, Brazil
2012-03-15 15:15:39
5 from 5
"it's perfect"
Afshin M.Hosseini, Iran
2012-03-09 05:00:20
5 from 5
"There are no existing words that could ever fully express the beauty of your work. Thank you!"
Felipe Mattiello, Brazil
2012-03-08 00:47:55
5 from 5
"After our visit to Iceland (2009) it was extremely nice to find your fantastic pictures and 360degrees vieuws from Iceland and many others. Absolutely fantastic! Many thanks for sharing this on the web! Congratulations for your work!
Rene Ilsen(Belgium)"
Rene Ilsen, Belgium
Varvara, AirPano: We are pleased with your message. thank you.
2012-03-07 19:17:55
1 from 5
"hi"
aga omar, Albania
2012-03-05 21:44:11
5 from 5
"More like 10 Stars! The vision, the engineering, the photography, etc, etc. Absolutely brilliant in concept and execution. What a contribution to humanity to be able to see these places. Thank you for doing this!"
Meryl Wieder, USA
Varvara, AirPano: Many thanks for interest in this panorama. Good luck!
2012-03-05 02:51:04
1 from 5
"plp send mi mail"
mohammad akbari, Iran
2012-03-05 02:37:50
5 from 5
"Amazing pics as this is not a video , these are individual pics taken and then joint together to make a clip , a lot of hardwork , amazing job.

Manoj Parwani
Chile"
Manoj Parwani, Chile
Varvara, AirPano: Thank you, Manoj. We do it for you, just enjoy ;)
2012-03-04 14:53:02
5 from 5
"it is very good jobs and wondfull program nice
views hopping to all mens womens prodused this jobs all the best and secssues


ibrahim"
ibrahim kh qdr, Saudi Arabia
2012-03-03 15:31:35
5 from 5
"Excellent work wonderful & amazing ...congratulation"
Fahad AlWadie, Saudi Arabia
2012-03-03 11:42:29
5 from 5
"E 'incredibile! Grazie"
ENZO RICCARDI, Italy
2012-03-03 10:27:02
5 from 5
"géniales prises de vue de la nature bien mise en relief ! Félicitations pour votre bon travail ! contimuez à nous éblouir...et bravissimo !"
Rachel Samra, France
2012-03-02 21:27:52
"beautiful! Nature is God. Brazil has beautiful waterfalls too, How about?"
rosanette santos pereira, Brazil
2012-03-02 16:19:01
5 from 5
"It´s amazing !!! Thanks"
Afonso Coutinho, Brazil
2012-03-02 15:32:55
4 from 5
"Its great and beautiful videos.
Kindly try to send this type of videos to my e-mail as i liked very much."
Smita Shiriskar, India
2012-03-01 23:41:54
"جميل للفايه رائع"
nasser gher, Yemen
2012-03-01 15:50:51
"Dear sir
Thank's for you this is it's & all your works wonderful very much I hope of you send me any new videos to my email
My greetings kindly"
Hassan Nagi, Egypt
Varvara, AirPano: We are content you liked it. Good luck!
2012-03-01 12:02:51
5 from 5
"MAGANDA SALAMAT SA BAGONG TECHOLOHIYA! MABUHAY!"
Warly Faner, Philippines
2012-03-01 07:17:16
5 from 5
"Thank you very much.Kindly try to send this type of videos to my e-mail as i liked very much.good collection.keep it up."
dhanakoti rao, India