Waterfalls of Iceland
Getting in touch with nature and its natural wonders in Iceland can be a very enlightening and relaxing experience. And there is probably nothing in nature more breathtaking than a waterfall. One such natural wonder is the Svartifoss waterfall, also known as the black fall. The water falls from a height of about 20 meters (60 feet) and is located in a horseshoe shaped gorge filled with dark basalt columns.
Svartifoss waterfall is located in Skaftafell National Park. This park in southeast Iceland was established in 1956. Svartifoss is definetely one of the most popular sights in the park. Fed by ice-cold meltwater from Svinafellsjokull, the narrow strand of water pours over a broad cliff of hexagonal basalt columns that seem to hang like organ pipes over the edge of a horseshoe-shaped ampitheater. This natural feature was the inspiration for the architectural design of Hallgrímskirkja church in Reykjavík, and also the National Theatre.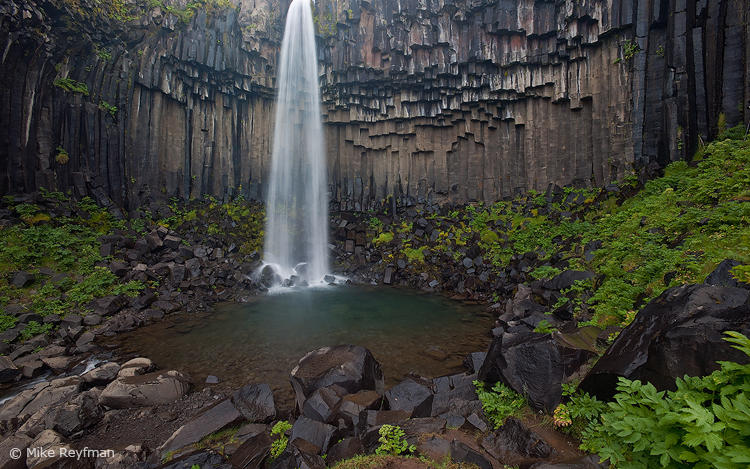 The base of this waterfall is noteworthy for its sharp rocks. New hexagonal column sections break off faster than the falling water wears down the edges.
It's interesting that the Iceland's natural beauty is perfectly complemented by the numerous and almost magical waterfalls that are spread throughout the country. This island country has a north Atlantic climate that produces frequent rain or snow and a near-Arctic location that produces large glaciers, whose summer melts feed many rivers. Small or large, all of Iceland 's waterfalls have a special attraction of their own, each providing locals and visitors with a sight worth remembering.
Apart from Svartifoss, our favourite waterfall, we love several other magical waterfalls. In our virtual tour we show Sellfoss, Seijalandsfoss and Skógafoss which together with Svartifoss are the most beautiful waterfalls in Iceland.
Skógafoss is a magnificent waterfall in the southern part of Iceland. It is also one of the most-visited waterfalls in a country that is bursting at the seams with waterfalls. Legend has it that the first settler in the area, Þrasi Þórólfsson, buried a treasure chest in a cave behind Skógafoss. A local boy found the chest years later, but was only able to grasp the ring on the side of the chest before it disappeared again. So apparently the treasure is still there and everyone can try to find it!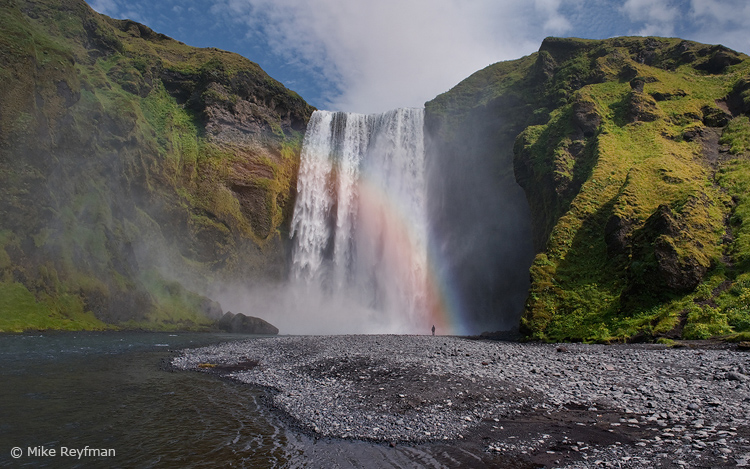 Seljalandsfoss is one of the most famous waterfalls of Iceland. It is very picturesque and therefore its photo can be found in many books and calendars. Seljalandsfoss drops 60 metres (200 ft) over the cliffs of the former coastline. There is an unique opportunity to go behind the waterfall.
Selfoss is a waterfall in the river Jökulsá á Fjöllum in the north of Iceland which drops over some waterfalls about 30 km before flowing into Öxarfjörður, a bay of the Arctic Sea. Selfoss may only be 10m tall but it's attractively wide and horseshoe-shaped and this is probaly the most photogenic waterfall in Iceland.
Now we would like to invite you to our Icelandic tour to show all these magnificent waterfalls.
25 February 2012
Also we offer you to see virtual tour with 82 panoramas of Iceland.
Read more
Photogallery
360° Video
Add your review about "Waterfalls of Iceland"