Flooding in Czech Republic, Usti nad Labem, 2013
•
360° Aerial Panoramas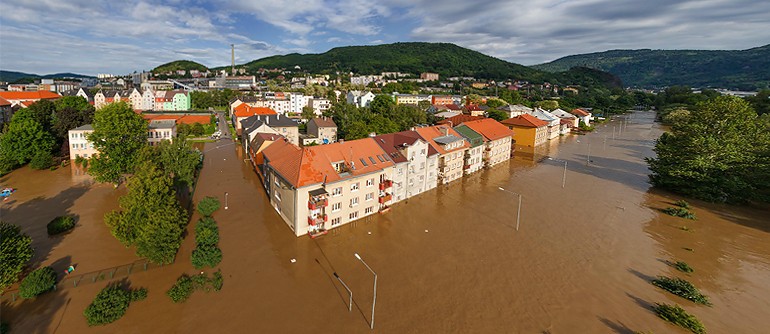 ---
Flooding in Czech Republic reached its peak on June 4th and 5th. Yesterday, June 4th, all roads to Prague, capital of the Czech Republic, were still blocked. Similar to 2002 disaster in the Czech Republic, cresting river could flood the roads crushing, destroying, and leaving nothing but empty street blocks behind. Prague residents rescued everything they could from the "Big Water". National Library building was secured with hundreds of sacks filled with sand. Using this type of a flood barrier to save valuables has already proven efficient. Czech Prime Minister Petr Necas said that they might have to open floodgates that were holding the water at the entrance to the capital. This would bring the water level up on the streets, but otherwise floodgates might burst, making the situation in Prague absolutely uncontrollable.
Fortunately Prague flood barriers withstood the flood peak. Water level in the capital of Czech Republic is gradually decreasing. However, a number of tourist attractions in Prague are closed for local public and international visitors. Downtown subway is also closed.
Weather forecast expects continuing rise of water in local rivers up North.
Located North of Prague, at the confluence of Elbe and Bilin rivers, city of Usti nad Labem is experiencing a major flood at the moment. Our colleague Stas Sedov is working in Usti nad Labem right now. He was able to capture the "Big Water" from a bird's eye view. Main railway station and Downtown of Usti nad Labem are flooded. Today the water level reached 10,5 meters marker. It's lower than in 2002 but still it is very powerful flooding.
And now Stanislav Sedov will tell us how difficult it was to create this virtual tour.
---
Sometimes all odds are against you: your helicopter breaks down on the last shooting day, it rains nonstop over Europe, you are extremely exhausted from sleepless nights, and your colleague suddenly leaves for Italy. It seems like circumstances tell you, "Don't even start! Don't do it! Chances for success are close to none!"
Actually this trip was not supposed to happen, because it wasn't in our shooting schedule. The idea came up after reading travel notes by popular blogger Rustem Adagamov about flooding in Prague (https://drugoi.livejournal.com/3855021.html). I wrote him asking if he would be willing to meet and help us take pictures of a flood. Rustem responded very quickly.
On the way from Budapest my mind was filled with different images of a flooded city. The picture of 2002 flood that I saw in one of blogs was still fresh in my memory, and so I was very disappointed with what I saw in Prague upon my arrival. Well, maybe it was for the best. Czechs did well! They learned from their mistakes in 2002 and were fully prepared! Vltava River located in the center of the city did not overflow. There was nothing to photograph in the capital, but there were rumors that big floods hit small towns in the northern parts of the country.
Rustem suggested that I contact a local freelance photographer Vladimir Pomortsev. This contact turned to be a pivot point of our photo expedition! Vladimir had perfect navigation skills, he knew what roads were blocked, how to go around flooded areas, and — most importantly — he kept tabs on where all the action was going on. On the morning of July 5th the river broke through flood barriers in the city of Ústí nad Labem. The streets were going under the water...
When we arrived at the main observation deck near Větruše Hotel, we were amazed by the view. To tell you the truth, I was in shock for half an hour. How am I supposed to shoot it? How do I get to the city blocked by police forces? What would they do to us after our first flight? But little by little Vladimir and I gathered our thoughts, found several locations for shooting, and devised a plan to get there.
I am not going to tell you how we sneaked in the city and took pictures. I only want to say that local people and the police were very friendly.
In conclusion, I would like to express my gratitude to Pavel Os'kin, a blogger and a photographer, and to his wonderful father Alexander for helping me with shooting and equipment repairs.
Photography and text by Stanislav Sedov
Published on June 05, 2013, photographed on June 04, 2013
Comments
2013-12-16 12:51:45
5 from 5
"Naprosto uzasne, v te hruze nadherna panorama, hudba krasne podtrhuje atmosféru."
Blanka Seferova, Czech Republic
2013-11-11 20:31:11
5 from 5
"I think that all of these videos are really some"
deontai ordan, USA
2013-07-20 23:30:48
3 from 5
"i impressed nice work
and i want to learn how to make aerial shoot"
muhammad mehmood, Pakistan
2013-07-15 19:44:11
5 from 5
"T
hank you very mush : nice nice nice"
Homayoon Memari, United Kingdom
2013-06-12 22:29:07
5 from 5
"Takové nádherné snímky jsem neviděl ani osobně a to jsem s Ústí nad Labem"
Karel Vaníček, Czech Republic
2013-06-12 01:14:02
5 from 5
Vlastimil Duška, Czech Republic
2013-06-10 14:52:21
5 from 5
"Pi zhl?dnut? m?m i v o&?ch povode. Dkuji opravdu moc hezk? a dojemn?.Ta hudba ve dopluje."
františek Houdek, Czech Republic
2013-06-09 12:38:03
"thanks for different videos."
Clarisa Blanco, Spain
2013-06-08 22:07:58
5 from 5
vicente cinos, Spain
2013-06-08 10:35:28
5 from 5
"Nice panoramas, Usti nad Labem is nothing compering this year flood with flooding od Kralupy n/Vly and Veltrusy."
Karel Cermak, Australia
2013-06-08 05:55:37
5 from 5
"Very nice panoramic presentation in a horrible situation and occurrence."
Ed Nelson, USA
2013-06-08 04:40:28
5 from 5
"Beautiful... I hope everybody is ok."
Thus Spoke Zarathustra, Iran
2013-06-08 00:22:01
"Thanks for these panoramas"
alireza pournaghi, Iran
2013-06-07 20:04:23
5 from 5
"Un grazie sincero al vostro team per le magnifiche riprese."
Montanari Silvio, Italy
2013-06-07 01:27:51
"Thank you for beatifull presentation. Congratulations"
Alfonso Carcamo C, Chile
2013-06-06 23:44:33
5 from 5
"Thanks for these panoramas, perfect work. And I feel with people affected by the flood."
Radek Fiser, Czech Republic
Varvara, AirPano: Thank you, Radek. We hope that Czech people will recover soon after the flood.

2013-06-06 19:19:59
1 from 5
"Entiendo que son las ultimas innundaciones que se han dado fuertemente en Europa, Republica Checa. Aqui el invierno de este año En Costa Rica, ha iniciado tardiamente. y hasta la feche se esta sucediendo lluvias normalmente.saludos y gracias."
olman roberto, Costa Rica
2013-06-06 18:30:40
5 from 5
Geneva Lewis, USA
2013-06-06 17:51:47
5 from 5
"Thank you for beatifull presentation.In this case I felt bad for ool disaters araund the world.Every time is nice to have this opportunity tu travel others places.Many thanks"
Clara Locke, USA
2013-06-06 17:32:37
5 from 5
"Impressionante!!!!!!!!!!!"
Paulo Rattes, Brazil
2013-06-06 17:23:11
"these image are fully shot by concentrate . and fully clarity . i like it."
gulshan kumar, India
2013-06-06 17:05:29
5 from 5
"Thanks to your team for their excellent presentations of different videos that you dostávám.Toto the latest video is very nice, but does not describe the overall disaster floods, the situation for people who are disabled, must be hrozná.Ještě again many thanks. Charles"
Karel Hofmann, Czech Republic