Bryce Canyon in Winter, Utah, USA
While standing next to me on Inspiration Point overlook of The Bryce Canyon, a buddy of mine once said: "My brain is lagging". I remembered that phrase very well. This computer slang gave the best description of what was happening in our mind. Truly the Bryce Canyon is not just another attraction in the USA; it is one of the very few places on our planet that puzzles our human mind unable to find logical explanation and process visual information. So if you ever happen to be in The Bryce Canyon — don't panic. Remember, you weren't teleported, you did not loose your senses, and you aren't hallucinating. This gigantic forest of orange and rose asparagus is very real.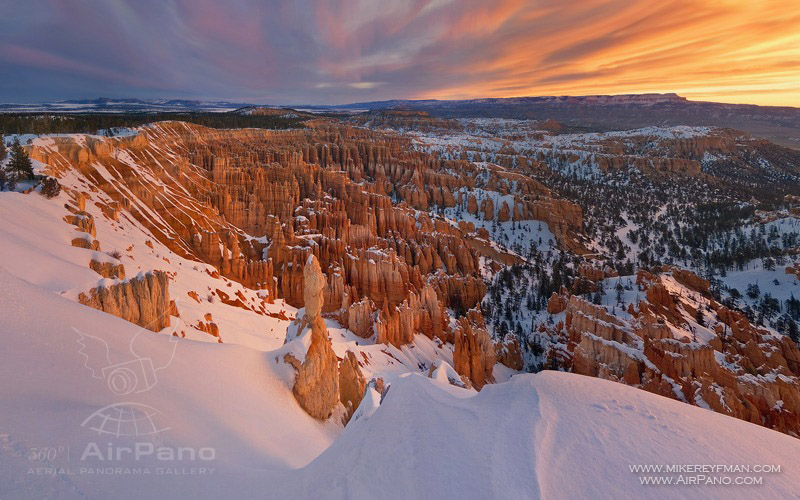 The unique stone city was created by the water and wind millions of years ago. The series of architectural ensembles made of multi-colored sandstone is positioned in several bowl-shaped amphitheatres packed tightly with towers, spires, temples and minarets of red, orange, pink and cream shades.
Of course, we couldn't miss this World Wonder, and after very careful preparation and planning, we finally got our flight permit. We decided to wait and photograph right after the snowfalls, because The Bryce Canyon looks more mysterious in wintertime than in the summer — when covered with snow canyon walls reflect the sun that lights up candles on tops of the spires with a special glowing light.
In spite of the fact that the night temperature in The Bryce Canyon often stays around -20-25 °C, and in the daytime it is usually +1-5 °C above freezing point, snow is still very infrequent here.
Sun and the winds quickly "eat up" the snow, which only stays deep inside the amphitheaters away from the direct sunlight.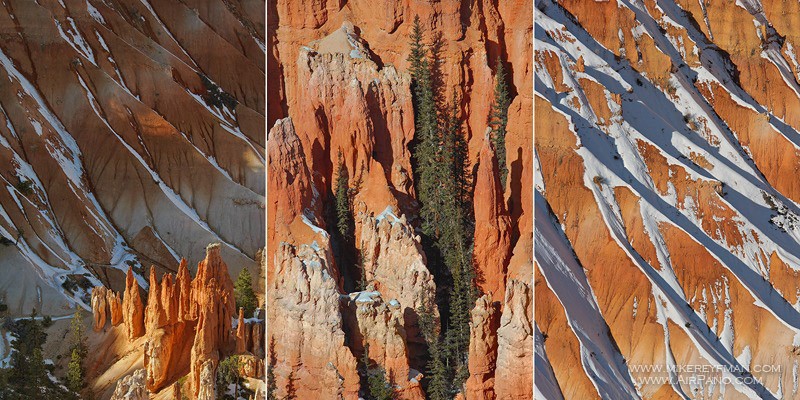 We missed two snowfalls: the first time, my pilot Maria, had a gig some place elsewhere, and the second time I had pressing matters I could not put off.
When finally schedules of my pilot, the nature and myself had come to an alignment, we faced a unique situation with the weather: massive cold front was approaching from the Pacific. Weather forecasts reported a 100% probability of snow. However, the problem was with something completely different — the anticipated amount of snow was by far greater than we desired. We had to photograph within the short 12-hour window between two snowstorms coming from the ocean.
Maria's letter below will give you a better picture of what was in store for us. She sent it to me right before I was to fly to our meeting point in Phoenix, Arizona:
"I checked the aviation weather for Friday one more time. It looks a little better now. The clouds should be high enough to get under, at least until early afternoon. Then the storm moves in. It will be a strong storm with a lot of snow and high winds. I'll be grounded until the storm moves out on Sunday afternoon.
If you still want me to fly you there tomorrow, I'll try. But we MUST stop at Wickenburg to get my blade covers. I can't let the blades be exposed to rain/ice/melted snow.
You'll also need to get me to the airport several times during the day on Saturday to make sure the blades aren't weighted down with snow.
You'll be paying me to sit around at Bryce for two days doing nothing -— I can't fly on Saturday and if you want a morning flight at Bryce, you won't want me to fly on Sunday. Although you might get some ground photography in on Friday, Saturday will be completely overcast, cold, windy, and snowy. Not good conditions for photography. Sunday morning probably won't be much better. Monday is the only day that looks good -— and it looks VERY good, with light winds and only 37% cloud cover. It even looks good at the Grand Canyonthat day. We should knock off Bryce early and head straight down there.
I don't think this is a good idea, but I'm worried about not being able to get up there on Sunday before nightfall. If I can't, the whole trip is wasted.
E-mail me if you get this tonight or tomorrow morning before you leave. Call me when you get into Sky Harbor. Don't worry about my room at Ruby's. I'm sure they'll have room for me. We'll likely be the only two idiots up there."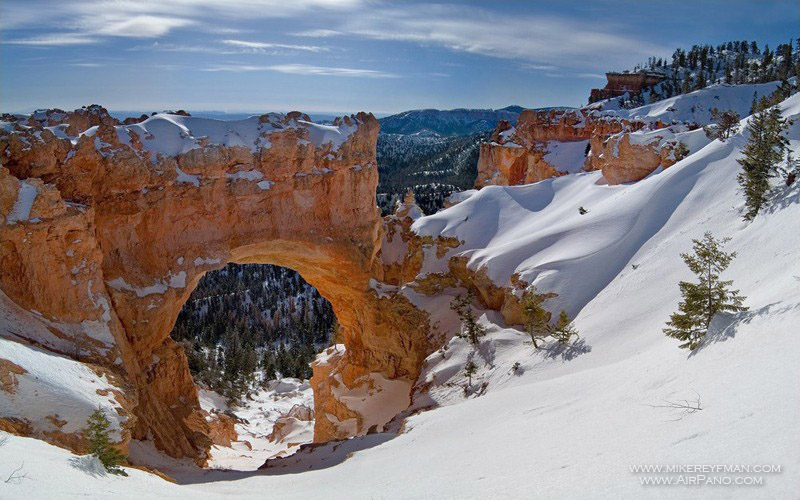 Everything that came next, was just like in an action-packed thriller: Having spent the rest of the night in preparations, I left home in a hurry at 3am in the morning, and at 4:30am I was already boarding Chicago-Phoenix flight. I called Maria the moment we touched the ground, and by the time I received my baggage, her lightweight bright red "Robinson" was touching down at the helipad near the control tower. Giving way to a few Boeings and Airbuses, as per dispatcher's instructions, we began the 4-hour race to The Bryce Canyon with the storm. The wind was working against us, and we had to land at The Grand Canyon for refueling. After The Grand Canyon, we rushed our way to Bryce and landed there at the very moment they announced that the local Bryce airport will be closed for the next two or three days due to harsh weather conditions.
The following two days were filled with raging storms, multiple trips to the airport in zero visibility, driving snowy roads and endless waiting for an evacuator that barely got us out of a ditch full of snow. On Sunday evening, we discovered that ducting rotor compartments of our helicopter were completely iced inside. It took us several hours of careful "picking" and a few dozens of buckets of boiling hot water that we carried 400 meters from the airport building (a proud little wooden cottage with a crew of 1 person, the director, who lived in a house just 100 meters from the runway) to do the trick. By the time the ducts were cleared from ice it became dark, the sky cleared, and the temperature dropped significantly.
Finally, it was early Monday morning: the temperature was -25°C and clear endless sky was filled with flickering stars. Being accustomed to the warmth of Arizona prairies, the starter of our helicopter made an unclear sound and went silent. A spare battery, which we brought with us, did not improve the situation. Something deep inside this warmth-loving Arizona bird was hopelessly frozen. We managed to find the only local owner of a mobile diesel heater and warm up our covered-in-tarp "heli". In one and a half hour we removed the doors and took off! Only a little bit of work was left — the actual shooting. Neither the -25°C temperature, nor the wind that was already beginning to pick-up were able to stop us. The Bryce Canyon was photographed.
Special thanks to pilot Maria Langer, who helped me to make this happen: http://www.flyingmair.com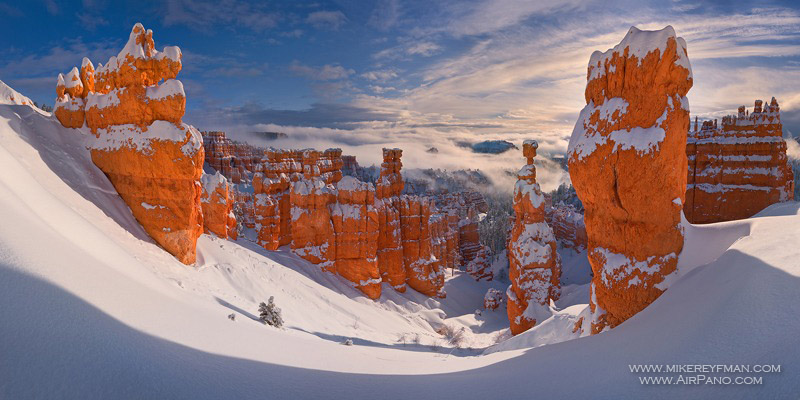 Note On Geography:
Bryce Canyon National Park is a national park located in southwestern Utah in the United States. The park covers 145 sq km. Despite its name, the Bryce Canyon is not exactly a canyon but a giant natural amphitheater created by erosion along the eastern side of the Paunsaugunt Plateau. Bryce is distinctive due to geological structures formed by wind, water, and ice erosion of the river and lakebed sedimentary rocks.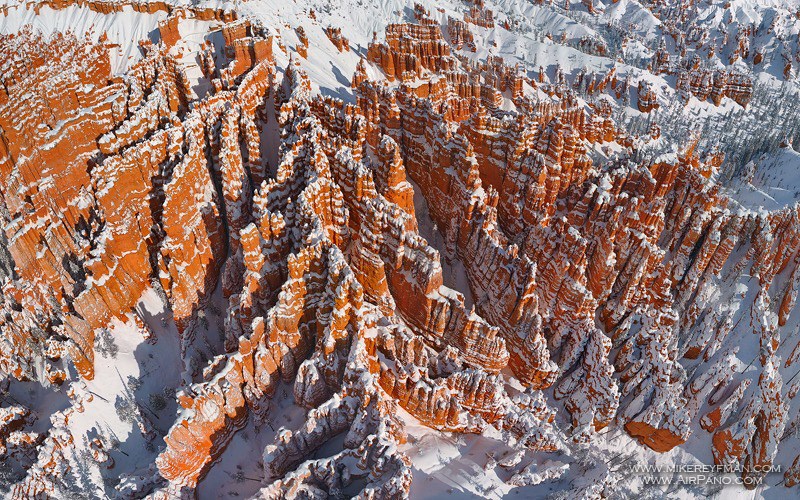 Bryce Canyon sits at a much higher elevation than nearby Grand Canyon and Zion National Park. The rim at Bryce varies from 2 400 to 2 700 m, while southern rim of Grand Canyon is 2 100m above the sea level. This is why the climate and the ecological profile of the park are so different from its neighbors.
The Bryce area was settled by Mormon pioneers in the 1850s and was named after Ebenezer Bryce, who homesteaded in the area in 1874. The area around Bryce Canyon became a U.S. National Monument in 1923 and was designated as a national park in 1928. Comparing to Zion National Park and the Grand Canyon, this remote park receives relatively few visitors that come here for the opportunity to take unforgettable landscape pictures.
Text and photo by Mike Reyfman
9 April 2012
Read more
Photogallery
360° Video
Add your review about "Bryce Canyon in Winter, Utah, USA"