Thousand Island Lake, China
In 1959, Zhejiang province of China was in need of a hydroelectric power station, and so they built the Xin'an River Dam.
The routine technical project (which happens on a regular basis everywhere around the world) turned not only into a new industrial facility, but also a rather interesting landmark of China.
Because of the dam, the territory of 570 square kilometers, where 1,377 villages used to be with a population of 290,000 people, went under water. The new lake was called Qiandaohu (which literally means "Thousand Island Lake" in Chinese). However, the original water level lasted only for a short period of time. After a while, the water went down, opening small islands of various shapes.

Year after year, the number of the unusual islands grew, and now this basin of water is called the Thousand Island Lake, which may not be completely accurate. Today, Qiandaohu has 1,078 islands of relatively large size and a countless number of tiny patches of land peaking from under the water. The total water volume of the lake is 17.8 cubic kilometers, and the combined area of the islands is about 86 square kilometers. Good climate and water promoted lush vegetation on the islands, and now forests with lots of animals and birds cover over 80 percent of the land.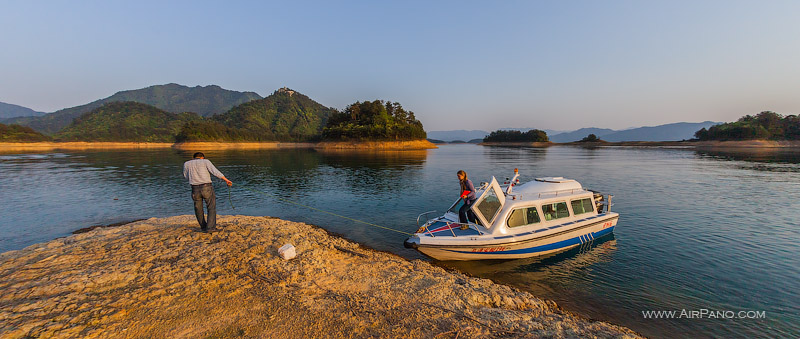 Qiandaohu is also known for its crystal clear water. One of the large Chinese mineral water manufacturers sources its water from the lake. Besides, the lake is famous for its ancient history. In 2002, underwater archeologists discovered 2 counties that used to be located here: Sui'an and Chun'an. Both are approximately 1,800 years old. On their territory, there is a well-preserved ancient city called Shi Cheng ("Lion City"). The buildings, walls, and pagodas are a perfect example of the Eastern Han Dynasty architecture.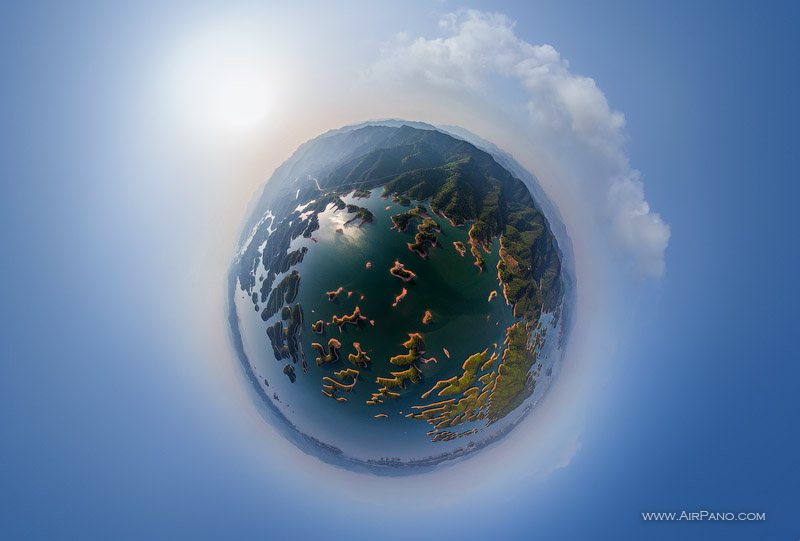 It took local authorities some time to figure out how to make a profit from this discovery. They considered diving excursions and even partially draining the lake to show the buildings that are now hidden underwater. However, these ideas were rejected, and now they plan to build a so-called "Archimedes Bridge," a submerged floating tunnel.
Our panoramas let you enjoy the view of Qiandaohu, the lake with such a unique history. By the way, let us remind you that we photographed another unique man-made lake before- Lake Powell, a reservoir on the Colorado River in the USA.
Photo and text by Dmitry Moiseenko and Stas Sedov
Read more
Photogallery
360° Video
Add your review about "Thousand Island Lake, China"