San Juan and Colorado rivers. Utah, USA
•
360° Aerial Panoramas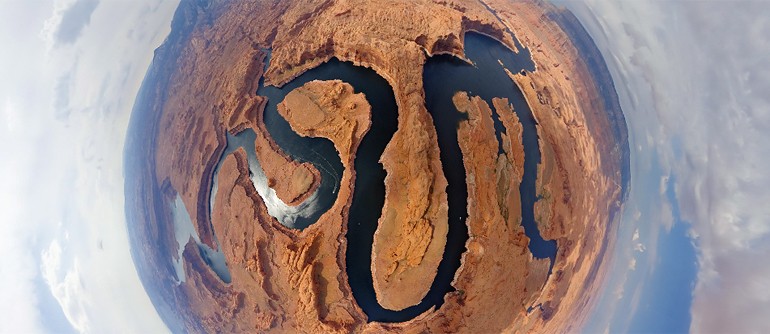 ---
In the fall of 2006 I made the first in my life sphere of this place shot from the helicopter, and then I could join its parts in the computer.
To realize shooting, the helicopter must hover in the air and turn precisely round its axis. When the weather is windy, altitude above the ground isn''t high or the helicopter is loaded much, it''s very difficult to realize such a maneuver and the pilots begin to worry.
When the first approach, the strong wind began to blow during the shooting and when it was nearly a half of turnover our pilot Maria couldn''t hold the helicopter and it began to tumble down during the spinning. As a result, we had to stop and go for another approach. When the second approach, though the wind didn''t abated, thanks to some miracle and Maria''s experience and skills we could finish the shooting. Maria wiped her wet forehead and said "Never again" that means "Never, never again I will do this". And then, in the evening, she added "even when I passed the exams to become a pilot, I hadn''t to work with such difficulties".
When at home, in Moscow, when the sphere''s composing had been finished, Andrey and I saw that we didn''t "milled the wind", because the place I flew over is very beautiful and the sphere came out interesting. It became clear, that it''s possible to shoot the spheres not only from the ground with a tripod, as it usually happens according to the classical canons, but also being in the air.
And my first but not successful attempt to shoot the sphere from the helicopter I realized in Botswana, in the delta of the Okavango River, in 2005. By the way, the Okavango River is interesting for its flow which is through all the territory of South Africa but doesn''t fall into anywhere and disappears completely in sands. That time, in Botswana, I was so long explaining to the pilot what it was needed to do in the air and, finally, the sphere was shot. But we couldn''t combine it as much as we tried to do it in far 2005.
Now, as several years have passed, when I shot a few hundreds of spherical panoramas from the helicopter, to satisfy my curiosity I''ve decided to understand why I couldn''t combine that first sphere from Botswana. Unfortunately, I couldn''t join it this time too. But it became clear, that leaning out of the helicopter during the shooting, either from fear or from misunderstanding I was just holding the camera by another side :)
Photo and text by Oleg Gaponyuk
Date of shooting: autumn 2006
Comments
2015-06-08 15:11:32
"Do you have video from Puerto Rico"
Carlos Santiago, Puerto Rico
2015-01-04 18:22:32
5 from 5
"Unvorstellbare Eindr#252cke wenn man selbst in dieser Landschaft unterwegs ist. Einer der beeindruckensten Gegenden der Welt."
Karl Kratky, Austria
2014-02-14 21:24:21
"thanks, is very very enormus, beatyfull....thanks."
firts last, Botswana
2014-01-18 00:42:58
5 from 5
joan pflugheber, USA
2013-12-19 05:50:44
5 from 5
"Your panoramas are wounderful. Have been to a number of the places shown and, as many have said, your panoramas are the next best thing to being there. Very many thanks for your great work. Would like to see many more."
Leo P Purcell, Ireland
2013-10-17 17:44:32
5 from 5
joel adam, France
2013-08-17 11:49:02
4 from 5
"thank you for best pictures"
hoddien habibi, Iran
2013-06-19 15:43:52
"AMEZING"
saravanan saravanam, India
2013-04-04 10:47:50
5 from 5
"i enjoyed them."
sohrab darani, Iran
2013-03-05 23:04:52
3 from 5
Alexandre Martinho, Brazil
2012-12-31 08:40:39
5 from 5
Gina Attard, Australia
2012-09-11 07:34:09
5 from 5
"SENCILLAMENTE MARAVILLOSO LOS FELICITO"
ROWLAND ROMERO CUETO, Venezuela
2012-07-22 13:24:42
5 from 5
"GEEN WOORDEN VOOR ZEER PRACHTIG GROETEN UIT OOSTENDE GERARD"
GERARD CAPPELLE, Belgium
2012-07-21 18:49:45
5 from 5
"Simply you guys are doing really good thing for every one. I truly appreciate you and your entire TEAM and a BIG thanks from me and people like me who are admiring your hard work. We can see world sitting in our bedroom,what else we want more than that? World is really so beautiful and this beauty comes to us via YOU. May god bless you.
Bhagvan Rabari
7/21/2012 8:19 PM, Ahmedabad,INDIA"
Bhagvan Rabari, India
2012-07-19 02:43:38
5 from 5
"How wonderful to escape into these panoramic views. May you bless us with many more of these wonderful almost dreamworld views. Thank you so much, I think you are awesome."
agi rosenberg, USA
2012-07-12 20:11:23
"It's a wonderful world as god is so much;thanks
for sharing all the lovers of nature"
xuan trouillot, USA
2012-07-11 10:46:43
1 from 5
"I never thought that thew world is so beautiful specially australia"
Raj kr sahuliyar, Brazil
2012-07-07 15:27:37
5 from 5
"as I am now an armchair traveller this is fabulous"
george allen, Australia
2012-07-06 21:33:27
5 from 5
"Every shot is a true work of art-i can "feel" your desirt to achieve perfection-well done -you hit the bulls eye.
regards and thanks
peter Cape Town South Africa"
peter flint, South Africa
2012-07-01 17:32:28
5 from 5
"We are inundated daily with wonderful images. Yours are some of the better quality and interest and I will gladly revisit your site. Thank you for sharing."
Lynn Ospina, Colombia
2012-06-26 03:30:03
5 from 5
"Very inspiring, epecially for someone who can't afford to travel much. The pan pipes are a very good choice for the audio. Please keep up the
GREAT WORK if you can. We all aspire to do our part
and your work makes it more rewarding for us all!"
Nick Houser, Canada
2012-06-25 17:33:57
5 from 5
"Excellent. I can hardly wait to see views of the Grand Canyon."
Bernadine Sydow, USA
2012-06-11 09:31:37
5 from 5
"WOW!! Keep up the good work.May you be blessed with more courage and insights to carry on your
aspirations.All the BEST in your future Endavours
Thankyou Zera."
zera rashid, Canada
Varvara, AirPano: Dear Zera, we are grateful for a high appraisal of our work as well as for your wishes.
2012-05-19 09:36:08
5 from 5
"Thanks for the great view ..."
Usha Rani, India
2012-03-24 00:27:24
5 from 5
"Many pleasant hours can be spent viewing all the places I will never see except with your virtual tours. Fantastic---may the Creator of the earth continue to bless you."
Arthur Santa, USA
Varvara, AirPano: Many thanks for your good wishes. We hope, you'll visit us again soon.
2012-03-15 16:24:01
2 from 5
"dnbd"
nilesh pagire, India
2012-02-09 03:52:40
5 from 5
"FANTASTIC !!!! This is by Far the best panoaramics I have ever seen anywhere besides NASA. We have been to several of these places and these pictures are the next best thing to being there. Keep up the great work. I would pay for this site if I had to. We can't wait to see Monument Valley in this manner. Thanks. Red and Josephine Hendrix"
DeWayne Hendrix, USA
AirPano: Dear Red and Josephine, we really appreciate your interest in our project and in this panorama in particular. Thank you both! Hope, you'll enjoy some other panoramas too.
2011-12-13 14:17:32
5 from 5
"The grandious world of Allah!"
Maria Belle, Brazil
2011-12-08 05:34:07
5 from 5
"Just see this above picture on mirror........you will find out there the name of ALLAH
SubhanAllah.....Alhamdulillah.....Allahu Akbar....."
A.B.M. Mamun Ur Rashid, Bangladesh