Moscow City Center, Kremlin
•
360° Aerial Panoramas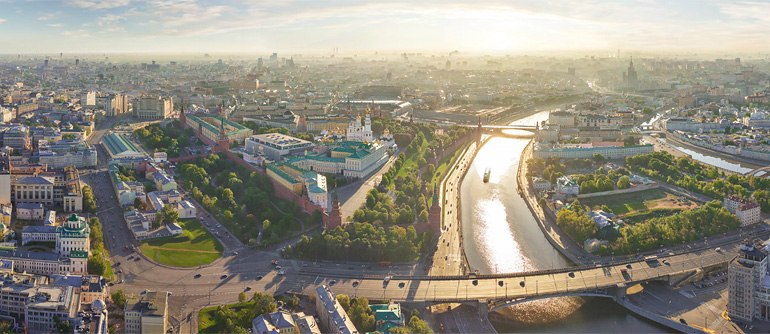 ---
The treasury of our Moscow panoramas is gradually increasing.
We have already been shooting aerial panoramas for 6 years. During this period of time we shot many interesting cities of the world: New York, Amsterdam, Kuala Lumpur, Sidney, Miami, Las Vegas, Rio de Janeiro, Dubai, Los Angeles and many others. However, we didn't succeed in shooting Moscow, the city we live in, though we did our best. The case is the flights over Moscow are forbidden except those of Russian Federation Ministry of Civil Defense and Emergency Response and Russian police. Taking in consideration these administrative restrictions we applied our creativity and resolved this problem by the following:
1) We made a virtual tour over Moscow Encircling Highway: MEH and Interchanges
2) Yauza, Ramenki, Southern Port
3) In May 2010 near the Crocus-City the first in the world 1 gig pixel panorama was shot from the helicopter. It shows the Kremlin, the Cathedral of Christ the Savior, Novodevichiy Convent, the TV Tower of Ostankino and many other places of interest.
4) This sphere shot from the height of 1000 m which shows most part of Moscow and regions.
5) Last spring we have shot the panorama of Novodevichiy Convent
6) We have done a virtual tour over Moscow State University
7) Earlier this year we have done a fabulous panoramas of Moscow City business center
8) One of Moscow City panoramas has been converted into stereo format
9) We have created a giga pixel panorama of the center of Moscow
Also it is worth to view one of the photos by Sergey Semenov devoted to the rehearsal of the Victory Parade of May 9.
It had success on the exhibition World Seen by the Russians held in Moscow, on Tverskoy Boulevard in May-June 2011.
And now we would like to introduce a virtual tour around Moscow Kremlin.
Photo by Sergey Semenov, Dmitry Chistoprudov and Stas Sedov
18 October 2010
Comments
2014-05-07 18:40:11
5 from 5
"Bellísimo !!!! Gracias por tener más información de mi entrañable Rusia por ser descendiente allí nació mi abuela y no pierdo las esperanzas de ir es maravilloso !!!!!!!"
Marta Markmann, Argentina
2013-09-20 15:01:14
1 from 5
"What a wonderful picturisation! A feast to the eyes and ears."
AVR Rao, India
2013-08-31 07:22:25
5 from 5
"Excellent job. God bless Russian people."
Simon Avshalum, USA
2013-06-20 05:38:53
5 from 5
"Muchachos sois unos verdaderos artistas, exactamente un dia como hoy del año pasado (2012) tuve la fortuna de visitar Moscu y Petrogrado, vivo en Mejico, pero soy Madrileño, un fuerte abrazo"
Juan Antonio Garcia, Spain
2013-05-13 17:49:14
5 from 5
""its awesome i want to visit there once in my life time""
Mani Shanker, India
Varvara, AirPano: Thank you, Mani! I think you'll like Moscow if you'll visit it!

2013-03-15 14:10:11
"Je to zázrak čo ste dokázali. Neuveriteľné. Škoda,
že naše Slovensko je v porovnaní so svetom zanedbané
koministi sa držali pri zemi, nič nedokázali postaviť . Chcela by som ešte navštíviť Ameriku."
Angela Pelachová, Slovakia
2013-02-15 13:01:24
"Magnifique travail !!!!!! Quel bonheur intense d avoir la possibilité de voir la planète depuis son petit coin de pays.... Merci.
Danielle Croset .Suisse."
Danielle Croset, Switzerland
2012-11-08 23:03:51
"Qué belleza, poder viajar a Moscu... y desde aqui de El Salvador..... Muchas gracias por compartir estos videos...."
Cristina Amaya, El Salvador
2012-11-06 20:29:29
5 from 5
"Good job it's realy wonderfull.....a lot of thank for you...."
pratik panchal, India
2012-11-01 10:26:09
5 from 5
"bellisimo moscu y su escultural plza roja patrimonio de la humanidad felicidades"
sergiedv cevadxa, Mexico
2012-10-30 18:48:10
"your site has good Images but feed showing is low an yway thats good"
shema gh, Iran
2012-10-27 20:35:58
5 from 5
"beautiful city"
mohamed eleish, Egypt
2012-10-27 20:17:58
1 from 5
"Welcome to take photo in Chian!Haha"
yi xin, China
2012-10-25 07:16:02
5 from 5
"Gr8 Work! Just 1 suggestion... Keep doing it!!!!"
Mandar Vaidya, India
Varvara, AirPano: Many thanks, Mandar! We will!
2012-10-21 18:43:40
5 from 5
"Precrasnaia Maskva, precrastanaia Rusia.
Spasiva !"
PASCU IOAN, Romania
2012-10-19 13:35:37
1 from 5
ahmad peko, Iraq
2012-10-19 08:32:57
5 from 5
"thank, por transportarme en sus maravillosas fotos.
puedo decir conozco a moscu sin pasaporte!"
jorge humberto gomez, Colombia
2012-10-19 00:07:41
5 from 5
"it is perfect."
delnia khezraqa, Iran
2012-10-18 20:26:42
5 from 5
"Sensacional!!!!!!"
Paulo Rattes, Brazil
2012-10-18 19:01:00
5 from 5
"Wonderfull. so beautiful. A lot of tank for you.
You are the best¡¡¡¡¡congratulation¡¡¡¡¡"
Daniel garcia rusca, Argentina