Moscow from an altitude of 1000 meters
•
360° Aerial Panoramas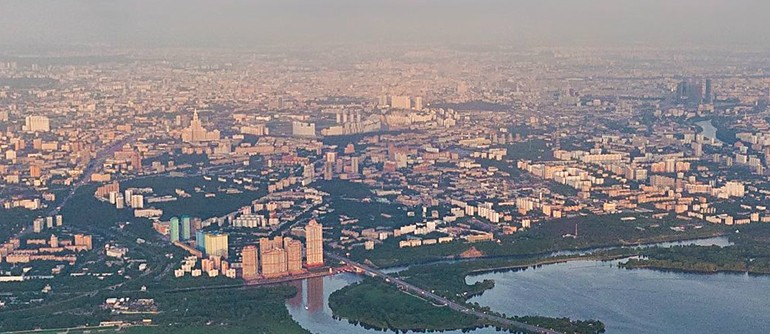 ---
We have already been shooting aerial panoramas for 6 years. During this period of time we shot many interesting cities of the world: New York, Amsterdam, Kuala Lumpur, Sidney, Miami, Las Vegas, Rio de Janeiro, Dubai, Los Angeles and others. However, we didn't succeed in shooting the city we live in, though we did our best. The case is the flights over Moscow are forbidden except those of Russian Federation Ministry of Civil Defense and Emergency Response and Russian police.
Taking in consideration these administrative restrictions we applied our creativity and resolved this problem by the following:
1. First, we made a virtual tour over Moscow Encircling Highway: MEH and the interchanges.
2. In Moscow itself we realized several photo-sessions with a radio-controlled helicopter which was made and managed by Stas Sedov.
3. In May 2010 near Crocus-City Moscow panorama of high resolution (approx 1 Gig pixel) was shot from the height of 1000m.
4. The sphere was shot from the height of 1000m. The most part of Moscow and its region can be viewed from that point. Now we represent this sphere.
Although we don't usually shoot panoramas from such height because it's rather difficult to see the details, but in this case it seemed to us it would be very interesting view: most probably such view is seen by the Boeings' pilots flying to land at the airports of Sheremetevo and Vnukovo.
10 October 2010
Comments
2013-03-14 13:46:07
5 from 5
jules zonn, Russian Federation
2012-11-27 01:20:30
5 from 5
"What an absolutely fabulous site!

I'm travelling on and on.

Thank you so much for these."
Susan Nolan, Australia
2012-10-15 04:40:01
5 from 5
""very good idea thank u ""
rameshkumar meghpara, USA
2012-10-03 21:41:14
5 from 5
mostafa ranjbar, Iran
2012-07-15 11:29:26
5 from 5
"This had let me re-visit many places that I explored or worked in many years ago."
Keith Lockhart, Australia
2012-06-20 12:53:24
"no"
gurulingayya swami, India
2012-05-16 21:33:39
1 from 5
"Very good Idea ."
Hemant Wani, India
2012-05-01 12:27:56
4 from 5
"nice"
Paul Whitrow, Australia
2012-03-18 14:49:12
1 from 5
"JUST GREAT"
PRAVIN P SWADIA SWADIA, India
2012-02-10 11:26:10
5 from 5
"Great!!"
John Lin, Taiwan Region