Moscow City View, Stereo Panorama
•
360° Aerial Panoramas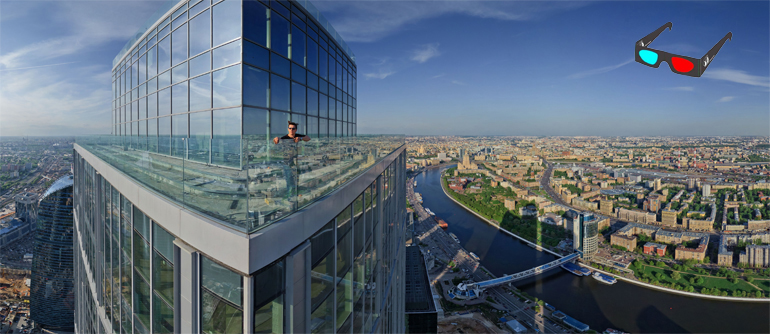 ---
A new spherical stereo panorama, photographed from the rooftop of the 301-meters high "Moscow City" tower — the tallest building in Europe — is now available on our website. All you need to view this photo is a pair of red-and-blue (or red-and-cyan) stereo glasses. See below for shopping suggestions.
Stereo images have become a part of our daily life. Almost every cinema theatre features 3D movies these days. Magazines publish stereographic photographs; and photo exhibitions show stereographic images. For example: http://gorshkov-sergey.livejournal.com/9026.html#cutid1
A pair of special stereo eyeglasses is required to view such images. There are around a dozen types of stereo glasses on the market, but the most common one is the polarized 3D glasses, which are usually used to watch 3D television and in movie theatres. Another popular type is the red-and-blue anaglyph glasses, which you will need in our case.
Anaglyph is a way of achieving stereo-effect with a stereo-pair of differently filtered colored 2D images, one for each eye. Special (anaglyphic) eyeglasses, with color filters in place of diopter lenses (usually red for the left eye, and blue/cyan for the right eye) are required to achieve a stereoscopic 3D effect.
Stereoscopic picture is a pair of two complementary colored images: red filter admits only information in the red color channel to the left eye, blocking the blue; and another one delivers visual information to the right eye in the blue channel. So each eye can see a picture in its own color.
The downside of the anaglyphic stereo imaging is, first of all, poor color rendition, quick eye fatigue and poor opposite image blocking resulting in image separation.
On the positive side, red-and-blue eyeglasses are simple and relatively inexpensive. No additional equipment is required for image viewing as well, just a pair of anaglyph glasses.
You will need to get a pair of red-and-blue glasses to view stereo photo panorama shot from the "City of Capitals" complex of skyscrapers. You can easily buy red-and-blue eyeglasses in your region. If you have never seen red-and-blue glasses, you may want to see how they look like:
There are plenty of online shops with red-and-blue glasses such as eBay and DealExtreme.
Some magazines have red-and-blue stereo glasses enclosed in each copy of the magazine. In Russia glasses are available with october issue of National Geographic (http://www.nat-geo.ru/archive/98/) magazine. So by purchasing the magazine you will get a chance to read some interesting photo illustrated articles and also view our online "City of Capitals" stereo panorama without spending your time on shopping for anaglyphic glasses.
26 October 2010
Comments
2017-03-04 19:40:55
"Excellent view of Airpano.."
Babubhai Parmar, India
2014-08-03 16:00:27
5 from 5
"...i really enjoyed that was amazing ..."
heshmat hayati, Australia
2013-06-06 10:33:33
4 from 5
"Just fantastic!! Unbelieveable"
ken barkla, Australia
2013-01-18 17:25:01
5 from 5
"enchanting"
narendra lawaniya, India
2012-12-16 11:25:54
"If you are willing to buy a house, you will have to get the loans. Moreover, my father commonly utilizes a collateral loan, which occurs to be the most rapid."
Manuela Russo, Canada
2012-10-28 09:40:10
1 from 5
"I seldom create remarks, but after reading through some of the
remarks on this page Moscow City View, Stereo Panorama | 360 Degree Aerial Panorama | 3D Virtual Tours
Around the World | Photos of the Most Interesting Places
on the Earth | AirPano.com. I do have a couple of
questions for you if you do not mind. Is it just me or does it give the impression like a few of these remarks come
across like they are coming from brain dead people? :-P And, if you are writing on other online sites, I'd like to keep up with you. Would you make a list of the complete urls of all your social networking sites like your twitter feed, Facebook page or linkedin profile?facebook.com"
Bobbie Schmidt, Armenia
2012-10-07 18:31:45
5 from 5
"It's marvelous!!! ìîëîäöû òàê è äàëüøå äåðæàòü!!! labai didelis ir geras darbas man labai patiko! Nuostabu!"
Justina Dov, Lithuania
2012-08-07 19:02:44
5 from 5
"!!!!What a wonderful world it is !!!!!!"
Karen Becker, USA
2012-08-05 10:17:55
4 from 5
"Beautiful photography."
Narayana Swamy, India
2012-07-16 20:44:33
"can you help me,i am doing m.tech remote sensing in anna university chennai, now i am doing my project in phtogrammetry field, so need true color stereo aerial image sample . my kind request to reply as soon as possible"
revathi sellamuthu, India
2012-06-08 13:25:54
"WOW ITS REALLY WODERFUL"
V.C. SRIPATHI, India
2012-04-19 17:18:15
5 from 5
Johny Coutteau, Belgium
2012-02-02 01:32:55
5 from 5
"marvelous !!!!!!"
bernard smit, Netherlands
2011-12-09 02:00:28
"good lock"
amir fgani, Azerbaijan
2011-11-24 13:19:25
1 from 5
MOHAMMD SEDAGAT
2011-11-16 01:35:29
"Short glance first time looks intresting, I still have to practice the use of it, no doubt I shall
dig in to master fluent usage. Many thanks."
Yair Biberman
2011-11-12 11:42:35
5 from 5
"magnivisiti its meysing Iwhood like to be in the sky."
eliyahu matsliah
2011-11-12 00:04:46
3 from 5
edna harlev
2011-11-11 22:22:39
5 from 5
אברהם שפריצר
2011-11-11 14:44:26
"its amaizing site i injoi very mutch"
Avi Hasan