Mono Lake, California, USA
•
360° Panorama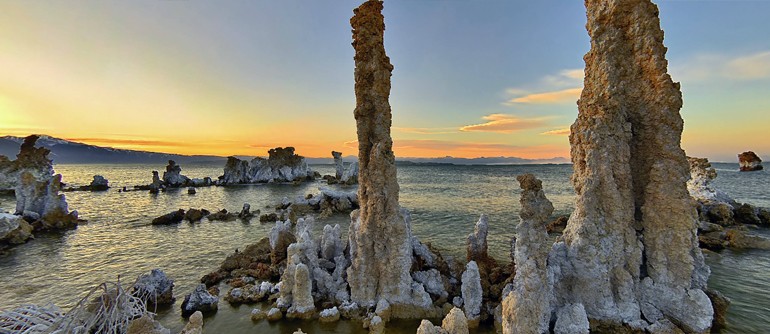 ---
The Mono Lake is a salty and alkaline lake: there are 4-7 trillion brine shrimp living in the lake as well as millions of alkali flies that live both in the water and along the shore. Many limestone figures called tufa are shown from water.
The Californian Lake Mono is a unique one and it is obliged of that fact to... a human being and the civilization which attacks to the nature. The lake is located at a height of 1945 meters, its area is 150 square kilometers and the average depth is 43 meters. There are many lakes with the same parameters on the Earth. But precisely here the amazing sculptures are shown from water. Each sculpture is a unique one: are they walls of the ancient dead city or an army created from the dragon's teeth which stands here and protect the last borders.
But the secret of the fanciful towers is more than banal. In the middle of XX century, to satisfy the needs in water of Los Angeles they had to take water from the local rivers. As a result, the lake's level dramatically fell by 15 meters uncovered the calciferous-tuff figures from water. The program devoted to the safety of the unique lake the Mono Lake Committee was created in 1978. In 1994, the California State Water Resources Control Board reached a decision which mandated that the lake had to rise to a level of 6,392 feet above sea level. After this the lake's level began to rise and, probably, in future these idols will hide their secrets under the water column again.
Comments
2014-02-05 01:56:21
5 from 5
"Sem palavras''''excepcional'''''"
jose antunes, Portugal
2014-02-05 01:52:50
5 from 5
"sem palavras«««excepcional''''"
jose antunes, Portugal
2013-11-29 19:18:53
5 from 5
"PRACHTIG!!!!!ook gezien van uit de lucht!!!!"
marie-lou De Ridder, Belgium
2013-11-26 20:50:21
5 from 5
"Rád by sa ešte raz vratil do Kalifornie ale nebudeme to vidieť
ked to bude pod vodou"
František Lukáč, Slovakia
2013-07-20 08:14:37
5 from 5
"Those so called phallic symbols are actually the way the City of Angels views the remaining territory that comprises the State of California and particularly the Northern section. Just giving us the proverbial "finger"."
Philip Scott, USA
2013-05-12 12:06:39
5 from 5
"A beautiful "changing" panorama which may be metaphorically used to educate human beings to tolerate each others views......"Do not judge your fellow man until you have been in his position"! (Ethics of the fathers)"
menashe touvian, Israel
2013-05-09 23:09:16
"j'aimerai recevoir le canada et les pays d'afrique , Madagascar , le Vietnam , c'est vraiment génial un grand merci a la réalisation"
Madame duhem adeline, Canada
2013-04-20 05:07:02
5 from 5
"I was at Mono Lake back in 1981. I couldnt believe how amazing this place was. I ended up in the mud, up to my waist, but I just kept taking pictures. Luckily I got myself out of the mud & sloshed back to my friends who thought I looked hilarious!! :) What a brilliant memory I have of that day."
Judi Blundell, Australia
2013-01-26 15:07:19
"Ik heb mono Lake bezocht in 2002 en ik vond het een wonder van de natuur en ik ben zeer gelukkig dat men heeft ingezien dat het zijn oorspronkelijkheid moest terug krijgen ."
magda Poelman, Belgium
2013-01-22 01:33:03
5 from 5
"I was there in 1981, and came back with my wife and daughter there, it's an amazing place, the road between Placer ville and Vegas is all the same finding beautiful and Nice place.
Claude from Paris (France)"
Claude Vauvillier, France
2012-11-26 19:21:12
3 from 5
"I have seen pictures of Mono Lake in books before and they were all so beautiful, then I saw the lake
in person in 2005 and I was sadden to see how much
water was taken out of the lake for people who don't
care. My oldest granddaughter was born Nov. 2004 and
my husband told me she would be 48 years old before
the lake would be up to the water level that it use to be before the water was taken out of the
lake. Put the water back in and leave it alone
so that it will be one of the most beautiful places on earth.
California need something to be proud of."
Cathy Doub, USA
2012-11-07 20:20:11
5 from 5
"Hi I am an American. Its sad I had to learn about this place from a Russian. Thank you."
Kenneth Ambrose, USA
2012-11-01 19:27:47
4 from 5
"We visited Mono Lake in June 2002 and found it very interesting, but with a surprise in store.
Unbeknown to us the setting was used for Photo's on the Pink Floyd album "wish you wre here", this was weird as that day I was wearing the Tshirt that refers to the album....!
The park rangers let us visit for free, which made it even better.
A memorable day indeed, the only down side were the fly's....!"
IAN SHUTTLEWORTH, United Kingdom
2012-10-26 21:29:05
5 from 5
"Especially enjoyed Mono Lake photos - one of our favorite places in the whole country. I agree with the comment from a viewer who said it is NOT a dead lake - there is so much life going on & around the lake."
Lupe Robles-Sane, USA
2012-10-09 07:11:19
5 from 5
"Excelente trabajo;música y espectaculares vistas.
Gracias."
JAVIER GOMEZ, Mexico
2012-09-08 05:13:00
5 from 5
"Beautiful! Memories of visiting Mono Lake on our annual vacations from Los Angeles to the nearby Virginia Lakes. I always imagined I was on the moon. Dad would always stop and let us look and wander at Mono. A few years ago I toured the the visitors center that has displays and information. I love that you can see this from your own home. Thank you."
Theresa Barrios-Gonzales, USA
2012-09-07 21:55:54
5 from 5
"Thank you for the wonderful collection...I really enjoyed the presentation and the selection of music."
Dr Shashi Mohan Sharma, United Kingdom
2012-09-06 11:22:27
5 from 5
"Thank you for this, it has brought my wife and I many happy memories when we toured California."
Norman Drake, United Kingdom
2012-09-03 21:35:47
4 from 5
"Nice way to bring Mono Lake to the world but the description of it being a "dead" lake is "dead" wrong. Although no fish live in the lake because of the salt content, its water teems with a small shrimp that is harvested commercially for fish food and feeds millions of migratory birds making the lake an essential "fueling station" on their migratory journeys. There are few places on earth where you can walk on a sand beach, smell the salt air, surrounded by screaming seagulls and dabbling ducks, among intricate tufa towers and look up to snow clad mountains."
Peter Vorster, USA
2012-08-26 08:11:08
"Way to go ! All the beauty without one biting Brine fly ! LOL Thank you Lee in Reno"
Lee Duryee, USA
2012-08-08 02:40:23
5 from 5
"We used to drive from Lone Pine to Arizona each winter and always enjoyed Momo Lake, coming from such a high altitude."
Gwyneth Earl, Canada
2012-08-04 11:14:54
3 from 5
Denis Declercq, Belgium
2012-08-01 08:47:11
5 from 5
"Vern Peckham, I lived in Lee Vining in the late 50's before the water was taken away..so many old friends of the "lake" from those days...Was part of the "Hess" family...This beautiful Mono Lake will always be a special place to us..Very glad to see the rest of the world having an opportunity to see it..."
Larry Goldsmith, USA
2012-07-23 04:15:53
5 from 5
"We travel from Palm Desert to Sparks, NV often; a trip that does not include a stop at Mono might be considered sinfully wasteful. We always make it a point to visit."
John Manion, USA
2012-07-19 11:53:53
5 from 5
"This website is absolutely marvelous . Please do more. I would love to see The Panama Canal
and it surroundings."
Marcela Armstrong, USA
2012-07-17 10:04:57
5 from 5
"A great to visit going to and from Mammoth Ski Fields!"
Bill Cee, Australia
2012-07-15 02:23:26
5 from 5
"When we lived in June Lake we would bring my Grandmother to Mono Lake and she would soak her feet to allow the brine shrimp to eat the dead skin on the caluses."
TOM Hebson, USA
2012-07-14 19:52:04
5 from 5
"Very beautiful. A few years ago my teenage son & I ventured off of 395 near Lee Vining and ended up at the lake. I still show off the magnificent shots we took there."
Karina Olsen, USA
2012-07-10 08:13:27
5 from 5
"I lived on the back side of the lake in the early 60's walked many a mile around there. used to be a old chap that fished the brine shrimp to sell to pet stores for fish food, and he sold seagull eggs to people from the black island. would love to see a arial view of the lake."
vern packham, Canada
2012-07-07 13:08:24
5 from 5
"Great. Enjoyed very much.
Thanks a lot"
mahalakshmi mahalakshmi rameshkumar, India
2012-07-06 01:23:32
5 from 5
"What a wonderful way to see the countries I will never be able to visit personally."
Diane Roth, USA
2012-07-05 20:19:46
5 from 5
"ABSOLUTELY FANTASTIC, THE BEST YET."
marilyn hoch, USA
2012-07-05 15:31:38
4 from 5
"So, excellent"
AKILA SHIREEN, Greece
2012-06-21 18:04:34
5 from 5
"My wife and I stumbled across Mono Lake while touring California some 10 years ago. Were amazed by the strange beauty and atmosphere. Your stunning film brought back lovely memories. Many thanks."
Bill Whittet, United Kingdom
Varvara, AirPano: We are happy you had great experience there. All the best both to you and your wife!
2012-06-09 22:45:03
5 from 5
"My family and I saw Mono Lake with its "HOO DOOS" the first time about 40 years ago while visiting a friend in Bishop, California. That friend and all my family has since expired but I sure would like to see Mono Lake one more time if possible."
Anders Hengsteler jr, USA
2012-06-07 07:40:45
5 from 5
"My late husband and I spent every winter for 15 years driving from Canada to one of our favourite spots, Lone Pine, CA and always stopped at Mono Lake to wander around the Tufa's and just enjoy this wonder of the world. Thank you for sharing the awesome panorama of this fantastic place."
Suzanne Wilson, Canada
2012-06-01 11:39:35
5 from 5
"Amazing, we took one week each year to spend our vacation at Lundy Lake, and the turn off to get there was at Mono Lake. We drove around it and found it to be something we had never seen b/4!
Thank you for these wonderful pictures and memories!"
Shirley Temple, USA
Varvara, AirPano: Thank you for sharing your memories.
2012-05-21 23:36:31
4 from 5
"This is a beautiful reminder of my seeing Mono Lake about 20 years ago. I will visit it again this weekend. South Florida resident."
Alice Bell, USA
2012-05-13 01:12:50
5 from 5
"Absolutely, beautiful sight! Thank you. I passed many times the lake but newer took time to explore, now it is a must.
Thanks again."
Bozana D., USA
2012-05-08 20:44:14
5 from 5
"WOW!!AMAZING PHOTOS!!"
kiran padival, India
2012-04-21 23:30:01
5 from 5
"Wonderfull lights for that magical lake
Great work ! just a forgotten monopod on view #1 ;-)"
Eric Malherpod, France
2012-04-14 16:13:58
5 from 5
"Very Very Good"
Ravi Misal, India
2012-04-11 08:59:10
5 from 5
amir abadi, Iran
2012-04-08 06:32:15
4 from 5
"Excellant,i wish i will have the good fortune of visiting this place Sampath Chennai India"
K.M.Sampath Sampath, Iceland
2012-04-05 10:35:41
5 from 5
"I HAVE SPENT MANY HAPPY HOURS WANDERING AROUND THE TUFA TOWERS & MANY TRIPS PASSING BY THE LAKE WHILE ON MY FAVORITE WAY OF DRIVING FROM LOS ANGELES TO LAKE TAHOE.

THANK YOU VERY MUCH FOR ALLOWING ME TO TAKE THIS TRIP."
David Bienert, USA
Varvara, AirPano: You are welcome. It gives us pleasure to get such messages.
2012-04-04 14:01:59
4 from 5
"one of those pictures I would like to see again and again. Beautiful"
vani valluri, India
2012-03-27 01:57:31
4 from 5
"this is just awesome. thanks"
varun kumar, India
2012-03-23 23:36:48
5 from 5
"Amazing - Thanks for bringing it to use via internet."
MUNIRA SADIKALI, Canada
2012-03-22 12:02:37
5 from 5
"A great feeling to watch the world from at home.
Thank you so much. P. and Y. Brosi.

Ein großartiges Gefühl die Welt von zu Hause aus zu sehen. Danke sehr. P.und Y. Brosi."
Peter Brosius, Germany
Varvara, AirPano: Thank you for visiting us. We appreciate your interest in this pano.
2012-03-15 08:51:57
"MOT HO NHO CO DAO BEN TRONG RAT DEP"
ch nhan, USA