The Matterhorn Mountain, Switzerland
•
360° Aerial Panoramas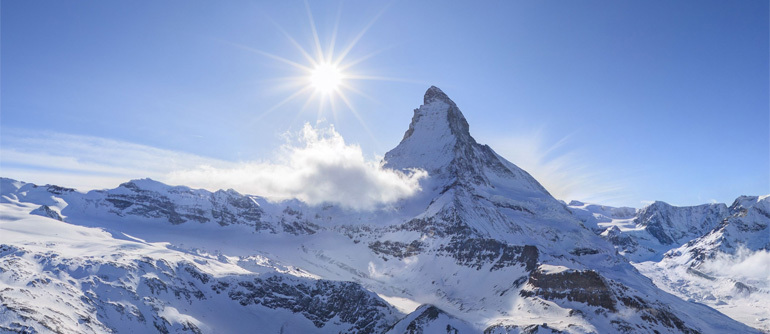 ---
Ranking traditional icons of Switzerland by their increasing size may look like this: Swiss watch, Swiss knife, Swiss chocolate, Swiss cheese, and Swiss bank. The largest icon of Switzerland — the Matterhorn Mountain — caps the list.
We took pictures of the Matterhorn in 2010 when skiing with Dima Moiseyenko in Zermatt. We had to fly to the mountain twice.
The first day we flew up very close to it, right to the base, and took some standard landscape panoramas. While stitching the images that night we realized that huge 4478-meter tall Matterhorn looked like a small hill on our panoramas. And from a helicopter we saw an enormous giant hovering over us. An amazing optical effect due, perhaps, to the challenge of trying to fit the whole world on a small screen.
So we had to fly again the next day. This time our helicopter blades were almost touching the mountain slope, which seemed to be taking all the space around us. The wind at the slope was very strong: about 70 km per hour. Our pilot, with great difficulty and quite reluctantly, held the helicopter close to the mountain for several minutes, and then said: "That's it. It's not safe here. I am leaving". And so he left. We hardly had time to finish shooting.
Speaking of the Matterhorn, I made another personal discovery.
Upon my return to Moscow, I was going over panoramic shots taken close by the mountain, and noticed a small hut snuggling on the Swiss-side ledge of the Matterhorn. I looked it up on Google Maps — it was called Solvay Hut. This refuge was built in 1915 at 4003-meter altitude. It can fit about 10 people in case of emergency during summiting the mountain. Another Google search revealed an image of the second hut (Rifugio Carrel) on the Italian side. After that I was actually able to find it on our panorama taken from the western side of the mountain.
By the way, Italians have a different name for the Matterhorn — Monte Cervino.
And now let's turn to official facts.
---
Situated on the border of Switzerland and Italy, the Matterhorn is like a pyramid in the center of Europe, with four triangular faces meeting at its summit. Like any other pyramid (whether it be the famous pyramids in Egypt or a bit less famous pyramidal structures in Mexico), the Matterhorn Mountain is also full of mysteries and tragic stories.
In terms of altitude, the Matterhorn is the fifth among the Alpine peaks, but the difficulty of a climb ranks it second to none. Its faces are so deceptive, that even the most experienced climbers could not ascend them until 1865; and the southern slope remained unconquered for another 66 years.
Time after time results of those ascents were rather ambiguous. For example, Edward Whymper (British) and his fellow climbers made the very first successful ascent of the mountain. And as they began their descent, rope broke and killed four of the brave pioneers... In 1933, three French climbers were first to finish one of the Matterhorn routes, but they all died on the way back.
Hermann Perren, a mountaineer and a guide, became famous thanks to the Matterhorn too. His goal was to ascend the mountain 150 times, but he fell and died 10 ascents short of his goal.
Although all of the Matterhorn ridges and slopes have been climbed by now, and guides take large tourist groups to the peak (which makes some of the routes really crowded) — still about 10 to 15 people die climbing the Matterhorn every year.
The Matterhorn has its character. At least, that's what the residents of the nearby town of Zermatt are sure of. They say that even the weather in Switzerland, in this part of the country, depends on the mood of the legendary mountain. When the sky is gloomy and the 4478-meter tall Matterhorn peak is hidden behind the clouds: the mountain is out of humor. When the Matterhorn wants to play a joke, it pretends to be Vesuvius: clouds are covering up only part of the mountain making you believe the peak is smoking, as if before eruption. But when "his highness" is in a good mood: it is showing off, gleaming with its glacier hat, as if inviting you to take an unforgettable picture of the Matterhorn.
The town of Zermatt (situated at 1600 meters altitude) enjoys the proximity of such a popular neighbor. Not only is it one of the most popular ski resorts in Switzerland. It is, in fact, the tourist landmark of Switzerland. It offers activities all year round. Even summer activities, as one can guess, are related to vacationing in the mountains. Zermatt even has a so-called sunrise train, which takes you to the Matterhorn peak to witness the sunrise of unparalleled beauty.
The bordering country benefits from the mountain pretty much in the same way. The southern slope of the Matterhorn is home to a small town called Brueil Cervinia, an extremely popular ski resort in Italy located at 2006 meters above sea level. It does not need to compete with Zermatt. They simply have to accept the fact that they share the mountain. That is why both resorts have shared ski routes, tourist routes, and a great number of tourists coming here for an active outdoor time and ski tourism in the Alps.
...There is a saying: everyone, who sees the Matterhorn mountain, will be successful and wealthy. Perhaps, this is the reason why Swiss banks have so much money in their volts. Come visit the Matterhorn, the famous landmark of the nature of Switzerland, and who knows, the local saying may just come true for you.
6 July 2012
Comments
2015-05-23 16:48:47
5 from 5
"Thought you'd like to visit these countries 'virtually'. The photogaphy is fantastic and I think Jude would love them too. Love from ma xxx"
joey faye McAuley, Australia
2015-03-21 03:13:32
5 from 5
"I with a small party had the trip of a lifetime when asked if we would be brave enough to take on the Matterhorn climb in June 1964. The highest we had ever climbed in comparison with the Matterhorn was a flight of stairs. After a week of training in the hills around Zermatt and a trial test on the Riffelhorn, we took on the amazing Mountain. A guide named Ricky took me up. Near the top I lost a crampon from my left foot. I said to Ricky, what do I do now. He replied, you can either stay here or come with me.needless to say I followed him to the top. What an amazing sight looking down on the clouds below. We could see the for miles. I thought, God what a beautiful sight. But then after a few minutes Ricky told us the weather was closing in and we would have to start on the way down. When we reached the foot of the mountain, we looked up in awe at what we had achieved. Wow. Not bad for a lad from Cavan Town whose previous height was 13 Stairs."
Patrick Mulcahy, Ireland
2015-03-12 13:47:59
5 from 5
"It's amazing! What a wonderful word!"
Miy Coi, China
2014-05-16 01:05:24
5 from 5
"Absolutely amazing! No words would love to go there to take pictures..."
Katrina Anderson, USA
2014-03-20 17:51:43
5 from 5
"Wonderful
I"
Chaveewan Hutchinson, Thailand
2014-01-23 09:58:30
5 from 5
"Breath taking: Visited Aug.2013 and enjoyed every minute of my stay at Zermatt. Thanks for sharing."
Albert Toronians, USA
2013-11-13 23:47:36
4 from 5
"I loved the panorama! Really good idea! The only thing was I had to download the thing for more to see the panorama."
sara oehrig, Canada
2013-10-28 23:40:42
5 from 5
"Thank You for the wonderful pictures and videos. They make me feel like I have been there."
Reed Jackson, USA
2013-05-23 22:29:36
5 from 5
"Yo he residido 9 años en ese maravilloso pais y ahora al cabo de los años,me doy cuenta de que no he visto ni la decima parte de las maravillas de ese pais y ahora ya con 72 años a mis espaldas,ya es demasiado tarde para hacerlo y es por ello.que si alguien lee este comentario,no deje para mas tarde lo que pueda hacer hoy"
jose antonio piñon, Spain
2013-05-10 23:03:32
5 from 5
"I am greatly fascinated by this magnificent mountain. I would really love to see it physically. I read about it when I was reading a devotional book by Charles Stanley and fell in love with it. God is the ultimate creator!! Thanks for the panoramic view via internet! Doreen McCubbin"
Doreen McCubbin, Jamaica
2013-03-25 19:41:10
5 from 5
"Very beautiful,
La Jolla"
Rosemarie Lugmair, USA
2013-02-18 20:22:22
5 from 5
"Spend the day looking at Matterhorn,Santorini, any beautiful place in the world!"
Dr Roger Tinkham, USA
2013-02-15 22:55:01
5 from 5
"The timeless beauty of Sir Mattehorn, The Magnificent is breathtakingly beautiful and the accompanying musical theme is perfect. I have been there twice and can hardly wait to return. Thank you so much."
elmer barney, USA
2013-01-30 00:08:46
5 from 5
"First of all thank you for this experience, I felt like I've been there. And second thought which flew through my brain while watching this masterpiece was that probably soul flies like this on it's trip toward union with God. Once again THANK YOU :)"
Žarko Budinčić, Bosnia and Herzegovina
2013-01-09 19:26:22
"I was there - on the top in my younger days - (08.august 1976) Wanderful climbing!"
Igor Knez, Slovenia
2012-12-11 21:35:15
5 from 5
"The day I saw the mighty Himalayan mountains,I learnt about Matterhorn,wanted to see,but I could not visit it yet,your efforts made it possible to see it on net,certainly I would like to see it physicaly.Thanks for the effort combined with the magnificent technology."
SANJAY PANSARE, India
2012-12-05 11:53:30
4 from 5
"Been there so nice to see it again. Thanks for featuring the place."
lorie garcia, Philippines
2012-11-05 16:55:18
5 from 5
"Just amazing"
Rajeev Kumar, India
2012-11-04 18:31:41
"I have been here a couple of times and it's like being on another planet, Wonderful and amazing"
Melodie Munro, United Kingdom
2012-10-22 19:51:31
5 from 5
"Long time ago I stood underneath the Materhorn and when I looked up I got dizzy, Thank you for these wonderful pictures. This is why I love my computer.God bless everyone everywhere."
Victor Papai, United Kingdom
2012-10-18 20:40:15
5 from 5
"Incrível!!!"
Paulo Rattes, Brazil
2012-10-18 00:34:44
5 from 5
"very beautiful and breathtaking! As a boy and young man, I skied on these slopes all the time and absolutely loved it. This is a nostalgic trip into the past. So, thanks a million for this. I will watch the others as well."
Jorg Rauthe, USA
2012-10-15 09:04:04
5 from 5
"thanks"
ali shirvan, Iran
2012-09-21 14:52:28
5 from 5
""very nice""
Erfan Ahmadi, Iran
2012-09-20 18:21:53
5 from 5
"very nice . thank so much"
Ali Mirzaei, Iran
2012-09-17 03:54:39
5 from 5
"one more beautiful that the other OMG! thank you for your photos."
ann kessler, USA
2012-09-09 17:19:28
"VERRY NICE"
MOHAMMADREZA HEIDARI, Iran
2012-09-07 22:46:34
5 from 5
"Tanks You And Tanks God"
Sharare Salehi, Iran
2012-09-06 12:26:04
5 from 5
"grt description indeed ,,
I have visited switzerland but never went to matterharn.. was quite content to visit mount titlis (quite famous among indian visitors).. your description is making me lament not goint to it once i was there .. i ll make it a point to be there whenever i go next..
and yeah get rich as well"
Manoj Dubey, India
2012-09-06 01:45:45
5 from 5
"this place is wonderful i love mountain and climbing"
alireza samavat, Iran
2012-09-01 17:27:18
"It is very nice & unique thank you ."
Mohadethe Lak, Iran
2012-08-31 20:59:28
5 from 5
"It is lovely for everyone"
Ghazal Kondori, Iran
2012-08-31 13:54:38
"very nice and baeutiful"
yousef pirzadeh, Iran
2012-08-20 14:22:42
5 from 5
"Great inovation done by you. hope you more inovation in future. Thanks to all of you."
keshari Prasad, India
2012-08-14 13:16:13
5 from 5
"it's amazing"
Haresh Solanki, India
2012-08-11 18:48:25
5 from 5
"verry nice"
Arshia omid, Iran
2012-08-10 05:09:04
5 from 5
"These panoramas are magical. I have spent hours looking at them. So much more exciting than an overseas trip
Thank you so much"
alan vaughan, New Zealand
2012-08-09 09:34:41
5 from 5
"kheili aramesh bakhsh boud mamnon"
mahdi mohammadi, Iran
2012-08-08 01:20:22
5 from 5
"Spectacular"
A.Pete Albert Albert, Canada
2012-08-06 13:56:10
5 from 5
"its really amazing... very nice..."
Nehal Rana, India
2012-08-05 13:31:56
5 from 5
"spectacular!"
Shook Huay Gay, Singapore
2012-08-04 13:38:05
5 from 5
"Its wonderful. really so nic........e"
subhash mishra, India
2012-08-03 13:31:45
5 from 5
""WOW!!It's truly Beautiful, Brilliant and Awesome....Cheers!!""
Girish Joshi, India
2012-07-31 19:06:50
5 from 5
"Amazing view, very nice place. I was there."
Simona Stancuta, Romania
2012-07-30 14:17:11
5 from 5
"Thanks for this wonderful view!! It is truely amazing"
Deepa Deshpande, India
2012-07-27 13:34:41
5 from 5
"Thanx for realization of the utmost beauty of nature. Really awesome Work...!!!"
Nevil Prajapati, India
2012-07-27 03:23:58
5 from 5
""Tears went down my eyes cause of how beautiful and majestic the world is" Thank you."
Ibrahim Lopez, USA
2012-07-24 22:21:06
5 from 5
"climbed it in '84 with Neil clough and chris henson in memory of a young lady who died of cancer..music and pictures awesome"
brian smith, United Kingdom
2012-07-23 06:27:48
5 from 5
"My husband and I took our boys here for a graduation present for
our oldest son, Charles. It was a trip of a lifetime. Unfortunately,
at the time, I was pretty much a beginner skier. Now we all ski
every year in Steamboat, CO where we enjoy a 6 week time share
at the Steamboat Grand. We also love to spend a week in the
summer.
It sounds like it would be wonderful to spend a week in Zermatt
in the summer. i will put it on my bucket list."
Mari Ann Spoelstra, USA
Varvara, AirPano: Thank you! We appreciate your attention.
2012-07-23 00:47:35
5 from 5
"So beautiful, thank you."
Ann Krauter, USA