Highlands of Iceland, Langisjor and Veidivotn
•
360° Aerial Panoramas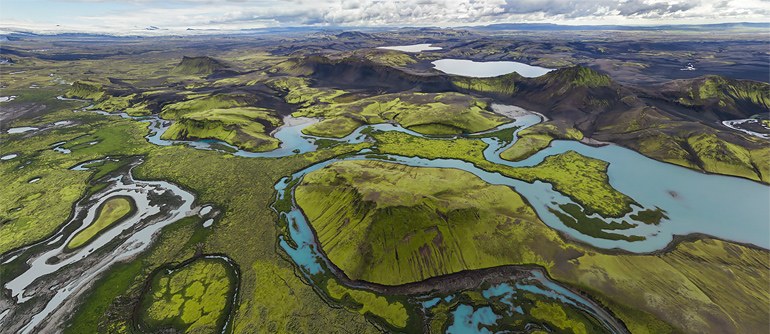 ---
"Ice and fire" – these are two words, which despite their seeming mutual exclusiveness, perfectly grasp the nature of Iceland. Although called "the land of ice", ironically, Iceland has boiling hot springs and geothermal lakes. And how magnificent are the flows of glowing lava from Eyjafjallajoekull, the famous volcano!
Iceland is actually one of the most active volcanic regions in the world. Moreover, despite its name and the fact that it has glaciers, Iceland is not an arctic country. The climate of Iceland has cold oceanic temperatures with strong winds; the weather is wet and quite variable. Icelanders joke that if you don't like the weather in Iceland, just wait five minutes for it to get worse.
Not too many people reside on the island. According to the 2010 US census, the population of Iceland totals 317,630 people, ranking 180th in the world. Their human population is much smaller than their national sheep population of just under 800,000. More than half of Icelanders live in the country's capital, Reykjavík. This is what makes Iceland the least densely populated country in Europe with only about 3 people per square kilometer. Notably, the country boasts a rather robust sheep to human ratio of two to one. This means that in an area of one square kilometer, one may run into 4.5 sheep and 2.5 people. But in reality, one is more likely to see sheep than people along the road.
The landscape in Iceland is very desolate and harsh. There are almost no trees. In winter, the central part of the island resembles the moon's surface. This is why NASA astronauts conducted their lunar landing training here.
One of the most famous landmarks of Iceland is the Blue Lagoon. This unique geothermal pool is located in the southwest region of the country. It is about 200 meters wide and several kilometers long. Water temperature averages +37°С. The pool attracts tons of tourists every year, total number of which is almost equals the country's population – over 300,000 people.
Iceland is also home to Europe's largest glacier, Vatnajokull, and the most "boiling" river in the world – Deydartunguver. Its hot boiling cascades are fed by the hot springs and have an average water flow of 225 liters per second.
Moreover, the European equivalent to Niagara Falls is also located in Iceland. It is Dettifoss, the mightiest waterfall in this part of the world. It spills over 200 tons of water per second from 45 meters height. One can see its splashes a mile away, and rainbows play in its waters on sunny days.
And lastly, the geysers are yet another famous landmark of Iceland. In total, there are more than 250 geyser groups consisting of 7,000 hot springs – the world greatest cluster of geysers.
However, these records are not the ones that portray the charm of the nature of Iceland. Spacious fields, mountains, and water exists in all possible states: from frozen ice to steaming geysers – this is what makes this unique, majestic, harsh and deserted landscape of Iceland, the country that looks so different from anything else in the world.
20 December 2012
Also we offer you to see virtual tour with 82 panoramas of Iceland.
Comments
2013-03-15 21:12:54
5 from 5
"Sensacional!!!"
Paulo Rattes, Brazil
2013-03-01 13:45:55
5 from 5
"A Masterpiece od digital photography"
Bruce Wayne, Croatia
2013-02-25 22:22:19
5 from 5
"Maravilhosa, parabéns!!!!!"
Paulo Rattes, Brazil
2013-02-09 15:57:33
5 from 5
""Your panoramas are first rate !""
krimhilde brennsteiner, Austria
2013-02-05 09:38:52
5 from 5
"I have been in Iceland in 2009 and 2011 as a photographer. I also know many professional photographers that have done exquisite work in Iceland - But nothing has move me and humble me more that this work - It is the best way to show people the immensity beauty of Iceland - Thank you!"
Dennys Bisogno, USA
Varvara, AirPano: Dear Dennys, thank you for your kind words! Nice to hear it from photographer, which not by hearsay knows beauty of Iceland!
2013-01-30 23:04:39
5 from 5
"Beautiful project. Thank You very much"
Jaroslav Štorek, Czech Republic
2013-01-29 13:13:36
"Ich bin überwältigt von den Bildern!! Wie schön unsere Welt immer noch ist. Es lohnt sich, für den Erhalt dieser Schönheit zu kämpfen. Ich habe den Link an viele Freunde weitergeleitet. Danke!!!"
Paul Schlechtriemen, Germany
2013-01-29 00:00:23
5 from 5
"I am new to spherical panoramas and your work is incredibly inspirational I will strive to try and achieve images like yours and will keep visiting your site to see what's new. Fantastic work!!!"
Robert Berdan, Canada
2013-01-17 04:11:20
5 from 5
"MUCHAS FELICIDADES POR HABER SABIDO RECOGER UNAS VISTAS TAN MARAVILLOSAS"
JUAN ANTONIO LARIA URIBE, Spain
2013-01-16 00:14:39
5 from 5
"I stumbled on this site and I couldn't stop watching it I must save these and look at them slower. These are breathtaking and I'm 66 years old and never saw sites like these, and I'm not a traveler at all, Thanks."
Raymond Mazur, USA
2013-01-10 13:55:37
5 from 5
"Again we have here an outstanding work by the "Air Pano" team. Their efforts in bringing the sights of world onto our computer screens is admirable. Let's hope that their contribution will also serve to bring hearts closer."
Dan Adler, Israel
2013-01-07 20:48:30
5 from 5
"had I not seen the panorama life would have permanently missed it"
shankar prosad de, India
2013-01-07 15:35:55
"This is the beauty and splendor and magic and more than wonderful scene"
ahmed abdellatif, Egypt
2013-01-07 14:42:05
5 from 5
"Thanks a lot for the beautiful images of places
inaccessible to most!"
Usha Rani, India
2013-01-07 12:19:29
5 from 5
"Thanks alot. It's very nice."
Arash Nasirpour, Iran
2013-01-07 12:05:55
5 from 5
""Its very beatiful.thanks alot""
Karel Hofmann, Czech Republic
2013-01-07 09:52:13
5 from 5
"Wow!!!!!!!!!!!
Good Work Pano Team......."
Akash Yadav, India
2013-01-07 05:14:23
5 from 5
"Your Great Dear Superb"
Kishore Paratala, India
2013-01-07 03:12:32
5 from 5
"Your panoramas are first rate - almost 3D,well done,very original."
Walter Crawford, United Kingdom
2013-01-07 02:42:27
5 from 5
"Nice and Informative"
AbdulHamid Malik, USA