Dominican Republic - Caribbean Paradise
•
360° Aerial Panoramas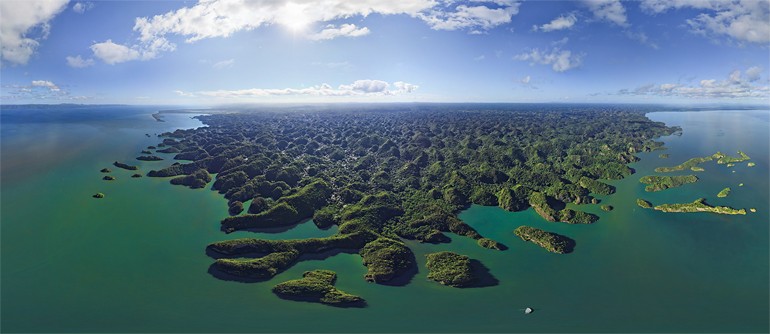 ---
The island of Hispaniola (Haiti) located in the Caribbean Sea is a home to two independent countries. One of them, as you might have already guessed, is Haiti, and another one is the Dominican Republic. Despite the proximity, these countries are as different as night and day.
The island was discovered by Christopher Columbus in 1492 and was named Hispaniola. Prior to such discovery, the island was populated by peaceful indigenous people from the mainland. The life on the island was completely changed with the arrival of the Europeans. By that time local Pacific inhabitants just learned how to work with metal, so it was hard for them to withstand the attacks of civilized and aggressive newcomers.

As a result, the island of Hispaniola was split into two uneven parts: the French occupied about 30% of the western territory, which is the Republic of Haiti now; and about 70% of the eastern part became a Spanish colony.
Over the next several hundreds of years, the island has seen many wars, including an incredibly bloody riot of Haitian slaves of 1791-1803. During the riot, the Haitians robbed several cities in the eastern part of the island and killed almost the entire local population. These events marked the beginning of an ongoing deep hostility between the people of Haiti and the Dominican Republic, which was founded in 1844.
While their neighbor country is still being torn by wars, riots, civil unrest, hunger, disease outbreaks and natural disasters, the Dominican Republic may be described as "heaven on earth".
Millions of tourists cannot be wrong about that. Just look at the weather in the Dominican Republic! The eternal summer here is very comfortable and mild. The island has several large resorts with almost ideal conditions for a relaxed vacation. By the way, speaking of the Caribbean hotels — the Dominican Republic has the record number of hotels. Thousands of tourists are coming here by large cruise ships. One of these ships can be found on our panorama. It is the Costa Atlantica, which belongs to the company that owns the well known Costa Concordia partially sank on the night of 13 January 2012 after hitting a reef off the Italian coast.

Beaches of the Dominican Republic are its "calling card". Coral reefs are quite common in the Caribbean, but the most beautiful ones are in the Dominican Republic. The Dominican Republic stands out because of its virgin nature, clean rivers, unique culture, plenty of historical monuments, including those on the UNESCO World Heritage list.


Coming back to our comparison of two neighboring countries: the photos of Haiti mostly show destroyed buildings and hungry children, while the typical photos from the Dominican Republic feature white-sand beaches, blue sea, incredible architecture, vivid colors of nature and always smiling local people. We invite you to enjoy this "heaven on earth".
Photography by Dmitriy Moiseenko
12 March 2012
Comments
2015-03-12 22:02:34
5 from 5
"Your images truly are remarkable and so is the Dominican Republic. I simply don't understand the purpose of tearing down one country's natural beauty in order to emphasize the beauty of another. To compare the two countries in an economic or political sense, I would agree with your night and day comment however, Haiti's economic or political situation does not change the beauty of it's beaches or the breathtaking mountain views. After all, it is the same island sharing the same shores. If blindfolded and dropped off on a beach in Haiti, there is not one person who would be able to tell the difference between the two. Don't take my word for it, simply google the beauty of Haiti"
Kiki Toussaint, USA
2014-09-03 22:05:03
5 from 5
"this is my country, thanks Dmitryi M for your excellent work from Dominican Republic"
Altagracia Marte, Dominican Republic
2013-08-30 17:02:34
4 from 5
"I am very grateful to see the world through these pictures in a wonderfully composed panoramic mode.Thank you very much for this generous opportunity."
Felix Sauer, Netherlands
2013-08-09 06:01:28
5 from 5
"Exellent Job"
Elizabeth Santiago, Puerto Rico
2013-07-20 12:24:14
5 from 5
"It's wow..."
Prasad Yadav, India
2013-05-29 19:05:07
5 from 5
"Extraordinario, la isla más bella del mundo, claro está los 2/3.
Otros nombres: Isla de Santo Domingo, Babeque, Quisqueya"
J Rhadamés Cabrera, Mexico
2013-05-26 04:29:23
5 from 5
"You have made a professional and superb profile of Hispaniola Island (Or the Spaniard Island, it's in Latin).
Here are the other names of the island: Quisqueya, Island of Santo Domingo, Babeque, Bohío and Haiti. The only place that the "indigenous people" or more exactly should be called "aborigine people" called Ayti or Haiti is even on our side of the island. It's south of the Samaná Peninsula, in the area close to Sabana de la Mar and Hato Mayor where there is a chain of mountains.
Can write more, let me say thanks to your company for bringing extraordinaire and beautiful photos.
The DR and Russia establish embassies in the WW II period, but lack of transportation due to obvious reason, couldn't made it."
J Rhadamés Cabrera, Mexico
2012-12-20 23:24:43
5 from 5
"Excelent my Joel.

Tu pa.
Veo que tienes buen público mundial."
zoilo valdez, Dominican Republic
2012-09-29 22:07:45
5 from 5
"Incredible work! Thank you so much for sharing.
Daily I take my minutes-relax contemplating the marvelous world you show us."
JULIET VAN DYCK, USA
2012-08-23 17:06:37
5 from 5
"Very good website and very nice pictures"
Harsh Patel, USA
2012-08-09 16:22:43
5 from 5
"congrats for this website, you did a great job for us, the watchers.
you are in my favorites from today."
radoo marian, Romania
2012-08-02 10:42:50
5 from 5
"Really 1000x amazing web site..spechless.
please come to indonesia and make 360D film."
Quthub M, Indonesia
2012-07-24 18:19:40
5 from 5
"One of the most spectacular websites i ever saw. Probably because i am living in Samana and you made the most spectacular pictures there."
Tony van der Heijden, Dominican Republic
2012-07-24 16:33:11
5 from 5
"Having lived and worked in both Haiti and the DR, your comments are 'right-on'.Interesting that two contiguous countries can be so diametrically opposite."
Kenneth Garvey, USA
2012-07-14 14:12:37
5 from 5
"what a lovely way to see the world and what a beautiful place,no wonder it has been called a jewel in space.Why do we want to destroy it.Thanks for your work"
beryl woodi, Australia
2012-07-12 17:57:25
5 from 5
"Beautiful, fantastic!. A few words can't describe the wonderful work you're doing. Thanks a lot for sharing your passions.

I've visited many times some of the places shown here, but seeing them from the air is simply another pleasure.

I hope you enjoyed your visit to our "heaven on earth".
Thanks again.

Gracias a los visitantes que han dejado sus comentarios halagadores de este hermoso pedacito de para?so, son siempre bienvenidos a visitarnos.

Gracias.

P.D. Beautiful song."
Alida Olivo, Dominican Republic
Varvara, AirPano: Many thanks for your message. We appreciate you interest in us!
2012-07-10 20:11:45
5 from 5
"Absolutely stunning collection of video images."
May J, United Kingdom
2012-07-08 15:20:15
5 from 5
"Fantastic, just marvelous, this is the best i can see places that i have seen in my mind now being seen on my computer. Just fantastic"
Roger Lemke, USA
Varvara, AirPano: It's great you liked it.
2012-07-06 17:52:00
5 from 5
"Me encantaría conocer el mundo, pero ustedes me lo ponen muy fácil, pues me gusta mucho la "fotografía.
Gracias."
Faustino Fraile Gonzalez, Spain
2012-07-04 18:48:06
5 from 5
"its wonderful"
krishna murthy BR, India
2012-06-30 02:26:37
5 from 5
"Just gorgeous! Thank you for doing this. I can now visit places I've never been, and long to go!"
Darlene Sassone, USA
2012-06-26 03:53:56
5 from 5
"Fabulous job! Have been to the Dominican a few times on holidays and have stayed in Bayahibe.
Brought back fond memories, thanks for sharing!"
Robert Tellier, Canada
2012-06-24 09:47:28
5 from 5
"nice~~
I hope that can add new photo~"
郭 庭蓉, Taiwan Region
2012-06-23 22:13:49
5 from 5
"Fantástico!"
Natasha Meneghin, Brazil
2012-06-22 21:58:28
5 from 5
"I "discovered" your site 2 months ago, and since then, I visit it often to relax, viewing how beautiful our Panet is ! I can't Thank you enough for your New Concept of Tourism, the Highly Professional Quality of your Job and Images, and the Free Sharing that makes the Joy af All Those who visit You ."
Yehia El Sadr, Egypt
Varvara, AirPano: It's nice to hear from you. Thanks a lot for your kind words and attention! Hope, you'll often visit us.
2012-06-22 21:43:23
5 from 5
"Thanks so much !!! all photos are very beautiful. I will visit it one day !!!"
Cung Vo, USA
2012-06-08 00:47:45
5 from 5
"Excellent work guys...can't get enougth of all pictures from your site. Dominican Repulic a great place to live and visit.

Keep up the (flawesome)work!!
Flawless & Awesome"
Erick Sanchez, Canada
Varvara, AirPano: Thanks a lot for visiting us and leaving your message here.
2012-05-22 17:59:06
5 from 5
"images stupefiantes avec un peu d'imagination on est en vacances rien qu'en les regardant paysages dplendides et de la belle musique merci mille fois pour ces jolis panoramas...."
jacqueline diaz, Lao Peoples Republic
2012-05-11 00:26:17
5 from 5
"Nice, a modern idea to know the world without be there...! i'm dominican and know that, and enjoy my country!!"
Victor Valerio, Dominican Republic
Varvara, AirPano: It's nice to here that from the patriot of Dominican Republic.
2012-05-05 22:05:07
5 from 5
"Thank you for capturing our beautiful world and sharing it with us for free.

Your pictures and music only make me dream of good glorious days. Danke!"
Vaivhav todi, India
Varvara, AirPano: You are welcome and thanks for your kind opinion.
2012-05-02 16:30:53
5 from 5
"BEAUTIFUL PLACE. I LOVE THE MUSIC PLAYING ON THE PANORAMIC VIEWS. WHO IS SINGING ? IT IS BRILLIANT"
JOHN MACDONALD, United Kingdom
Varvara, AirPano: Hello, John. You will know it if you follow this link http://www.airpano.com/FAQ.php. Have a nice day!
2012-04-28 15:18:33
5 from 5
"Love these pictures. My country is amazing!! Thank you for doing this :)"
Joelmy Rodriguez, Dominican Republic
2012-04-20 10:57:40
3 from 5
"AWSUM VIEW"
Hashim Dadarkar, India
2012-04-20 01:02:52
5 from 5
"great nice:)"
ultraslan doksandokuz, Turkey
2012-04-17 04:34:02
5 from 5
"Preciosas fotos.... Deceo conocer personalmente esas maravillas de la naturaleza... Gracias por deleitar mis pupilas con tan maravillosos paisajes.."
Ma. Marcela Moreno Beltrán, Mexico
2012-04-13 19:17:05
5 from 5
"ABSOLUTAMENTE ASOMBROSO,IMPRESIONANTE. ES DE LO MEJOR QUE HE ENCONTRADO EN INTERNET.
OJALA PRONTO INCLUYAN ALGUNOS LUGARES DE NUESTRO HERMOSO PAIS"
RUBEN VALENZUELA, Mexico
2012-04-10 18:59:14
"cool,thanks"
lau michael, China
2012-04-05 16:04:25
5 from 5
"Maravilhoso, coisa de Deus"
Antonio Morandi, Brazil
2012-03-31 05:33:28
5 from 5
"amazing ! wonderful ! I can't believe people still can't see how wonderful is our planet !"
Matthews Medeiros, Brazil
2012-03-30 19:02:55
5 from 5
"Awesome scenery, music, description... everything! Thank you!!!"
Peter Lim, Singapore
2012-03-22 22:41:36
5 from 5
"Piękne widoki.Zwiedzanie świata w 5 minut.Pozdrowienia z Gdańska."
Jan Możejko, Poland
2012-03-21 03:13:44
5 from 5
"This is amazing."
Gao Fangfang, China
2012-03-20 22:33:09
5 from 5
"This is fantastic! :-)
Thank you for sharing your excellent work with people from all over the world!
Great regards from Serbia! :-)"
Jelena Malidzan, Serbia and Montenegro
Varvara, AirPano: It gives us pleasure to hear from you.
2012-03-20 06:18:30
5 from 5
"I thought too beautiful, perfect!"
Suzi Borges, Brazil
2012-03-20 00:25:20
5 from 5
"Each day I look for your email. I can't visit these places, but, your site lets me vacation in my chair. Great job!!!"
Linda Kafer, USA
Varvara, AirPano: We are happy you've visited us. Come to visit us again soon!
2012-03-17 14:39:23
"greetings from Morocco"
rachak anass, Morocco
2012-03-16 15:56:42
5 from 5
"This is the most interesting website ı have ever seen."
serhan keskin, Turkey
Varvara, AirPano: Thank you. We hope, you'll visit us again soon.
2012-03-15 23:34:33
5 from 5
"Prelijepo je. Za ljude koji vole PRIRODU, putovanja i život, ovo je ovo je prilika i mogućnost da uživamo i budemo, makar i virtualno na prostorima gdje nismo,a vjerovato niti nećemo biti. Hvala za ovaj prekrasni poklon i mogućnost."
Josip Kreh, Bosnia and Herzegovina
Varvara, AirPano: Leave your message in English, please, in order we can understand you.
2012-03-15 11:08:20
5 from 5
"I just love this country!"
Alex Shtrand, USA
2012-03-15 04:22:19
2 from 5
jack peter, China