Bryce Canyon in Winter, Utah, USA
•
360° Aerial Panoramas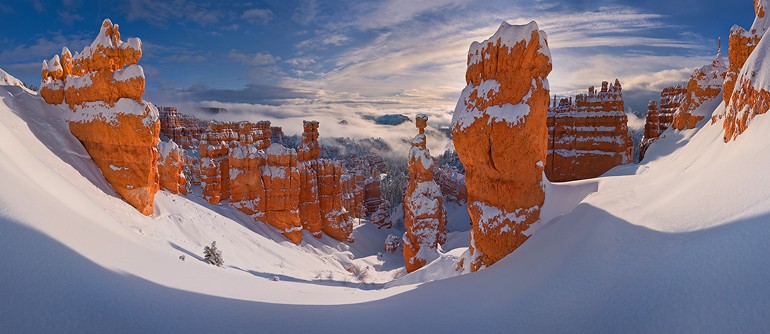 ---
While standing next to me on Inspiration Point overlook of The Bryce Canyon, a buddy of mine once said: "My brain is lagging". I remembered that phrase very well. This computer slang gave the best description of what was happening in our mind. Truly the Bryce Canyon is not just another attraction in the USA; it is one of the very few places on our planet that puzzles our human mind unable to find logical explanation and process visual information. So if you ever happen to be in The Bryce Canyon — don't panic. Remember, you weren't teleported, you did not loose your senses, and you aren't hallucinating. This gigantic forest of orange and rose asparagus is very real.
The unique stone city was created by the water and wind millions of years ago. The series of architectural ensembles made of multi-colored sandstone is positioned in several bowl-shaped amphitheatres packed tightly with towers, spires, temples and minarets of red, orange, pink and cream shades.
Of course, we couldn't miss this World Wonder, and after very careful preparation and planning, we finally got our flight permit. We decided to wait and photograph right after the snowfalls, because The Bryce Canyon looks more mysterious in wintertime than in the summer — when covered with snow canyon walls reflect the sun that lights up candles on tops of the spires with a special glowing light.
In spite of the fact that the night temperature in The Bryce Canyon often stays around -20-25 °C, and in the daytime it is usually +1-5 °C above freezing point, snow is still very infrequent here.
Sun and the winds quickly "eat up" the snow, which only stays deep inside the amphitheaters away from the direct sunlight.
We missed two snowfalls: the first time, my pilot Maria, had a gig some place elsewhere, and the second time I had pressing matters I could not put off.
When finally schedules of my pilot, the nature and myself had come to an alignment, we faced a unique situation with the weather: massive cold front was approaching from the Pacific. Weather forecasts reported a 100% probability of snow. However, the problem was with something completely different — the anticipated amount of snow was by far greater than we desired. We had to photograph within the short 12-hour window between two snowstorms coming from the ocean.
Maria's letter below will give you a better picture of what was in store for us. She sent it to me right before I was to fly to our meeting point in Phoenix, Arizona:
"I checked the aviation weather for Friday one more time. It looks a little better now. The clouds should be high enough to get under, at least until early afternoon. Then the storm moves in. It will be a strong storm with a lot of snow and high winds. I'll be grounded until the storm moves out on Sunday afternoon.
If you still want me to fly you there tomorrow, I'll try. But we MUST stop at Wickenburg to get my blade covers. I can't let the blades be exposed to rain/ice/melted snow.
You'll also need to get me to the airport several times during the day on Saturday to make sure the blades aren't weighted down with snow.
You'll be paying me to sit around at Bryce for two days doing nothing -— I can't fly on Saturday and if you want a morning flight at Bryce, you won't want me to fly on Sunday. Although you might get some ground photography in on Friday, Saturday will be completely overcast, cold, windy, and snowy. Not good conditions for photography. Sunday morning probably won't be much better. Monday is the only day that looks good -— and it looks VERY good, with light winds and only 37% cloud cover. It even looks good at the Grand Canyonthat day. We should knock off Bryce early and head straight down there.
I don't think this is a good idea, but I'm worried about not being able to get up there on Sunday before nightfall. If I can't, the whole trip is wasted.
E-mail me if you get this tonight or tomorrow morning before you leave. Call me when you get into Sky Harbor. Don't worry about my room at Ruby's. I'm sure they'll have room for me. We'll likely be the only two idiots up there."
Everything that came next, was just like in an action-packed thriller: Having spent the rest of the night in preparations, I left home in a hurry at 3am in the morning, and at 4:30am I was already boarding Chicago-Phoenix flight. I called Maria the moment we touched the ground, and by the time I received my baggage, her lightweight bright red "Robinson" was touching down at the helipad near the control tower. Giving way to a few Boeings and Airbuses, as per dispatcher's instructions, we began the 4-hour race to The Bryce Canyon with the storm. The wind was working against us, and we had to land at The Grand Canyon for refueling. After The Grand Canyon, we rushed our way to Bryce and landed there at the very moment they announced that the local Bryce airport will be closed for the next two or three days due to harsh weather conditions.
The following two days were filled with raging storms, multiple trips to the airport in zero visibility, driving snowy roads and endless waiting for an evacuator that barely got us out of a ditch full of snow. On Sunday evening, we discovered that ducting rotor compartments of our helicopter were completely iced inside. It took us several hours of careful "picking" and a few dozens of buckets of boiling hot water that we carried 400 meters from the airport building (a proud little wooden cottage with a crew of 1 person, the director, who lived in a house just 100 meters from the runway) to do the trick. By the time the ducts were cleared from ice it became dark, the sky cleared, and the temperature dropped significantly.
Finally, it was early Monday morning: the temperature was -25°C and clear endless sky was filled with flickering stars. Being accustomed to the warmth of Arizona prairies, the starter of our helicopter made an unclear sound and went silent. A spare battery, which we brought with us, did not improve the situation. Something deep inside this warmth-loving Arizona bird was hopelessly frozen. We managed to find the only local owner of a mobile diesel heater and warm up our covered-in-tarp "heli". In one and a half hour we removed the doors and took off! Only a little bit of work was left — the actual shooting. Neither the -25°C temperature, nor the wind that was already beginning to pick-up were able to stop us. The Bryce Canyon was photographed.
Special thanks to pilot Maria Langer, who helped me to make this happen: https://www.flyingmair.com
Note On Geography:
Bryce Canyon National Park is a national park located in southwestern Utah in the United States. The park covers 145 sq km. Despite its name, the Bryce Canyon is not exactly a canyon but a giant natural amphitheater created by erosion along the eastern side of the Paunsaugunt Plateau. Bryce is distinctive due to geological structures formed by wind, water, and ice erosion of the river and lakebed sedimentary rocks.
Bryce Canyon sits at a much higher elevation than nearby Grand Canyon and Zion National Park. The rim at Bryce varies from 2 400 to 2 700 m, while southern rim of Grand Canyon is 2 100m above the sea level. This is why the climate and the ecological profile of the park are so different from its neighbors.
The Bryce area was settled by Mormon pioneers in the 1850s and was named after Ebenezer Bryce, who homesteaded in the area in 1874. The area around Bryce Canyon became a U.S. National Monument in 1923 and was designated as a national park in 1928. Comparing to Zion National Park and the Grand Canyon, this remote park receives relatively few visitors that come here for the opportunity to take unforgettable landscape pictures.
Text and photo by Mike Reyfman
9 April 2012
Comments
2018-07-11 11:42:15
5 from 5
"you are in point of fact a good webmaster. The web
site loading speed is amazing. It seems that you're doing any unique trick.
Moreover, The contents are masterwork. you have
performed a wonderful job in this matter!



카지노"
Maureen Scarfe, France
2014-10-14 07:19:05
5 from 5
"I've visited Bryce twice, once in November, when there was some snow. It's a breathtaking place, and I can't wait to get back."
Carlos MORALES, USA
2014-09-03 01:58:26
5 from 5
"Gracias por vuestro trabajo tan elaborado y exquisito. Dios existe, solo viendo la creación vemos las manos de Dios y vosotros el amor al creador. Nunca podre ver personalmente esta maravilla. Nuevamente gracias"
ANNA MARIA RIERA MIGUEL, Spain
2014-07-10 20:13:18
5 from 5
"It's just lovely!!!"
Anton Lukmanov, Russian Federation
2014-06-28 03:18:28
5 from 5
"Highest rating is 5 stars but this deserves more. Thanks to the internet, technology and Airpano for bringing these amazing panos to us. I am 62 and will never see these sites (Bryce, Grand Canyon, Hong Kong, Singapore, Rio etc,etc..) in person but now it feels like I have been there. What a wonderful way to spend the last two hours.. Beats Stumble Upon by a mile."
Robert Stone, USA
2014-06-20 19:15:00
5 from 5
"Everyone I send this too gives hi 5s. Thank for the labor in doing this!"
Don Gottwerth, USA
2014-06-01 00:29:37
5 from 5
"Conhecer Brice-Canyon-Utah é fascinante. Um dos lugares mais incríveis que conhecí."
maria olinda lima silva, Brazil
2014-02-23 15:19:00
5 from 5
"Ek Number.....Marvellous........"
Pratap Shinde, India
2014-01-13 09:05:00
5 from 5
"Awesome. I live in north central Indiana usa,I have so much i should be thankful for.I know i will never travel, so thank you"
Carl Phillips, Armenia
2013-12-23 11:22:30
5 from 5
"Beautiful! It made my day so much better to look at these amazing pictures and to read about the adventure to take them :-)"
Nancy Niemeyer, Brazil
2013-12-13 09:45:48
"VERDADERAMENTE UN TRABAJO INCREIBLE, EL LUGAR ES BELLO !! YO DIRIA AXÓTICO !!! ME GUSTARIA RECORRERLO DESDE EL AIRE COMO LO HAS HECHO VOS . TE ENVIDIO"
guillermo Bernardi, Argentina
2013-10-06 20:41:32
5 from 5
"Congratulations on outstanding photography and daring go to you and your pilot!!!"
Leonard Kottmeier, Canada
2013-02-09 11:47:34
5 from 5
"Thanks, danke, spasibo, dziekuje...magiczne, przepiekne widoki, wonderfull pictures and places,
I can't get away still wanting to see more."
Gisela Pietrzak, Germany
2013-01-12 20:15:00
5 from 5
"I have lived in Utah for three years and I still haven't seen all the beauty it has to offer. I will definitely try to visit Bryce Canyon soon!! Amazing photos!!"
F B, USA
2012-12-23 01:06:12
5 from 5
"Absolutely great. I have been there in September... blue sky and millions of stars at night. What you are showing here is marvelous. A wonderful winter landscape!"
Stefan Adam, Germany
2012-12-22 18:17:25
5 from 5
Birgit Held, Germany
2012-11-24 06:58:16
5 from 5
"lindas imagens... o vosso trabalho é magnifico..."
Paula Cardoso, Portugal
2012-10-30 20:56:55
5 from 5
"Was zelf in de zomer van 2011 om dit wereldwonder te aanschouwen maar deze foto"s zijn geweldig!!!, daar vallen mijn foto's bij in het niet.
Geweldig om het met sneeuw bedekt terug te zien"
Margreet van den Enden-Bos, Netherlands
2012-09-29 21:21:56
"karetoon khobe very nice"
khazande khazen, Iran
2012-09-24 22:16:38
5 from 5
"I live in Utah and have been to Bryce on multiple occasions, but it never ceases to amaze me. Your photography just takes it many steps further and is a great way to display the beauty that is there, yet so relatively unseen."
Josh Ausborne, USA
2012-09-17 16:30:53
5 from 5
"I never would have thought there was a place so beautiful, hidden always and tucked in a place in no man's land, the world is full of surprises that never end; you wonder what else is out there."
Kimberly Johnson, USA
2012-07-28 03:29:41
5 from 5
""No hay nota mas alta para calificarla, se que mis recursos económicos no me alcanzarian para poder realizar una visita a estos lugares tan maravillosos, como de un sueño, por eso les agradezco mucho estas vistas tan hermosas""
ROBERTO LOPEZ PEREZ, Mexico
2012-07-23 19:58:47
5 from 5
"You guys have really put on a lot of hard work into this amazing project of yours, and I'm sure you have faced a lot of obstacles doing this as you had to tackle the law of each individual country.
An ardent request now: Please show us the Himalayas (Mt.Everest,Kanchenjunga,K2)which can be accessed I guess from either India or Nepal. Kashmir valley also is exotic from a photographer's lens. Thanks once again for the fantastic scenic views/tours of the world."
Tushar Satpathi, India
Varvara, AirPano: Dear Tushar. Thanks for your comment. As you are interested in Everest, please, follow this link http://www.airpano.com/360Degree-VirtualTour.php?3D=Everest-Nepal
2012-07-22 16:27:16
4 from 5
"I walked and visited Bryce Cannon on two occasions...As I walked, and looked up, and on occasion, looked down, and over, it was truly a
a Devine experience....It brought all things in perspective....I was, but a grain of sand, in this huge universe...I shall never be the same."
Cy Baldwin, USA
2012-06-30 05:41:31
5 from 5
"Amazing photography. You bring it to life. I felt I am there. Its almost as good as I was there. Thank you for sharing this with the world."
mita tuinman, India
2012-05-17 19:22:30
5 from 5
"tai yra fantastiška.norėčiau nukeliauti į šitą roju"
laima grybaitė, Lithuania
2012-05-15 09:56:29
5 from 5
"Great Work! Wonderfull! I have no words!"
Daniel Schmid, Switzerland
2012-05-10 08:38:38
5 from 5
"Your work of art is God given and sharing these with us is even priceless esp. for those who can't afford to travel like you. We just marvel the beauty of God's creation thru your work. Thank you so very much!"
Mary Grace Dizon, Canada
Varvara, AirPano: We are grateful for your comment, Mary. And one of the the main ideas of this project is to show the beauty of the Earth to the people who are not able to travel in reality.
2012-05-03 16:47:07
5 from 5
"It never ceases to amaze me at the beauty of God's handy work, all the glory goes to him, good job."
Vern Guilford, USA
2012-04-24 02:46:38
5 from 5
"AirPano, thank you for your amazing projects. I spent a year touring the national parks of USA in 1986 and Bryce Canyon is the most magical of all. Went back 3 times, last visit in 2000. Will visit again after viewing your inspiring photography."
Moses Tan, New Zealand
Varvara, AirPano: It gives us pleasure to hear from you.
2012-04-23 16:25:03
"awesome, i dont have money to go to this place, but thanks for capturing atleast i have seen the beauty glimpes from my place."
jasmeet bhatia, India
Varvara, AirPano: We are grateful for your opinion.
2012-04-21 12:31:23
5 from 5
"Beautiful, thank you very much!!! I was 4x there, but only in sommertime."
Jirka Sajner, Czech Republic
2012-04-21 00:49:47
"Absolument splendides ces photos. Il y a tant de belles choses sur notre Planète..Nous devons la protéger de nous même..Merci pour ce magnifique partage."
vimare Jean-Paul, France
2012-04-19 22:55:11
5 from 5
"Formidable las imagenes que he visto
Fernando Huaman , Peru"
FERNANDO HUAMAN, Peru
Varvara, AirPano: Gracias, Fernando. Hasta luego!
2012-04-16 23:36:49
5 from 5
"Records imborrables dels dies viscuts a Arizona amb el Bryce Canyon a l'hivern a 40º graus sota zero! Vistes magnífiques, des de l'Inspiration Point i des del fons del canó."
Francesc Crisol, Spain
2012-04-16 06:16:54
4 from 5
"very nice &appreaciate pations & labour"
virendra padlia, India
2012-04-15 12:09:47
5 from 5
"very nice..!!!!"
Otto Klatt, Canada
2012-04-13 11:06:28
5 from 5
"To jest prawdziwy cud natury. Piękne! Człowiek by tego nie wymyślił i nie zaprojektował..."
Piotr Witkowski, Poland
2012-04-13 01:03:50
5 from 5
"wow that is cool"
Alex pocetti, Canada
2012-04-12 22:05:21
5 from 5
"both my wife noreen and i visited the bryce canyon in 1999 on hoilday. it was such a magnificent site. we were very lucky to have had the wonderful opportunity to see this wonder of the world."
clarence(bobby) welikala, Sri Lanka
2012-04-12 12:18:37
5 from 5
"Very amazing stuff, so beautifull. At last, we can find in internet a site who bring you beauty, deeply contemplation of a amazing sites of Nature... My soul is in a very elevation,
Thinks a lot.
K.M."
Karina Mitrecey, France
2012-04-11 19:30:06
5 from 5
"Your story with it makes me appreciate it even more.
You are doing a great and beautiful work. Very unique and amazing photography. It inspires me to take my photography further. Thank you for sharing and passing on this great passion and inspiration."
johannes maurits, Mexico
Varvara, AirPano: Thanks a lot for your interest and high appraisal of our work.
2012-04-11 11:08:04
"best panoramic photos i've ever seen.. you rock!!! nice work.."
Levent Bahadiroglu, Turkey
2012-04-11 02:33:07
5 from 5
"Breathtaking! Our planet is so beautiful with such a diversity in geographical features !Wish to see this place some day ...."
Nanda Venkat, Canada
Varvara, AirPano: Thanks! We hope your dream will come true some day. Good luck!
2012-04-11 01:49:37
5 from 5
"Nothing can beat the Nature the cool breeze, the sunlight, or heavy snow,the darkness shall be the light. Hats off to these people who are brave enough to do all the daring things. This pics is awesome , beautiful and breathtaking. Hope I can fly there one day. Gr8."
Jayashree Maskikar, Australia
2012-04-10 23:19:24
5 from 5
"Apart the wonderfullness of the pictures, my compliments to pilot Maria Langer for her courage and the photographer Mike Reyfman. I will never go there, but the photos give you the impression to really have been there."
Gabriele Graziani, Italy
Varvara, AirPano: Thank you very much for the compliments and kind attention. We are grateful.
2012-04-10 18:46:41
5 from 5
"Everything you do is a 5 I cannot imagine how you controlled the exposure in the highlights and shadows to maintain all the detail. Everything came together,--the flight, the photography, and especially the choice of music. Bryce Canyon does suggest cathedral spires when you visit it."
Meryl Wieder, USA
Varvara, AirPano: We are grateful, Meryl, for your comment and appreciate your interest in this panorama.
2012-04-10 18:29:38
5 from 5
"Such amazing sights:white snow,terracotta rocks and vast blue sky!Wonders of our wonderful planet!Keep them that way!"
danica cvetkovska, Macedonia
2012-04-10 17:38:00
4 from 5
Tariq Helmi, Oman
2012-04-10 17:34:04
5 from 5
"Fantastic and axciting!
View one these landscape number 1 listening to music
is wonderfull!!!!"
Suzi Borges, Brazil