Everest, 360 video trailer
Our team had previously taken pictures of mount Everest in the 2012 in order to create a virtual tour with 360 photos.
You can see here what we could photograph in January 2012. And here is our virtual tour from December 2012.
Fortunately, progress does not stay still, which allows us to diversify our photo and video performance and improve the results of our work. That is why we frequently upgrade our equipment.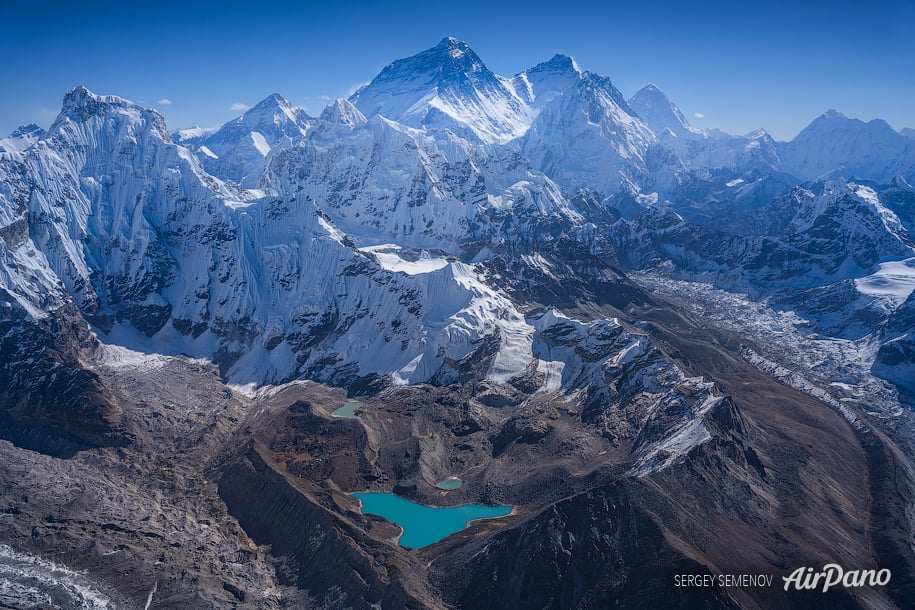 This year we decided to use a new version of a stabilized camera rig, that is specialized for high-mountain video recording. We have also installed new cameras, that produce a fine 16K resolution video as a result!
So, we couldn't keep ourselves from reshooting the world's highest peak in a new format. Especially that Nepal has opened its borders for visitors just now after a long COVID lockdown.
The good weather season, which is a key factor when operating in extreme conditions, begins at the foothill of Everest in the middle of October. At this time, you can catch two or three-day periods of sunny and windless skies. Also, it is not very cold - "only" minus 20-25 C degrees, and all this at the heights of 7000 meters above sea level.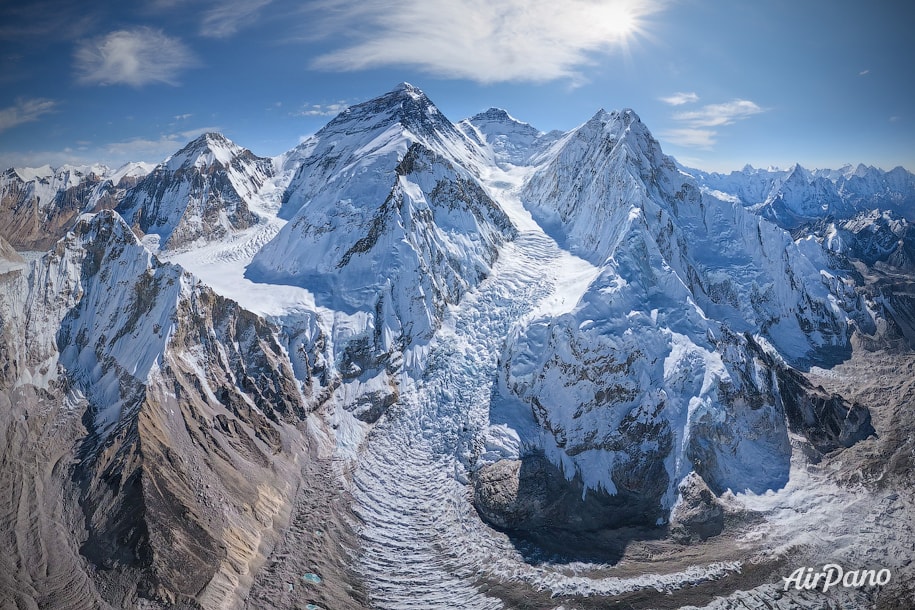 Such extreme heights had been our worst fears. For ordinary people ascending limits over 3000 meters without proper acclimatization is very dangerous and after a couple of hours may result in anoxia (oxygen starvation). Many tourists overestimate their and abilities time of exposure and are evacuated on helicopters as a result of such a reckless approach. But in our case the goal was 7000 meters in a helicopter without doors. And all this in order to capture the best line of sight.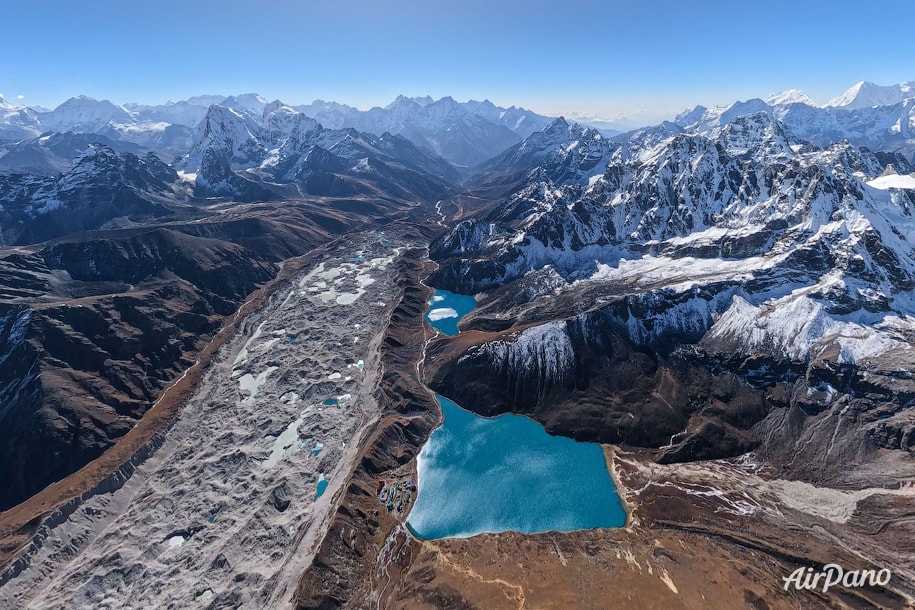 That is why we prepared upfront: several days before the main flight we set off to the closest to Nepal's capital Kathmandu mountain ridge to test our equipment, interactions with the pilot, as well as ourselves - how would we react to the height variations. Of course, we used ultrawarm clothes and oxygen masks, special safety belts for us and the equipment, commradios and other necessities.
And here it is! After successfully finishing our tests, we set off from Kathmandu to a town of Lukla, which is the starting point for the majority of tourists, that want to see the mountains, like Everest and other famous eight-thousanders like Lhotse, Cho Oyu and Makala. After a couple of days waiting, during which we took pictures of the city itself and its everyday life and activities, the airport weather service gave us a good forecast and confirmed our flight. It goes without saying that we were very agitated.
We were very thorough in checking our main and side equipment, as well as the many auxiliary cameras.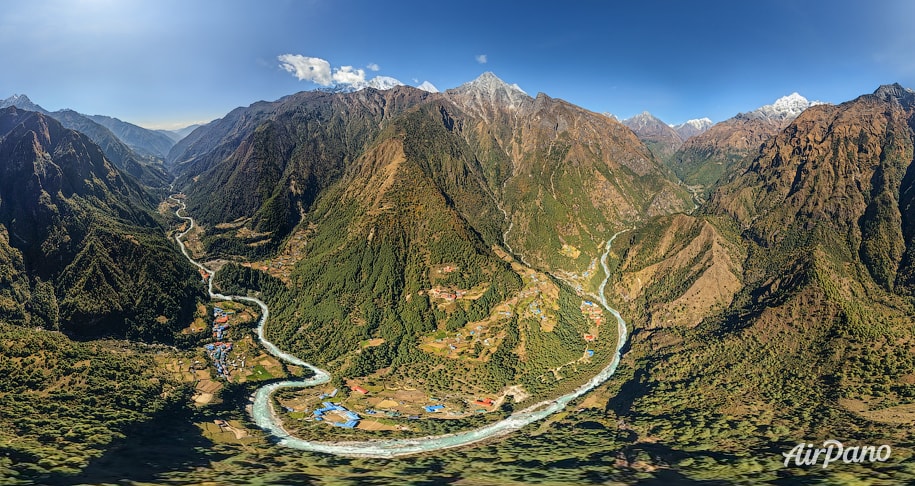 The next morning at 10:00 our helicopter, being covered in many different cameras, took off towards the general mountain of our planet. We had to ascend from 2500 to 7000 meters. At first we captured some landmarks: Namche Bazar, the Lumding glacier valley, the Gokyo lakes, Shangri-La passage, the Everest base camp, the famous peaks of Nuptse, Ama Dablam and Island Peak, Kangtega and Thamserku, the lakes of Hongu valley and the outskirts of all the nearby eight-thousanders. However, when we reached Everest, according to the Murphy's law, our cameras shut down because of low temperatures - they have been working "outdoors" more than 40 minutes! And here, at the height of 6500 meters, we had to replace them with a warm back-up set in order to continue recording.
As it is well known, the state border between Nepal and China lies exactly on top of Everest. Due to the fact that we were capturing the mountain from different sides, our phones have been indicating, that for several minutes we where in another country and switched the clock to the Chinese time zone! This almost cost us the whole photo and video content, that we have captured during our whole staying in Nepal, because according to the ground radars we were trespassing. We could have been forced by the authorities to delete everything on our flash-cards. However, jumping ahead I must say, that the satellite tracking records revealed that we kept to the Nepal side of the border at all time.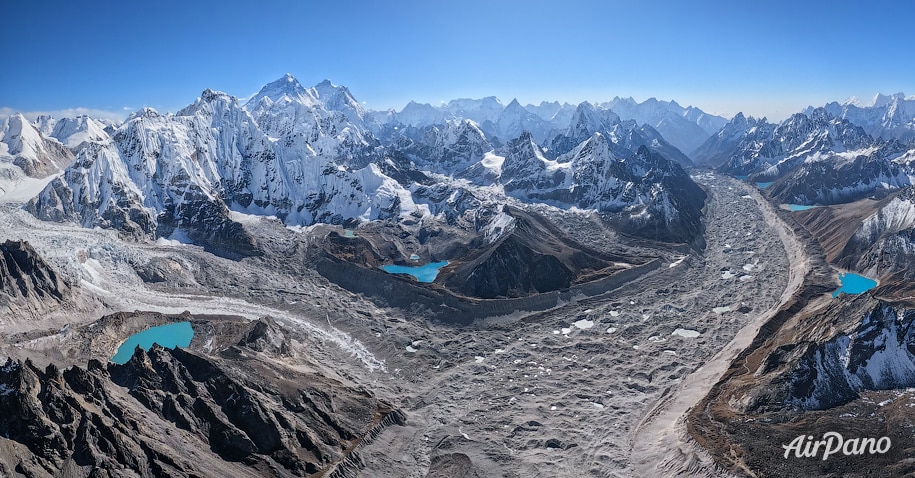 At last, after we reached the maximum height, performed several flights around Everest and checked, that all our cameras were rolling and stayed online, we felt a great delight - our mission was complete! The peak was conquered! The biggest mountain on our planet was captured in such a way it has never been shot before - in a 360 format with a 16K resolution! Feeling very strong euphoria and enjoying unique views, that are out of reach for everybody else at this moment, we were ready to go back.
But even the trip back presented us a surprise - the nearby peak Ama Dablam was being ascended by a group of mountain-climbers, that, of course, we were able to capture, flying beside this seven-thousander.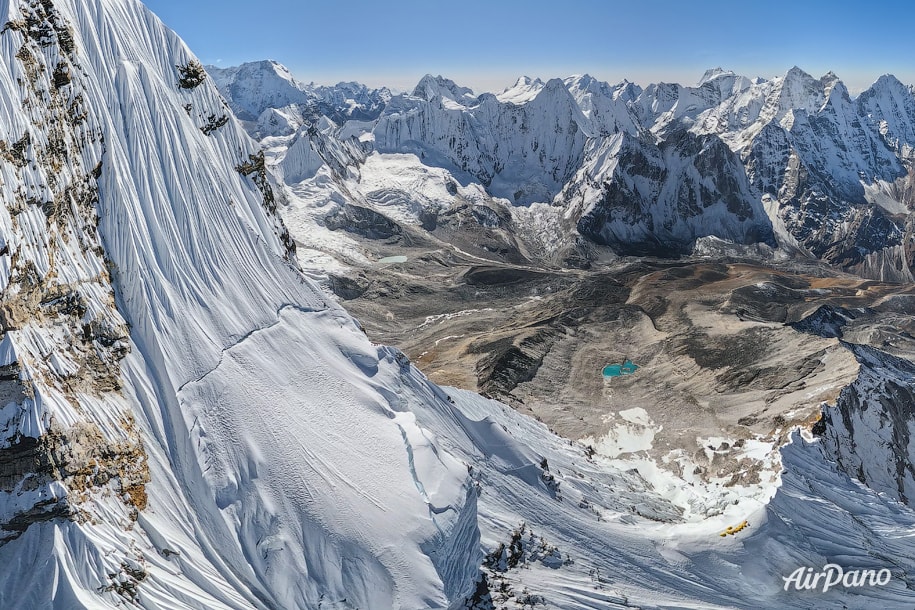 Finally, 30 minutes after being barely on our feet we managed to bring all our equipment to the hotel and exhausted, but satisfied we began copying all our content on hard-drives - it is crucial to secure such video material.
A long road of creating a movie lies ahead, but the main part is over!
Photos and video by Sergey Semenov and Ivan Roslyakov
May 19, 2023
Read more
360° Photo
Add your review about "Everest, 360 video trailer"