Rio de Janeiro, Brazil, 2008
•
360° Aerial Panoramas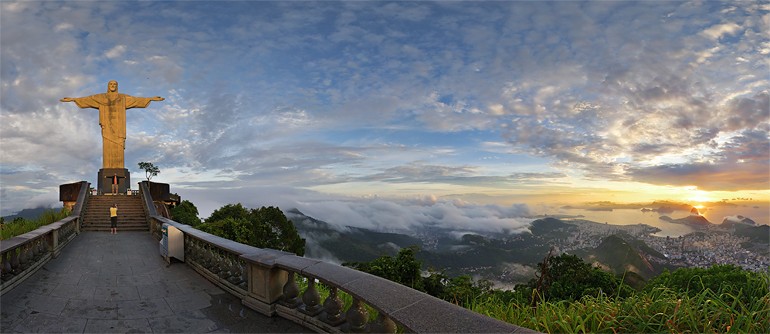 ---
It's very convenient to fly over Rio by helicopter.
Unlike most of other big cities of the world, where there are many restrictions and often special flight permissions are needed, in Rio de Janeiro you can fly almost everywhere and at any flight-level, surely, satisfying safety requirements and common sense. The crucial thing is don't make obstacles for the Boeings flying up from the neighboring airport. Also, it's sometimes forbidden to come closely and make photos of naval ships standing at the port.
The pilot was very cheerful; he put the music in my head-set, told me anecdotes, spun and revolved and, in general, executed all my photo-wishes.
However, several times during the hour, when I asked the helicopter to hover in the air and shot the panoramas, the pilot worried and said hard that it wasn't possible to stay long there and we had to fly away very soon.
After we had landed I asked the pilot why he hadn't allowed me to make photos in some places and had flown away, although in other places the helicopter could hover in the air for 5 or 10 minutes.
The pilot answered that he doesn't like the helicopter to hover in the air over favellas (favellas are poor districts of the city) because it's more easier to hit unmoved target with an automatic weapon than the moving one, and he wouldn't like to come back to the base with the hole in the cabin, especially, after one police helicopter has recently been hit in the air.
That is the life in Rio de Janeiro...

And you can see the panoramas which I shot there.
February 2008
Comments
2017-07-12 08:06:27
"Thank you so much for this Gift!!"
Shaantikumar Deshpande, India
2016-08-01 13:23:31
5 from 5
"Eso fue beautiful.I sentía como si estuviera realmente allí . La música también se adapta y se la dio un efecto wow para ir con ella . ¡Increíble!"
Charlie Johns, Australia
2015-10-20 15:59:04
5 from 5
"It is really amazing. Wonderful job. Millions of thanks."
Liuba Elitas, Moldova
2015-09-28 20:07:31
5 from 5
"awesome!!!!!"
ali bagherpour, Iran
2015-04-09 14:43:18
"perfect"
arman ramezani, Iran
2014-12-07 13:25:10
5 from 5
"Like"
taha esmaili, Iran
2014-01-26 19:26:54
5 from 5
"wonderfull job incredible work congratulation
number one team 360 of the planet ouaaa
cheers from julio"
sbardella julio, Belgium
2014-01-01 19:46:33
5 from 5
"CIDADE PRECIOSA, CIDADE MARAVILHOSA EU AMO O MEU PAIS!!!!"
Nysia LEE, Switzerland
2013-10-22 19:58:59
4 from 5
"Foarte plăcută posibilitatea să revăd locurile pe care le-am vizitat !"
Octavian Seracin, Romania
2013-10-18 11:38:40
"very nice"
deepak sutar, India
2013-07-14 14:22:26
5 from 5
"maravilhoso"
Joaquim cerejo carreira, Portugal
2013-05-23 16:30:19
5 from 5
"Rio unha cidade preciosa...adoro a gemte brasileira e ista web faz homenagem para tudos eles antonnogueira@hotmail.com obrigado dende Espanha."
Tón Nogueira, Spain
2013-04-06 18:01:30
"Just Amazing, Fabulous, can't be rated, Exceptional"
ARUN VERMA, India
2013-04-06 07:00:29
5 from 5
"do outro lado da baia,de frente pro Pão-de-açucar é onde moro,e é maravilhoso compartilhar minha casa com o mundo!!!!!!!"
ana lucia santos, Brazil
2013-03-25 10:03:08
5 from 5
"It's really amazing."
BHARAT SINGH PANWAR, India
2013-03-06 18:30:06
5 from 5
"lindo de se ve"
claucio sousa sousa, India
2013-02-04 18:41:45
5 from 5
"Breathtaken scenery, fantastic photography, spectacular project. Congratulations to all the Airpano team"
Jeff Morrissey, Ireland
2012-12-30 11:05:56
5 from 5
"The Sao Paulo and the Rio de Janeiro is the best citys in Brazil"
Loukas Ascan, Philippines
2012-12-23 13:44:01
5 from 5
"You guys make the most awesome panoramas in the world"
Loukas Ascan, Philippines
2012-12-09 05:30:39
5 from 5
"Awesome."
Ahem ., Australia
2012-12-03 08:02:47
5 from 5
"i love it, i wish icould do panoramic shoots too."
nellie padilllo, Philippines
2012-11-11 05:39:31
5 from 5
"verry good|||"
stefan tomanov, Canada
2012-10-19 20:55:13
5 from 5
"Spectacular job, you guys!
I visited Rio exactly 3 weeks ago and I must admit it is everything people have heard and more. It is mesmerizing, one of the most beautiful cities in the world!"
Diana Toma, Romania
2012-09-18 21:02:43
5 from 5
"Hi
Very beautiful pictures
People from all over the world can get to places that may never be able to go sightseeing.
The management of this web site very grateful
Always good luck.
javad namdar"
j namdar, Iran
2012-09-18 19:12:02
5 from 5
"Não conhecia esse magnifico trabalho de vocês,recebi um email de uma amiga apresentando esse espetáculo maravilhoso,principalmente da minha cidade RIO DE JANEIRO.obrigado por me propocionar ver essas lindas imagens.Que DEUS continue Abençoando vocês."
vitor cesar castanho, Brazil
2012-09-12 06:40:17
5 from 5
Graça Maciel, Brazil
2012-09-02 09:18:42
5 from 5
"congratulation you did a very good job"
majid zaremoghadam, Iran
2012-08-31 15:35:05
"Its interesting and exciting.thanks.Iwish that travel to brazil and visit many place."
haniyeh keshavarz, Iran
2012-08-28 12:35:19
5 from 5
"I love Rio!! When I was there with a US Navy ship in 1958, I met a very nice friend, Lygia Mira, and would like to hear from her."
charlie weber, bigsting@prodigy.net, USA
2012-08-26 12:57:48
5 from 5
"Thank you, you bring me back to my memories and I love it very well....."
saartje -ank, Netherlands
2012-07-29 07:38:34
5 from 5
"Beautiful. Appreciate your efforts in making the video. Best of luck."
Narayana Swamy, India
2012-07-27 12:09:57
4 from 5
"its really interesting and creative site ilke this."
siddharth vaishnav, India
2012-07-24 19:18:07
5 from 5
"Beautiful, fill terrific looking into such a
great city, miss all my friends in Rio.
Thank you!"
Viktoria McDonald, USA
2012-07-19 16:49:12
5 from 5
"guys, you`re so great!I'm browsing your site for 3 hours and can't stop!Amazing places that i dream visit and with you, guys, this is possible!The journey in every place seems so real that it gives me goose bumps! Thanks! p.s.:forgive my poor english."
kele craveiro, Brazil
2012-07-14 04:21:24
5 from 5
"CONGRATULATIONS FOR THIS EXTRAORDINARY PRESENTATION OF ALL WORLD."
JOSE MARTINEZ, Colombia
2012-07-08 04:56:14
4 from 5
"Excellent.. Makes you fee that you R there.Thanks"
Ashish mahobia, India
2012-06-28 14:38:41
5 from 5
"Great location for such panoramic views of maybe the most beautiful city in the world ! You choose very good observation points for this city as we saw it a few weeks ago ! We were at the most famous statue & all the time choppers were hoovering above! I would advice to everyone to take this flight at any price ! Thanks for allowing to such wonderful photography ! Spacibo bolshoe :)"
Itzhak Solomon, Lithuania
2012-06-25 13:48:19
4 from 5
"AMAZING !!!! WILL MAKE SURE ALL MY FRIENDS AND RELATIVES SEE YOUR EXCELLENT WORK.. KEEP IT UP ..."
TUSHAR DANI, India
2012-06-23 18:13:35
5 from 5
"This is amazing. I love the work your doing. All I can say its some very fine Art, well done.

Keep up the great work.
Randolph Weedman St. Augustine, Florida"
Randolph Weedman, USA
2012-05-30 20:39:38
5 from 5
"Amazing, great!!! Beautiful.... good job, wonderful photo and project."
Dimas Silva, Brazil
2012-05-25 10:21:02
5 from 5
"congradulate you for your nice idia .we have a proverb which says "visiting the world is better than eating it""
kamyar keshavarz, Iran
2012-05-23 21:34:11
5 from 5
Helena Urania Stamboulides, Greece
2012-05-21 02:31:51
5 from 5
"simplesmente fantástico; parabéns e continuem fazendo essas fotos fascinantes."
EMANUEL PADUA, Brazil
2012-05-16 03:53:02
5 from 5
"AirPano has done a beautiful job photographing Rio. Having lived there in the Fall of '82 and Winter of '83, I found your photos devistatingly beautiful. I was working for Reynolds Metals Co. at the Valesul aluminum plant outside Rio. Rio and Hong Kong are probably the two most geographly beautiful cities in the world. The people of Rio made our stay there most enjoyable."
BILL EARNST, USA
2012-04-27 17:26:25
5 from 5
"Dear Virtual Tour Team,
I am also brazilian born in Rio. Live in Brasilia for most of my life (a place AirPano should think about touring). But, in fact, I don't want to write about Rio, Brasilia or even Brazil, I want to talk about AirPano. The great job you guys do is priceless and should be recognized worldwide by autorities as you are ofering the best images, without frontier, attracting and enhancing touristic desire in all of us. I visit your site everyday and I also have the same desire. Not forgeting the great high quality music track in each virtual tour you guys create. My best whishes and salute from Brazil to Russia."
Claudia Santos, Brazil
Varvara, AirPano: Dear Claudia, we are grateful for your kind message. We appreciate that you estimate our work so high.
2012-04-13 22:20:11
5 from 5
"j'y suis aller en 1962,j'avais 9ans.j'ai vécu 2ans au Brésil'beaucoup de souvenirs .vos images sont magnifiques"
martine ballefin, France
2012-03-22 00:35:03
5 from 5
"Congratulations. I'm just another proud carioca (born in Rio) and I'm happy to say that the kind of problem you reported about some parts of the town known as favelas are finally being tackled by an extensive government program. Several of them are free of the criminals and, overall, Rio is becoming a much safer place. All photography fans, as myself, are very welcome."
Octavio Lima, Brazil
Varvara, AirPano: We are glad you visited us. It gives us pleasure to get such messages like yours. Have a nice day!
2012-03-17 22:35:38
5 from 5
"That's a great place, its one of the most beautiful cities of the world, congrats for taking this pictures of our country (I live in Brazil too) You should take pictures of São Paulo too, its a great city, just like New York, but kinda better :)"
Diego Cesare, Brazil
Varvara, AirPano: We are happy you liked this pano.
2012-03-05 18:55:55
5 from 5
"سلام من اکثر عکسهای موجود در وبسایت زیبا شما را دیدم،بسیاری از مکانهایی که شما زحمت عکسبرداری را کشیدید آرزوی دیدن آنها را داشتم، خیلی خوشحال هستم از اینکه میتونم از طریق سایت شما و عکسهای فوق العاده شما به این مکان های زیبا سفر کنم و از نزدیک مشاهده کنم. سپاس از شما و تشکر بابت همه زحمت هایی که متحمل شدید. ارادتمند شما مرتضی فلاح"
Morteza Fallah, Iran
2012-03-02 23:13:02
5 from 5
"Rio, my place is a Marvellous City and your site is very very nice!!!"
Frederico Cingolani, Brazil
Varvara, AirPano: Thanks a lot for your warm words! Come to visit us again.