Rio de Janeiro. City Landscapes
At the beginning of the 16th century, the Portuguese sailors arrived in Guanabara Bay and disembarked here. In 1565, they founded the port named São Sebastião do Rio de Janeiro in the most convenient place of the bay. Now this name has been shortened, while the city itself has become one of the most recognisable in the world.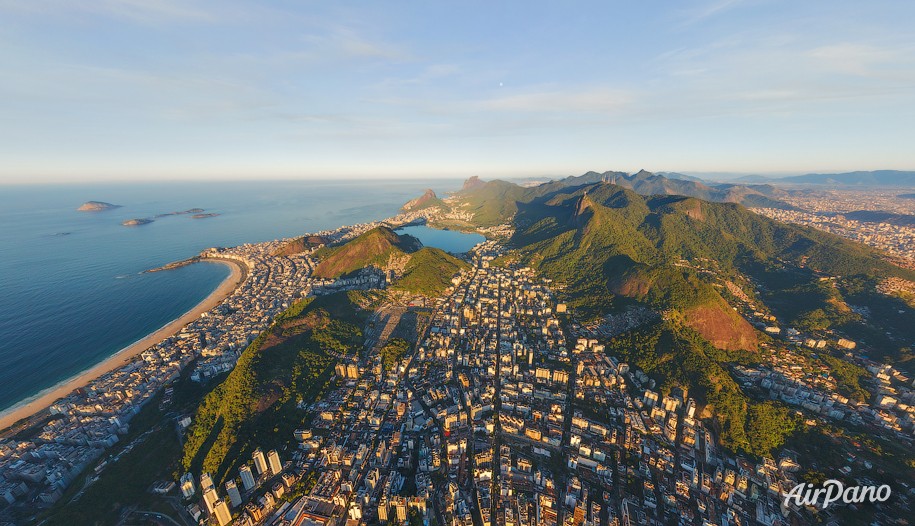 Until 1960, Rio de Janeiro had served as the capital of Brazil but then this function was transferred to Brasília, while Rio became the leading attraction of the country. It occupies 1,260 square kilometres and is covered by flatlands, hills, rocky mountains and beaches. Its historical centre together with the buildings dated the 16th-19th centuries, the coast and Copacabana beach, Sugarloaf Mountain and Christ the Redeemer statue were designated as a UNESCO World Heritage Site. The scale of these natural and man-made landmarks can be easily assessed by looking at the bird's eye view panoramas.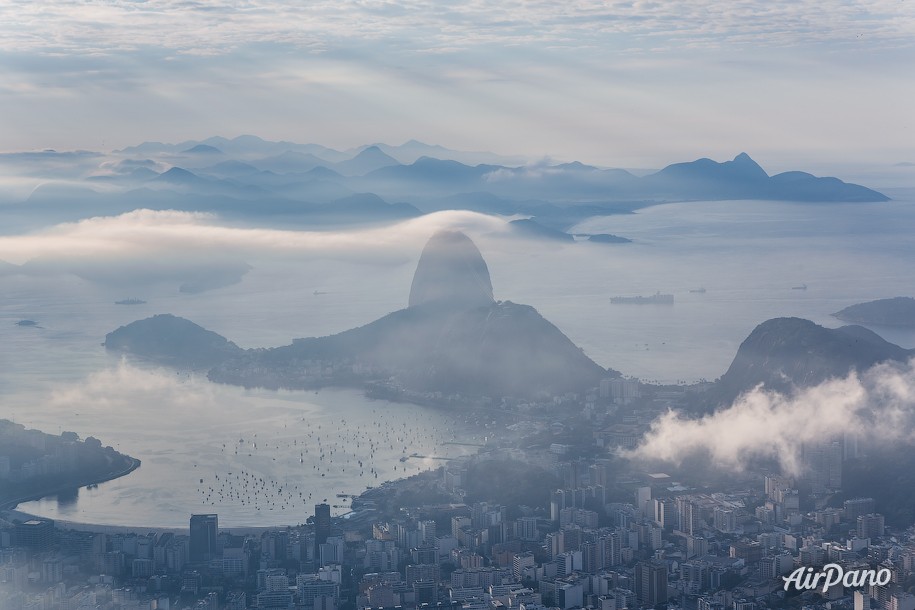 This is, for example, the statue of Christ the Redeemer standing on Corcovado mountain that has become the symbol of not only Rio de Janeiro but the entire Republic of Brazil. This monument was listed as one of the New Seven Wonders of the World for a reason. It is 38 meters high (including 8 meters of a pedestal), weighs 1,145 tons and has 30 meters of arm span.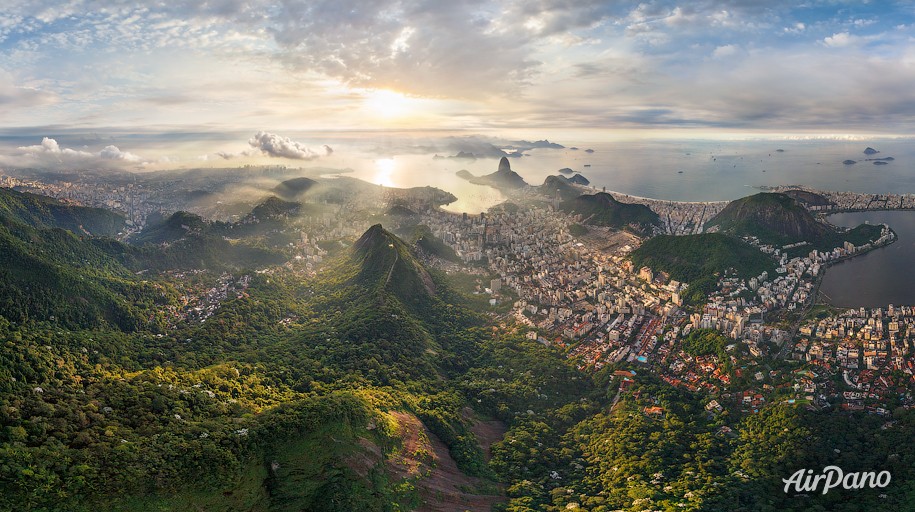 There is the Corcovado Rack Railway with a tiny train leading to the statue, it was the first railway to be electrified in Brazil. One can also use a car to get to Christ the Redeemer but then take 220 steps up the staircase to the foot of the statue. At least 2 million people visit this monument annually. The observation deck of the statue offers a breathtaking view of the bay, the 396 meters high Sugarloaf Mountain, Copacabana and Ipanema beaches and the Maracanã stadium.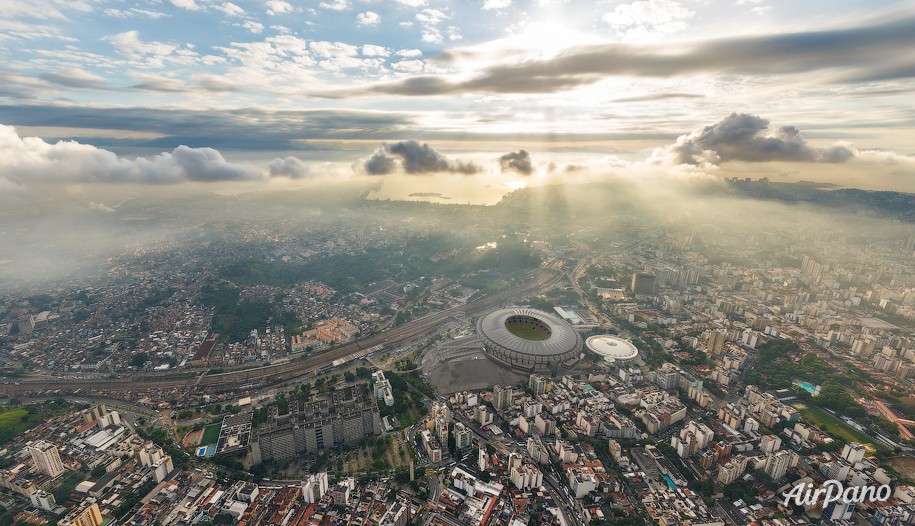 It is not the largest statue of Christ in the world but the most famous one. The monument to hold the record is the Rio-Niterói Bridge connecting the remote coasts of Guanabara Bay: it is the longest bridge in South America (13,290 meters, including 8,836 meters above the water, the highest span is 72 meters high to allow the passage of ocean ships entering and leaving the bay). Among other interesting architectural sights of Rio, there is the Metropolitan Cathedral of Saint Sebastian resembling a Mayan pyramid and the colourful Selaron Steps being 126 meters high and 215 steps long.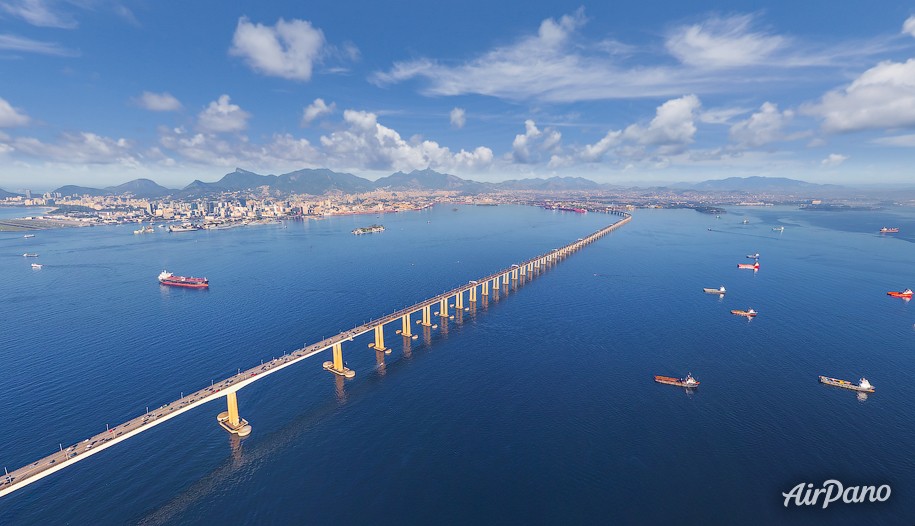 Besides, there is the Botanical Garden, numerous forests and parks including the world's largest urban forest on Corcovado mountain. Take a walk through this wonderful city together with AirPano!
Video by Stas Sedov. Photos by Stas Sedov, Dmitry Moiseenko. Stitching by Nickolay Denisov
22 July 2020
Read more
360° Photo
Add your review about "Rio de Janeiro. City Landscapes"