Iguazu Falls, Argentina-Brazil. Grand tour
•
360° Aerial Panoramas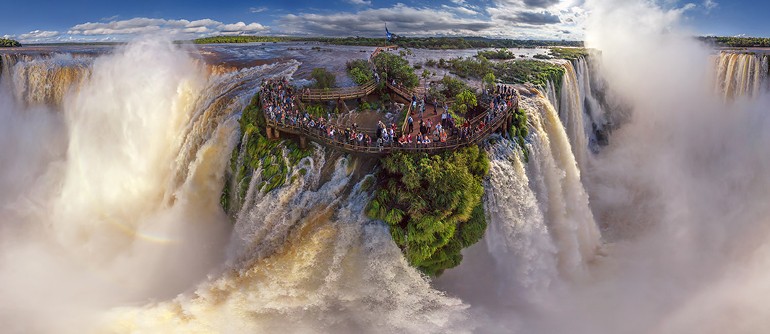 ---
In January 2008 we photographed Iguazu Falls (also known as Iguassu and Iguaçu) located on the border of Argentina and Brazil. This was one of the first AirPano virtual tours. We got only two aerial panoramas in the tour, because of local restrictions for shooting from a helicopter. At that time there was the only helicopter company Helisul, located at the Brazilian side. Unfortunately administration of Brazilian Iguazu Falls Park requested 20 thousand US dollars for a permit to open helicopter doors. Obviously, we didn't have such money, and so I had to struggle shooting spherical panoramas through a small passenger window. Besides, it was prohibited to fly under 500 meters above the waterfalls (which would disturb the nature), as well as crossing the Argentinean border that runs through the middle of the Iguazu River. These restrictions kept our pilot away from most interesting spots of the waterfall.
I took another attempt in a few days. Available helicopter, however, didn't have passenger headphones. I had to cancel the flight, because it was critical to communicate with a pilot during our trip. As I was scheduled to leave Brazil on the following day, the director (an old lady) promised me to refund 500 dollars deposit for the cancelled flight. When I returned to Iguazu Falls a year later, the lady conveniently forgot about her promise and I never got my money back.
It was obvious that a large helicopter was not enough to shoot Iguazu Falls properly (especially from the Argentinean side). We decided to take a second chance and sent our RC helicopter team to Iguazu.
Today we present a large virtual tour that includes aerial and ground photographs taken in 2008 and 2012. Visitors can see details of Iuazu Falls that were not available for public before from the bird's eye view.
And now I give you Stas Sedov, who personally took part in this photo expedition.
Oleg Gaponyuk
---
Leaving for Iguazu Falls, Dima and I were worried that it would be a dry season.
Dry season in 2006
Big water in 2005
Our mission was to photograph one of the largest waterfalls in the world, and not a little drip of water. Dima planned our trip very well, carefully selecting travel dates. However, no one could imagine that this would be one of the most stressful and exhausting photo shoots in AirPano history...
Here are selected parts of our email communication with colleagues during the trip:
18 June 2012
I arrived to Iguazu Falls. It rains practically non-stop. There were few gaps in the clouds today, but no sun.
I have never seen so much water in the waterfall basin, even though I have been traveling for 10 years. It pours at 3 million liters per second, and the norm is 1,5 million liters per second...
The waterfall is unbelievably cool! A true endless flow of water!
We will figure out how to shoot the waterfall. We have few ideas, but we worry about our equipment very much. Guys, send us some good weather ASAP! We miss the sun a lot!
19 June 2012
It has been raining non-stop since last night. We went to the observation deck under the waterfall. It was impossible to shoot there! I was soaking wet after running there and back! The viewpoint is practically enveloped in a cloud of mist. We have to take this spot off our location list, unfortunately.
Almost entire canyon is covered with think mist created by falling water. In Moscow, you cannot even imagine the way it looks — it is completely different from older Iguazu spherical panoramas.
Here is a video I took with my phone, but it hardly gives justice to what is really happening here:
20 June 2012
Morning. It's raining again. But we have finally caught our "three rays of sun!"
We have waited for quite awhile on the observation deck; lots of tension, everybody's stressed. There was even more water comparing to the day before. It was risky. At times we flew the helicopter in a thick water mist, maneuvering between heavy clouds. The equipment is still functional. In 15 minutes after our lucky moment it started to rain again, so we wrapped it up.
There was a funny incident later at night. We decided to get a snack while waiting for the sun. Dima bought few packs of cookies and a can of soda in a café near the viewpoint, and left it all on a table. We looked away for a moment and immediately heard a light crunch. We didn't understand what it was at first. Quick look at the table — the cookies are gone! Everything disappeared, but the tail of a little thief running for cover in a nearest shrub. What a vermin! And usually these nosy creatures look so chubby and slow, especially when posing for a camera.
Going to study Iguazu Falls from Argentinean side tomorrow. I checked the footage — there is a chance to get close to the Devil's Throat.
22 June 2012
We have finally shot Iguazu Falls!
It was the most challenging photo shoot — physically and emotionally — of my entire career. Out of five days of our trip the weather favored us only once, today. We have been [censored] exhausted while waiting for the sun to come out!
We have tried practically all weather improving tricks known to men: throwing coins into the water; sacrificing an old flash card to the waterfalls; Dima even made a personal (much more powerful) sacrifice — he quit smoking! (Ok, it was only for the duration of our trip).
I don't know which of the tricks finally worked, and who heard our prayers, but today the sun showed up by the end of the day, even if only for a couple of hours. We did our best to make use of this time and to shoot as many locations as possible from the Argentinean side of the waterfalls. Too bad, we didn't have enough time to photograph everything we wanted.
At night, while processing images, I noticed a peculiar effect — upside-down rainbows! They looked normal from the ground level, but from a higher angle (from a helicopter) a rainbow arches not up, but down. Amazing!
It is raining again outside, so we are going home tomorrow...
23 June 2012
It is late at night, I am writing from the capital of Brazil. We merely made it from Iguazu Falls — as if the waterfall didn't want to let out team go.
Under the morning rain (as you probably guessed by now) we arrived to the airport to learn that our flight was cancelled. They offered us to take a 4PM flight.
Clouds lifted a bit, and sun picked out for a moment. We grabbed out bags and ran back to the park, to the waterfalls. I assembled our helicopter on the floor in a car rental office while Dima signed papers.
When we entered the park, sun was still out, shining bright. We were very excited. Well, as you can easily imagine, the sky got quickly covered with dark clouds with no hope for an outbreak.
After an hour of waiting I proposed to shoot anyway, while waiting for the sun. Agreed — we take off.
The helicopter flew far away from the observation deck — so scary! Ok, it looks like we've got the pictures, time to go back. I land the helicopter and remove the camera to check our "masterpieces." What the hell? The focusing ring was messed up completely. All images can go down the drain.
Alright! I prepare for the next flight. Now we got a strong wind and light rain. We thoroughly check the camera and lens before take off. Everything is fine.
We take off and start shooting. There was a moment when the helicopter almost crashed due a strong turbulence, but we managed to keep it up. We land and remove the camera — what the hell??? All our camera settings were off! The humidity might have caused it, but we didn't care — all images could go down the drain again. The following five minutes were filled with loud cursing in Russian. Finally, I tell Dima "The waterfall simply doesn't want to surrender to us. Let's wrap it up before we crash the helicopter." Dima agreed.
Well, we couldn't help it and stayed for another 15 minutes or so. There was an opening in the clouds. What do you think? We flew one more time.
It was probably the most thorough and precise pre-flight check we have ever done. We checked every single detail three times. While at it, a heavy cloud of mist came from the waterfall and we were forced to take the helicopter higher to keep the lens relatively dry.
Fortunately, this flight went well. We quickly packed our gear and left for the airport under heavy raindrops.
In the airport we found out that our flight was delayed for another hour and a half, so our trip to Iguazu Falls turned to be one day longer. There was no more sunlight. On the way back, when I looked out of an airplane window, everything was covered with clouds. It was raining again at Iguazu...
Photography by Stanislav Sedov and Dmitriy Moiseenko
---
Iguazu Falls in South America crowns the final stretch of the river bearing the same name. Fifteen kilometers downstream from the waterfalls, the Iguazu River (also known as Iguassu or Iguaçu) empties into another waterway of the continent — the Paraná River. Both create a sort of T-shaped crossroads where the three Latin American states come together: Argentina, Paraguay, and Brazil. Huge frontier markers on the three riverbanks are painted in the national colors of the respective nations.
It is far from being unique that a waterfall creates a state borderline. For example, Niagara Falls is a natural border between the United States and Canada. Yet comparing to Iguazu Falls, the famous Niagara Falls "look like a kitchen faucet," as Eleanor, the wife of the American President Franklin Roosevelt, once said. The First Lady of the United States had not overstated. The height of the Niagara Falls on the Canadian side reaches 53 meters, whereas on the US side (because of piled rocks beneath) it shows only 21 meters. Iguazu Falls, however, drops from the heights of 60 to 80 meters.
It is not surprising that, translated from the language of native Guarani Indians, Iguazu means "big water." Fantastic beauty of the site is multiplied by a colorful rainbow, which can often be seen above the sparkling mist and lush tropical vegetation along both riverbanks. It is believed that Spanish conquistador Álvar Núñez Cabeza de Vaca was the first European to find this natural landmark of South America. He reached the waterfalls in 1541 on his voyage through the jungle up the Paraná River in search of the legendary treasures of Eldorado.
If Iguazu were a single curtain of water, it would be the widest waterfall on the planet. However, this is not the case. Today the title of the widest undivided waterfall in the world belongs to Victoria Falls (1800 meters) in Africa. By the way, it is also a natural border between Zambia and Zimbabwe.
As for Iguazy Falls, it consists of over 270 separate waterfalls with total width of 2700 meters. Numerous islands of different size separate waterfalls. In turn, the islands are connected by footbridges, where one can enjoy a closer view of the falling water. The biggest waterfall of the Iguazu cascade bears a grim name — the Devil's Throat (Garganta del Diablo in Spanish or Garganta do Diabo in Portuguese); it also serves as a border between Brazil and Argentina. The width of "The Throat" is 150 meters, and its length is 700 meters. The shape of the Devil's Throat resembles a horseshoe and includes fourteen powerful waterfalls.
It is interesting that people just recently began using waterfalls for their needs. For example, the Itaipu hydroelectric dam was opened only in 1991. Built by Brazil and Paraguay, the Itaipu Dam generates 12 600 MW powering almost 40% of Brazil and Argentina. The Itaipu Dam is also one of the largest dams in the world; both nations consider it a masterpiece of modern technology.
The Iguazu National Parks located on both sides of the waterfall were designated UNESCO World Heritage Sites in 1984 — 1986. In 2011, Iguazu Falls was announced as one of the winners of the "New Seven Wonders of Nature."
Unfortunately, the Natural Wonder of Iguazu Falls is very fragile. Approximately 1,5 to 3 tons of water flows down the Iguazu Falls every second depending on the season. However, every 40 years a drought turns Iguazu Falls into a basalt cliff. Last time it happened in May — June 1978: not a single drop of water has fallen into the Iguazu chasm for 28 days... On the other hand, major floods fill the waterfall up to the brim. The only waterfall immune to weather in Brazil and Argentina is the infamous "Devil's Throat."
Most of the waterfalls are located on the Argentinean side of Iguazu (2 100 meters long). Being much lower, Brazilian side, however, is considered most spectacular, as one can enjoy a better view of the waterfalls. You have an opportunity to look at the famous landmark of South America from above and see that Iguazu Falls are stunning from every angle.
19 January 2013
Comments
2016-08-12 21:59:14
5 from 5
"thank you very much its very beautiful"
oussama hocine, Algeria
2016-08-02 17:51:50
5 from 5
"Impresionante!!!!
La maravilla de la creacion sigue sorprendiéndonos día a día.
Estamos agradecidos por tan espléndido trabajo. Enhorabuena!!!!!"
Marta Isabel Martínez Segade, Spain
2015-11-02 19:56:00
"Por mi edad y medios econ#243micos nunca podr#233 ir a verlo, as#237 que un mill#243n de gracias por mostrarme esta maravilla. Fue m#225gico"
Saro garcia, Spain
2015-10-11 02:25:47
4 from 5
"Well Done!!!"
Rob Abelar, Guatemala
2015-09-16 19:11:49
5 from 5
"wonderfull"
sumith senarath, Sri Lanka
2015-09-09 08:21:16
5 from 5
"when i am see ..first word for my mouth..oooooaaaa its ammazing."
kishor sutar, India
2015-08-23 04:50:24
5 from 5
"Los felicito, gran trabajo,sorprendente y un regalo del cielo para todos,especialmente para las personas como yo 76 a#241os,si bien tuve la oportunidad de conocerlo, solo informaciones y fotograf#237a,no es lo mismo,me sent#237 igual que si estuviera en ese maravilloso lugar...gracias mil."
Sergio Del Campo Lira., Chile
2015-08-22 23:10:33
"Que majestuosidad, es verdaderamente una maravilla del creador nuestro Dios y Se#241or puesta para deleite del ser humano. Gracias por permitirnos ver este fant#225stico video."
Maria Elena Portilla, Colombia
2015-06-03 15:58:36
5 from 5
"very beautiful,thank you!"
c h j, China
2015-05-16 23:24:08
1 from 5
"Don't cave and spend your precious gems on speeding up production - save them for
something important that you get to keep."
Halley Longstreet, Germany
2015-04-06 05:14:13
4 from 5
"Beautiful stuff...WELL DONE!!"
Thomas McKenna, Thailand
2015-03-22 08:21:46
5 from 5
"awsome music from Iceberg,Greenland,please send me a video clip"
hiep chau, Greenland
2015-02-04 18:18:31
5 from 5
"fabulos iguazu tan desde argentina con desde el brasil . feli#231itats pere"
Pere Arenas, Spain
2014-12-08 04:45:35
"GRANDIOSOOOOO!!!!! ah#236 ,estuve el a#241o 2010 una LINDA EXPERIENCIA. Saludos cordiales amigos."
Juan Cuyutupa, Peru
2014-11-27 23:53:14
1 from 5
"very Bad ahhhhh! jotsoz! pokh! chopashalay!"
neda karami, USA
2014-09-11 03:19:20
5 from 5
Tony Cutajar, Malta
2014-08-01 01:24:58
5 from 5
"ME ORGULLO DE VIVIR AQUI"
carlos enrique martinez delgado, Brazil
2014-06-15 02:14:12
5 from 5
"¡Añoro mi querido Misiones!
Todo el verde que llena los ojos, el canto de mil aves... Y esta Maravilla Mundial que Dios ha plantado en las tres fronteras, crece y se agiganta en mis recuerdos. Esculpida en la roca basáltica bajo la imponente fuerza del agua que se desploma como un monstruo implacable y un grito visceral desde la Garganta del Diablo, enmudeciendo toda vana conversación.
I yo...
Quemándome atrapada en un desierto silencioso sin opción.


I'm home sick for Misiones!
All the green that fills your eyes, a thousand bird songs, a World Wonder planted by God among three Nations, grows like a giant in my memories. Sculpted on basaltic rock, by the relentless force of waters that plummets down like a fierce monster, a visceral growl from the Devil's Throat, drowning all vain conversation.
And I'm stranded, burning up in a quiet desert!"
Gabriela Steger, USA
2014-02-19 19:21:25
5 from 5
"Just returned from a trip with my daughter to Iguazú, we are still speechless and amazed by this incredible natural site. Thank you for your panos, they will be with us reminding the fabulous memories we brought back. Thank you again and keep the great work!!"
Ed Albesi, Argentina
2014-02-18 15:51:00
5 from 5
"This is indeed the most BEAUTIFUL WATERFALLS that I have seen (having visited several countries)and am indeed very stunned that nature can create such an outstanding natural work of ART AND BEAUTY. I have seen such 3 times now and will revisit such every time I visit Argentina or Brazil."
John Dunlop, United Kingdom
2014-01-16 07:28:51
5 from 5
"Exelente y magestuosas panoramicas de unas de las bellezas De este planeta Llamado Tierra sensacional Felicidades"
Gilberto Sanchez mercado, Mexico
2014-01-02 20:36:55
5 from 5
"las fotos son muy bellas, pero tengo que decir algo, soy paraguaya y las cataratas del Yguazu son el hito de las tres fronteras, Paraguay, Brasil y Argentina.
Es mas la hidroeléctrica mas grande del mundo Itaipu es una binacional entre Paraguay y Brasil que se hizo gracias a una parte de las cataratas"
Hilda Diaz, Paraguay
2013-12-18 14:02:32
5 from 5
"Simply superb, thank you very much for sharing such amazing photography with us, don't think in this life time I can ever take such pictures. What dedication. Master piece."
Nehal Paramjeet Sahi, India
2013-12-16 03:10:46
5 from 5
"Excellent presentation. Had a good balance of he "human concerns", e.g., inadequate sunlight, difficult angle for shooting, "helicopter fraud", etc. and the natural world and beauty of the waterfalls. The contrast between the Summer 2005 and Winter of 2006 was remarkable. -- Thanks for the good work and for making it available to the public!"
Joe Reisinger, USA
2013-12-12 20:48:20
5 from 5
"MUHTESEM= FANTASTIC = MUST SEE HOW İS UNTOUCHEBLE AND NO HAVE ANY CALCULATION .
ONLY G O D CAN İT . BAROUCH'ASEM = BENDICHO DIO
KUTSAL ALLAH . THANKS A LOT FOR GİVE UA THE OPPORTİUNİTY TO SE E THİS MAREVİLOUSE PİCTURES .THANKS AGAİN FOR THE TRİP WE CAQN DO !"
AYTEN&NESIM AC I M A N, Turkey
2013-12-02 00:41:19
5 from 5
"Esto es la obra de Dios. Y nosotros, que también lo somos, nos extasiamos con la Creación, ....pero mucho más maravilloso es el Creador."
Jose Navarro, Spain
2013-11-27 00:25:40
5 from 5
"¡¡¡¡ MARAVILLOSO !!! Como Argentina mi orgullo es enorme !!! GRACIAS."
EvA Maria Vaccaro Segura, Argentina
2013-11-10 17:26:27
5 from 5
"majestic panorama ."
Alicia Davidson, USA
2013-11-10 00:21:33
1 from 5
"estuve en dos ocasiones pero hoy vi otra cosa para mi si antes era maravillosa esto es diez veces mas muchas gracias por lo que me han dado."
jose soldano, Argentina
2013-11-05 00:07:16
"Siempre he deseado conocerlas,espero ir pronto,espectacular"
Maria Teresa Nucete V, Venezuela
2013-11-01 02:22:06
5 from 5
"Um trabalho deslumbrante e de grande sensibilidade. Parabens e obrigada por compartilhar estas belezas conosco."
Luciana Aragon, Brazil
2013-10-29 01:33:11
5 from 5
"I Am Thankful
I can see the beauty all around me.
There are those whose world is always dark.Tank You Allah :-*"
Peyman Ahmadi, Iran
2013-10-15 09:56:52
5 from 5
"Hi airpano team, my heart-full congratulations to you people, you are doing very nice, smart amazing work as "panorama's".It's great.i got one thought while watching this waterfalls panorama that,it is even beautiful if there is waterfall sounds.
....
Then i hope you will find more beautiful places and make more panorama in india.
Thank you and all the very best."
sasikumar sagabala, India
2013-09-30 14:08:48
5 from 5
"Soy guia de las Cataratas desde hace 34 años y me agrado muchisimo ver este trabajo tan elocuente de mis cataratas
Gracias"
Carlos Piedrabuena, Argentina
2013-09-11 17:37:34
"ESTO ES MEJOR QUE VISITARLAS PERSONALMENTE, SE APRECIAN EN TODA SU MAGNITUD. ES UNA OBRA DE ARTE NATURAL. GRACIAS"
PEDRO LUIS CHIESA, Peru
2013-09-10 04:01:33
5 from 5
"uma verdadeira obra prima da natureza!"
caio marcos, Brazil
2013-09-04 17:58:14
5 from 5
"UNIQUE.. THANK YOU!"
Efstathia N Stroumpou, Greece
2013-09-02 00:07:14
5 from 5
"very nice"
majid] kakaiee, Iran
2013-08-31 21:07:35
5 from 5
vicente cinos, Spain
2013-08-31 15:50:10
5 from 5
n m, Slovenia
2013-08-30 21:09:59
4 from 5
"Bom pa cacete; doidera"
joel jesus, Brazil
2013-08-29 23:30:24
5 from 5
"It is unbelivable what the science can offer us nowadays - fantastic"
Bruno Gombac, Slovenia
2013-08-28 14:27:07
4 from 5
"¡Ya me gustaria ir a verlas llevo diciendo mucho tiempo Majestuoso pero nunca llega el momento"
ascension Silveti SORAZU, Spain
2013-07-25 19:21:53
"keren! awesome>>>>>>>>"
windy kartini, Indonesia
2013-07-20 22:37:06
5 from 5
"Son estas cataratas maravillosas"
Angeles Sierra, Mexico
2013-07-15 22:38:07
"Estupendo! Obra fantástica da natureza. Vamos preservar."
Arlene Pereira, Brazil
2013-07-14 01:57:48
5 from 5
Leo Underdown, USA
2013-07-07 16:40:40
5 from 5
"Espectacular! Estuvimos en junio del 2013 y fué increíble por la cantidad de agua, no se pudo llegar a Garganta pero se vió algo único.Gracias Dios por lo vivido."
sarita núñez, Argentina
2013-07-04 18:20:31
5 from 5
"I've been asking my friends to send me some picture who live there thank you I live in New York my wife is from foz and my second home is 15 minutes from the iguasue foz I've been there I a lot but I can only imagine the what it sounds like .when I talk about the falls I tell people you can't believe your eyes this is truly the 7 wonder of the world"
John Collins, USA
2013-06-25 18:57:23
5 from 5
"Acho o lado argentino mais bonito que brasileiro, pois o lado brasileiro e um salto salto somente,sendo que o argentino são vários salto, vale a pena conhecer, enfim tanto o lado brasileiro quanto argentino são maravilhosos."
Luiz Antonio Alcantara, Brazil