Balloon flight in Bagan, Myanmar
•
360° Aerial Panoramas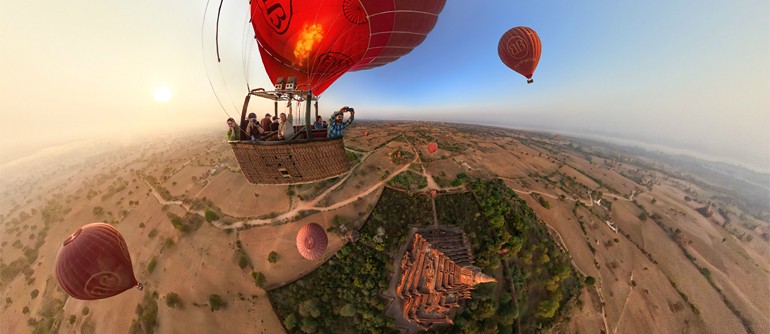 ---
In February 2012 we arrived in Myanmar (formerly known as Burma), the ancient city of Bagan, where in the area of 40 square kilometres a large number of pagodas, temples and Buddhist stupas were built. Thousands of them are well preserved, and thousands more have survived in the form of ruins.
First of all Dima and I decided to take pictures of a set of balloons flying past one of the temples at the break of dawn using a radio-controlled helicopter. The difficulty was that they didn't have a strict route to follow; there was only a rough direction where every morning ten huge balloons hovered above a valley. After spending quite enough time asking our driver countless questions, we decided to start at dawn on the field near the Sulamani temple. And it was a good idea! About half an hour later the balloons appeared on the horizon.
We started in a big rush. I did not expect the first balloon to be moving so fast, and it was heading directly towards us. We only managed to shoot a few sphere panoramas before we had to move the helicopter out of the way.
The next day we wanted to shoot a few panoramas of Bagan flying above the temples in a balloon basket. The evening before we went to the office to speak to the balloon pilots about taking our equipment on board the flight. The problem was that for security reasons they didn't allow even tripods on board: only light cameras that passengers could hold in their hands. This arrangement did not suit us at all.
They greeted us politely but were reserved. One of the pilots recognized us as those two cranks that made his passengers worry earlier that morning. But thanks to Dima's charm a few minutes later we were discussing the possibility of taking photos from the basket.
Balloon pilots in Bagan are English. In my opinion they are real pros. The things they can do with their ships in the air! They can stop, they can spin them around 360 degrees, they can even steer them in practically any direction, they can do everything except perhaps the loop-the-loop.
In the morning we were given coffee before take-off, we had a briefing and were suddenly introduced to other passengers as the coolest experts in air photography (which isn't too far from the truth, really). Our fellow passengers were looking at all our kits with great interest, and a cute girl from Hong Kong decided to seize the chance and went to introduce herself to Dima. We were provided a flagman balloon with the master-pilot Ian. The girl Vera (Faith) was put in a seat next to us and we immediately decided to unload our backpacks at her feet, using our new halo in hall of fame.
And here we are, taking off in our basket. Palm trees can be seen beneath our feet, then small stupas and the temples appeared, the sun rises slowly and we see a string of other balloons appear behind us. Ian directed our "ship" right toward the Sulamani temple at a low height. It is really scary when you fly right under the spire onto a wall! But about 50 m away from it the pilot suddenly made our balloon rise and the temple remained beneath us! It was time to shoot!
We will not bore you with the details of the photo shoot. Everyone in the basket keenly watched two Russians do very strange things with their equipment. Faith posed and Dima, convinced that the iPhone is the best camera, was snapping her non-stop, only occasionally getting distracted by "work". Ian remained absolutely calm, while increasing the fire from time to time. After half an hour of "swinging the ball", we finally settled and were able to look around.
I would definitely class Bagan as one of The Wonders of the World — wherever you look, there are stupas and temple spires as far as the eye can see, from tiny ones to huge ones. Moreover, at dawn all this splendor is surrounded by a light mist, and the higher you get — the further is the horizon. The sellers of this expensive pleasure use tourists' passion for sights. But honestly it is worth it! Some balloons managed to overtake us, and soon we noticed that we were beginning to land. Ian announced that we should get ready for landing and that we can take our last shots. Having thought for a few seconds, he went on to clarify that he doesn't mean the last shots in our life, just the last ones during this flight.
Balloonists have a good tradition of treating everyone to champagne upon landing. It was welcomed at 8 a.m. A little drunk and inspired by what we had seen we went on to take beautiful pictures of Bagan temples. But that is a completely different tour.
Photography and text by Stanislav Sedov and Dmitriy Moiseenko
26 March 2012
Comments
2014-07-25 14:11:23
5 from 5
"we are grateful for your interest in this panorama.Thank you ,airpano!"
viorica lupoaia, Romania
2014-06-02 21:20:24
5 from 5
"Thank you so much for a fabulous presentation. I had looked forward for years to going to this one of a kind place on our planet and just returned. Since going in May, the balloon rides were not available so this puts the icing on the cake for me. Beautiful place and people!"
Lee Nelson, USA
2013-06-07 10:13:07
5 from 5
babak jafari, Iran
2013-05-29 03:25:02
5 from 5
"Thanks to your team, the photos are beautiful and bring back wonderful memories of a beautiful country. Having lived in Rangoon 1957 to 1962 and visiting Bagan in 1980, seeing old friends it really is the land of the flying fishes. I loved this country and its warm beautiful people. Eva"
Eva Hogan lwin, USA
2013-04-12 21:22:44
5 from 5
"bellissimi edda"
edda vitiello, Italy
2013-04-12 10:54:06
5 from 5
"Wow!!!!!!! what a view, you made my day pano team, keep it up.........."
Akash Yadav, India
2013-02-13 09:24:57
"My world is so beautiful. I was born in Pyawbwe in Burma. Mercy. Montreal. Canada"
Mercy Bentinck, Canada
2012-10-24 11:03:18
5 from 5
"thanks!i remember my fly over Bagan and was incredible (i visite Myanmar in 2010)"
alexandrina manole, Romania
2012-10-06 17:11:30
5 from 5
"WOW! NOW ON A DAY THAT MIGHT BE NOT SO GREAT I CAN SIT AT MY COMPUTER AND GO SAILING OFF TO SO MANY PLACES THAT FANTASTIC. ALL THANKS TO YOU FOLKS AT AIRPANO. ;-)"
RON HARMAN, USA
2012-09-19 19:39:25
"ADELANTE : ESTAN !! HACIENDO UN TRABAJO FABULOSO Y DE ALTISIMA CALIDAD"
german porras, USA
2012-07-31 04:18:35
5 from 5
"I would like to congratulate your team on capturing the beauty of Bagan and all it's Pagodas! As a Burmese Buddhist, it is truly appreciated!!!"
Yin Mon Thwe, Myanmar
2012-07-17 18:24:11
5 from 5
"wonderful to look."
ananta lakshmi, India
2012-07-08 03:09:33
5 from 5
"I have just booked to go to Burma in September and hope to do this balloon flight"
Denise Healey, Australia
2012-07-06 03:57:03
5 from 5
"My cousin in BC sent it to me. I can watch them over and over again. I love this site. Thank you."
Nancy Dawdy, Canada
2012-06-28 19:25:30
5 from 5
"An accidental email brought you to my computer, I am now hooked.
Sometimes we forget the beauty of this planet. We abuse Gaya, we take her for granted. Though your work, your eyes and your vision you are bringing people to a place we all need to arrive at."
Eveline Horelle Dailey, USA
2012-05-15 17:50:28
4 from 5
"Hello Dima,Stanislav and Team, You are polite, humble and resourceful Nature lovers! Through your artistic eyes we see the wonders of the world in the comforts of home and family. Ñïàñèáî.
I wish we can see these videos on 3D, 360 deg Spherical panorama on IMAX Domes. Any plans to venture?
Best regards."
Ramnik Shah, India
2012-05-08 16:56:08
5 from 5
"iam very fortunate to see the places which r not possible

to visit n the areal views r amazing whole hearted thanks"
pagidimarri raviprakash, India
Varvara, AirPano: Thank you too.
2012-05-07 20:48:13
5 from 5
"wonderfull"
anjana kumar, India
2012-05-04 13:34:12
5 from 5
"beautifull, indeed..."
Bruno R. ROPSY, Thailand
2012-04-18 21:19:59
5 from 5
"Vos diaporamas sont superbes - Il y a quelques mois j'en ai reçue une par e-mail et depuis je me sui abonnée à votre newletter. Puis-je utiliser une vidéo pour ajouter sur un blog ou sur un site en mettant votre lien copyright.
A vous lire,
Sincères salutations."
Jo LAFONT, France
2012-04-16 01:41:24
5 from 5
"Your gift to the world is awesome & moves me to tears each time you take me on a journey. Our grandchildren can now see wonders not possible without all you have accomplished. Deepest
thanks with appreciation and admiration for your imagination to do this! ~Ingrid Coyle"
Ingrid Coyle, USA
2012-04-14 17:45:25
5 from 5
"Your website was sent to me as a way to speak to my esthetics as a fellow photographer and grieving spirit on the recent passing of my father. This tour does just that. Your passion for travel and drive to share your experiences is a great gift. I will be passing along your site to others as well as visiting each destination on your site with anticipation."
Vanessa Lynne, USA
Varvara, AirPano: Thank you! We are moved by your message.
2012-04-09 07:33:11
5 from 5
"Thank you for your panorama of my lovely country. I was born in Bago, Burma. So i am very glad to see my country. It was amazing job too. Thank you for letting the world see.
Thida"
thida m kim, USA
Varvara, AirPano: We are grateful for your message. Regards!
2012-04-05 21:10:23
5 from 5
"nice :)"
lotus alhosni, Oman
2012-04-05 08:23:01
"NICE PHOTO"
PANCHAL MAYUR, India
2012-04-04 23:31:13
5 from 5
"Wonderful!I hope you do not mind to teach me, on the balloon, how did you take a panorama shot ? Need special equipment?"
Wong Chi Chuen, Hong Kong
Varvara, AirPano: We just use all the functions of iPhone :)
2012-04-04 12:51:58
5 from 5
"que de belles images de reve .merci pour toutes ces magnifiques choses .vous nous faites rever"
sergio godani, Belgium
2012-03-31 22:27:14
3 from 5
"Amazing flight! However what impressed me more, is your including the Pink Floyd song Learning to fly. You have an imagination!!
I wish I could work with you."
Nina Mich, Greece
2012-03-30 18:09:51
5 from 5
"Que maravilloso y hermozo paisaje, con que programas se puede hacer este tipo de arte tan bonito"
luis gregorio azocar, Venezuela
2012-03-27 23:56:45
5 from 5
"It was worth the effort for such a rare and beautiful countryside and to have you in it as well! Really a shot of a lifetime. Loved the music."
Anne B, USA
2012-03-27 19:22:52
5 from 5
"Hi Dima and Stanislav, I'm Faith's mom in California and I loved your video - what an amazing sight! Thanks so much for the beautiful photography and great story."
Megan Lee, USA
2012-03-26 21:02:14
5 from 5
"jadore votre site. Que le monde est beau!"
Christiana CALLEWAERT, Belgium
2012-03-26 20:43:27
5 from 5
"What a beautiful thing!
I love this site!"
Suzi Borges, Brazil
2012-03-26 18:46:00
5 from 5
"What you are doing is wonderful! I know that it is a LOT of work. Thank you for sharing it with the world."
Meryl Wieder
2012-03-26 18:08:09
5 from 5
"Absolutely beautiful. It takes me to another dimension. The music is very peaceful. I am a great admirer of your work. thank you for sharing and God bless you all."
johannes maurits, Mexico
Varvara, AirPano: We are grateful for your interest in this panorama.
2012-03-26 17:03:30
5 from 5
"Beautiful impression in the silence of the skies."
solaric solarica, Poland
2012-03-26 16:12:30
5 from 5
"How did you choose a place like this? Temples, temples, temples... There is no normal people on that country?
We are knowing the world through your work. Tanks."
Erico Rocha, Portugal
2012-03-26 16:06:22
5 from 5
"Wow ... nice ... like"
Morteza Fallah, Iran
2012-03-26 13:49:28
4 from 5
"I'VE NEVER IMAGINE THIS PLACE EXISTS ON EARTH.
THANK YOU."
jorge dorantes, Mexico
2012-03-26 13:17:19
"etna"
marina vasta, Italy