Balloon flight in Bagan, Myanmar
In February 2012 we arrived in Myanmar (formerly known as Burma), the ancient city of Bagan, where in the area of 40 square kilometres a large number of pagodas, temples and Buddhist stupas were built. Thousands of them are well preserved, and thousands more have survived in the form of ruins.
First of all Dima and I decided to take pictures of a set of balloons flying past one of the temples at the break of dawn using a radio-controlled helicopter. The difficulty was that they didn't have a strict route to follow; there was only a rough direction where every morning ten huge balloons hovered above a valley. After spending quite enough time asking our driver countless questions, we decided to start at dawn on the field near the Sulamani temple. And it was a good idea! About half an hour later the balloons appeared on the horizon.
We started in a big rush. I did not expect the first balloon to be moving so fast, and it was heading directly towards us. We only managed to shoot a few sphere panoramas before we had to move the helicopter out of the way.
The next day we wanted to shoot a few panoramas of Bagan flying above the temples in a balloon basket. The evening before we went to the office to speak to the balloon pilots about taking our equipment on board the flight. The problem was that for security reasons they didn't allow even tripods on board: only light cameras that passengers could hold in their hands. This arrangement did not suit us at all.
They greeted us politely but were reserved. One of the pilots recognized us as those two cranks that made his passengers worry earlier that morning. But thanks to Dima's charm a few minutes later we were discussing the possibility of taking photos from the basket.
Balloon pilots in Bagan are English. In my opinion they are real pros. The things they can do with their ships in the air! They can stop, they can spin them around 360 degrees, they can even steer them in practically any direction, they can do everything except perhaps the loop-the-loop.
In the morning we were given coffee before take-off, we had a briefing and were suddenly introduced to other passengers as the coolest experts in air photography (which isn't too far from the truth, really). Our fellow passengers were looking at all our kits with great interest, and a cute girl from Hong Kong decided to seize the chance and went to introduce herself to Dima. We were provided a flagman balloon with the master-pilot Ian. The girl Vera (Faith) was put in a seat next to us and we immediately decided to unload our backpacks at her feet, using our new halo in hall of fame.
And here we are, taking off in our basket. Palm trees can be seen beneath our feet, then small stupas and the temples appeared, the sun rises slowly and we see a string of other balloons appear behind us. Ian directed our "ship" right toward the Sulamani temple at a low height. It is really scary when you fly right under the spire onto a wall! But about 50 m away from it the pilot suddenly made our balloon rise and the temple remained beneath us! It was time to shoot!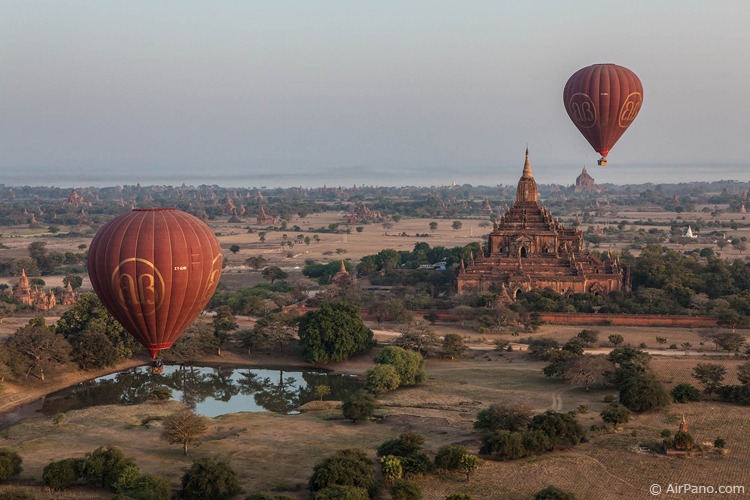 We will not bore you with the details of the photo shoot. Everyone in the basket keenly watched two Russians do very strange things with their equipment. Faith posed and Dima, convinced that the iPhone is the best camera, was snapping her non-stop, only occasionally getting distracted by "work". Ian remained absolutely calm, while increasing the fire from time to time. After half an hour of "swinging the ball", we finally settled and were able to look around.
I would definitely class Bagan as one of The Wonders of the World — wherever you look, there are stupas and temple spires as far as the eye can see, from tiny ones to huge ones. Moreover, at dawn all this splendor is surrounded by a light mist, and the higher you get — the further is the horizon. The sellers of this expensive pleasure use tourists' passion for sights. But honestly it is worth it! Some balloons managed to overtake us, and soon we noticed that we were beginning to land. Ian announced that we should get ready for landing and that we can take our last shots. Having thought for a few seconds, he went on to clarify that he doesn't mean the last shots in our life, just the last ones during this flight.
Balloonists have a good tradition of treating everyone to champagne upon landing. It was welcomed at 8 a.m. A little drunk and inspired by what we had seen we went on to take beautiful pictures of Bagan temples. But that is a completely different tour.
Photography and text by Stanislav Sedov and Dmitriy Moiseenko
26 March 2012
Read more
Photogallery
360° Video
Add your review about "Balloon flight in Bagan, Myanmar"