Flight to Stratosphere
•
360° Aerial Panoramas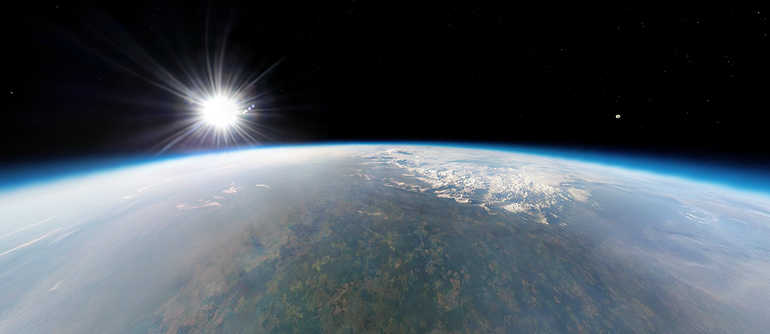 ---
Among thousands of comments on our website, there was one that caught our attention: "You have photographed the entire Earth. Now it is time to shoot in Space".
We thought "Why not?" and in the summer of 2012 we sent a probe with photographic equipment to the stratosphere, taking spherical panoramas from the near space. We have a small team and we're always busy running behind.
Recent record-breaking jump from the stratosphere by Felix Baumgartner reminded us about this flight, and we decided to cancel the planned publication of the panoramas from Europe. As a result, instead of a virtual tour of the Vatican, we're offering to your attention the report about the AirPano shooting the near space.
Oleg Gaponyuk
---
The stratosphere is situated between about 10 km (6 mi) and 50 km (30 mi) altitude above the Earth's atmosphere. The stratosphere has 2 layers: the lower one (11-25 km) and the upper one (25-50 km). It's worthy to mention that air temperature in the lower layer can reach -60 ° C, while the upper layer is being gradually warmed up to +0,8 ° C and it reaches zero at the altitude of about 45 kilometers.
At altitudes from 15-20 to 55-60 kilometers lies the ozone layer that protects the Earth from the sun's deadly radiation.
The top layer of the stratosphere is often called "near space".
Sending a camera into the stratosphere and getting it back is a technically challenging task, so we asked project Netwind.ru, headed by Denis Efremov, to help us to do it. They have extensive experience in this field and all the necessary permits from regulatory authorities.
Sending cameras into the near space is done by using balloons filled with helium. These balloons rise 35-37 kilometers above the ground, gradually increasing in size until they are as big as three-story house. At this altitude balloons suppose to burst and send cameras safely to the ground by parachute. To shoot the moment of the balloon's explosion, we set one of the cameras up vertically in video mode.
Balloons had to be launched before dawn in order to shoot the Earth in a beautiful morning light. The night was amazing: all the way to the launch site in the North-East Moscow region our road was lit by headlights, stars, and the moon. Soon the work was in full swing. Our colleagues from Netwind were right on time: they quickly unpacked their things and installed the lighting. We found out that all the necessary equipment could hardly fit into two cars!


A calm weather was promising a good probe launch. But a lot of things had to be checked before the launch. Cameras have to operate in extremely cold conditions: batteries can be damaged, and cover lenses can get misted over or get covered with ice crystals. Cameras have several search GPS-beacons attached to them so they could be found after landing on the ground. However, there is a possibility of failure. That's why assembly process requires a lot of attention.
By morning, all preparations were completed, and the balloon sailed slowly into the sky above the rolling fog. One of the pilots even filmed the launch of the balloon with a radio-controlled model airplane! All we had to do was wait and see what our balloon cameras would show on the screen.
Some time later we saw beautiful clouds floating past the balloon while it was lit by sun rays. Everything went according to the plan. Upon reaching the altitude of 35-37 kilometers the balloon bursted and cameras started to descend. GPS-beacons sent their coordinates several kilometers above the ground and went silent. The next transmission time was supposed to be from their landing position. But it never happened. This is why we had to cover five miles in diameter in order to find the camera. The search ended up going for 2 days straight: our whole team made several trips to the landing area and searched for camera unit in the dark forest, making our way through the faint trails without any results. It's hard enough to find a small camera in the forest with more or less precise coordinates, but without them it's almost impossible. Furthermore, simultaneous failure of two GPS-beacons looked suspicious, and we thought the camera was not in the forest, but in a lake located near to the search area. Was it a technical failure or a water landing: we couldn't find out the exact cause. A few thousand dollars worth of equipment was lost, and we had to do it all over again.
So a week later we had to repeat the whole process again. The weather was great and the moon and stars gave us new hopes for success. The sky was cloudy but, nonetheless, the luck was on our side. The clouds spared us and photo shoot was successful: on panorama you can see forests, fields, and Pleshcheyevo lake by Pereslavl-Zalesskiy. This time there were three GPS-beacons with cameras and they didn't fail us.


Cameras landed on the field in the outskirts of one local village attracting attention of cows. But our equipment was not edible, so we found it intact. We have a video of our trip to the cameras' landing site: you can see all the rough roads and small bridges we had to cross to get there. But it was worth it! We finally had a spheric panorama of the Earth from the altitude of 37 kilometers.
24 October 2012
Comments
2013-01-13 07:34:54
"GRACIAS. ES MARAVILLOSO EL REGALO DEL CREADOR DEL UNIVERSO. USTEDES SE MERECEN NUESTRO AMOR."
Carlos Reyes, Costa Rica
2013-01-13 06:11:34
5 from 5
"amazing! can't wait to show these panos to my students! i am not a science teacher. in fact, i teach language arts, but my students are from a small town of 5,000 people and may never venture very far. they need to see what is out there beyond their little world!"
shelllie mcallister, USA
2013-01-12 18:16:02
5 from 5
"good work"
panayiotis ss, Cyprus
2013-01-12 17:31:30
5 from 5
"wonderfull, very impressing without word, i like it a lot.

thank"
Mega Patten, Greece
2013-01-12 01:45:26
5 from 5
"amazing.......speechless"
Giota Giannouli, Greece
2013-01-05 21:41:12
5 from 5
"great job"
NASSIMA HACHOUF, Algeria
2012-12-31 06:38:02
5 from 5
"These airborne panorama views are the greatest views that I have ever seen. Keep them coming."
Dennis Lasanen, USA
2012-12-29 19:47:02
5 from 5
"SUPER!!!!!!!!!!!!!!!!!"
Marta Dub, Czech Republic
2012-12-29 16:45:54
"good"
hossein shami, Iran
2012-12-27 20:14:15
"MARAVILHOSO, MAGNIFICO, ESPECTACULAR.... continuem"
jose cunha, Portugal
2012-12-22 18:12:00
1 from 5
"Nice (Some thing Different)""
anand kodagu, India
2012-12-21 20:15:30
5 from 5
"Muito belo e bonito.

É fantástico o que se vê a cerca de 35 Km.

Bom trabalho .Muita coragem continuem."
José Ferreira Fonseca, Angola
2012-12-18 20:40:45
5 from 5
"Inspirational!!!

Incredible work... Things made with love!

panographos.com"
Alex Gutierrez, Mexico
2012-12-13 21:51:48
5 from 5
"Amazing work guys!"
jorge santos, Brazil
2012-12-09 16:55:42
4 from 5
"It is really astonished me. It is very cool. Good job."
Daniel Frans, Indonesia
2012-12-08 20:57:43
5 from 5
"sencillamente fantástico"
julian artigas, Spain
2012-12-08 00:05:34
5 from 5
"I discovered this site one month ago. Since then it is a source of astonishment and respect for your wonderful work. Thank you."
Hans van Leeuwen, Netherlands
2012-12-03 10:39:06
5 from 5
"THANK YOU SOO MUCH FOR ALL THE BEAUTIFUL VIEWS AND UNREACHABLE DESTINATIONS A SINGLE MAN,, I WONDER ,IF SOME ONE FEELS TO GO FOR A TRIP THEN IT IS MUST FOR HIM TO WATCH YOUR PANORAMIC GIFTS.....THANKS ALOT AND I APPRECIATE YOUR EFFORTS GREATLY"
MUJAHID Z D DADARKAR, Saudi Arabia
2012-12-01 04:01:11
5 from 5
"Awesome! Both the panoramic pictures and the appropriately matching background music."
Sanjoy Sanyal, Saint Kitts and Nevis
2012-11-28 20:33:14
5 from 5
Jitendrakumar Vanjara, India
2012-11-28 01:27:55
5 from 5
"I mean, could it be possible to include these views in one and the same photo?"
Fabrizio G., Russian Federation
2012-11-28 01:09:09
5 from 5
"Impressive! Ïîòðÿñàþùåå! Could more layers of magnification be added so to be able to see images from the first stages of flight (and, accordingly, the ground from closer up)?"
Fabrizio G., Russian Federation
2012-11-27 13:17:58
"It s realy wonderful views so I like this experiment."
Ammar Mohammed, Iraq
2012-11-26 21:58:55
5 from 5
"You Have Done Divine Job By Taking Akshardham's 360 Degree pics.
I Think, Now Loard Swaminarayana Will TackCare Of You."
Soham Patadia, India
2012-11-21 08:40:14
5 from 5
"Outstanding! You managed to capture the attention and awe of my already jaded 11 year old (who is too "smart" for her own good). Dont stop what you're doing."
Marie y Marie, USA
2012-11-13 09:55:53
"Thank you all for the excellent work done. I use it for my meditation. The music is also good and goes along with meditation.May God keep you all INSPIRED.
Haren Barua"
Haren Barua, India
2012-11-11 18:01:52
5 from 5
"Amazing. Thank you."
Rodica Vidican, Romania
2012-11-10 18:15:12
5 from 5
"Well done and I just would like to congratulate the AirPano Team for accomplishing a very tough job. However, I personally feel that the Troposphere is much more colourful and varied than the Stratosphere. Carry on your dream flights to every part of the world. Best wishes always."
Manoj Tudu, India
2012-11-10 17:47:16
5 from 5
"For the stratosphere shooting on 360°, one word to describe it "Awesome"."
Vulcan Lau, Malaysia
2012-11-08 22:08:41
"Es sencillamente bello. Ah!, cuánto hace la tecnología... Gracias por compartir estos bellos videos..."
Cristina Amaya, El Salvador
2012-11-08 06:18:25
5 from 5
"Muito, muito louco parabéns pelo trabalho!"
Andre Mazzorana, Brazil
2012-11-05 12:30:13
3 from 5
"very good........"
sara mohazab, Iran
2012-11-04 16:10:35
5 from 5
"simplemente fantastico"
slvador gutierrez, Spain
2012-11-03 21:52:16
3 from 5
"That's called excellency. The committed efforts and hardwork you have done is highly appreciable. And in such case were someone lost its precious camera. A loud clap from me."
VIVEK SHEKHAR GAUR, India
2012-11-03 06:40:28
"Amazing"
r ss, Iran
2012-11-02 00:01:55
5 from 5
"aaaaawful !
Thank you very mouch, sharing such incredible impressions with us.
Ralph (www.pano-man.ch)"
Ralph Schmidt, Switzerland
2012-11-01 11:21:35
"Excellent!!!!!!!!!!! very great team work, keep going, Best of luck guys....."
Akash Yadav, India
2012-10-31 14:11:22
5 from 5
"Excellent work you crazy russians :-))"
Bernd Willinger, Austria
2012-10-30 10:56:26
"Hardwork and passion paid. This is without doubt best work done in 360 panoramas so far....very happy for you guys. Equipment loss is a big loss but you will forget it and memories of your success will always remain in you minds...."
Emad ud din Butt, Pakistan
2012-10-28 23:57:06
1 from 5
"This is Great...........Really great no word to say just see......great......great ......great"
Mittal Vaishnav, India
2012-10-28 02:20:22
5 from 5
"Impresionante, es interesante hasta que limites puedes llegar los panoramas. Gracias por compartir!"
john sanchez, Peru
2012-10-27 20:22:46
5 from 5
"excellent job wish all the best"
mohamed eleish, Egypt
2012-10-27 15:19:29
5 from 5
"Gr8 work"
Navinchandra Patel, Uganda
2012-10-27 13:58:21
5 from 5
"Nice (Some thing Different)"
ekkarthik reddy, India
2012-10-27 10:52:52
5 from 5
"Wow !!!"
Morteza Fallah, Iran
2012-10-27 10:14:10
5 from 5
"You guys are crazy :D Brilliant job as usual!!"
Raghavendra Kopalle, India
2012-10-26 21:42:40
5 from 5
"good...great job...keep it up..."
deepak chandra, India
2012-10-26 12:09:11
5 from 5
"I have no word to say something.
Nice job"
Jagdish Chaudhari, India
2012-10-26 08:02:15
5 from 5
"Fantastic great Job Amigos"
Jaime Varon, Mexico
2012-10-26 07:35:14
5 from 5
"Magnificent work, guys!!"
Pradeep Kaushik, India