Leaning Tower of Pisa, Tuscany, Central Italy
•
360° Aerial Panoramas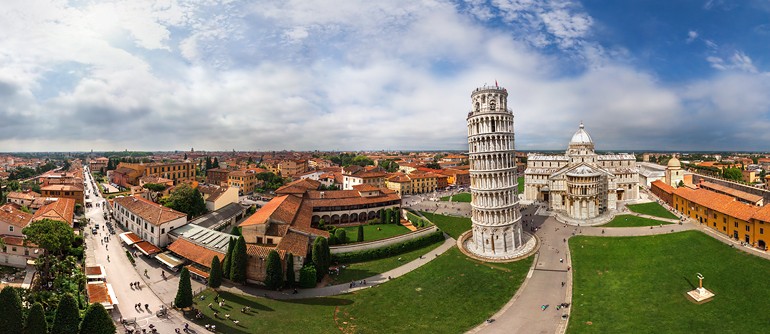 ---
Before we start our virtual tour above the famous Falling Tower of Pisa I would like to express my gratitude to Francesco Maria De Lorenzo, the Italian photographer, for his tireless and altruistic help.
It is due to Francesco's support and the farseeing policy of Pisa City Administration, that we were able to photograph the Falling Tower from a bird's eye view.
Hundred thousands of people from around the world visit our website daily. I am certain that the Falling Tower and the small, but extremely beautiful city of Pisa will proudly represent Italy among other most interesting places of the world, photographed from a bird's eye view.
Oleg Gaponyuk
---
Traditionally all popular tourist destinations are called "monuments". Italian Pisa is not exactly a "monument", but more of a "mystery" due to many reasons, starting with a fact that nobody exactly knows who built it. The most popular theory says that it was built by Etruscan civilization. However, there are scientists, who believe that ancient Greeks or Ligures built Pisa. Unknown origin of the city makes it even harder to figure out the meaning of its name. So it's Pisa, just Pisa — an untranslatable set of characters.
First of all, Pisa is famous for Torre Pendente di Pisa, The Leaning Tower of Pisa. It's so famous that it outshines all other Pisa tourist attractions and monuments combined. Locals call it the "long-drawn miracle". Ironically enough, the tower is located at Piazza dei Miracoli (the Square of Miracles).


But, of course, the name is just a coincidence; because the whole Square of Miracles is so miraculously beautiful that it was declared a UNESCO World Heritage Site. As for the Leaning Tower, it is not exactly a miracle, but a simple architect's mistake.

However, this is where a new layer of mysteries opens! Construction of the Leaning Tower (also known as the bell tower of Duomo di Pisa (Santa Maria Assunta)) took almost two centuries... But who initiated it? There is no exact answer. We only know that the construction started August 9th, 1173.

According to one of the theories, the project belongs to some architect by the name of Bonanno Pisano, who discovered his mistake only after they finished the ground floor (11 meters high) — by that time vertical deflection was about 4 centimeters. The architect aborted the construction (or has been kicked out, according to other version), fled the city, and spent the rest of his life in poverty and obscurity.

However, historians offer few more names, including Gerardo di Gerardo and Diotisalvi. Although each one could easily be the project's author, there are certain architectural arguments against their authorship. History preserved only names of architects, who continued the erection of the bell tower: Giovanni di Simone, Tommaso di Andrea Pisano and many others. Almost two hundred years of construction provided a lot of work for each of the architects, but none of them was able to straighten the tower at its foundation level. Only its upper part, built in the second half of the 14th century, looks more or less straight.
It is still a mystery to modern architects, why the tower is leaning. Some theories say that it is due to a misplaced water pump, difference in soil density, or a very banal "insufficient funding" reason. Nevertheless, as soon as the tower was finished, Pisa city authorities had a new challenge — how to stabilize it.

Ugly-looking supporting structures were out of the question, as well as some other not so aesthetic solutions, including really funny one: a giant ferroconcrete statue of architect Bonanno supporting his creation with his head, arms and a knee. Other experts suggested praying God, so he would keep the tower from falling; or "making a giant san "cushion" around the tower, so it doesn't shatter if it actually collapses". Finally, many years of stabilization work resulted in replacing crumbling pillars, reinforcing the subsoil, installing counterbalances and other advanced technology solutions. After the corrective reconstruction was finished in 2010, the angle of the Leaning Tower of Pisa decreased from 5°30' to 3°54' degrees.
Another interesting fact: the name of Galileo Galilei is associated with the Leaning Tower of Pisa. This famous resident of Pisa carried out his scientific experiments, such as dropping objects of different weight from the top of the tower, and — as a result — bringing down the wrath of locals upon himself. However, we have no proof of that. The only true fact is that the great scientist was indeed born, raised and studied in the city of Pisa.
Actually, it would be wrong to suggest that the famous Leaning Tower is the only thing that Pisa has to offer. It has a very rich and fascinating history. For example, there was a time, when the whole city was excommunicated for several years. The Cathedral in the Square of Miracles was built on money that Pisano fleet stole from Arab pirates. Bold and freedom-loving Pisa preserved its fascinating and centuries-old architecture for us to see: from elegant boardwalks to grand royal palace...
Welcome to the virtual tour over the most mysterious city of Italy...
Photography by Stanislav Sedov and Dmitry Moiseenko
15 June 2012
Comments
2017-02-14 20:29:53
5 from 5
"Very beatiful they say, but this shit ain't falling so I'm a little sad!"
Denis Don't mispell, pls, Brazil
2014-08-15 11:22:24
5 from 5
"Extraordinária...Cai hoje ou àmanhã?"
Fernando Vaz, Portugal
2014-07-08 17:21:36
"Awesome article."
Thelma Witmer, Luxembourg
2014-04-26 17:14:57
"BELLISIMO"
norma rodriguez, Uruguay
2014-04-24 03:52:32
"beautifull remeber travel 1980 visit europa"
MANFRED KERN, Chile
2014-03-28 17:52:39
"En Pisa, La Plaza de los Milagros esta compuesta por la iglesia, el baptistero, el cementerio y la torre, es un lugar maravilloso e impresionante.

Literalmente, me fascina."
Lilia de la Torre, Cuba
2014-03-28 17:31:47
"En Pisa, La Plaza de los Milagros está compuesta por la iglesia, el batistero, el cementerio y la torre, es un lugar maravilloso e impresionante.

Literalmente, me fascinó.

Lilia de la Torre Navarro.

La Habana, Cuba"
Lilia de la Torre, Cuba
2014-03-04 02:49:22
5 from 5
"Es verdaderamente una maravilla. Felicitaciones a quienes nos permitieron apreciar tan portentosa obra de la humanidad."
Jesús Eduardo Campillo Parra, Colombia
2013-12-30 18:44:44
3 from 5
adhu s, India
2013-12-06 19:29:18
5 from 5
"Awesome !!"
Antonio Camilletti, Sr, USA
2013-11-28 05:51:39
"Excelente !!!"
DIEGO GONZALEZ, Costa Rica
2013-10-15 17:29:40
4 from 5
Bob Jose, USA
2013-08-21 16:40:34
"Really wonderful"
swathi sri, India
2013-05-16 11:15:20
"Pisa tower is really very beautiful and fascinating."
kinza shaheen, Pakistan
2013-03-11 16:26:31
"nice job sir..thanks"
falguni PATEL, India
2013-03-06 22:31:46
5 from 5
"Superb. Please add venues from UK"
Hugh Grice, United Kingdom
2013-01-16 02:11:23
3 from 5
"Hi, beautiful, skilled, hopefully someday I'll grasp it as close to the Iranian Baby"
ramin biabani, Iran
2012-11-19 23:16:17
"very good
there is in the our country many beautiful place that you can take picture form it."
effat hoseini, Iran
2012-11-13 02:15:45
3 from 5
"To all these friends: Pisa is not particularly nice. But this square is amazing!
To the user who asked info on the Italian village of Casalzuigno, please contact me."
Andrea BC, Italy
2012-10-31 21:46:51
5 from 5
"Wow! I was there in 1968 and the only thing that looks different is that they cut the grass.

Beautiful job. Thank you."
Kerry Smith, Canada
2012-10-27 01:37:24
"Congratulations"
adan aramayo, Bolivia
2012-10-09 08:32:59
5 from 5
"Thank you so Much, this is ultimate photography, you are truely unbeliveable, I enjoyed so much watching your great photography, God bless you."
Hossein Alimadadian, USA
2012-10-03 23:36:32
"beautiful pictures great work I realy apreciate it"
Henrye Pimentel, Macedonia
2012-10-02 22:25:30
"Very very very Great"
Arad Raoufi, Iran
2012-09-09 12:04:43
4 from 5
"very well try to give the entertanment to peoples who cant come there."
mohammad jhangir, Pakistan
2012-09-06 17:43:45
"i see this images take it vary beutifull. its vary vary nice pictures.i hop that like all person this images"
ajruddin baliyana, India
2012-09-05 09:58:41
5 from 5
"I Love You airpano
you are the best..."
Eliya Kaviyani, Iran
2012-09-01 15:37:59
5 from 5
"very good and nice and pretty and beautiful,etc"
Ali uneci, Iran
2012-09-01 13:36:42
4 from 5
"Excellent job,THANKS ALOT"
Hossein Sadeghi, Iran
2012-08-31 15:04:04
"As an Iranian , I really like it so but I can not come here, but the beauty of Nowhere"
sadegh ., Iran
2012-08-31 15:00:46
5 from 5
"verry good"
baran bidaran, Iran
2012-08-31 14:34:13
5 from 5
"wonderful...
perfect..."
melika ..., Iran
2012-08-31 13:36:13
"very very nice..."
safie kord, Iran
2012-08-28 20:27:40
"Anyone out there that has pictures of Casal Zuigno, Italy, I would really appreciate. My grandparents came from there but I've never seen a picture or anything about the area and I don't know anything about it. I want to send something to the Catholic Church there but I don't have a name. I think my family will be registered in the Church and probably buried from the same church..... Thank you...."
Claire Gehrett, USA
2012-08-26 22:54:35
3 from 5
""niceeeeeeeeee""
Rajen maur, India
2012-08-22 09:19:13
5 from 5
""Outstanding! The historical data most interesting. Well done..""
jie pang, China
2012-08-18 20:02:35
5 from 5
"This is really lovely!

I will be moving to Naples in September and look forward to seeing this in person."
Judith Brown, USA
2012-08-12 17:28:03
4 from 5
"Simply beautiful....."
Azhar Malik, Pakistan
2012-08-06 21:51:23
4 from 5
"Bella! Mille Grazie!"
Steffie Wilson, USA
2012-08-02 21:04:51
4 from 5
"Wonderful.Photos are exceptional."
MITITELU DUMITRU, Romania
2012-07-31 18:14:42
5 from 5
"I enjoyed reminiscing our visit to Pisa. The pictures and the Panorama was mor clear and better than the pictures that we took. Thnaks for posting these panoramas."
Venkatarao Rao, Virgin Islands (US)
2012-07-26 07:16:56
5 from 5
"WoWWWWWW"
dhairyasheel chavan, India
2012-07-23 18:32:00
4 from 5
"I have visited personally with my family in the year 2010. After looking this views it remind me the precious moments spent there. Very good photography""
k.k. mathur, India
2012-07-20 00:51:25
5 from 5
"LINDO...............MARAVILHOSO....."
elvira storf, Brazil
2012-07-19 21:46:16
5 from 5
"Fantastico! Siete veramente bravi. Complimenti e grazie di esistere e di dare al mondo intero una così grande emozione e conoscenza di luoghi lontani"
Joseph Amodio, Malta
2012-07-19 19:12:42
5 from 5
"Am going to Tuscanny in April 2013 and m looking forward to visiting Pisa. Thank you for the wonderful preview"
Sondra Conk, USA
2012-07-19 16:21:39
5 from 5
"Incredible, fabulous"
Liliane Vilaire, Haiti
2012-07-17 07:37:23
4 from 5
"We visited place in April 2006. But this is more interesting view from air than ground view. Keep it up . Ashok, Mumbai ,INDIA"
Ashok PETHE, India
2012-07-15 21:45:39
5 from 5
"itis very beautiful.I live in Italy and I Know Pisa .but to see these monuments from the air is still more interesting .Thanks for your work Liliana"
Liliana Gaszek, Italy
2012-07-15 18:37:33
5 from 5
"ITS A FANTASTIC WORK BY THE ENTIRE TEAM I SALUTE THEM, KEEP IT UP"
SANJEEV KASLIWAL, India
Varvara, AirPano: Thank you. We'll do it.