Moeraki boulders, New Zealand
•
360° Aerial Panoramas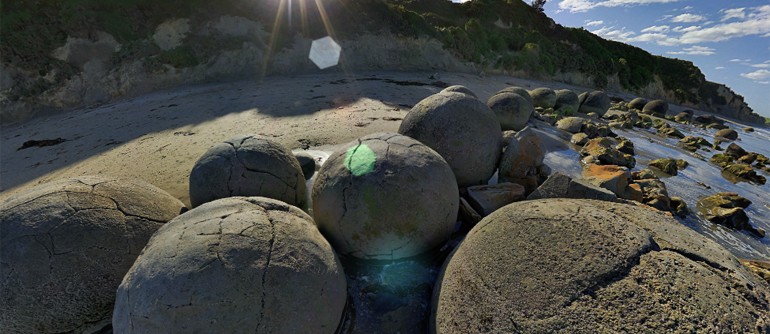 ---
These enigmatic huge boulders of the right spherical form with the diameter from 1 up to 2 meters are located on the Eastern Coast of New Zealand, on the shore of the Pacific Ocean, in the place named Moeraki.
Under certain circumstances they have more than surrealistic view. Look at them:
https://www.horolezec.cz/galery/a_gal_66/zealand/mzeal02.html
New Zealand's inhabitants have different unscientific theories concerning the origin of these boulders.
One of them tells that they are fossil dinosaurs' eggs. The version of aliens' landing, who laid the eggs but couldn't sustain the severe Earth climate, is popular too. According to the legends of Polynesian people Maori, the boulders are baskets with food and pumpkins with water washed ashore from the wreck of an Arai Te Uru, a large sailing canoe.
But real things were another :)
Approximately 60 million years ago an ichthyosaurus, swimming along the shores of present New Zealand, relieved itself (taking in consideration boulders' dimension, it "sent a big sausage" :) directly to the seaside of the warm Pacific Ocean. This mass sank into marine mud and was covered with sand of land swell. During million years this mass was a core and a subject to the processes of thickening, cementation, concretion and minerals' crystallization. Let the geologists correct my story.
About 15 million years ago in Miocene period the seabed uplifted higher than the sea level and erosion forces began their work to form a new landscape. As a result, early formed solid spherical formations were washed off from the subsoil and now lie across the beach of the contemporaneous Pacific Ocean in New Zealand. It's curious, that somewhere these boulders have just appeared from the depth of the abrupt coast.
Here it is a free paraphrase of the book with pictures which I bought for $5 right there, near the round 2meter boulders.
Comments
2014-09-23 13:35:43
5 from 5
"Moeraki Boulders: I live in Moeraki, you cannot lift a fully formed boulder, you would need mechanical equipment. "they cannot be moved off the beach..by erosion they come from out of the cliffs over time..and different sizes..from my shoulders to my knees. cylindrical in shape as in the shots. when a small one appears, people steal them for their gardens? its a short walk up the beach to view them.. a perfect HUGE one is outside the Otago Museum Dunedin. since the place was opened?"
Koa Whitau- Kean, New Zealand
2013-08-23 06:20:34
5 from 5
"Used to live in Moeraki great little place between Oamaru and Dunedin"
Noel Russell, Australia
2013-03-24 15:41:53
5 from 5
"Great set of boulders.But how cum you didnt cast any shadows? Terrific photography!"
Makka McMahon, Australia
2013-01-02 20:28:18
4 from 5
"imprecionantes fotos , los felicito por su trabajo"
carlos cabezas mora, Costa Rica
2012-12-15 03:24:46
3 from 5
"Soy de Venezuela , siempre habia visto paises lejanos . pero no habia tenido la oportunidad de ver , formaciones tan interesantes .espero pasear por esos sitios en cualquier momento...!!!"
hector cedeño ramirez, Venezuela
2012-12-13 07:22:36
3 from 5
""Two meter boulders?" I don't think so.
METER--An appliance for measuring gas or other fluid.
METRE A unit of measurement (metric) WHY do so many people get this wrong?"
Peter Bell, Canada
2012-09-14 16:48:27
5 from 5
"I feel like I've been around the world this A.M. as I have viewed numerous tours. Thank you for this facinating trip while sitting at my computer. These are awesome!!!!!!!!"
Diane Remeta, USA
2012-08-30 04:36:40
5 from 5
"Such a beautiful place! It is so peaceful sitting on the boulders and experienceing the gift of nature. I used to drive past it regularly during my business trips. I have lost count of the number of times that I stopped there and enjoyed morning tea on the boulder yet each time the experience was new. Even the roar of the ocean quietens down if you sit still long enough."
Prem Singh, Australia
2012-08-04 20:17:06
5 from 5
"This is a wonderful place to visit is amazing such big boulders are washed to the shore during storms...i have been to New Zealand 3 times stayed 3 months each time with my freind and he traveled me all over the north and south island i was very lucky as many that live there have not seen all the wonders there is too see,,loved it it is a beautiful country..."
Patricia Taylor, USA
2012-07-31 02:58:02
5 from 5
"Brought back lots of memories from Nov. '09 visit-hiked along the beach among the "dinosaur eggs" !"
Lyn MAIN, Canada
2012-07-31 00:02:12
5 from 5
"fantastic, going to NZ next year, must make sure to see ther boulders."
David Giraud, United Kingdom
2012-07-28 20:59:56
"AmAzInG !!!!!! :)"
vidushi reddy, India
2012-07-28 05:03:52
5 from 5
"I've lived in NZ for 5 yrs but haven't heard of these boulders! will have to get back to see them."
Khanh Nguyen, Australia
2012-07-27 02:17:44
5 from 5
"What a wonderful set of "panos"
No need to wait at airports for hours to see the wonders of the world.
Keep it going on.
Thanks again.
Gerry M."
Gerard Monaghan, New Zealand
2012-07-13 14:31:00
5 from 5
"Wonderful series of 360 degree photos thank you. The derivation of the boulders may be found here. (No animals have been hamed in this messagehttp://en.wikipedia.org/wiki/Moeraki_Boulders.)
"
Dennis Robb, New Zealand
2012-07-12 13:05:40
4 from 5
"Quite an experience to see the boulders whilst touring the Island in February 2012. The composition of the boulders is very interesting as you could see into the core on the broken ones.One part of a fascinating holiday visiting both North and South Islands."
Sonya Field, United Kingdom
2012-07-08 19:47:35
5 from 5
"How much would each boulder weigh, they must be fairly light in order to be washed up. What are the center contents of the boulders. If they are rolled up with the tides then they must become round by picking up the ground material and would then be a solid ball of compressed earth."
Sidney Reinhart, Canada
2012-07-07 14:10:14
5 from 5
"a better description to exactly were in nz boulders found would be helpful to a lot of people john lincoln ex kiwi"
john lincoln, Australia
2012-06-28 13:07:44
5 from 5
"those memories :-)"
Gabriela Ranosova, Czech Republic
2012-06-25 13:37:08
3 from 5
"Visited these boulders on our 2nd trip to NZ in 2006. Fascinating. Only thing was there were more broken boulders than whole, so we were rather disappointed. Maybe we should make a return visit! need to do so as lost visit of Manapouri trip to Doubtful Sound (magical!)"
Robin Stott, Australia
2012-06-18 06:13:05
5 from 5
"I have been here with my husband, it is fantastic. I am from New Zealand originally but had never been here,great food nearby."
angie lovelock-walsh, Australia
2012-06-09 23:43:29
5 from 5
"We visited the Moeraki Boulders in 2002 on our first visit to NZ en route to Manapouri. It was a wonderful holiday and brings back happy memories seeing then in this viewing, sent to us by our cousin in Tasmania."
Doreen Cooper, United Kingdom
2012-06-08 12:51:38
"hOLA, lOLA c.
lOS CERNICADOS POR ALLÍ PASARÁN FRIO. pERO CON dANI, SEGURO QUE NO ;)"
LA LOLA xd, New Zealand
2012-05-12 04:43:41
"Although I now live in Brisbane I was born in Dunedin & lived there for 70 years. The Moeraki boulders are on NZ's South Island East Coast about 80 Km north of Dunedin, a nice day trip. I have visited the site many times & each time is different. The boulders gradually disappear into the sand over a long period but are replaced by others that are washed out of the seashore land by very high tides during storms. This process takes place over a period of years. A lovely place to visit & the adjoining cafe with its' great food & information kiosk helps to make a good day out."
Norman Cotton, Australia
Varvara, AirPano: Dear Norman, your comment is quite interesting. Thanks!
2012-04-28 00:13:03
5 from 5
"This really is a great way to see them ! They always fascinate each time one goes there. Last Sept my longtime friend and I had our 70's celebration picnic lunch at the boulders and once a year my walk group go there to walk the beach checking the cliff face to see if the erosion has uncovered any more."
Maureen Hall, New Zealand
2012-04-23 01:14:36
4 from 5
"I too am a Canadian (rom Toronto) and had the pleasure of visiting the boulders on my first trip to N.Z. in 1985. Twas a lovely sunny day in late January when Shirley and I carried our lunch down and picnicked with a boulder for a seat and it's companion for a table. We marvelled at mother natures creation and that they have stood the test of time for so long."
Jack Grant, Canada
Varvara, AirPano: Many thanks for your informative message.
2012-04-17 07:08:20
4 from 5
"I visited Boulders a few years back. It was a lovely day in February and we had a wonderful walk along the beach/shore in the afternoon,enjoying the sun and the breeze, listened to the people sharing different versions how the boulders were formed. Very interesting indeed! Sure will go back again! Thanks for sharing.
Jess Kwan, Toronto, Canada"
Jess Kwan, Canada
Varvara, AirPano: We are happy, Jess, that you find this pano interesting. Yes, you are invited to visit us again ;)
2012-03-27 02:50:23
"Listeningt to Coast to Coast radio this could have been formed from meteorites falling and forming in the same manner as 'BB pellets' are formed (ie dropping from drizzaling copper from a high elevation into water. Just a consideration"
Orrin Clayton, Canada
Varvara, AirPano: Thanks for the comment!
2012-02-28 17:40:57
5 from 5
"So beautiful and grand. I have tried to make small Pano's, but NOTHING like this..Thank you for presenting it for viewing. I shall forward to my list of friends so that they may enjoy life a bit more."
Dennis Carr, USA