Machu Picchu — the ancient city of the Inca Empire
•
360° Aerial Panoramas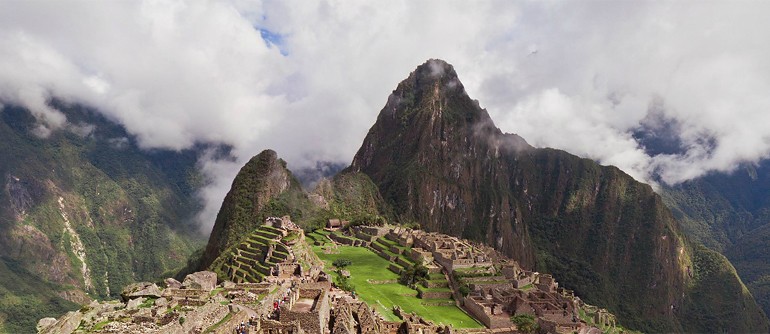 ---
I don't remember the beginning of our journey to Machu Picchu that well... Dima and I flew to Cusco (3600 m above the sea level), and after continuous bargaining hired a cab for local sightseeing. I felt sort of alright in the beginning, but when we arrived to Pisac, the ancient Inca Fortress (about 4000m altitude), my un-acclimatized body inevitably gave up to the altitude sickness.
We planned to spend a night on the way to Machu Picchu in Ollantaytambo at 2600-2700m altitude. I am grateful that Dima booked a hotel there and not in Cusco. I remember only one thing — dragging my feet from taxi to the hotel room and crashing on my bed.
Next morning we took a train to Machu Picchu. By the way, curiously enough there are two types of trains on route: Cusco — Ollyanta — Machu Picchu: one type for locals, and one for tourists (not sure if it is true for the rest of the country though). Meaning if you are a foreigner, you won't be able to purchase a local train ticket. It's definitely something to keep in mind when planning a trip.
The train arrives to a little town located at the bottom of the canyon. One can reach the ancient ruins by a long tiring hike, or by a tourist bus. There are no taxicabs here. In fact, the number of tourists and transportation is very limited here. One more "catch" for a forgetful traveler: if you didn't order your museum tickets online beforehand, you are doomed — there is no ticket registry at the entrance! Number of visitors is limited to 2000 a day for the general area of Machu Picchu, and some corners of the ancient City of Incas are even more restricted.
Being aware of the transportation challenges around Machu Picchu, Dima (sighing and grinding his teeth) booked us a room in the only hotel located by the very entrance to the museum: Sanctuary Lodge. Obviously, monopolization has never helped to maintain reasonable prices. Our very modest room for two with nice little yard was $1200 per night. Please note that the hotel is located a bit lower than the Incas City, so there was no view to speak of. This butter pill of the unspeakable price was sweetened by the fact, that it included everything: food (a modest dinner for two in a local restaurant would cost you about $100), a mini bar and even a Jacuzzi on one of the terraces in the jungle. However, the most attractive feature of them all for us was the location — only 50 meters to the museum entrance. And future events proved that we made a right choice.
And so we have arrived. I quickly assembled the helicopter and tried to lift it off right in front of our room. Despite the altitude of about 2500m, our machine worked just fine. Only our GPS navigator (same as in Nasca!) refused to detect even a minimum number of satellites. Good that we are quite experienced by now to fly this helicopter manually.
Prepared for the first flight, we headed to the museum entrance. The sight of our helicopter shocked the lady at the checkpoint. It took her a while to understand what we were saying about this equipment and how it's used. Following events did not go according to our plan. We were prohibited to bring this equipment onto the museum territory. We reached the Head Manager. This very important man, who spoke zero English, was adamant: "You can only use a professional photo equipment with a special permit from the Ministry of Culture in Cusco. (Round trip would take a whole day, and as we know from our Nasca experience, a person in charge may not even be there). If there is no permit — leave your equipment in a locker by the entrance."
All our attempts to explain (with the help of young museum workers, who volunteered to interpret for us) that we didn't have time to return to Cusco, and that we were willing to pay for the permit on the spot did not make any difference. We used up all our tricks: showing our photos of Egyptian pyramids and other wonders of the world, bagging, offering cash. Nothing! His face softened a bit, but it seemed that he had no interest in taking on responsibility and helping us. As I understood from the conversation with the young associates, the fact that it was no office, nor ticket registry near by meant that there was no way to sell us tickets for professional photography, like they did in Egypt. And we were not the first group that faced this problem in Machu Picchu.
One of the museum workers, who sincerely tried to help us, suggested to send a written request to Cusco and obtain the permit remotely. We jumped on this opportunity and sent an email to Cusco right way. Later we realized that the Ministry is not bothered by problems of foreign photographers who traveled through half of the world with a helicopter in their suitcase. Not that day, nor any of the following days we haven't received a reply.
So that night we withdrew after our first attempt. We left the helicopter in the hotel and rushed uphill to shoot panoramas from a tripod. The museum security was ever watchful: any large bag must be left in a locker by the entrance. Even our panoramic head drew suspicious looks from security, so Dima had to swear that this was amateur equipment. They then left us in peace, but not for long — the museum was closing at 5pm. There was absolutely no way to stay for the sunset. The security couldn't be bribed, as they are afraid to lose their jobs, so money has no influence there.
Sad and disappointed we walked towards the exit. Trying to bug the big boss again we figured out that he — being a big boss — left earlier today. There was a small group of guides by the entrance. One of the guys asked us if we needed help.
— Yes, we replied, we need help. Let's step aside and have a talk.
After a long conversation the guy offered to take our helicopter through the security in his backpack. There was a chance of success, as they didn't check guides that vigorously.
Next morning we began with a raid behind enemy lines :) During the night I disassembled the helicopter, and in the morning three of us packed it parts into backpacks and pockets. I went first carrying remote control and about 7-8 kilos of power batteries in my backpack. I managed to snick in under the radar of yesterday's lady at the checkpoint along with the morning crowd. Our guide arrived to the rendezvous point in 10 minutes. Disembodied helicopter did not fit in his backpack, so we covered it with some plastic bags, which however didn't alarm the security. Dima joined our group in a few more minutes.
The guide suggested starting our session at Huayna Picchu (Wayna Picchu), the remote mountain, which allows a panoramic view of Machu Picchu. There is almost no security there, only tourists taking endless photos of Machu Picchu. In order to access this mountain one has to purchase online tickets beforehand and go through another checkpoint, which opens at 7am. Only 200 visitors are let through. Next group of 200 people can go in only after 10am.
We stood in line. While waiting for the checkpoint to open Dima went to take a few ground level photos of Machu Picchu, and I started filming a documentary. After a few of my comments in Russian for the film, a man standing right behind me introduced himself as "Konstantin from Russia". So we started to talk.
It is a very small world indeed. Konstantin knew about AirPano.ru, and even went to Greenland with one of our founders — Oleg Gaponyuk — a couple of months ago. Naturally, there were 4 of us going up the mountain after that. Our guide went first, jumping from boulder to boulder with ease, Konstantin followed him, then Dima and myself, breathing heavily under our backpacks.
Ascending Huayna Picchu requires good physical condition. The entire path is made of steep stone steps, where one has to use a rope or a wire stretched along side the trail. My mistake was to wear rubber "crocs" which are absolutely not appropriate for this type of climbing. Can't tell you how much I suffered on my way up!
We picked a spot to fly the helicopter. We were looking for the closest proximity to Machu Picchu, but anyway, to my opinion, this mountain didn't work for our purpose at all — too far away from the Inka City. Nevertheless we decided to take off. The guide wisely disappeared: he didn't want to loose his license in case the museum security gets to us. He never asked to be paid for his help. Thank you very much, good man! Only because of him people of Planet Earth will be able to admire Machu Picchu from bird's eye view :)
I quickly assembled the machine, took a deep breath and took off into the abyss. It was rather challenging to fly in strong wind currents near the observation point. However we managed to shoot several spherical panoramas. As soon as the helicopter landed we heard applauding behind our backs: quite a few tourists, apparently, have been watching us from different spots, enjoying our little show.
Unfortunately, after our second flight a piercing whistle came from the top of the mountain and in a couple of minutes we saw a museum worker running towards us. Breathing heavily he couldn't say anything but "Pasaporte!" for the first minute. He grabbed our passports and offered to walk back to the administration. It's worth saying that Machu Picchu security is organized very well. All personnel were in good shape, attentive, equipped with radio sets and apparently never accept bribes.
We had no choice but to pack and walk down. As soon as I took the helicopter apart and put it in the plastic bag, the security officer immediately grabbed it from my hands. Konstantin was taken to the administration with us too. I suggested he conveniently 'get lost' on the way back, but he said that he was not afraid of the problems and would resolve this situation with us. Konstantin spoke Spanish, so this could help in our negotiation with the authorities.
Our escort grew as we descended. We walk through Machu Picchu under an impressive convoy: 3 security guards before us, and 3 behind us — straight to the Chef of the park police. With a help of one of the museum people named Marco, we once again told our story about our non-for-profit project, about lack of time for obtaining a permit, and about willing to pay for the photography right now. Dictated by Marco, the Chef has been writing a protocol for about an hour and a half. They questioned us about how we managed to take the equipment through the security with a special attention. As if people saw us with one of the guides, so "please, tell us his name". We told them that we knew nothing of a guide, that we carried the equipment in our backpacks, and nobody paid attention to it. Museum personnel and Chef of Police pretended that they believed us.
Then they invited their "engineer", who inspected our cameras looking for prohibited photos of Peru's famous sights. Improvising, we made up a new legend for the locals: we only made test flights, and so we couldn't photograph Machu Picchu. True enough, the engineer didn't find any "criminal" images in our cameras. But of course, the entire photo session was hidden on Dima, don't ask me where :)
Our hotel checkout time was approaching. Dima asked the police to let us go and take care of it, and to my surprise they agreed. They only asked to come back later to sign some paperwork and to collect our equipment.
Tired but happy with our little victory we went to pack our stuff in the hotel. On the way, while thinking that we should have let more time to shoot Machu Picchu, Dima suddenly remembered that we had an extra day before our departure from Cusco. Originally we didn't plan to stay in this little and very expensive Tourist Heaven, but after considering all odds we decided to repeat our "assault" of the City.
By the way, if you dare to spend one more night in the Sanctuary Lodge, you can get a discount. Usually visitors spend only one night here. We were lucky that they had vacancies, so we received a 30% discount for the second night.
After lunch we decided to go photographing the city from inside. We stopped by the police office and signed the protocol. They also asked us to seal our signatures with our index finger prints. How peculiar. I took my helicopter and brought it back to the hotel.
News about Russian violators of the air space spread in Machu Picchu like fire. From that moment on every single museum worker knew our faces. Everybody smiled at us, greeted us, and at the same time watched our bags and us closely. We smiled in reply, took ground level photos of Machu Picchu and looked for a way to fly again. By the end of the day we found it.
Unfortunately, our Russian colleague Konstantin could not stay for one more night in Machu Picchu: his trip had to continue to Bogota (Colombia). In a few days he sent us a text message: he was robbed right on a street in Colombia, and so his camera, his backpack and all his photos taken in Peru were gone.
As for us, we decided to fly our helicopter in the morning right from the hotel. Officially the hotel was located outside of the museum territory, and — theoretically, if we flew really high — we could photograph the entire City.
It rained all night. In the morning a large cloud was right in front of our window. Our chances for success were close to zero. I won't event start describing our disappointment. Well, there was no other choice but to go back to the museum.
While Dima shot ground level panoramas, I made a short time-lapse: one hour in the life of the ancient Inca City. The film shows how quickly the weather changes; how clouds appear from nowhere and rapidly dissolve; how the wind changes its course. One moment the sun shines bright, and the next moment it's behind the clouds.
So we got our good weather finally. Of course, there was no guarantee, because you cannot see the City from the hotel, but we were willing to try nevertheless in one of those short sunny intervals.
So I went out to the little yard in front of our hotel room and guided the helicopter up into the air. Not so high, not more than 100 meters. This immediately attracted the security, blowing whistles again. Paying no attention to them I changed the battery and took off as high as I could — the helicopter was almost invisible in the sky. Whistles became stronger, but they were helpless as they were on the museum territory, on the terrace, about 50 meters above us. After the second flight the sun was gone. We moved our equipment indoors, just in case. Interesting that nobody came to arrest us this time. Later I tried to talk people at the checkpoint into letting me fly from the bus station in front of the checkpoint, but they told me if I try it again, they'd call the police. Then, having left the RC helicopter at the hotel, we decided to climb the second mountain's top where the ancient Inca city lies down at the foot of the both mountains. The first mountain is called Huyana Picchu, the second one — Machu Picchu, which is visited by the tourists much less.
The path to this mountain goes through about 500m elevation. The trail is made of stone steps. All steps are counted: 1700! Usually the path takes one hour and a half, but we spent about two hours climbing up with our backpacks. We got into the storm on the way and got soaked through and through.
The view of Machu Picchu from the top of that mountain was magnificent! It is absolutely worth time and effort. Unfortunately, there was almost no sun light on Machu Picchu. And after our descent the weather turned bad completely: it rained and rained till the dark.
Flying in the mountains in such weather is a suicide, so we quickly packed our equipment, and went to say good-bye to Machu Picchu, the most famous treasure of Peru. New travels and new photographic adventures awaited us: Cusco — Lima — Santiago — Easter Islands. But this is a completely different story...
Story and photography by Stas Sedov and Dmitry Moiseenko
19 March 2012
Comments
2018-03-02 08:53:50
5 from 5
"Doğasıyla da tarihiyle de harika bir yer. En çok beğendiğim şeylerden birisi de drone görüntüsünde farkettiğim otel oldu. Sadece otelin olduğu yerde orman kesilmiş, otelin bittiği yerde orman başlıyor hemen. Burda olsa otelin 3 katı kadar otopark yeri açarlardı, orman felan kalmazdı orlarda. Ah vatanım ah.."
Yusuf Ziya Öztürk, Turkey
2018-02-14 20:44:21
3 from 5
"weight loss medications
metformin weight loss
weight loss supplements for women
weight loss pills that work
weight loss drug"
Taylah Call, Italy
2017-03-03 20:00:06
"Can't believe you didn't check the permit situation before you left."
Terry Black, United Kingdom
2016-09-20 13:59:56
5 from 5
"Ellerine sağlık. Verdiğiniz uğraşlara değmiş."
SERMET ÜNEL, Turkey
2016-05-22 12:26:43
"I think that now is the best graphic work for this renowned tourist location, Machu Pichu, about. Congratulations to the authors!"
Daniel Horváth, Hungary
2016-03-08 18:58:42
5 from 5
"I have never seen such a beautiful site..
Excellent job."
srinivas G, India
2015-09-14 14:12:09
5 from 5
"Dear Sirs,
I was born in Peru and I want to congratulate you for the excellent work. Machu Picchu is one of the great wonders of the world. Hopefully you can make other videos of many beautiful places in Peru and you can get the respective authorizations in advance to avoid disappointment. It caught my attention the background music, The Last of the Mohicans, which although not native to Peru, I felt it as such. By the way, what orchestra, band or group performs the music video? This version makes me shudder and I had never heard before. I want to tell you that, when I have time I do virtual tours around the world, with your videos. These are excellent. I would appreciate your response."
Luis Arcela, Israel
2015-06-01 19:47:07
"Pretty section of content. I just stumbled upon your site and in accession capital to assert that I get in fact enjoyed account your blog posts. Anyway I'll be subscribing to your feeds and even I achievement you access consistently fast."
Aurora Gurley, Cape Verde
2014-11-14 03:10:12
5 from 5
"Ñïàñèáî Âàì áîëüøîå! Ýòî òðîãàòåëüíî ïðåêðàñíàÿ ðàáîòà ñ ìîíóìåíòàëüíûìè ñîçäàíèÿìè òðóäà òåëà è äóõà ÷åëîâåêà. Çàìå÷àòåëüíî, ÷òî áëàãîäàðÿ Âàøåé àêêóðàòíîé ðàáîòå ïîÿâëÿåòñÿ âîçìîæíîñòü ó äðóãèõ ïðèêîñíóòüñÿ ê ýòèì òâîðåíèÿì ïóñòü ïîêà è çàî÷íî. Ñïàñèáî Âàì."
Íàòàëüÿ Ðåíåãàð, USA
2014-09-02 23:37:03
5 from 5
"adorei esse site mto interresante..."
Nicoly Camara Ingryd Goulart, Brazil
2014-09-02 23:33:43
5 from 5
"este site e muito interesente mas poderiam colocar fotos melhores e videos bem legais de MACHU PICCHU. o seu site foi muito bom para a nossa pesquisa de historia"
vitoria e viviane freitas e novais, Brazil
2014-07-25 18:36:30
"Pretty nice post. I just stumbled upon your blog and wanted to say that I have really enjoyed surfing around your blog posts. In any case I will be subscribing to your feed and I hope you write again very soon!"
Adriana Mullins, Lesotho
2014-07-22 18:34:32
"Greetings from Ohio! I'm bored at work so I decided to browse your blog on my iphone during lunch break. I love the knowledge you present here and can't wait to take a look when I get home. I'm surprised at how fast your blog loaded on my mobile .. I'm not even using WIFI, just 3G .. Anyhow, great site!"
Amelia Richey, Ethiopia
2014-06-29 09:44:56
"Gracias Stas y Dmity por mostrar al mundo esta maravilla al mundo. Me siento muy orgullosa de ser peruana y tener de ancestros a los Inkas . He visitado cinco veces Machupicchu, y cada vez quedo más impresionada pues es un sitio mágico. Vuestro trabajo es simplemente excelente!!. Sigan mostrando las maravillas de nuestro planeta, mucha suerte y bendiciones.
Sonia Macedo, Perú"
Sonia Macedo, Peru
2014-06-29 09:37:26
5 from 5
"Gracias Stas y Dmity por mostrar al mundo esta maravilla al mundo. Me siento muy orgullosa de ser peruana y tener de ancestros a los Inkas . He visitado cinco veces Machupicchu, y cada vez quedo más impresionada pues es un sitio mágico. Vuestro trabajo es simplemente excelente!!. Sigan mostrando las maravillas de nuestro planeta, mucha suerte y bendiciones.
Sonia Macedo, Perú"
Sonia Macedo, Peru
2014-05-31 03:54:26
5 from 5
janisjayarterbury@gmailcom arterbury, USA
2014-03-16 22:34:00
5 from 5
"Love it. I have a picture of myself standing on that same outcropping of rock on Huayna Picchu as in the 4th photo down :) It was much easier to get around in Machu Picchu when we went!"
Kelly Cannon, Peru
2014-02-27 11:49:43
5 from 5
"high speed internet has finally paid off! the best think I ever seen online (but reef bikini contest maby). But still!!! I spent 4 hour yesterday watching panoramas..."
Michal Falken, Poland
2014-02-25 22:40:18
5 from 5
"excelente fotos amigo, muy bueno el video"
Juan La rosa, Peru
2014-02-25 01:48:25
5 from 5
"its great different inca ken hahahaha"
Tyson kennedy, Trinidad and Tobago
2014-02-19 01:51:59
"GRACIAS POR DAR A CONOCER, NUESTRAS CULTURA INCA QUE ED MACHUPICCHU LA HUMANIDAD ESTA AGRADECIDO POR TODO."
ROLANDO HUANCA HUISA, Peru
2014-01-16 04:52:34
"hazle click sobre la flechita para que vueles sobre machu Pichu."
margarita morato, Colombia
2014-01-13 16:30:57
"wuauuuuuu"
Hector vieira, Spain
2014-01-08 20:03:07
5 from 5
"IMPOSIBLE, EXPLICAR CON LOGICA !, ESTA MARAVILLA DE LA HUMANIDAD. AIRPANO=EL MEJOR."
German Porras, Colombia
2014-01-05 02:07:31
5 from 5
"Nosotros los Latinoamericanos y Caribenos estamos orgulloso de nuestra historia, de nuestros paises y de nuestro futuro.
Estas fotos de Machu Pichu nos muestran la grandeza de nuestras civilizaciones indigenas, tan maltratadasd por nuestros gobiernos y por los que en el mundo consideran que son duenos absolutos de nuestros destinos.
Gracias por estas bellas vistas, el pueblo de Peru merece esto y mas, mas temprano que tarde se abriran las grandes alamedas y los pueblos como Peru conoceran su verdadera independencia y soberania, como lo fueron nuestros antespasados."
Jesus Yanes, Cuba
2014-01-04 21:09:56
3 from 5
"Al ver todas éstas fotos (gráficas) de esta parte del MUNDO, PIENSO QUE FASCINANTE Y MISTERIOSO ES NUESTRO PLANETA,gracias por hacer este tipo de trabajo..."
Luis Orozco Gómez, Venezuela
2013-12-10 15:28:06
5 from 5
"This is a fantastic story which I read with much interest because I went to Machu Pichu in the 1980s and recognised many things that you describe the train from Cusco, Ollantaytambo (did you look at the ruins there?), Pisac, the hotel outside the old city (my first experience of Pisco Sour!), the city and the climb up to Huayna Picchu. Excellent."
Jim Breeds, United Kingdom
2013-11-11 03:55:02
5 from 5
"Man this is what the internet was born for ,me and my son loved this we both sat and both our jaws dropped at this ,see all your hard work and teeth grinding paid off.hats off to you mate, both of us spent 10 minutes on the couch watching this .Thank you."
Darren Michie, United Kingdom
2013-10-03 21:16:47
5 from 5
"OMG AWESOME PICS! You made me understand how beautiful this world really is. Bravo!"
Jacob Lau, USA
2013-09-28 12:30:20
"it.s very nice.please iran.s panorama inside the websit"
erfan zandi, Iran
2013-09-17 11:29:15
5 from 5
"thanks .all of the places are as natural as I think I am there! but I recommend you to put some places in Iran at this site ,too.
Iran is a beautiful country too"
keyhan salamat, Iran
2013-09-16 10:15:54
5 from 5
"Thank you guys for coming up with this idea ! For those of us who may never get to go there and even if we could, this aerial view can't be beat ! Encore Encore !!"
Sean Hanns, USA
2013-09-01 23:59:31
5 from 5
"Čuda sveta 3D"
Lokatelj Marijan, Slovenia
2013-08-14 09:28:39
5 from 5
"You people should be given the keys to every city on the planet. What your work does for those who are shut in's or suffer physical impairments is beyond my ability to describe. If I were not so poor I would send you money. Just know you are appreciated."
Ronald Willison, USA
2013-08-04 16:59:57
5 from 5
"Excellent informataive work to capture the hidden cite from third world country."
sohail jandal, Pakistan
2013-07-31 19:47:27
5 from 5
"Amazing pictures, congratulations and thank you! I've been on a similar situation and the "protocol" they made me sign was a police statement (in spanish) that they didn't let me copy. I am living in Lima at the moment and just got a letter from the court house asking me to attend on August 15th. Did you manage to copy the "protocol"? do you know what it says? am I in trouble??"
Ernest Wilkinson, Canada
2013-07-19 03:15:51
5 from 5
"ESPECTACULAR!!!!! Gracias por compartir con el mundo."
Roberto Caminos, USA
2013-07-13 23:44:05
5 from 5
"Una de las maravillas de America, su panorama es fantastico,sus ruinas bien conservadas,se le debería pedir a los Estados Undios que devuelva todas las piezas arquelogicas que se llevo Bighmam, el descubridor de Machu Pichu que se llevo del Peru para "estudiarlas"y nunca devolvió.Fantastica civilizacion.Remiendo visitar tambien TulumCoba y Chicehen Itza en Yucatan,Mexico,son impresionantes.Las culturas de America son deslumbrantes."
Nicolas VERINI, Argentina
2013-06-24 21:49:45
5 from 5
"Wonderful !"
Tatjana Trobec, Slovenia
2013-06-24 03:13:55
5 from 5
"Simplesmente estasiante!
Revivi toda a emoção que pude sentir quando me deparei com esta maravilha do mundo. Obrigada aos produtores desta obra que tanto possibilitam a quem não pode ter este privilégio."
Emiliana Maria Ferreira Pereira, Brazil
2013-06-07 16:39:51
5 from 5
"Thanks i really needed this for a project at school

i'm in 5th grade"
Bradley Armstrong, Canada
2013-05-23 23:47:36
5 from 5
"Thank you so much for this wunderfull vidio en pictures."
Hans van Dijk, Netherlands
2013-05-23 12:40:05
5 from 5
"Thank You for sharing this !!! :-) Beautiful images, and the music.. what is the titel of the music? I would love to listen to it again:-)) Keep the hard work up - it's magic!"
Ana Kochel, Poland
2013-05-19 21:19:16
5 from 5
"Very very nice pictures and a very intested command about the journey. Good luck and thank you so much for the public views. Manfred"
Manfred Stockle, Germany
2013-03-23 09:08:01
5 from 5
"estuvimos mi esposa e hija en mayo 2012,escalamos el Wayna Picchu hasta su cima; es indescriptible la sensacion de paz, lo grandioso y espectacular de su construccion MACHU PICCHU. MUY BUENAS TOMAS Y LO AGRADABLE DE REVIVIR LA SENSACION DE HABER ESTADO AHI,"
HUGO FRANKLIN YABAR FERRER, Peru
2013-03-21 19:45:49
5 from 5
"Îòëè÷íàÿ ñúåìêà!Êðàñèâûå ìåñòà,ñîõðàíåííûå ïàìÿòíèêè âïå÷àòëÿþò.Âû òàëàíòëèâûå è ìóæåñòâåííûå ëþäè.Âàøè
ðàáîòû ïîçâîëÿþò íàì óâèäåòü ïðåêðàñíûå,óíèêàëüíûå
ìåñòà íà çåìëå.Ñïàñèáî!!!Æåëàþ êîìàíäå íîâûõ ïîáåä
è áëàãîïîëó÷èÿ!"
Ýëüâèðà Ôåäîð÷óê, Russian Federation
2013-03-05 21:18:46
5 from 5
"he estado varias veces allí, es mágico es algo que no se puede descifrar y decir en palabras, si quieren sentirse en un lugar desconocido donde solo existe paz y tranquilidad visiten MACHU PICHU, simplemente"
VICTOR SOTO DE LA CRUZ, Peru
2013-03-02 14:05:20
3 from 5
"simply superb"
shishira rani george, India
2013-02-28 17:25:31
5 from 5
"Phenomenal panorama of the site...I was there four years ago...a haunting, spiritual experience...the mist of the early morning evaporates into wonderful paradise of a panorama...highly recommend this unique WHS...and the this presentation does it justice, thank you!"
tony Fantillo, Canada
2013-02-10 11:06:15
5 from 5
"Very nice pictures. I would like visit Machu Picchu in 2014. What is the best month for visit this area, please?

Thank you for answer."
Metod Hromník, Czech Republic