Las Vegas at Dusk and Night
•
360° Aerial Panoramas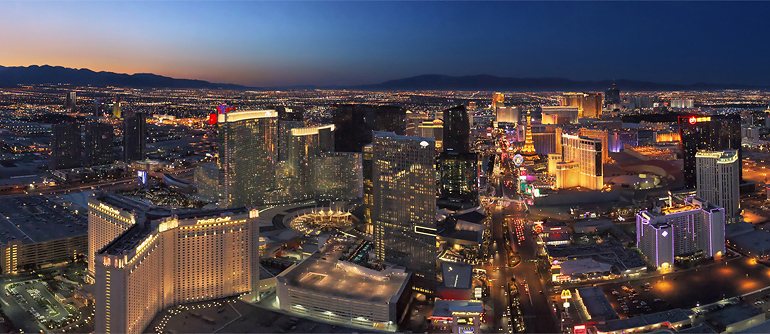 ---
After we had taken the first and the third prizes in the contest Epson International Pano Awards, had shot the spherical panorama at a speed of 250 kilometers per hour, had made the aerial gig-panorama, had dived and had shot from inside the microwave oven, in a supermarket our photographer Dima Moiseenko bought the book "Ten Easy Ways to Improve the Quality of Your Photos".
The first advice on "Which camera is better?" we didn't appreciate because we had already got the camera. The second advice on an objective was not useful too due to the same reason. The third advice: "When making a portrait, focus on the eyes of a model" was useless as we don't make portraits.
In general, we understood that we had already got enough experience and had achieved much in shooting because none advice, we had read in that book, was useful for us yet.
But, suddenly, Dima, who was reading that book for us aloud, raise his forefinger up. It's an ordinary thing when Dima, using such gesture, says something wise and that is why we were all ears. Dima was reading slowly: "Buy a firm tripod. It allows you to fix safely your camera making night shooting". Well, we appreciated that information as we had never shot night aerial panoramas. Staying silent a couple of minutes Dima announced that nobody had ever shot it before, perhaps.
Frankly speaking, it was strange that we had not still realized it because the advice itself was so easy. So, without any delay we went to a shop and bought the firmest tripod we could find there. In order to check our new purchase Dima with his new tripod left directly for Las Vegas. There he with difficulty put the tripod into a helicopter and flew up to shoot a night city.
And, in general, he succeeded indeed.
28 November 2011
Comments
2016-10-10 21:38:00
5 from 5
"Выберите вид №3 New York, MGM, Excalibur, Tropicana, поверните картинку так, чтобы слева было зелёное здание MGM, а справа - аэропорт выкрутите зум на максимум и в небе над горизонтом увидите три НЛО!
English: select view #3, move panorama, place MGM building from the left side and airport from the right side, zoom in to maximum and youll see three UFOs up in the sky!"
Alex L, Ukraine
2014-12-22 00:29:24
"comme au ciel c`est comme un reve merci"
Clement Grandmont, Canada
2014-12-09 03:13:37
"Everything is very open with a really clear explanation of the challenges. It was definitely informative. Your website is useful. Thanks for sharing!"
Louanne Langham, Netherlands
2014-07-25 01:37:15
"Hello, i think that i saw you visited my site so i came to "return the favor".I am attempting to find things to improve my site!I suppose its ok to use some of your ideas!!"
Damion Nance, Qatar
2014-06-18 04:19:10
5 from 5
"very nice panorama !!!of las vegas .....montreal nord quebec canada"
alice tremblaycanada, Canada
2014-05-22 00:05:07
"Ich liebe Amerika und Las Vegas, nur eine erstaunliche Land"
Scott Kornfeind, Germany
2014-05-11 02:12:56
5 from 5
"WOW!!!"
Diana Michel, Canada
2014-05-09 05:45:29
"Good!!!!!!"
Douglas Haunss, Brazil
2014-02-26 13:38:41
"everything is fine and in peace"
wang xp, China
2014-01-31 14:24:46
5 from 5
"Hallo AirPano,
schon wieder bedanke ich mich sehr herzlich für diese herrlichen Aufnahmen. Wir waren im November 2013 in Las Vegas! Auf meiner Homepage habe ich auch diese Stream eingebettet, herzlichen Dank für diese hervorragenden Bilder!"
Andreas Büttig, Germany
2014-01-27 06:28:12
5 from 5
"Just great, trough out the years, I have paid for most of the carpet, in the Mirage!!!!!"
Joost Thoen, Canada
2014-01-13 16:44:28
5 from 5
"muy buen trabajo!!!!!!excelente fotografía...."
ernesto adolfo russo, Argentina
2014-01-06 19:33:57
5 from 5
"Visited Las Vegas Couple of years back. Browsing with Google 3d was like going down memory lane. Once we get sound effects too on google 3d , I am sure international travel will be from the couch!"
brij panjwani, India
2013-11-12 01:24:42
5 from 5
"Great! As a retiree I have not as much money to travel and see face to face all this interesting and nice and exotic countries. Now I can see them in virtual reality and enjoy this views without spend money and be tired from heat and cold and running hundred of kilometers."
Frank Vlcek, Czech Republic
2013-10-29 01:17:16
4 from 5
"In a word: beautiful"
Peyman Ahmadi, Iran
2013-10-23 15:28:52
5 from 5
"Fantastic-Super"
Maria Teresa Carrera, Spain
2013-09-23 07:32:13
"Its really awesome,fantastich..."
sree latha, India
2013-09-16 19:13:03
"Bahoot Bahoot acha hai meri taraf se 5 maise pure 5 star hai .
Thanks"
Phool Chand Khatumria, India
2013-09-16 19:11:39
"Bahoot Bahoot acha hai meri taraf se 5 maise pure 5 star hai .
Thanks"
Phool Chand Khatumria, India
2013-09-01 11:46:02
"ان چيسه اخه ري
باييد رشت شومره بگم چي بيدينيد"
vahid ss, Iran
2013-07-20 00:37:45
"veri niiiiiiiiiiiiiiiiiiiiiiiiiiiiiiiiiiiiiiiic"
baran hydari, Iran
2013-06-23 21:40:06
5 from 5
"Fantastic"
alfonso caycedo, USA
2013-06-15 07:53:07
5 from 5
"Fantastic!!"
Ruby Brull, USA
2013-05-25 00:16:07
5 from 5
"Realy amazing ."
Ali Alkazaz, Iraq
2013-05-24 05:15:44
5 from 5
"WOAOOOOOO!!!!"
Katto Daniel, Venezuela
2013-05-14 12:21:32
5 from 5
"very, very wonderful"
Herman Janssens, Belgium
2013-03-23 22:46:28
4 from 5
"very nase"
dubravka bihler, Yugoslavia
2013-03-20 00:46:51
5 from 5
"Thanks! Emilia Pausan, Romania"
Pausan Emilia, Romania
2013-03-14 22:01:22
5 from 5
Hugo Chavaz, Venezuela
2013-01-29 07:19:57
1 from 5
"Amazing"
Yasmin Amin, Bangladesh
2013-01-29 05:57:01
5 from 5
"This old, bold pilot really enjoyed the show. What an experience!"
Henry Donaldson, USA
2013-01-28 05:59:12
4 from 5
SAN AYE, Myanmar
2012-12-16 19:30:27
5 from 5
"nossa muito bom !!!"
lilian oliveira, Brazil
2012-12-13 00:55:31
5 from 5
"Spectacular, just amazing."
Carol. Enos, USA
2012-11-14 18:47:47
5 from 5
""awesome" "hunbling" "breathtaking" Thankyou."
Jeffrey Clements, USA
2012-11-13 03:38:55
3 from 5
simon brahs, Italy
2012-11-12 02:41:02
"fantastic............"
douglas haunss, Brazil
2012-11-11 20:37:42
5 from 5
"Trance itself.
I also admired by the activities that people ..."
kil jae Lee, Korea
2012-11-08 03:08:26
5 from 5
"Simply AWESOME! What talented human beings on this planet and they share their special gifts with us THANK YOU"
June Kerr, Australia
2012-10-17 15:12:20
5 from 5
"Marvelous site. Its wonder.I recollected I stayed in Las Vegas when on holiday staying . Had a marvellous time i stayed in MGM Grand Hotel, played in casino......""
D Prasad, India
2012-10-10 20:33:23
5 from 5
"Beautiful what talent"
David Hitchcock, United Kingdom
2012-09-18 17:01:42
"hi,iran is beautiful too,please register of iran,example holy shrine,mashhad,Damavand,persian golf,Kish Island,gheshm island,Khazar sea,Northern Forest and etc
please put our country photos"
Ali Uoneci, Iran
2012-09-17 23:41:56
"Amazing & wonderful place,I hope visiting LA."
Rookhosh Ali, Iraq
2012-09-15 11:54:05
5 from 5
"Superb photography, it really makes you feel you are there. Keep up the excellent work."
Tony Shaw, United Kingdom
2012-09-14 18:24:54
"nice"
mohammadreza amin, USA
2012-09-14 12:24:01
"ITS AMAZING. GREAT WORK. ITS LIKE WONDER."
SEJAL RAJPUT, India
2012-09-10 08:24:44
5 from 5
"This is my favorite one! awesome!!! excellent!!"
Madushan Adithya, Sri Lanka
2012-09-09 04:08:35
5 from 5
"I just came back from Las Vegas and this video brought it all back in full color and vision.
AWESOME,
Thanks."
giovanni stagnaro, Panama
2012-09-04 15:45:04
5 from 5
"night and dusk is very very awesome..
i been to vegas stayed in caesors palace..
i want one more thing in this thats if we can read the Hotels names too . I only could Hollywood .."
anju sharma, India
2012-08-31 15:45:00
"Really nice , but Iran is more beautiful why of the beautiful anywhere in this website is not registered ! ?"
sadegh hajian, Iran