New York. Remembering 9/11
•
360° Aerial Panoramas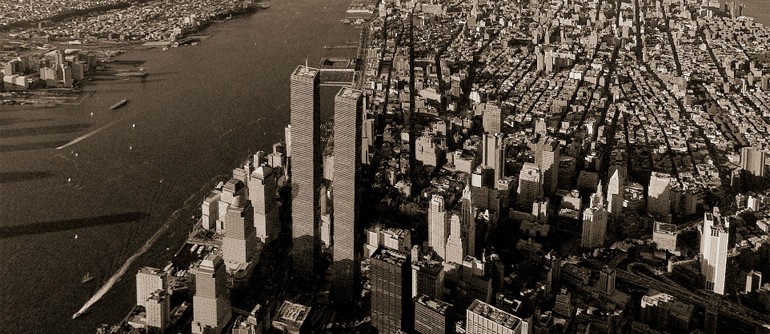 ---
The expression "Ground Zero" has several meanings. Previously, this phrase had only a general meaning — it meant "an area where any explosion took place", "the epicenter of an earthquake". However, after September 11, 2001, the expression "Ground Zero" became associated with the tragic events of that day when terrorists hijacked four airplanes and directed them at several major US structures, including the World Trade Center (WTC) Towers, located in the southern part of Manhattan in New York.
Nowadays "Ground Zero" is considered to be a new beginning from when the world started living a different reality. This expression also has a direct meaning — the level at which construction of the World Trade Center first began and the level at which it ceased to exist as firefighters and first responders continued to clear the rubble and debris in search of survivors...and the dead.
The original World Trade Center was a complex of seven buildings, designed by Minoru Yamasaki, an American architect of Japanese descent. It was officially opened on April 4, 1973. The two Twin Towers were the architectural dominating structure of this complex. Each tower had 110 stories: The North Tower (417 meters high, 526.3 meters high including the roof antenna) and the South Tower (415 meters high). For some time after the completion of the buildings the WTC Twin Towers were the highest sky scrapers in the world, even taller than the Empire State Building. Oftentimes, the towers were referred to as "the symbol of the US world domination" and one of the reasons why they became the terrorists' targets.
For the past ten years, the construction of a massive Memorial has been underway. However, the construction will continue past the proposed opening date of the ten-year anniversary, as "Ground Zero" is a very sensitive subject for Americans. Every idea associated with this memorial is the subject of lengthy discussions. As a result, the plans for the "Ground Zero" museum construction in place of the World Trade Center couldn't be completed for many years because of the criticism from the family members of the perished. The construction of the museum will not be completed by September 2011 but the opening is planned for next year.
There was no consensus to place the cross where the tragedy took place because the representatives of other non-Christian religions were against it. Furthermore, Christians belonging to different denominations joined the discussion and began debating about the type of cross (Lutheran, Catholic or some other type) they wanted placed where thousands of people of different denominations lost their lives.
Nevertheless, the Memorial Complex will officially open its doors to visitors on the 10th year anniversary of the Nine Eleven tragedy. It is known that it will have waterfalls, when listening to them one will remember about the perished people and think about the short duration of life. These water cascades are going to become the largest man-made structure of this kind in North America. After going through different levels, the water will finally fall into the pools situated at the locations where the World Trade Center towers once stood.
Here we present two panoramas: the first one was shot in May of year 2011. The second panorama is digitally reconstructed and showcases the view of New York in year 2001. With its help we can imagine how Manhattan looked before 9/11 when the World Trade Center towers still stood there.
5 September 2011
Comments
2015-08-18 21:16:50
5 from 5
ioannis boul, Greece
2014-11-12 14:10:22
"very best photo in my life"
wenli wu, China
2014-10-14 21:20:46
4 from 5
Thulani Phillip Mahlangu, South Africa
2014-01-22 02:55:14
5 from 5
"Kudos ! All your panoramas are very breathtaking, excellent, awesome photography including this one!!!

Thank you very much for your amazing, super hard work and best efforts for creating these experiences!!!"
A M, USA
2013-10-21 05:07:26
"This is very exciting. Thank you"
Floriana Alleyne, Italy
2013-10-21 05:06:38
"This is very exciting. Thank you"
Floriana Alleyne, Italy
2013-10-14 19:03:12
1 from 5
"very well"
annie volpe, France
2013-08-31 10:34:34
4 from 5
"so cool how did you film them?
so pretty always wanted to go to new york!
pipxxx"
Philippa lantel, France
2013-08-25 17:26:33
5 from 5
"enoyed v much!"
uson wong, Hong Kong
2013-05-18 22:39:38
5 from 5
"its amazing. sometime its difficult to believe it. its before my eyes.. but it has an severe impact in my mind. many a thanx.."
ARUNANSU SATAPATHY, India
2013-05-05 17:36:51
5 from 5
"ALL TERRIFIC SITES"
SAM MALBI N, South Africa
2013-03-22 05:01:03
5 from 5
"Great idea! Well done. Congratulations!"
tomas kenedi, Brazil
2013-03-18 16:10:48
4 from 5
"es fascinante ver las fotos que quedaran en el recuerdo de las personas que aun pueden ver. felicitaciones"
alejandro vargas hostos, Colombia
2013-03-13 19:14:23
5 from 5
"fascinating!
cannot say more, . . . ; I am out of words."
Johann Mayrhofer, Austria
2013-03-03 19:27:21
5 from 5
"Straordinario lavoro, complimenti e grazie di cuore"
maria luisa re, Italy
2013-02-11 22:31:19
5 from 5
"thank for your great work"
rostam mondegarian, Iran
2013-02-01 16:39:20
5 from 5
"I am awestruck. I used to live there, and wanted to guide it uptown to my old neighborhood but I couldn't. The music was haunting and so appropriate to the subject. Thank you for this awesome work."
Sunbringer Geroulo, USA
2013-01-12 08:28:26
5 from 5
"Amazing...and sad..."
cristina siegel, USA
2013-01-05 13:11:21
5 from 5
"just stunning no other words to say"
paul stanley wood, Australia
2012-10-25 14:03:21
5 from 5
"Stunning photography, can't stop looking at the wonderful images that you have here"
Peter Adley, United Kingdom
2012-10-25 04:30:44
5 from 5
david buzzell, USA
2012-10-24 08:39:44
"Thank you by the extraordinary and mervailhose work."
Luis Sousa, Portugal
2012-10-23 13:50:33
5 from 5
"It was the best"
Rohan kh, India
2012-10-13 14:12:33
5 from 5
"Wonderful panoramas - you are to be congratulated! Particularly love one of my favourite cities in the world - NYC - the city that never sleeps! Was there 3 years ago - post the tragedy of WTC - actually went to the site, which was so moving! Said prayers for all those affected in St Patricks - an incredible church so close to the site! God Bless America - and NYC."
Toni Woodward, Australia
2012-08-16 00:23:55
2 from 5
"Years ago I would take visitors to top of tower and tell then we will have a drink at River Club in 10 minutes and DO IT !!!!"
Daniel dineen, USA
2012-08-15 05:45:11
"hey bros i wus luving in nyc in the mid 90's eh ind ut wus awsome, top place but the biggirs drove me nuts eh!! uf i ivir cetch the swines thet dud those bed thungs i wull personally smesh them eh bro!!"
iki takahumani, New Zealand
2012-08-12 20:44:16
5 from 5
"I have only watched the panaramas of Moscow and Manhattan and I am absolutely gobsmacked! They are wonderful examples of what can be achieved by those who have the verve, patience and passion. And you have displayed all of these qualities. I will enjoy experiencing many more of these panaramas. I am also green with envy at your success. Thanks for the pleasure!!"
Edward A Brett, United Kingdom
2012-08-07 06:41:09
5 from 5
"I THANK THE GOOD LORD THAT I CAN SIT IN FRONT OF
MY SCREEN AND WITH A CLICK I CAN SEE THE MOST
BEAUTIFUL PLACES IN THE WORLD.A SPRITUAL HIGH!!!!"
FRANCIS RATH, USA
2012-08-06 11:15:55
1 from 5
"I like to enjoy by sawing every things in beautiful world."
ranjith nandana, Sri Lanka
2012-08-04 05:54:20
5 from 5
"Wow!! This Photography is so Awesome, very Spectacular and so Amazing to View Manhatten NYC I have Satyed in Manhatten back in 1997 and saw The Twin Towers, and it broke my Heart to not see them again in 2007 on my last visit only to remember those that lost their lives on 9/11. May God Bless America and Her People, The Land Of The Free and The Home Of The Brave. In God We Trust."
Barbara Cotter, Australia
2012-08-04 03:48:57
5 from 5
"Many years ago I wrote a poem on Manhattan so much I love NYC and always will. Congratulations on this marvelous movie!

Jeannine Poler"
Jeannine Poler, Netherlands Antilles
2012-07-27 19:12:00
5 from 5
"There are no words. I am a Proud New Yorker and I will NEVER forget that day... Let us all pray daily for Peace."
Donna Carroll, USA
2012-07-25 12:05:47
5 from 5
"incredible! i lived & designed greeting cards for an american company for 6/7 years - when the first twin was finished,
they allowed to go to the top floor - see the view. i did go up.it is heart breaking..."
cyla menussi, Israel
2012-07-23 23:35:05
5 from 5
"Fantastic web site and photography.
Being raised and educated in NYC--attending my high school reunion four days after the towers came down--looking at those before and after pictures brings back bitter sweet memories. Keep up your excellent work."
Doris Helveston, USA
2012-07-20 13:39:39
5 from 5
"Words cannot express the feeling of grief and sadness at the awful site of those beautiful buildings collapsing and, worse still, the appalling sight of people falling to their deaths. How can human beings be so cruel to each other. We in the United Kingdom have had our fair share of terrorist tragedy and feel for all who are similarly suffering. The video is outstanding and wonderful. My congratulations to those who produced it"
Bob Flower, United Kingdom
2012-07-19 12:03:14
5 from 5
"I do miss the site of the WTC, tallest building in the world. I always say a prayer when I remember Sept 11, 2001 and can't help being emotional about it. I look forward to seeing the new structures replacing the what used to be WTC. It must also be a beautiful site to behold and to remember the loved ones who perished. It will be a very emotional experience, I can imagine. Thank you for the beautiful video."
Mariemel Nierras, Philippines
Varvara, AirPano: Grateful for your message.
2012-07-18 23:41:57
5 from 5
"Hi, it is fantastic, NY is a greate town,regards from Warsaw !"
Marek Jaworski, Poland
2012-07-16 15:15:12
5 from 5
"Very touching. Thank you for preparing this. Everyone needs to be able to see this, so heartbreaking. I didn't see how to save this. I guess I will carry my lap top around open. More people need to see and remember. God bless you."
Eileen Hughes, USA
Varvara, AirPano: It nice to hear that. Good luck.
2012-07-06 09:59:32
5 from 5
arvind patel, India
2012-07-03 01:56:28
5 from 5
"In my home country I used to wonder wats all the gr8 things of Manhantan and WTC, but after visiting NY in June 2012, I was amazed of the beautiful tall structures constructed side by side. I imagined myself what WTC was before and now, with the coming up of the Grand New Structures. My sympathies to all those who fell pray to the dirty people of razing the towers down. Another beauty was the Empire State Bldg. Every street, shop, restaurants, the Wax Museum the theaters, very very nice to see them both during the day and night. Night life in NY with the glaring lights is marvelous. Given another life to live I wish I am in NY. I pray God that Man's action should be only of construction and not destruction in any manner. May God punish the bad. Dima thanks to U. What I missed seeing while in NY I have seen it in your photographs."
Sunku Shunmuga Sundaram, India
Varvara, AirPano: Thanks for sharing your opinion. We appreciate it.
2012-06-29 10:32:39
5 from 5
"Fantastic idea, Amazing, truly fabulous, good job done who created this!!!"
Shariq Anees, Pakistan
2012-06-29 03:17:50
5 from 5
"I loved the view from internet. Thank you for sharing. All the best to all who came up with this idea. Keep up the good work!
Mrs. Soni,
NY, USA"
illa soni, USA
2012-06-27 04:09:46
5 from 5
"Thank you so much to the one having the ideal to creat this.The 9/11,never can we forget."
Lan Truong, USA
2012-06-23 18:09:09
5 from 5
"Thanks for superb photo of my favorite city.
We need to keep 9/11 always in mind. Please see www.AE911Truth.org. 1700 registered architects and engineers call for a proper investigation of buildings brought down by controlled demolition. Also see www.patriotsquestion911.com. Retired American generals, colonels, U.S. Navy captains, etc. call for true investigation. The NIST report is a fraud. You and I helped foot the bill!"
Stanley Beattie, USA
2012-06-23 04:00:17
5 from 5
"What would we all do without computers now? some of the emails I get are just soooo amazing, but this one tops them all. Thankyou to whoever did this, the world is wonderfull."
Josey Griffin, Australia
2012-06-22 03:17:49
5 from 5
"thank you for your pictures,i have been visiting new york since the 1974 and always rushed to the observation level of the world trade centre ..have not been able to visit ground zero ,,too sad ..god bless all the people who lost their lives god bless america for their courage,,i will visit NYC this dec.. and say a prayer at ST.PATRICKS"
warren hanneman, Australia
Varvara, AirPano: Many thanks for your interest in this pano! It's nice you'll visit the city that never sleeps in about a half of year. Have a nice trip there!
2012-06-14 04:20:22
5 from 5
"He said it all"I had a dream".
One day we will have them both "Peace and Freedom"
God willing."
Ralph Ross, Australia
2012-05-31 21:36:48
"Thank You! God Bless America !"
Florin Torsan, Romania
2012-05-30 19:13:27
5 from 5
"Utterly and profoundly poignant!"
Kathy Colvin, USA
2012-05-30 07:24:12
4 from 5
"Excelente, gracias por ayudarme a recorrer y ver esta imágenes!!!"
Ana Maria Grossi, Argentina