Florence, Italy
•
360° Aerial Panoramas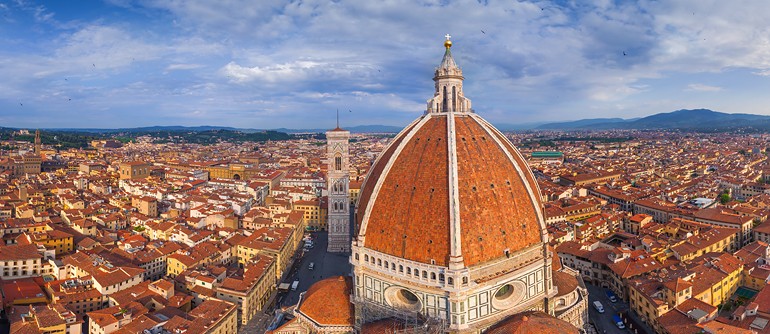 ---
As any other ancient city, Florence has a lot to offer to tourists. However, its distinguishing feature is not presented in architectural elements, but rather in continuous connection with history and culture of the world.
First settlements on the shores of Arno River are recorded in 59 B.C. From the XII till XVI centuries the city has been a capital of the independent Republic of Florence. By the XIV century economic development of the region was ahead of almost all other countries in Italy, as well as in Europe. This was also where Italian Renaissance has originated shaping the human culture for future centuries.
Dante, Petrarch, Boccaccio, Giotto, Leonardo da Vinci, Michelangelo, Machiavelli, and many other great Masters lived and worked in Florence. "Law of Perspective", an essential part of the modern visual arts studies, was invented here. Two continents (North and South Americas) are named after Italian seaman, Amerigo Vespucci.
All Florence attractions are connected to its famous citizens one way or another. Great Italian sculptor, an artist, an architect, a poet, a thinker, and one of the greatest Masters of the Renaissance period, Michelangelo is buried in the Basilica of Santa Croce. Many of Michelangelo's masterpieces, including famous "David", which became a symbol of Republic of Florence, were created here.
Michelangelo participated in the creation of the Basilica of Santa Croce, which became one of the oldest temples of the city and the resting place of the legendary Medici dynasty.
The Uffizi Gallery is the largest museum of European art and the most visited museum in Italy. It is based on a collection of the Medici family.
Florence Fine Art Academy was the first painting academy in Europe. This is where Leonardo da Vinci's artistic talent was revealed. As a student of Andrea Verrocchio, the most famous painter of his time, Leonardo was tasked to finish a painting of an angel on a large canvas. He did it with such excellence that his teacher Verrocchio dropped his paintbrush and never touched it again.
Ponte Vecchio, the oldest Florentine bridge surrounded by houses on both sides, is considered a meeting place of Dante and beautiful Beatrice, who became a muse of the great poet. The story of their romance saved Ponte Vecchio during World War II, as German army spared the bridge while destroying all other bridges over Arno River. On top of that, Germans made a deal with advancing American forces: they would not blow up the bridge if Americans promise not to use it. For the sake of saving the cultural heritage not a single soldier set foot on Ponte Vecchio.
Florence rightfully takes place among most important attractions of Italy. With the size of 100 square kilometers (which is 25 times smaller than Moscow, and 12 times smaller than New York City), Florence is a home for such a great number of monuments and museums, that an unprepared visitor often experiences a culture shock. French writer Stendhal first described this psychosomatic disorder (now called "Stendhal syndrome"), which was later confirmed by psychiatrists in multiple cases.
Fortunately for us, photographs of Florence cannot fully convey the legendary atmosphere of Florence, and so we invite you to the breathtaking, but safe, flight over the cradle of Renaissance and the greatest cultural treasure of mankind.
Photo by Dmitry Moiseenko and Stanislav Sedov
25 November 2013
Comments
2015-12-12 03:43:15
"Todas las presentaciones son una belleza, mil felicidades y muchas gracias por darnos esos trabajos tan bien hechos."
Guillermo Gonz#225lez Orozco, Mexico
2015-03-23 20:21:38
5 from 5
"Lo reitero sin acentos ni la letra enie.
Espectacular!!! Nunca habia imaginado conocer Florencia en la forma magistral que lo hace vuestro trabajo.
Acercar con el zoom el Ponte Vecchio, da la sensacion de estar viviendolo.
Muchas gracias, y felicitaciones!!!"
Rogelio Emilio Pascual Montoto, Argentina
2015-03-23 20:16:36
5 from 5
"Espectacular!!! Nunca hab#237a imaginado conocer Florencia en la forma magistral que lo hace vuestro trabajo.
Acercar con el zoom el Ponte Vecchio, da la sensaci#243n de estar vivi#233ndolo.
Muchas gracias, y felicitaciones!!!"
Rogelio Emilio Pascual Montoto, Argentina
2014-06-11 23:10:44
5 from 5
"I recently returned from Florence and is a very nice way to revive memories. Italy is the land of my ancestors and it is very beautiful."
Michal Tomasy, Czech Republic
2014-03-26 09:00:45
5 from 5
"This has brought tears to my eyes...I was there after the flooding of the Arno River to help with restorations.You have helped bring back so many heartfelt memories...I dearly thank you so very much.It is my most favorite and loved cities in the world...Thank you."
Ted Davis, Thailand
2014-01-31 18:10:46
5 from 5
"Como Agente de Viagens e ex-professor universitário no Curso de Turismo, asseguro que este é um dos mais expressivos trabalhos já realizados e o que nos é importante: disponíveis na Internet. Cumprimentos aos seus autores e mantenedores. Saúdo a todos desde Uberaba-MG, Brasil."
Araújo Nelson, Brazil
2014-01-13 12:29:05
5 from 5
José Luis Benito Castroverde, Spain
2013-12-12 11:48:18
5 from 5
""Thank you for these splendid images."
IOAN PASCU, Romania
2013-12-06 19:18:02
5 from 5
"Thank you ! Being of Italian heritage, I hunger for for these kinds of presentations, and this is the best I have seen. God Bless."
Antonio Camilletti, Sr, USA
2013-12-02 20:36:40
5 from 5
"Beautiful!"
Justin Smith, USA
2013-11-30 00:59:07
5 from 5
audrey Alesio, USA
2013-11-29 03:04:25
5 from 5
"Magnificent travelogue of Firenza, had the pleasure of a couple of visits to the beautiful, historical City, and now realise how much I didn't see"
Marg Oakhill, Australia
2013-11-26 19:21:36
5 from 5
"Woooonderfull !."
German Porras, USA
2013-11-26 04:56:39
5 from 5
"Thank you for this painfully created presentation of the heart of an all time great civilization that could only be described as parallel to Greek culture. It would not be incorrect to say that modern architecture still continues to draw lessons and inspiration from what is at Florence."
Chhagan Bharadia Bharadia practicing architect, Canada
2013-11-25 22:20:46
5 from 5
"Muy bueno, conozco Florencia y la vista es explendida, es una pagina para recomendar"
Rogelio Zanuzzi, Argentina
2013-11-25 16:09:20
5 from 5
"Very nice work, as always! beautyful colors!
I wonder if the flare is at the right place on pano #3 ?!"
Eric Malherbe, France
Varvara, AirPano: Thank you very much, Eric! We appreciate your effort. We fixed the sun glare :)
2013-11-25 11:53:21
"Conosco bene la citt? di Firenze, ma le immagini di airpano la rendono straordinaria!"
Maria Grazia De Nardi, Italy
Varvara, AirPano: Grazie mille, Maria!
2013-11-25 11:40:56
5 from 5
"beautiful"
mahendra kothari, India
2013-11-25 11:35:20
5 from 5
""Excellent show, perfect, thank you for the beautiful presentation""
Karel Hofmann, Czech Republic
2013-11-25 10:56:53
5 from 5
"Wow!!.."
Nor Azman Mat Nor, Malaysia
2013-11-25 09:53:44
5 from 5
"Nice"
Karthik Reddy, India