Eiffel Tower, Paris, France
•
360° Aerial Panoramas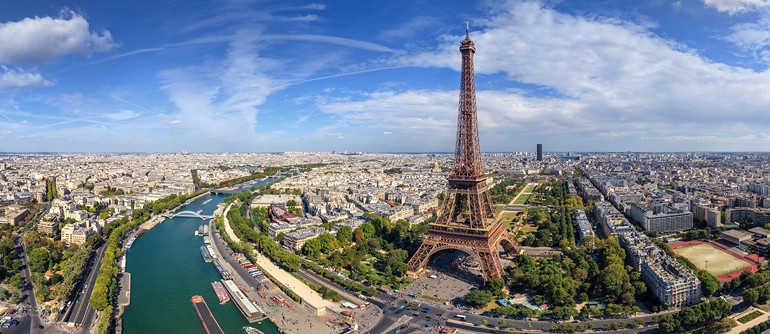 ---
The Eiffel Tower...
One might ask, "What else is there to say?" There is hardly a person in the world that doesn't know or haven't heard of the famous Paris landmark.
Well, we are going to tell you what you might already know anyway. In 1889 French Government organized The Grand World Fair to commemorate the hundredth anniversary of the French Revolution (1789). As you know, first impression counts, so the organizers had to put their best foot forward — they decided to build something interesting and worthy of the event.
They had only five years to finish the project: from blue prints to a finished tower. So it's only fair that French were not able build something as colossal as the Pyramid of Cheops in Egypt, which took twenty years of construction.
Open competition for the project received 107 proposals (with a lot of unusual ideas, such as a giant guillotine, for example). The choice was made in favor of the design presented by an engineer Gustave Eiffel and his associates.
The construction took two years, two months, and five days; it mobilized 300 workers. They were able to meet a short construction deadline thanks to the high quality drawings with exact dimensions of more than 18,000 metal parts, made of 2.5 million rivets. None of the beams weighed more than 3 tons, which made it easy to lift metal parts up to certain spots.
Eiffel's genius left nothing to a chance: from proximity to the River Seine (which required the use of bridge-building technology) to a weather influence. As a result, the huge tower is not affected by wind. The strongest wind in recent history of Paris (180 km / h) shifted the top of the tower only by 12 centimeters. The sun does more damage to the "Iron Lady", because the sun-facing side expands in the heat. However, it's within the normal range: only 18 centimeters, which in terms of the entire structure is rather insignificant.
Today, the Eiffel Tower in Paris is a 300 meters tall (324 meters with antennas) structure weighing approximately 10,100 tons. It has been the highest building in the world for over 40 years — almost 2 times higher than the tallest buildings of it's time: the Pyramid of Cheops in Egypt (146.6 meters), Cologne Cathedral (156 meters), and Ulm Cathedral (161 meters) in Germany. It was until 1930 when the Chrysler Building, one of New York sights, surpassed the Paris landmark.
The Eiffel Tower is so unique that even its color, resembling the natural shade of bronze, is officially patented as "brown-Eiffel." And it's so famous that its small replicas can be found in Las Vegas (USA), Guangzhou and Shenzhen (China), Slobozia (Romania), Copenhagen (Denmark), Varna (Bulgaria), Aktau (Kazackstan) and other cities. Nowadays it belongs to people (not just people of France, but of entire world), and its images and representations are in public domain (which means that current owner of the Eiffel Tower, the city of Paris, doesn't receive profit from sales of millions of postcards, T-shirts, and other souvenirs). However, a special light show on the tower is copyrighted, and so commercial use of "Iron Lady" images is allowed only with the written permission of its service company, SETE.
The Eiffel Tower in Paris is the most famous monument of the city, of the country, and, perhaps, of entire world. However, big fame has played a cruel joke on the tower: according to surveys, tourists consider it the most disappointing tourist attraction in the world.
Why? Because its image is so widely distributed that seeing it with one's own eyes doesn't make an impression anymore. Not to mention that to get to the top, one would have to stand in a long queue and then squeeze through a dense crowd of tourists taking panoramic photos of Paris.
However, now you have a great opportunity to be impressed by the Eiffel Tower, to enjoy its beauty without a fuss, and to see panoramic views of Paris!
Photography by Stanislav Sedov and Dmitry Moiseenko
9 September 2012
Comments
2018-01-11 20:10:18
5 from 5
"WOW! That was amazing"
Liam Duffy, USA
2018-01-01 12:49:47
5 from 5
"Super View of great tower. i wish i could be there one day. INSHALLAH"
Asif Ali Siyal, Pakistan
2017-06-14 04:32:44
5 from 5
"Tours are wonderful. Such talent! Can't wait to share these with my students."
Tina Deets, USA
2016-12-25 03:47:11
5 from 5
"It's so good, I feel like I wanna weep"
Seif El-Din Mahmoud, Egypt
2015-08-01 18:01:05
"Realy outstanding and charming city... I will try to go here for visit after completing my degree."
Muhammad Irfan, Pakistan
2015-01-10 13:38:41
"very nice2015"
shakeel ahmad, Pakistan
2014-12-10 07:00:28
5 from 5
"OMG I love it"
Jessabeth Rubio, USA
2014-12-04 14:10:00
4 from 5
"Its fantastic!!I will come there soon!"
BARAN B.T, Iran
2014-10-26 14:04:18
5 from 5
"Ma m#232re et la ville bien-aim#233e est de Prague , mais Prague est une belle ville de Paris"
Monique Plagne, Czech Republic
2014-09-08 19:04:13
3 from 5
"Paris is just wonderful!!!I have already been there once and it seems like imma at paradise!There is lots to say about her...nd la tour eiffel...is just mindblowing!!!Go to the top and you will never feel like coming down...my dream is to go to Paris...nd the last thing I want to say is JE T'AIME PARIS!!!"
Khushi Rajpuria, India
2014-08-26 07:03:31
""París la cuidad del amor es mi sueño ir a parís se que iré es, es una cuidad ten hermosa no me importan los kilómetros ni el riesgo ""
Gabriela alejandra, Guatemala
2014-07-26 18:05:59
"I'm gone to tell my little brother, that he should also pay a quick visit this webpage on regular basis to get updated from most up-to-date reports."
Titus Sandberg, Sudan
2014-06-23 14:40:38
"nice , very nice"
amir ebrahimi, Iran
2014-06-05 18:16:32
5 from 5
"This Monument looks very fascinating....I am doing this wonder of the world for a school project...I Love this place it looks GAWGEOUS"
Makenzie jenkins, Ireland
2014-04-23 20:00:03
3 from 5
"this is really pretty someday i will come there paris is so beautiful and paris is really pretty i hope we can visit someday"
samixiya and sylvie mahat and munga, Mexico
2014-02-22 05:34:12
"this country is amazing...!! cool !! I wish someday .. makapunta ako ng paris.. :(
gusto ko makita ang eiffel tower.."
jenny baja, Philippines
2014-02-08 12:47:28
5 from 5
"So romantic place it's se great for to sweet lovers"
Ak Sharma, India
2014-01-23 22:55:03
5 from 5
"amanzing!!!!!!!"
pedro plascencia, USA
2013-12-26 14:56:41
5 from 5
"PARIS :*"
Sint Aw, Indonesia
2013-12-12 03:17:36
"PARIS IS BEAUTY CITY
AND MY WISH IS COME TO YOUR COUNTRY TO SEE PARIS &
EIFFEL-TOWER"
nasrin mansouri, Iran
2013-12-02 19:59:22
1 from 5
"I wont apperitiate this because that the french people are known for their mastery in nature where we see the roads, town planning,construction of bridges ect ect in pondicherry. And they treat all equally all in all ereas. There is more to say. Long live france &french. Bon"
parthasarathiy venkatanarayanarao, India
2013-11-29 20:59:08
"It is Great work . Cant believed wonderful great."
Jayantha kulathunga, Sri Lanka
2013-11-19 14:08:52
"eiffel toweris is one of the most beautiful thing of tha world.
i always want to see it...."
Nihaal Chauhan, India
2013-11-11 23:35:01
5 from 5
"Olha, Marcia que maravilha, acho que eu nunca vou conhece este lugar tão lindo e voce não gostaria de conhecer? vamos juntas? bjs"
Marcia Lamarca Sbano, Brazil
2013-10-29 17:44:43
"it really takes my breath away"
georgi miller, USA
2013-10-05 14:34:29
5 from 5
"really is good nice Paris contrey like"
awais hayat, Pakistan
2013-10-05 14:29:42
1 from 5
"is very nice Paris"
awais hayat, Pakistan
2013-09-22 07:30:59
5 from 5
"Incredible site and sight!! I can't stop rotating and zooming. I love your presentation...and the Eiffel Tower never ceases to amaze me. I've seen it once years ago, and your panorama is so true to life...THANK YOU!!
Rachael, USA"
Rachael McCleary, USA
2013-08-25 19:00:47
5 from 5
"It is so beautiful thank you"
Hengame Tavoosi, Iran
2013-08-04 10:05:38
"Awesome ....to be continue in this kinds of great work...thanks"
arifin hoque, Bangladesh
2013-07-11 23:32:15
4 from 5
"amazing picture"
fernando aleppo, Syrian Arab Republic
2013-05-28 18:49:59
"Beautiful
someday i will, fallin in love, go shopping, drink coffe get lost and have fun in PARIS :*"
Rennasa Gennoveza, Indonesia
2013-04-10 16:21:35
5 from 5
"I wish I could have one printed in a large frame. Do you sell them ? If not, you should. Thank you."
Elisabeth Paton, United Kingdom
2013-04-05 13:07:50
4 from 5
"i like this"
mang piang, Myanmar
2013-03-21 14:18:45
5 from 5
"IK HOU HEEL VEEL VAN PARIJS FANTASTISCHE STAD"
freddy bogaert, Belgium
2013-03-15 17:26:27
4 from 5
"it's so beautiful
pariisss je taimeeeeee"
Melli Gusti, Indonesia
2013-03-13 08:49:08
5 from 5
"I have visited this wonderful place with Jadugar Anand. It is wonderful.......very goooooooooood."
Dinesh Sharma, India
2013-03-09 13:38:53
4 from 5
"AMAZING AND EXCELLENT VIEW OF THIS TOWERING EIFFEL TOWER. WE RE LUCKY THAT WE HAVE SEEN THIS.
YUNUS AND SOFI MALA, MUMBAI, INDIA."
YUNUS MALA, India
2013-03-06 17:36:19
"Bonjour, je suis un Aleyna Turk je serai grand, je t'aime Paris, en France, alors j'espère que je rêve de devenir un flic ou un avocat, j'espère qu'il y aura une bonne journée à tout le monde, mais j'ai eu une bonne journée à une Amérique Turquie Je suis Türki'yede pas une bonne journée à vous tous encore une fois :)"
Aleyna Nur Koyun, American Samoa
2013-03-01 01:56:30
"oh it,s nice picure"
khaled basher, Jordan
2013-02-28 14:23:43
5 from 5
"Excellent work...........Thank you for showing amazing view :)"
raaj dasari, India
2013-02-11 21:56:03
4 from 5
"really excellent,attractive."
sudhir hota, India
2013-01-31 02:23:14
5 from 5
"verrrrrrrrrrry goooooooood your site and photooooooooooooooos"
javad dadgar, Iran
2013-01-21 23:19:41
5 from 5
"its very beutifull,I"ll wish see soon"
m.reza eskandari, Iran
2013-01-17 11:49:50
5 from 5
"I have lived for almost 2 years 200m from La Tour Eiffel et j'adore Paris !!!
I visit the city of light every year..!
Akrivos, Thessaloniki, Macedonia, GREECE."
Akrivos Stergiou, Greece
2013-01-16 14:28:13
5 from 5
"Thank you so very much for showing us all this magnificent beautiful piece of engineering and architectural tower! Over 200 years now, and still dominated the city of Paris looking beautiful."
Krishnamurthy Hegde, India
2012-12-20 07:47:03
5 from 5
"There is nothing to say about the above particle wonderity, this is amazing and high high quality things around world. This is worlds pride. I want this tower must have remained well and protected."
chandan chatterjee, India
2012-11-27 19:50:28
5 from 5
"thank you so much.it is really wonderful"
john esfalani, Iran
2012-11-27 03:12:25
5 from 5
"I have just found your wonderful site....thank you for providing access to the beauty of the world to everyone."
Coral Callaway, Australia
2012-11-27 02:19:49
4 from 5
Patty Gern, Dominican Republic