Chicago, Illinois, USA
•
360° Aerial Panoramas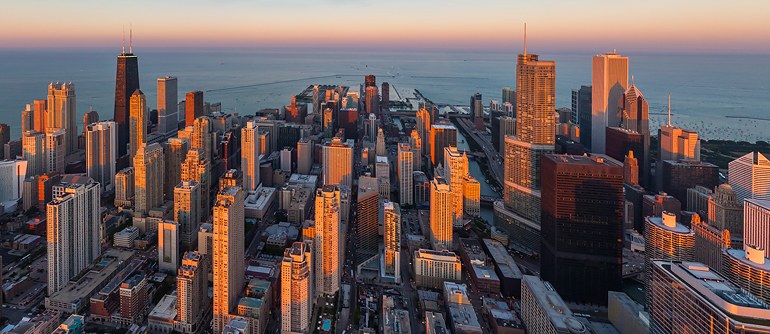 ---
One of the most famous cities in the world — Chicago — got its name from the word «shikaakwa» which is Indian for «Wild Lily». Indeed, the city resembles a beautiful flower, though its present look has been forming for more than the last century.
Chicago has its own soul and individuality. In this city one can admire three different periods of the world's architecture simultaneously. Actually, that is very unusual for such a young country like the USA. We can 'thank' for that the famous 1871 fire, which almost wiped Chicago off the face of the Earth.
Now it is impossible to determine the cause of the fire. There were various versions of what had happened: from a cow that overthrew an oil-lamp to a comet. Whether or no, the fire was raging as many as three October days. Having devastated the southwest, the fire 'overstepped' the southern branch of the Chicago River and continued destroying the entire 38-year history of the city.
But after that Chicago was built practically from scratch, making it possible to turn into reality the boldest architectural experiments of that time. By the way, the first skyscrapers in the USA appeared in that very city: the land price was very high, so the city had no other choice but to grow up.
Nowadays, 3 of the 60 tallest buildings in the World are in Chicago; the 442-meter Willis (Sears) Tower is among them, it is the second highest building in the USA. Chicago also takes the second place by the number of skyscrapers in the USA: 114 buildings with height of more than 180 meters. New York City takes the first place with 216 skyscrapers.
Along with this, you shouldn't think that Chicago is just a city of strict skyscrapers with the tiny people-bugs. The main part of it consists of 2-3 storey buildings including those of a completely classic style with their propylaea, porticos and arcades. There are beaches and parks in Chicago including famous Grant Park and Millennium Park. The city sculptures are also represented in all the genres of art: from classics to high-tech.
And besides achievements in urban planning, Chicago has another thing to be proud of. Walt Disney, Michel Obama, Hillary Clinton, Ekaterina Yushenko, Ernest Hemmingway, Anastasia and many others are in the number of its famous natives. The classic American author Theodor Dreiser called Chicago 'Florence of the Western States' and 'Literary capital of America'; now Chicago is considered to be a theatre capital of the country.
While walking along the quay (or having a bird's eye view of the city), it can seem that Chicago is situated on the seashore. Water spreads out in every direction as far as the eye can reach. However, it is not a sea, but Michigan — one of the Great American Lakes; its name is Indian for 'Big Lake'. It is 500 km long and 190 km wide, its total area is 57 750 km² making Michigan one of the 5 biggest lakes in the World.
And there is one more interesting thing about Chicago. There is the only river in the world that flows in the reverse direction. It is the Chicago River. In 1990 its flow was completely reversed because of a very common domestic question. In the end of the 18th century, at the time of the urban growth, the city suffered a great problem because sewage was dumped into Lake Michigan, so it resulted in the lack of pure water. The problem was solved through complete reverse of river flow along with the construction of sewage treatment plants towards the Illinois River.
It would be endless to talk about Chicago but there are no words to describe the charm and splendour of it. The city that subdued nature and didn't contradict it; the city that said a new word (and not only one!) in architecture; the city of records and famous people — it is worth seeing, not simply talking about it.
Photo by Mike Reyfman
27 January 2015
Comments
2016-04-06 07:45:24
5 from 5
"Beautiful.."
Ed Nelson, USA
2016-03-24 23:56:43
"WOW, Amazing, wonderfull city, #304 like it"
batu bayar, Mongolia
2015-01-30 00:06:42
5 from 5
"Amazing..."
Iwona Kundys, Poland
2015-01-29 23:22:45
5 from 5
"Very nice views and very good work as usual!
You have some broken bridges or stiching problem on pano 7, nadir point."
Eric Malherbe, France
Varvara, AirPano: Thank you, Eric! We've corrected the image.
2015-01-28 00:25:22
5 from 5
"Asombroso Amasing"
German Porras, USA
2015-01-27 12:25:06
"Beautiful.The heart of USA. Please shoot London.

Wish you all best"
Edin Mujezinovic, Bosnia and Herzegovina
2015-01-27 11:42:54
5 from 5
"Very beautiful presentation beautiful city, thank you"
Karel Hofmann, Czech Republic
2014-09-24 00:37:56
5 from 5
"BUEN DÍA. HISTORIA TAN BELLA AUNQUE LAMENTO COMIENZO PERO SE LEVANTARON NO SE CRUZARON DE BRAZOS. NUNCA HE IDO PERO VEO POR PANORAMA UNA HERMOSURA TOTAL Y ARQUITECTURA FENOMENAL. GRACIAS POR COMPARTIR. ABRAZOS"
RHAIZA CASTRO, Venezuela
2014-08-21 20:22:07
"Estudié en Loyola en esa inolvidable ciudad. Amo a Chicago y a su gente."
Fernando Diaz del Castillo, Colombia
2014-04-15 01:38:55
5 from 5
"I was born and raised in Chicao's west side at Lake Street and Cicero Ave., in the Austin District. Great transportation and many things to do, always something to do. Moved to suburbs when married and to Florida when I retired. My oldest son lives in a suburb and I still come back to visit. Austin High School Reunions have drawn me back, too, and I've been to wonderful Navy Pier and a Chicago River architectial boat ride. Finally made it to the top of Willis Tower/Sears Tower my last visit in 2012 with a granddaughter and her son. What a marvelous view of my great city from the observation deck."
Jimmie Jo Hixon, USA
2014-04-02 05:52:38
"Belo, lindo, maravilhoso."
AVELINO COELHO, Brazil
2014-01-23 00:54:43
4 from 5
"estuve en 1997 y espero volver y subir otra vez al sky line,y visitar toda esta maravillosa ciudad,que me dejó encantado,y esto lo dice una persona que es de una de las ciudades mas bonita de Europa.Sevilla."
antonio guerrero escudero, Spain
2013-11-27 10:41:05
5 from 5
"Chicago.. una maravillosa ciudad. The Beans para no olvidarlo... una obra maravillosa."
Luis Chiang, Peru
2013-11-26 22:02:49
"I did love looking Chicago where I was there 3 years. Very nice city.Until now I miss Chicago.
Ani Wrublewski"
Ani Wrublewski, Brazil
2013-08-28 14:36:05
4 from 5
"He estado alli varias veces tengo una hija viviendo muy cerca.
He viajado por el rio tiene unos edificios espectaculares lastima que el invierno dura mucho y hace mucho frio"
ascension Silveti SWorazu, Spain
2013-07-26 14:21:19
"Chicago, wait for me..."
Harsh Malik, India
2013-06-17 06:13:02
5 from 5
"chicago...i will com soon with DV viza...I Love CHicago & peoples"
kourosh sm, Iran
2013-04-25 23:35:47
5 from 5
"One of the most beautiful cities i've seen. I've been in Chicago 1997. I love Sheed Aquarium, History Museum and Michigan Lake, I'll neer forget. Amazing ! Miss Chicago !"
Luciana Jacob, Brazil
2013-04-16 12:19:30
"test"
pauls kim, Korea
2013-04-04 21:45:10
5 from 5
"My kind of town. Awsome job."
Anna B, USA
2013-02-03 21:07:25
5 from 5
"very gooooooooooooooooooooooooooooood"
ibrahim mohamadi, Iran
2013-02-02 17:52:32
"jest przepiekny .Moglabym tak ogladac godzinami,byleby tylko nieznizac lotu."
danjol42843 barbaruna, Greece
2013-01-17 03:21:42
5 from 5
"exciting view from Chicago!...so pretty!...what about Washington D.C??? is it possible to watch it in the near future???... as always...in one word JUST WONDERFUL!!!! CONGRATULATIONS!!!!"
Marta Tobar, Chile
2012-12-16 13:51:31
4 from 5
"Wish to see Timber Pass Mundelein."
R N KAPIL, India
2012-12-04 11:00:11
5 from 5
"I have traveled to many of the wonderful cities listed, but there's no place like home---Chicago. Thanks!"
Sondra Chesler, USA
2012-11-04 20:18:05
5 from 5
"Wow, great job !! I had the chance to stay many times to Chicago the last four years, and fell in love with the city. Forever in my heart !"
Jerome Lienard, France
2012-10-17 16:03:41
2 from 5
"My wife and I visited Chicago 4 years ago. We loved the city, the people and the music. We will be back someday to hear those blues again at Legends Bar."
Paul Bosas, Australia
2012-10-14 15:38:28
5 from 5
"AN EXCELLENT CREATION. VERY VERY FINE, HELPFUL AND VERY INTERESTING AND INFORMATIVE..CONGRATS TO CREATORS !"
PANDURANGASWAMY V V, India
2012-10-11 05:26:38
"Chicago....Well, just as Frank Sinatra says in the song....! Chicago is my kind of Town...! Gtreat Place.. At lot to do...Good Restaurants..And above all Great People of Chicago....!"
Joe Surowiecki, USA
2012-09-21 03:14:40
5 from 5
"Chicago is the best, most beautiful, fun city in the world. I have traveled to many big cities of this world and non can compete with my home town. I do not live there anymore but do visit often and get my fix on the great city of Chicago!"
Joan Cook, Mexico
2012-09-16 15:02:45
2 from 5
"lindo"
nivaldo duarte de oliveira, Brazil
2012-09-14 02:38:15
5 from 5
"Its nickname "Windy City" got its name from the politicians, not the wind. Although it can be quite windy especially on the Michigan Ave. bridge. Millenium Park and the river walk along the Chicago river are two of my favorite places."
Josette Carpenter, USA
2012-09-06 14:41:53
"I love this city!!always gonna be in my heart!i love u CHICAGO!!"
chinbat chinbold, Mongolia
2012-09-01 16:14:31
5 from 5
"Wonderful Chicago panoramas. I needed to explore this city because of my work and this site with its magnificent air panoramas is the best I could find. It helps much better than just street view. Many thanks."
Igor Semenov, Russian Federation
2012-08-31 18:37:08
5 from 5
"Oh I'm not that rich to think about visiting wonderful Chicago! so all of you guys when looking at those beautiful flowers and nice places, don't forget me please!
Thank God for giving us the great opportunity to live in this beautiful and majestic world.
with best wishes for you all, Darush."
Darush Rad, Iran
2012-08-25 21:25:53
5 from 5
pegah alavi, Iran
2012-08-17 17:05:39
4 from 5
"Nice job! Only two comments: Chicago gets its name for the very smelly wild green onions that used to grow all over. I was always told that its name means 'stinking onion.' Secondly, to the old sour pusses who can't stand their old feelings about the city: A lot has changed on the last 20 years, and it truly has become a beautiful, cosmopolitan city."
Rob Johan, USA
2012-08-14 22:12:34
5 from 5
"The beautiful flowers everywhere. The beautiful hotels especially the Drake where we stayed. The troly took us around the city. The spectacular view of the city and Lake from the top of the Signature restaurant.Walking around the pier was great and great food. Also eating at the Weber restaurant. Gret food. Will go back some day."
Christina Carson, USA
2012-08-12 21:56:21
5 from 5
"Was born and raised on the west side of Chgo., left the city when I joined the USN during WW 2 and never returned. I miss most of my old friends from the St. Mel's parish area. The people in general were quite special, gifted and loving. What else is there in life?"
Jim Henry, USA
2012-08-08 19:47:47
"Wow......that was the first thing that came to my mind when I saw this amazing city for the first time. That feeling still remains in me every time I see her. What makes this city the best is the people, the food, the culture and the skyscrapers. It is the best city that I had lived in. The smell of the city and the wind gushing through its roads would still stay in my mind for ever."
Balaji Sudarsan, India
2012-08-05 22:41:44
5 from 5
"i love Chiggo. Began writing to my penpal sandie in 1957. Have visited her 3 times and I still find somewhere new to see. I love the music and the people. Have met some of the great musicians and artists, met up with them in England. Architecture is my passion. Chicago has it all. Ist time I saw the city, it was a dream come true. i will be back"
susan dodds, United Kingdom
2012-08-04 05:57:08
5 from 5
"CHICAGO, TO MANY PEOPLE, HOWEVER THE BUILDINGS AND THE CHICAGO CUBS.
I LIVE 200 MILES SOUTH. I OWN 14,500 ACREAS. IT'S MADE ME ON THE AVERAGE 2 MILLON A YEAR IN MY POCKET PROFIT. 80 MIL.IN MY POCKET SELLING OUT AND MOVING HI. TRAVEL MYSELF FOR EVER. THATS THE REASON I LIKE ILLINOIS AND THE CUBS"
MICHAEL SHEEHAN, Armenia
2012-07-31 09:38:27
5 from 5
"Even our famous cities in Europe cannot compare with the architecture of The Windy City. Having relatives in Downers Grove, IL, my family and I fell in love with Chicago and spent 4 vacations there."
Roland Kern, Austria
2012-07-31 07:03:31
5 from 5
"Truly amazing."
sanath akmeemana, Sri Lanka
2012-07-29 20:23:55
"Great"
Bill Cary, USA
2012-07-26 23:24:17
5 from 5
"Amo Chicago desde la primera vez que la visite y desde entonces he estado 10 veces a traves de 20 años, encontré lo que me encanta más en la vida, arte, buena comida, jazz, blues, arquitectura, gente amable, etc. no te la acabas nunca!!!!"
SUSANA MORALES, Mexico
2012-07-23 18:34:42
3 from 5
"Nice City . Weather is lousy (too hot, too cold, too wet, etc)"
Ed Gould, USA
2012-07-22 07:02:49
4 from 5
"Superb photography, taken at the right time of day ( afternoon, with the sun coming from the West.)
I lived and worked in Chicago, ( at the Drake Hotel) ) in the 60s, for 6 years. As much as I liked it then, the winters were just too much to bear. I now live in the most fabulous city in the US ... the beautiful City of Saint Francis of Assisi. There's NO comparison."
Otto Lissfeld, USA
2012-07-21 16:19:41
1 from 5
"It didn't let me do any thing!"
Lavender Brown, American Samoa
2012-07-21 12:58:59
3 from 5
"Good"
Jayakumar Venkat, India