Northern lights in Norway
•
360° Aerial Panoramas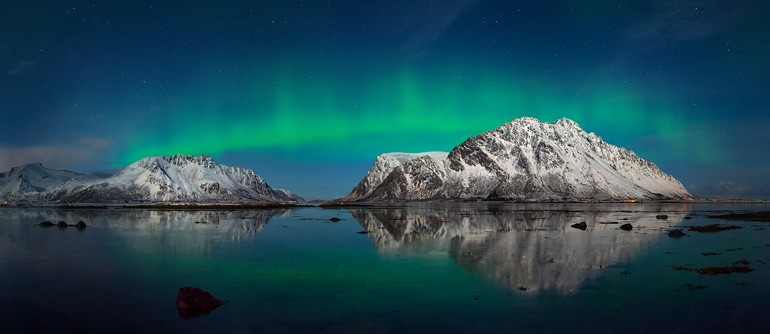 ---
Lying north of the Arctic circle within the severe waters of the Norwegian sea, the Lofoten archipelago is known for its wild nature, majestic mountains, deep fjords, noisy bird settlements, the purest water and long sandy beaches. These lands were the habitat for Vikings and they still have some evidence of their life. In the small village of Borg archaeologists uncovered the longest Viking dwelling ever found. An 83-meters-long house was restored and now operates as a historical museum of the legendary Vikings.
Comparing to other places lying on the same latitude the Lofotens feature a rather mild climate due to the Gulf Stream. Between May and July there is the period of the midnight sun and from the middle of September to the middle of April the colourful Polar lights can be witnessed. An unstable weather together with an incredible light of these lands always attracted lots of artists. AirPano could not pass by the wonderful landscapes of this archipelago.
In the late 1970s, Reine, a fishing village, was announced by Allers magazine to be the most beautiful village in Norway. Photos of Reine have been used for the front page of many tourist brochures and guidebooks. The 0.29-square-kilometre village found itself around the fjord at the foot of the surrounding mountains. The sea crashing on rocks, colourful fishing huts, picturesque sunsets and sunrises attract thousands of guests annually.
The small town of Svolvær is famous for being one of the best places in the world for watching whales. But it is known not only for nature but for its history as well. Although the climate is severe, people inhabited these lands back in 800 BC. The amount of fish was enough not only for feeding, but also for a successful trade. More than 900 years ago the first Christian church in the Northern Norway was built here.
Traditional fishing village architecture is a feature of Henningsvær, which lies 20 kilometres south-west of Svolvær, while a small island of Skjåholmen is known for having a 25-meters lighthouse that was built in the beginning of the 20th century.
Being so far to the north of the Arctic circle AirPano couldn't help checking other interesting places of Norway. One of the most impressing sites is the 12-kilometers-long Ersfjord on the island of Senja. The rocky mountains of this fjord raise at 800 meters and meet the sea creating a spectacular view.
Our new virtual tour of these lands will help you to appreciate the beauty of this remote corner of the Earth with its pristine nature.
Photos by Sergey Semenov, Stas Sedov
17 November 2017
See also:
• 360° video. Northern lights in Norway
• 360° video. Reine, Lofoten archipelago, Norway
• 360° photos. Lofoten archipelago, Norway
• 360° photos. Svolaer, Lofoten archipelago, Norway
Comments
2018-02-06 01:58:09
5 from 5
"I give you 5 PLUS ! You give me, us, the unique privilege the visit the World at a click on a keyboard. No one can see so much specially in Russia, underwater... I thank you so much and you should have millions of satisfied viewers."
Raymond Auger, Canada
Varvara, AirPano: Thank you very much, Raymond!
Feel free to share our website with your friends and on your pages in social media, if you use them.
2017-12-14 17:53:55
5 from 5
"It's perfect, i would visit Noruega"
Júlia Camps, Andorra
2017-11-21 10:13:13
5 from 5
"Excellent Photography ver well presented in 360 degree movie."
Avichi meiyappan Kumaran, India
2017-11-17 11:30:33
5 from 5
"Beautiful video, impressive backdrop of northern nature !!, thanks to everyone"
Karel Hofmann, Czech Republic
2017-11-17 11:03:19
5 from 5
"Very beautiful area and presentation. Congratulations and thank you."
IOAN PASCU, Romania