Rehearsal of the Russian Navy parade 2017
•
360° Aerial Panoramas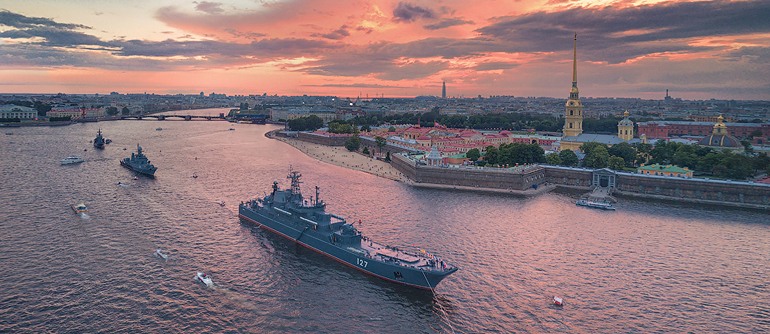 ---
The Navy Day is celebrated in Russia annually. The event dates 300 hundred years back: in 1714 the Russian Emperor Peter the Great overviewed his ships after a conclusive victory in Gangut. In a couple of years, he decided to make such an event a regular one.
During the Russian history this tradition was canceled several times but each time was reborn. In the USSR the date of celebration was July 24. Since the 1980's it was held on the last Sunday of July, but the main place of the event was Moscow at that time.
In 2017 by order of the President of Russia the historical tradition of conducting the Navy parade in Saint-Petersburg was restored. On July 30 in the Neva waters of the city and the Kronshtadt sea road 50 ships and submarines of the Baltic, Black and Northern sea fleets as well as the Pacific and Caspian gathered together. The heavy nuclear missile cruiser "Peter the Great", the world's biggest nuclear submarine "Dmitry Donskoy", several newest Navy ships and other vessels took part in the event. 40 naval airplanes and helicopters were "patrolling" the sky.
The rehearsal of such an important event was not less beautiful. AirPano was able to look backstage of the main naval parade of Russia. We have captured the passing of the fleet in Saint-Petersburg and the city of war glory - Kronshtadt.
Photos by Stas Sedov and Sergey Shandin
21 August 2018
Comments
2017-08-22 07:22:54
5 from 5
"Very nice presentation Tavarisch. Eta ochin khorosho. We are proud of you.

Br"
Naren Pradhan, India
2017-08-21 20:23:40
5 from 5
"Nice Performance and Discipline Solder."
Kriss Kalkaff Say, Singapore
2017-08-21 20:04:43
5 from 5
"Very beautiful Russian Navy presentation and Neva river. Thank you. Spasiva."
IOAN PASCU, Romania
2017-08-21 16:25:27
5 from 5
"A very beautiful show of the naval fleet, thank you for the show"
Karel Hofmann, Czech Republic