Iceland, Jokulsarlon Ice Lagoon
•
360° Aerial Panoramas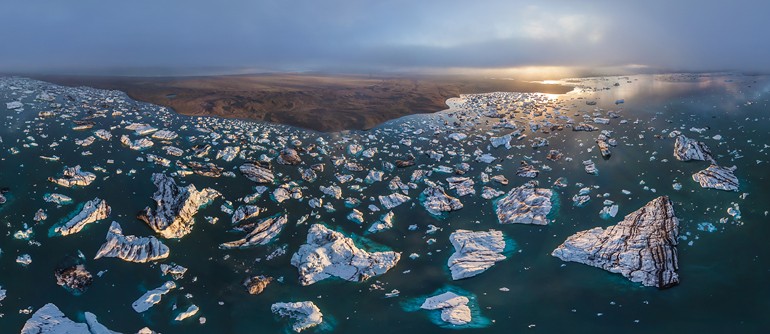 ---
"Ice and fire" – these are two words, which despite their seeming mutual exclusiveness, perfectly grasp the nature of Iceland. Although called "the land of ice", ironically, Iceland has boiling hot springs and geothermal lakes. And how magnificent are the flows of glowing lava from Eyjafjallajoekull, the famous volcano!
Iceland is actually one of the most active volcanic regions in the world. Moreover, despite its name and the fact that it has glaciers, Iceland is not an arctic country. The climate of Iceland has cold oceanic temperatures with strong winds; the weather is wet and quite variable. Icelanders joke that if you don't like the weather in Iceland, just wait five minutes for it to get worse.
The landscape in Iceland is very desolate and harsh. There are almost no trees. In winter, the central part of the island resembles the moon's surface. This is why NASA astronauts conducted their lunar landing training here.
Iceland is home to Europe's largest glacier, Vatnajokull, and the most "boiling" river in the world – Deydartunguver. Its hot boiling cascades are fed by the hot springs and have an average water flow of 225 liters per second.
Moreover, the European equivalent to Niagara Falls is also located in Iceland. It is Dettifoss, the mightiest waterfall in this part of the world. It spills over 200 tons of water per second from 45 meters height. One can see its splashes a mile away, and rainbows play in its waters on sunny days.
However, these records are not the ones that portray the charm of the nature of Iceland. Spacious fields, mountains, and water exists in all possible states: from frozen ice to steaming geysers – this is what makes this unique, majestic, harsh and deserted landscape of Iceland, the country that looks so different from anything else in the world.
Jökulsárlón is a large glacial lagoon in southeast Iceland, on the borders of Vatnajökull National Park. Situated at the head of Breiðamerkurjökull, it evolved into a lagoon after the glacier started receding from the edge of the Atlantic Ocean about 90 years ago. The lake has grown since then at varying rates because of melting of the Icelandic glaciers. The lagoon now stands 1.5 kilometres away from the ocean's edge and covers an area of about 18 km2. It recently became the deepest lake in Iceland at over 248 metres depth as glacial retreat extended its boundaries.
The Jökulsárlón lagoon provides outstanding views of the Ice Cap, which is a vast dome of ice that rises to a height of 910 m. The lagoon developed only about 64 years ago (1948 is mentioned), when the entire area was less than 30 m of glacier, which was only 230 m from the Atlantic Ocean, and 3.2 km away from Vatnajökull . Vatnajökull was at the shore line of the ocean and dropped icebergs into the ocean. However, it started drifting in land rapidly every year leaving deep gorges en route, which got filled with melted water and large chunks of ice.
Currently there is an accumulation of icebergs at the neck of the lagoon caused by a shallow strait that connects the lagoon and the ocean. The lagoon was made shallow specifically to protect the bridge over the strait from large icebergs. As a result, icebergs slowly melt down to smaller pieces, which are then carried away to the ocean. This is the only place where one can see the picturesque sight: blue and white ice slowly drifts away from the tip of Vatnajokull glacier. Besides, Jökulsárlón is the lowest point in Iceland, due to the fact that heavy ice presses the soil under the glacier down, which is currently at 200 meters below the sea level. When it gets warmer, icebergs break off and melt fast, but in winter the bay freezes and "locks" icebergs in till the next spring. Jökulsárlón is photographed more often than any other place in Iceland. It has become a typical arctic landscape for magazine covers and Hollywood movies (five blockbusters has been filmed here so far). Everyone should visit Jökulsárlón - a truly picturesque and amazing place. Our virtual tour is a great proof of the fact!
14 September 2012
Also we offer you to see virtual tour with 82 panoramas of Iceland.
Comments
2014-04-26 17:04:13
5 from 5
"So much beauty in the world!"
Marina Sain, Croatia
2014-01-11 00:39:33
5 from 5
"God is unpredictable. Such a beauty for a few. Till now. Due to your panorama the whole world can admire those incredible sights. Thank you."
Ryszard Galazka, Poland
2013-08-01 11:29:03
5 from 5
"自然之美!"
meng youran, China
2013-07-16 20:35:00
5 from 5
"ALGO EXTRAORDINARIO Y HERMOSO DE VER."
manuel estanislao ibarz bielsa, Spain
2013-05-03 15:39:38
1 from 5
"nice"
kovan iraq, Iraq
2012-12-12 17:15:35
5 from 5
"wonderfull vieW? subhanallah"
jamal eddine yassine, Morocco
2012-10-24 05:38:44
5 from 5
"Fantastic!!"
Jim Wang, Taiwan Region
2012-10-18 20:38:54
5 from 5
"Maravilhoso!!"
Paulo Rattes, Brazil
2012-10-13 14:30:12
5 from 5
"Very wonderful place"
mufthiha parveen, India
2012-10-11 07:39:29
5 from 5
"qué frio tan hermoso!"
jorge humberto gomez, Colombia
2012-10-04 09:06:52
5 from 5
"Thank you, thank you, thank you for your visions, commitments and your efforts! You're truly bringing the world in focus to the masses - bravo! Those broken-up ice pieces used to be giant pieces, I presume? Global warming taking its toll, I see. Keep up the good work please - and thanks again!"
Bode Osunsanmi, USA
2012-10-02 16:26:16
5 from 5
"Perfect! I would like to know Iceland. It is a dream!"
Poliana Padula, Brazil
2012-09-24 19:57:10
5 from 5
"awesome...wonderful..."
parmar durgesh, India
2012-09-22 17:40:10
"Very nice. I wondered with this site. Thanks"
Ebrahim Toranjian, Iran
2012-09-22 13:31:13
"i love it"
hamid reza maktoubian, Iran
2012-09-22 09:48:41
5 from 5
"Very Impressive....."
Carl Vanderziel, USA
2012-09-21 23:09:19
"excellent pictures...."
omar covarrubias, Mexico
2012-09-21 12:21:51
4 from 5
sima torkaman, Iran
2012-09-20 16:36:15
5 from 5
"very gooed"
meysam heydar, Iran
2012-09-20 00:04:11
5 from 5
"it is very fantastic"
delnia khezraqa, Iran
2012-09-19 22:36:18
5 from 5
"good"
Hamid Amouie, Iran
2012-09-19 22:20:40
"fanntastic"
joan beed, Canada
2012-09-18 22:11:01
5 from 5
"It brings tears to my eyes when I see excellence."
Ron Laurie, Canada
2012-09-18 17:57:37
5 from 5
"Absolutely wonderful panoramic views! As usual, your musical selections are perfect."
Robert Ashcraft, USA
2012-09-18 08:52:55
5 from 5
"Very Good"
Mangla G Pandya, India
2012-09-18 03:08:37
5 from 5
"The in depth description and photography is outstanding!!"
Ed Nelson, USA
2012-09-18 02:32:09
5 from 5
"Todos são incríveis."
Paulo Rattes, Brazil
2012-09-18 02:30:59
5 from 5
"Sensacional!!!!"
Paulo Rattes, Brazil
2012-09-17 19:44:09
5 from 5
"Congratulation !!!!!"
PASCU IOAN, Romania
2012-09-17 14:06:47
5 from 5
"This is incredible!"
Milos Novakovic, Serbia and Montenegro
2012-09-17 13:09:15
5 from 5
Mohd. Javed, India